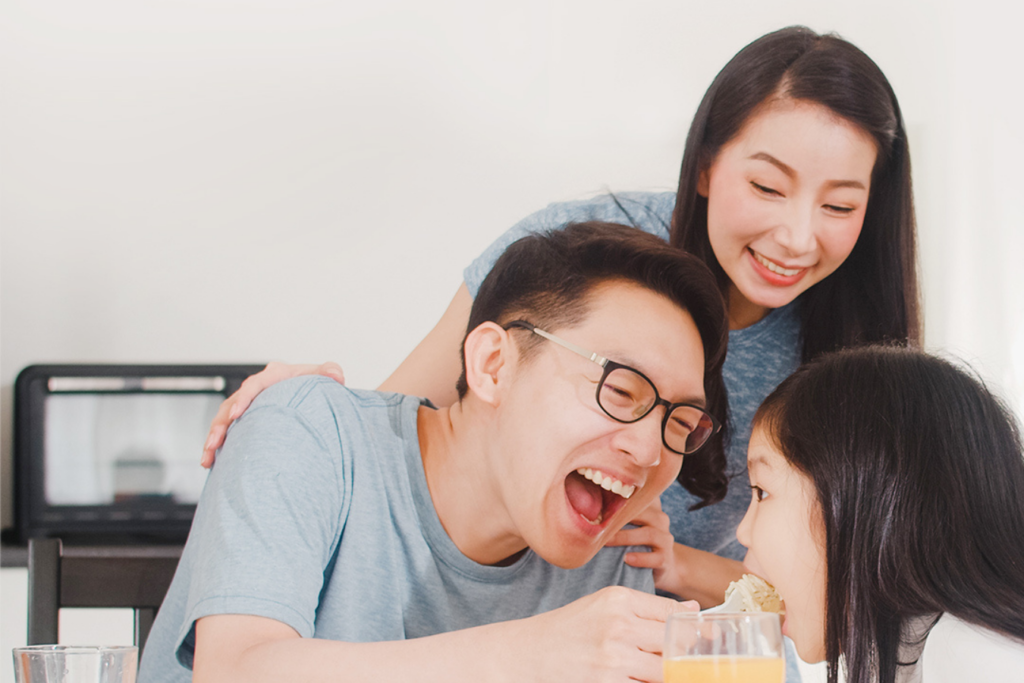 If you're looking for stability and dividend income, blue chip REITs might just be what you're looking for.
Blue chip REITs are REITs that form part of the Straits Times Index (STI). The STI is widely seen as the stock market barometer for Singapore and holds the top 30 companies listed on the SGX.
Such companies are often reputable and well-run businesses that have built up solid track records. As such, you can count on blue chip REITs to have the backing of strong sponsors, quality assets, and robust balance sheets that should see them through most headwinds.
Ultimately, blue chip REITs can offer stability and peace of mind for long-term income investors. Here are three reliable options that let you rest easy at night.
Frasers Logistics & Commercial Trust (FLCT)
Frasers Logistics and Commercial Trust, or FLCT, is one of the top 10 largest REITs in Singapore following the merger of Frasers Logistics & Industrial Trust and Frasers Commercial Trust (FCT).
Here's a quick overview as of 30 June 2021.
Portfolio: 103 logistics, industrial and commercial properties across Singapore, Australia, Germany, UK, and the Netherlands
Assets under management (AUM): S$6.8 billion
Portfolio occupancy: 96.3%
Weighted average lease expiry (WALE): 4.9 years
WALE is a metric used by investors to evaluate the likelihood of a REIT's properties being vacant. With its fairly long WALE, FLCT is likely to have stronger income protection due to its longer lease expiry term.
For 1H2021, Frasers Logistics and Commercial Trust reported a revenue growth of 95.1% year on year, with the significant surge coming from its merger with FCT and acquisitions undertaken in 2020. As a result, it recorded a distribution per unit (DPU) of 3.8 cents for 1H2021, 9.5% higher than 1H2020.
Annualising this DPU of 3.8 cents would give an annualised yield of around 5%. Investors will also be happy to note that FLCT has been growing its DPU over time, suggesting more upside for income-oriented investors if they maintain FLCT as a long-term holding.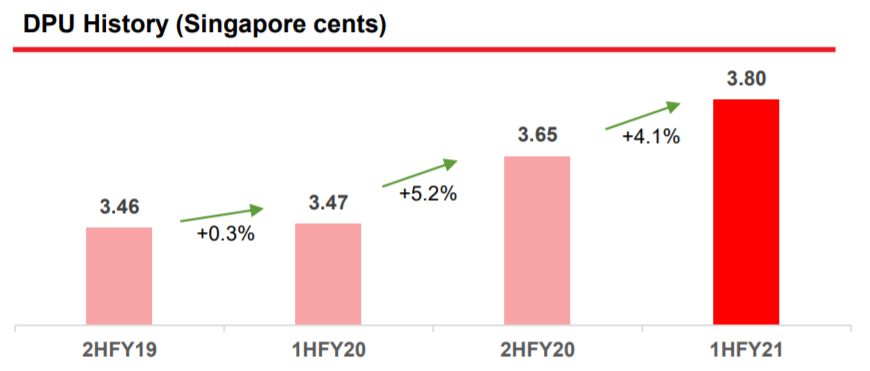 In late May, Frasers Logistics and Commercial Trust announced a S$562.4 million acquisition of six logistics and business park properties in Europe. Following this acquisition, both net property income and DPU will likely increase.
Given that its aggregate leverage of 36.4% remains comfortably below the statutory gearing limit of 50%, FLCT still has more debt headroom for further accretive acquisitions in the logistics segment.
E-commerce sales have been soaring since the pandemic, driving demand for more warehouses and logistics space. On average, online retailers require three times more logistic space compared to traditional brick and mortar stores.
FLCT is poised to ride the e-commerce boom with its portfolio of logistics assets, which should help deliver growth and capital upside in the coming years.
Ascendas REIT (AREIT)
Ascendas REIT is the first and largest business industrial REIT in Singapore. Here's what to know about the REIT, with metrics as of 30 June 2021.
Portfolio: 210 properties across Singapore, Australia, Europe and the US.
AUM: S$15 billion
Portfolio occupancy: 91.3%
WALE: 4 years
While most of its assets are business space and logistics properties, Ascendas REIT is expanding into data centres following its acquisition of 11 Europe data centres.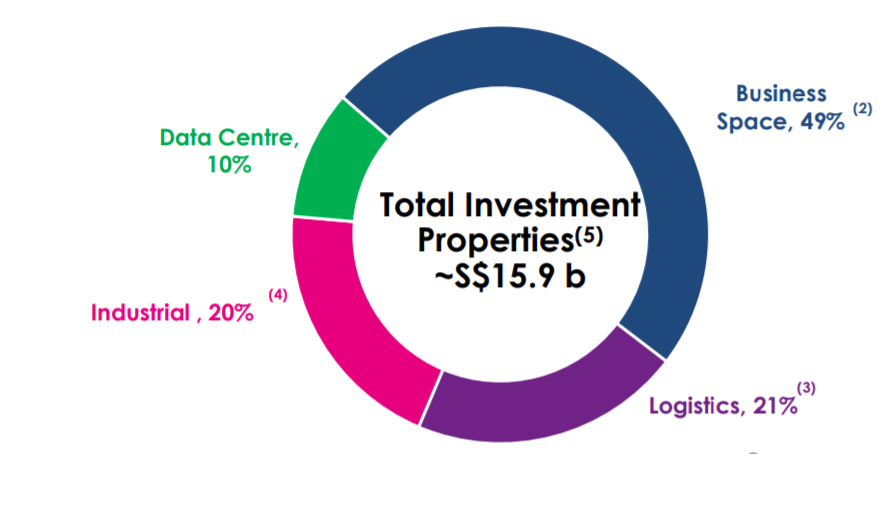 What's noteworthy is AREIT's positive rental reversion of 8.9% for leases renewed in the second quarter of 2021. That's a very healthy figure. Generally, positive rental reversion implies that new tenants are willing to pay higher rents than what existing tenants pay.
For 1H2021, AREIT reported a DPU of 7.66 cents, a 5.4% increase from a year ago. AREIT has a solid track record of consistently growing its DPU, making it an ideal blue-chip REIT to hold for the long-term.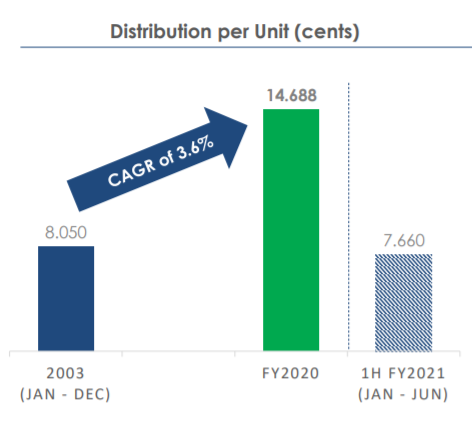 More upside for Ascendas REIT could come from its proposed redevelopment of the Singapore Science Park area, which currently accounts for 11% of its portfolio value. Together with its newly acquired 75% stake in Galaxis and the recently completed Grab headquarters, this will further strengthen Ascendas REIT's business space portfolio and tenant base.
Ascendas REIT also has a strong inorganic growth visibility, having completed $1.72 billion worth of acquisitions during the first half of 2021.
Mapletree Logistics Trust (MLT)
Mapletree Logistics Trust is another blue chip logistics REIT to consider. Unlike Frasers Logistics and Commercial Trust, MLT is focused solely on logistics warehouses in the Asia Pacific region.
As of 30 June 2021, here's how it stacks up.
Portfolio: 163 warehousing and logistics properties across 9 key Asian trade hubs, including Singapore
AUM: S$11 billion
Portfolio occupancy: 97.8%
WALE: 3.8 years
MLT's modern, strategically located warehouses have allowed it to command premium rents relative to traditional warehouses, and maintain high occupancy rates. For the recent reporting period, Mapletree Logistics Trust achieved a positive rental reversion of 2.2%
Like Frasers Logistics and Commercial Trust and Ascendas REIT, Mapletree Logistics Trust has a track record of increasing its DPU over time. DPU for the quarter ending 30 June 2021 increased 5.7% year-on-year to 2.16 cents, marking the second consecutive quarter with a more than 5% DPU increase.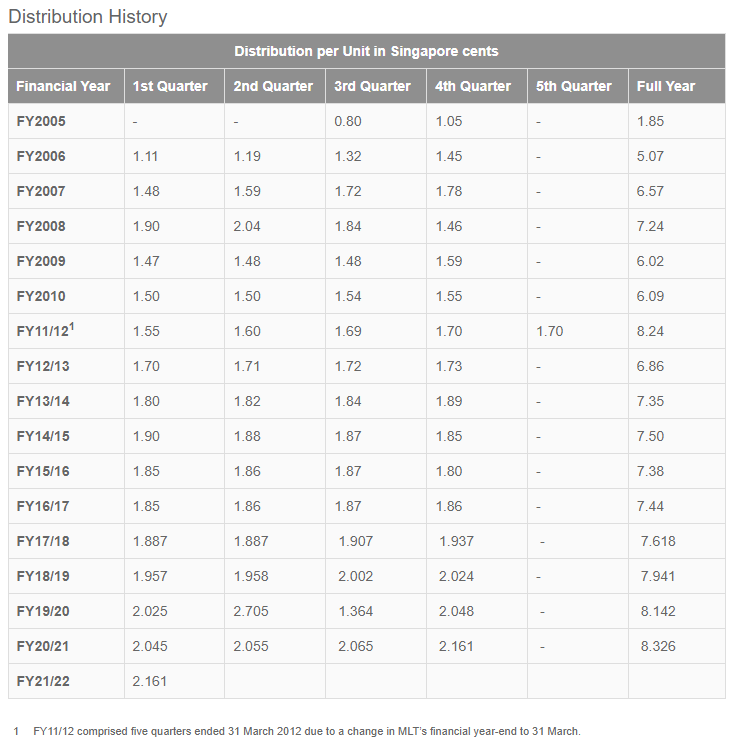 Revenue also rose 23.7% for FY21/22, supported by the continued demand for e-commerce and third-party logistics in Asia.
As e-commerce growth drives seismic shifts in warehouse demand this year and beyond, Mapletree Logistics Trust is well positioned to capitalise on this opportunity. The REIT continues to actively acquire new logistics assets across Asia to drive earnings and enhance DPU.
It recently entered the fast growing logistics space in India and has a significant pipeline of properties available for acquisition through its sponsor Mapletree Investments. (Mapletree is in turn a wholly owned subsidiary of Temasek Holdings.)
A portfolio of quality blue-chip REITs
While you can purchase FLCT, AREIT and MLT through a broker, the simpler way is to invest in them through Syfe REIT+.
Syfe REIT+ holds all seven blue chip REITs in Singapore within its portfolio, giving you the most bang for your buck. These REITs collectively make up 65% of your Syfe REIT+ portfolio.
Ascendas REIT
CapitalLand Integrated Commercial Trust
Keppel DC REIT
Frasers Logistics and Commercial Trust
Mapletree Commercial Trust
Mapletree Logistics Trust
Mapletree Industrial Trust
By investing in Syfe REIT+, you automatically own all of these blue chip REITs, and more. Plus, Syfe REIT+ is designed to let you access these REITs with a flexible monthly investment plan.
Simply create a Syfe account, decide your preferred investment amount, and set up a recurring transfer through your bank. There's no lock-in period so you can withdraw your investments anytime. Dividends are automatically reinvested for you as well.