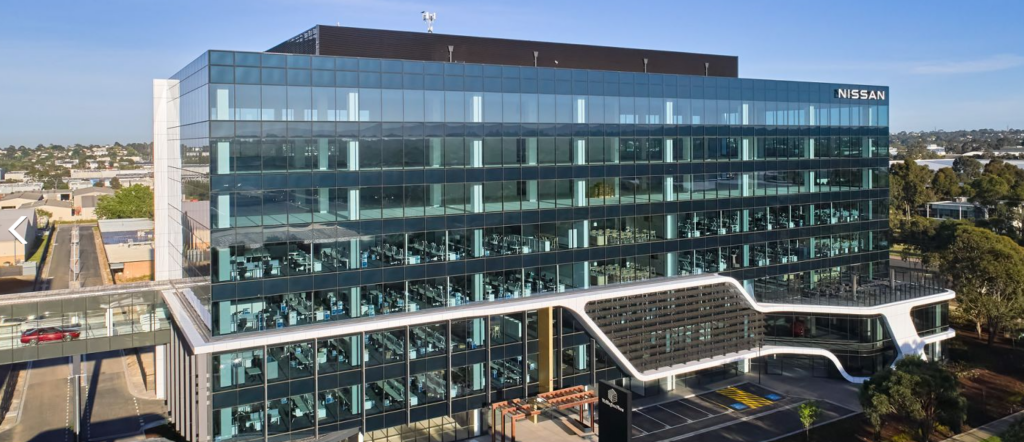 CapitaLand Ascendas REIT (CLAR, SGX:A17U) is one of Singapore's most reputable REITs. Backed by Temasek-owned CapitaLand Investment Limited (SGX:9CI), the REIT is the first and largest industrial REIT in Singapore, in addition to being a constituent of Singapore's blue-chip Straits Times Index (STI).
Here's what to know about CapitaLand Ascendas REIT.
Overview: Largest industrial REIT in Singapore
CLAR owns 228 properties across Singapore, Australia, US, and the UK/Europe. The REIT operates in three key segments: Business space and life sciences, logistics, industrial and data centres.
As the largest Singapore industrial REIT, CLAR's investment properties (by asset value) stood at S$16.5 billion as at 30 September 2022.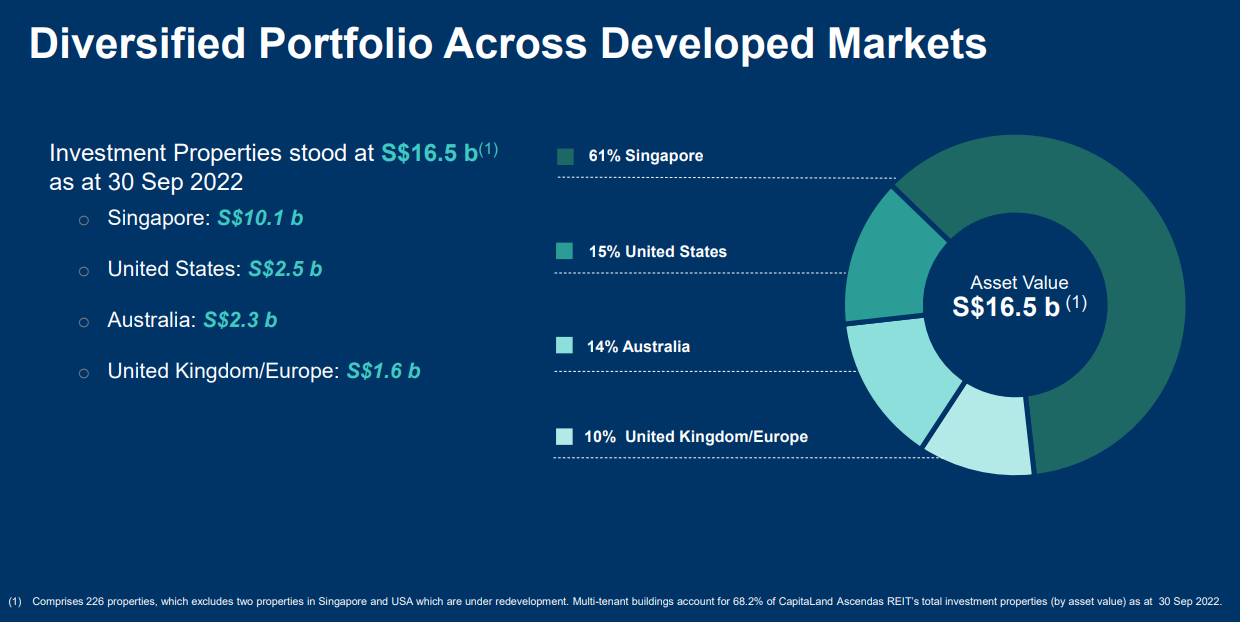 Highly diversified portfolio
CapitaLand Ascendas REIT has a diverse portfolio in terms of geography, industry exposure and property type.
Although about 61% of CLAR's investment properties are based in Singapore, the REIT intends to boost its proportion of assets overseas for greater resilience. For instance, the expansion to developed markets such as the US, UK, Europe and Australia has allowed CLAR to acquire properties on freehold land compared to leasehold industrial land in Singapore.
Additionally, CLAR's assets – high-tech business parks, data centres, logistics spaces, and industrial properties – are all exposed to different market trends and growth opportunities.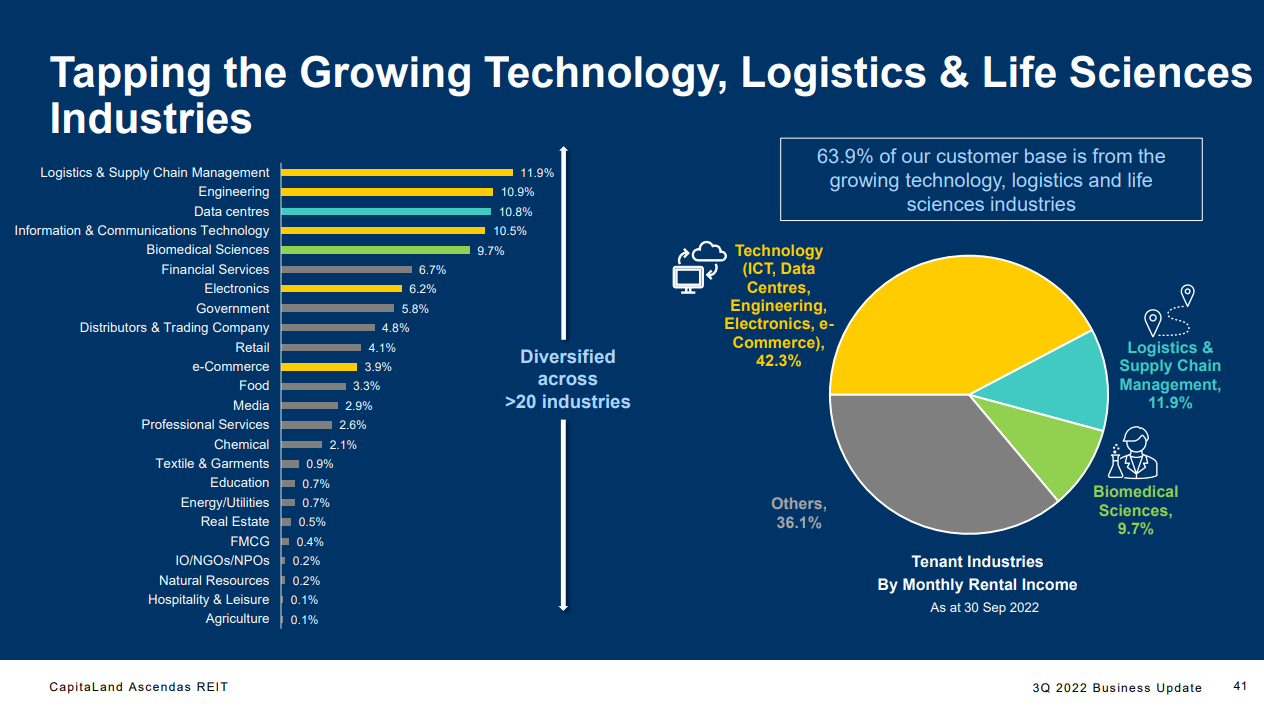 Prudent capital management
The impact of rising interest rates on REITs has been top of mind for many investors.
CapitaLand Ascendas REIT has taken steps to mitigate higher financing costs by hedging 78% of its loans to fixed rates. CLAR's debt maturity profile is also well spread out with no more than 15% of its debt expiring in a single financial year.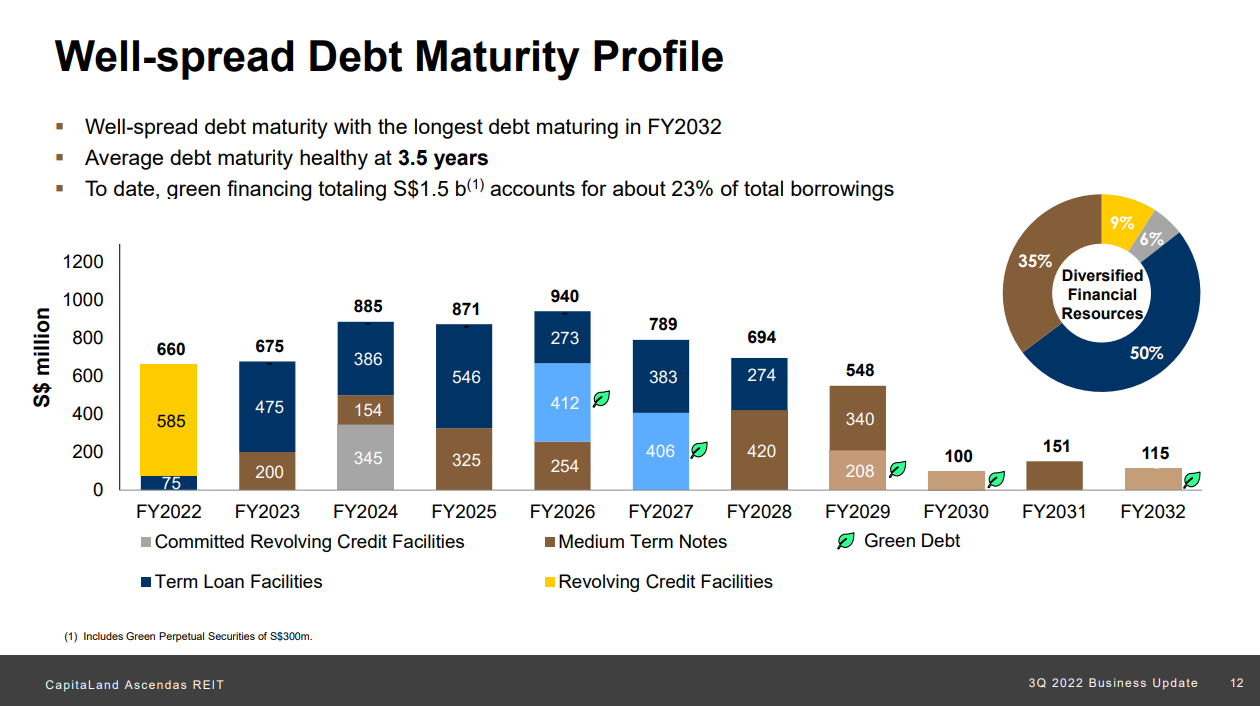 Additionally, CLAR's aggregate leverage is a healthy 37.3%, as at 30 September 2022. This is well below MAS' gearing limit of 50%, giving CLAR sufficient debt headroom for more acquisitions.
To further mitigate rising operational expenses, CLAR has implemented higher service charges for its Singapore leases in October 2022.
Overall, CLAR expects that a 0.5% increase in interest rate is likely to have a pro forma impact of $7 million decline in distribution or 0.17 cents decline in DPU.
High portfolio occupancy
Portfolio occupancy for CapitaLand Ascendas REIT stood at 94.5% as at 30 September 2022, up 2.8% from a year ago. Moreover, occupancy rates for its Singapore properties have remained higher than industrial average.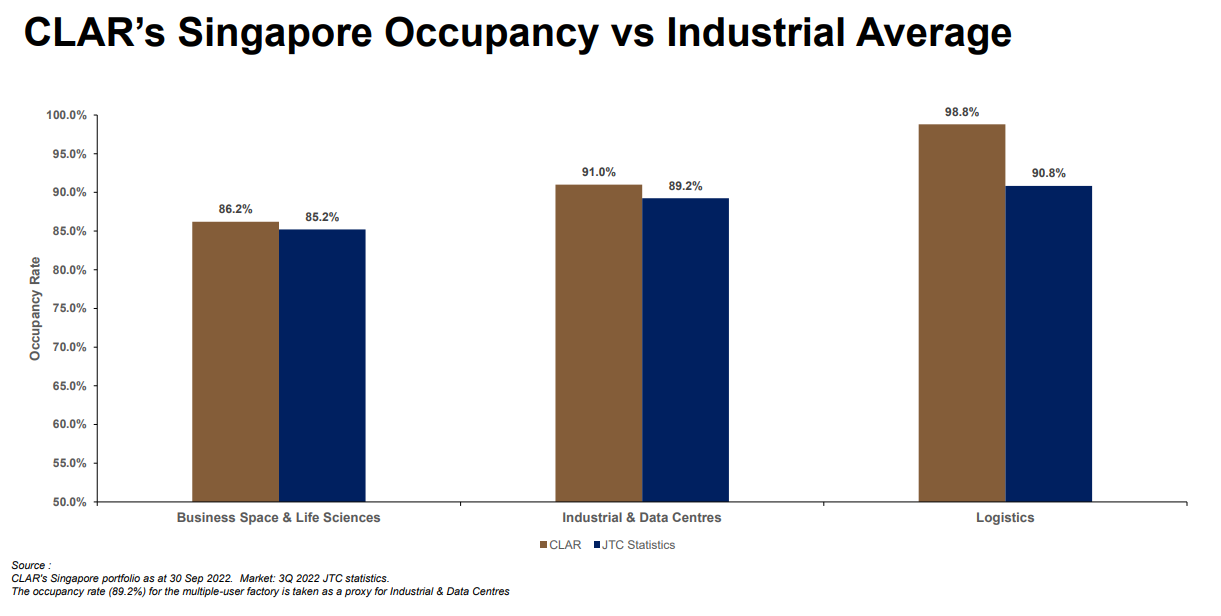 Other positives for the REIT include its relatively long portfolio weighted average lease expiry (WALE) of 3.9 years, and positive rental reversion of 5.4% for lease renewals in Q3 2022.
In the 2022 year-to-date, rental reversion stands at 8% and CLAR expects the figure to be in the positive mid single-digit range for FY 2022.
Potential tailwinds for CapitaLand Ascendas REIT
In Q3, CLAR acquired its first cold storage logistic facility in Singapore. The property is fully occupied by well-established tenants including a supermarket chain, and carries a long WALE of 7 years with built-in rent escalations of 2-3% every three years. Due to the limited supply of quality cold storage facilities in Singapore, there's good rental growth potential for this new asset.
During the quarter, CLAR also acquired a high-tech campus that serves as Philips' APAC headquarters and innovation centre. The acquisition strengthens CLAR's technology and biomedical customer base.
Apart from these yield accretive acquisitions, CLAR has embarked on several asset enhancement initiatives to rejuvenate its portfolio. Together, these measures could drive earnings and capital values higher in the longer term.
REIT dividend yield and analyst ratings
CLAR has a trailing twelve month dividend yield of 5.9%.
On SGX StockFacts, the REIT has a consensus rating of "outperform", alongside a price target of $3.195, which equates to an 18% upside potential from CLAR's last traded price of $2.63 on 2 November 2022.

How to invest in CapitaLand Ascendas REIT (CLAR): SGX A17U
CapitaLand Ascendas REIT is listed on the Singapore Exchange (SGX) under the ticker A17U.
You can invest in the REIT either through a brokerage platform like Syfe Trade, or via a managed portfolio like Syfe REIT+.
Syfe Trade is an easy and low-cost option for Singapore stock investing. Pricing for SGX stocks is just 0.06% of traded value (minimum S$1.98), and there are no platform and withdrawal fees.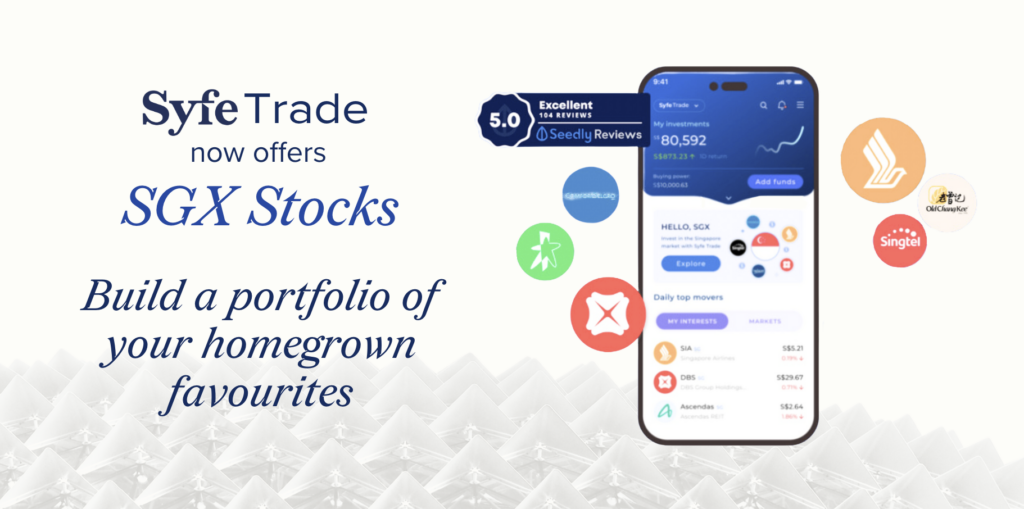 Syfe REIT+ is a diversified portfolio holding 20 of Singapore's top REITs. With a weighting of around 10.5%, CLAR is one of the largest holdings within REIT+.
No matter which option you prefer, getting started with Syfe is as easy as downloading the Syfe app and creating an account with Singpass.
Disclaimer: This article is for informational purposes only and should not be viewed as financial advice. It is not meant to market any specific investment, or offer or recommend the purchase or sale of any specific security. All forms of investments carry risks, including the risk of losing all of the invested amount. Such activities may not be suitable for everyone. This advertisement has not been reviewed by the Monetary Authority of Singapore.