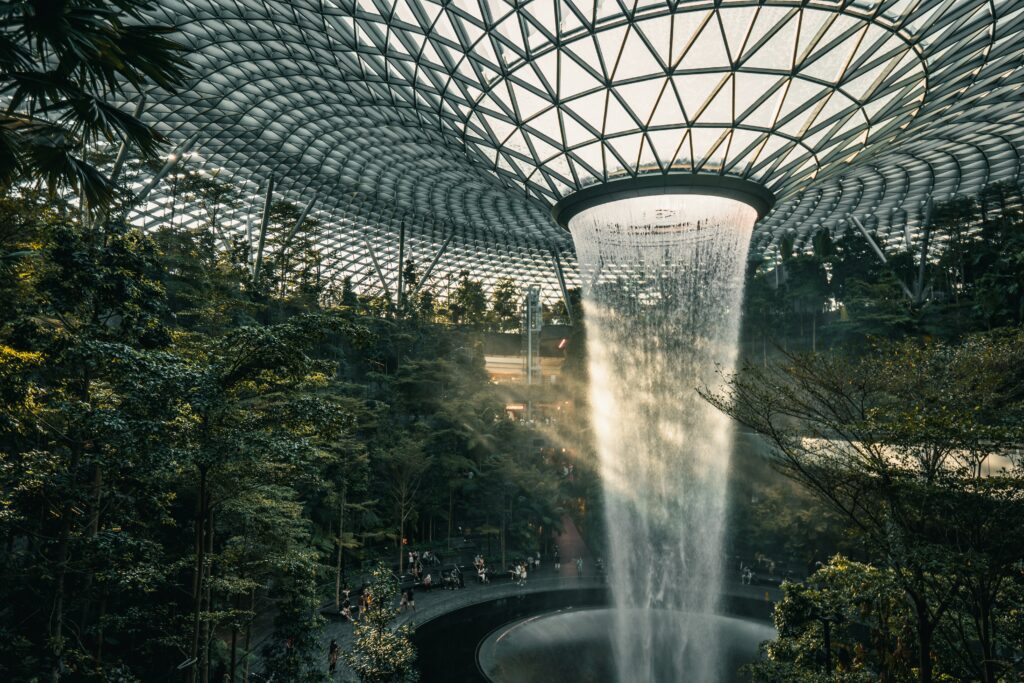 We are living in times of persisting economic uncertainty, high consumer prices, and volatile markets. And we are feeling a pinch of it. When it comes to investing our hard-earned money in such a macroeconomic environment, some of us might be seeking a safer option.
If you are a retail investor looking to grow your money by taking advantage of current high rates but don't want much risk, investments that provide guaranteed principal and returns will be a good bet.
There are only a handful of guaranteed investment products in Singapore, including fixed deposits, T-Bills, Singapore Savings Bonds (SSBs), Central Provident Fund (CPF) and Cash+ Guaranteed by Syfe. But before we evaluate which one is the best option offering higher rates as well as liquidity, let's understand them a bit more.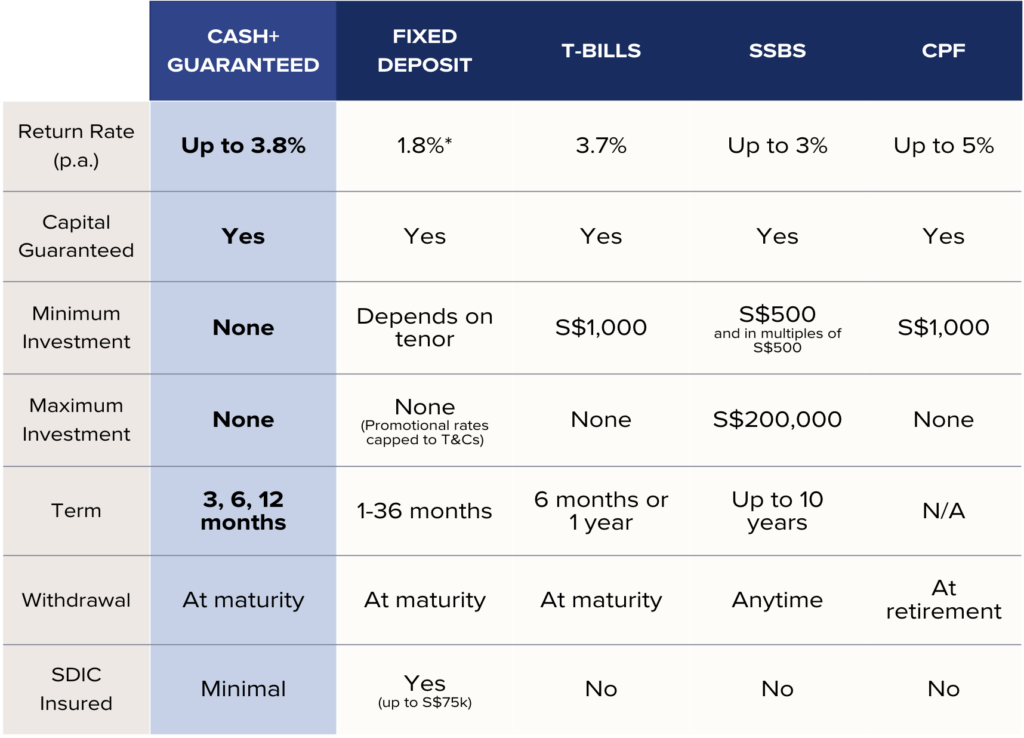 Fixed Deposits
Fixed deposit is a popular investment option that lets you earn higher guaranteed returns on your money compared to your savings accounts. The catch is however having your money locked in to access better rates. It's a low-risk option that keeps your principal secure and gives you a fixed return at the end of the tenor.
In a current high-interest rate environment, depending on the bank and the tenor, returns can vary vastly from 0.1% p.a. to 4% p.a. Higher promotional rates may seem like an attractive option but when you read the fine print, it may not be great as you'd expect. Some banks would have multiple hoops for higher rates such as minimum deposit, fresh funds or new customer criteria. Be sure to understand the T&Cs before locking yourself into this option.
T-Bills
Treasury Bills (T-Bills) are securities issued to raise short-term funds by the government, which is trusted and perceived as very safe for parking money by Singaporeans. T-Bills allow you to invest money for either 6 months or a year at competitive rates.
Over the last one-and-a-half years, the returns on T-Bills have risen by almost three percentage points, crossing 4% in December 2022. This year so far, the yields have been above 3.6%. T-Bills are also highly liquid as you can buy and sell T-Bills in the secondary market which means that you can withdraw your funds and it will take you about a week to get it back.
On the other hand, when you bid for T-Bills, you can't be certain of the interest rates, which are determined based on a uniform-price auction. Besides, selling T-bills before maturity may result in losses since bond prices fluctuate based on market interest rates.
Singapore Savings Bonds (SSBs)
Singapore Savings Bonds (SSBs) are fixed-income securities that offer periodic interest payments and return the principal amount upon maturity, also a very popular option among Singaporeans as it's backed by the government.
The key feature of SSBs is the step-up interest rate structure where the rate increases over time. For instance, for the latest August 2023 issuance, the interest rate ranges from 2.97% and 3.04% depending on the tenor of one to 10 years. They are redeemable in any given month, with no penalty for exiting the investment early. They provide interest payouts every 6 months which can be used towards building passive income.
However, SSBs may have lower rates compared to some other guaranteed return products.
They also have lower liquidity, since you get returns bi-annually unless you redeem them.
Central Provident Fund (CPF) Top-Up
You can build up your CPF savings for your retirement, housing and healthcare needs by topping up all your three CPF accounts—Ordinary Account (OA), Special Account (SA) and MediSave Account (MA). The Singapore government guarantees interest of 2.5% p.a. on your OA and at least 4% return p.a. on your SA and MA. Until the age of 55, the first $60,000 of your combined balances will earn an extra 1% interest. This means the CPF top-ups can give you a 5% return. The downside is that you can only start to take out your CPF monies when you're 55.
Cash+ Guaranteed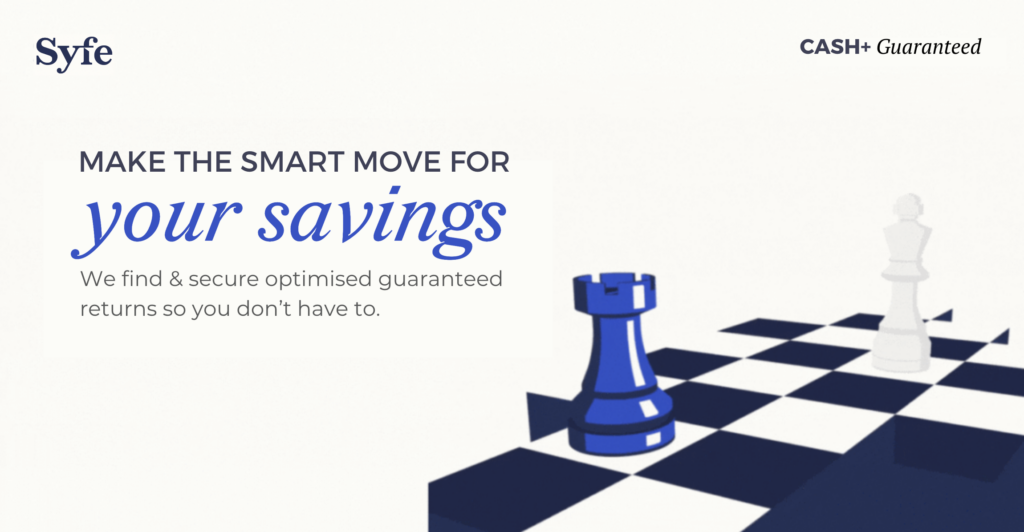 Cash+ Guaranteed is the latest cash management solution from Syfe that offers investors guaranteed returns for their idle cash. It puts your money into fixed deposits through a MAS-regulated bank, giving you superior guaranteed returns at 3.8%.
Unlike traditional fixed deposit accounts, investors can skip the hassle of switching banks to unlock higher return rates because Syfe keeps the rates optimised and competitive by working with several providers and making them available to retail investors.
Unlike previous Syfe products, Cash+ Guaranteed guarantees you capital and returns at an attractive rate, while compounding your saving with reinvesting. It also stands out for its transparency and accessibility. The rate you see is the rate you get. There are no hidden caps, no complicated hoops to jump through, and no sneaky fees. Moreover, there is no minimum required funding amount or qualifying criteria such as salary credits to avail of this opportunity.
How guaranteed return products stack up against each other
Fixed deposits, T-Bills, SSBs, CPF and Cash+ Guaranteed are all relatively safer assets to invest in, but to figure out which one is the best for you, you can look at the following criteria.
Rates: For short-term investments, fixed deposits provide the lowest average rates. T-Bills currently offer competitive rates for both 6 months and one-year tenors. Cash+ Guaranteed provides a significantly higher return than fixed deposits and a notch better rate than T-Bills. For a long-term investment horizon, fixed deposits are relatively more attractive, but may still lag behind SSB and CPF.
Lock-in period: The fixed deposit term generally ranges from 3 months to 12 months, while T-Bills have a lock-in period of either 6 months or a year. In comparison, Cash+ Guaranteed allows you to choose between a 3, 6 and 12 months lock-in term. SSBs have a tenor of up to 10 years but you can redeem them anytime, while to take your CPF monies out, you have to wait till retirement.
Risk: All the above-mentioned investment options are low risk. While T-Bills, SSBs and CPF are safeguarded by the government, fixed deposits and Cash+ Guaranteed assure capital as well as returns.
Why you should opt for Cash+ Guaranteed
If you are looking to maximise returns on your surplus cash while maintaining short-term liquidity, you may want to consider Cash+ Guaranteed. It guarantees capital and offers superior returns without a long lock-in period. In addition, there is no minimum funding required unlike other similar products, which means you can start with whatever spare cash you have.
Read more on topic:
Disclaimer: Cash+ Guaranteed is a managed investment portfolio. Investments involve risk. Investment capital and returns are guaranteed if held for 3 months, subject to underlying bank risk. Full disclaimers are available at www.syfe.com. This advertisement has not been reviewed by the Monetary Authority of Singapore.