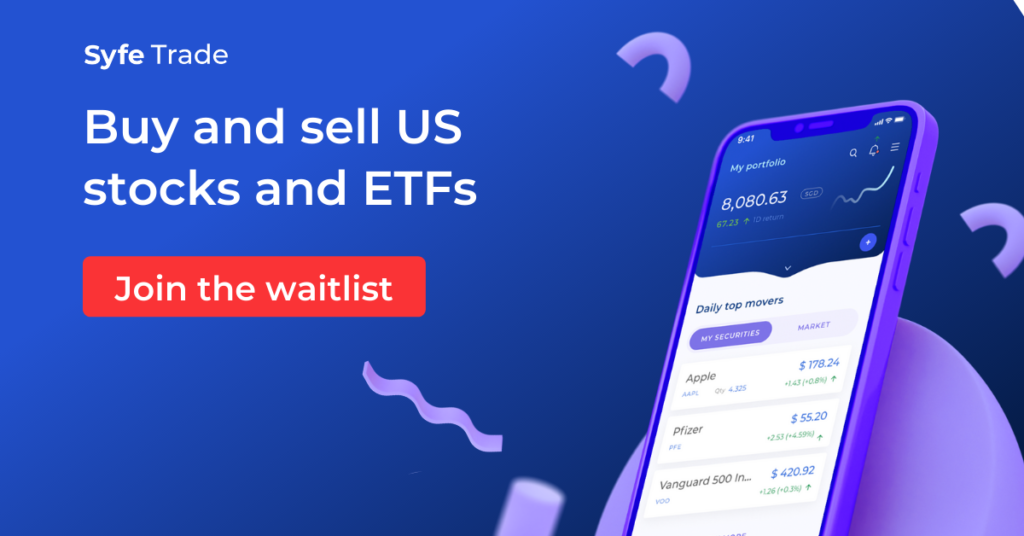 Here at Syfe, it's been our mission since Day 1 to make investing more accessible and affordable for all. Whether you're an investment pro or just starting out on your personal-finance journey, we want to make it easy for everyone to invest better and grow their wealth.
This includes the experience of buying and selling stocks and ETFs. For instance, wouldn't it be great if you can buy pricey stocks like Amazon or Alphabet starting from as little as $1 or by dollar value? Or, enjoy perks such as free trades with your brokerage account?
With Syfe Trade, now you can. Here's a rundown of the amazing features you can look forward to.
What is Syfe Trade and what is a neobroker?
Syfe Trade is Singapore's first neobroker. Neobrokers are a new class of brokerage platforms that aim to revolutionise stock trading through innovative concepts. They aim to democratise stock investing through low fees and easy-to-use digital platforms.
As a neobroker, Syfe Trade pushes the envelope on buying and selling US stocks and ETFs:
One of the most competitive fees in the market
Simple, easy-to-use interface
Individual accounts insured by SIPC up to USD 500K against brokerage failure
Available on iOS and Android
How is Syfe Trade a better way to invest in US stocks and ETFs?
Most brokerages in Singapore don't offer the flexibility of fractional trading. You're required to buy a whole unit of a share. So if you want to invest in some of the most successful companies like Amazon ($3,444 a share) or Alphabet ($2,960 a share), you need deep pockets.
This also means that not everyone can afford to own these expensive stocks and may miss out on the potential gains of these top companies.
With Syfe Trade's fractional trading feature, you can own slices of your favourite companies, regardless of share price. From as little as USD 1, you get to invest in any US stock or ETF you care about.
Another innovative benefit we're offering is free trades. As an introductory offer, we're giving you 5 free trades per month. You only need to pay a low all-in fee of USD 0.99 per trade for subsequent orders. That's right – unlike other brokerage platforms, we don't charge you a separate platform fee on top of commissions.
Is my money safe?
Syfe is an all-in-one investment platform licensed by the Monetary Authority of Singapore (MAS). Since 2019, we've been offering ready-made, fully-managed investment portfolios to help people grow their wealth effortlessly.
Now, we're introducing Syfe Trade as a way to trade US stocks and ETFs, simply and securely. Apart from securely setting up your Syfe Trade account via Singpass, Syfe Trade is SIPC protected. 
How do I access Syfe Trade?
For new to Syfe Trade clients, sign up and get a welcome gift of more than S$200 to buy any stock of your choice. This welcome offer is valid till 31 March 2022.
To start using Syfe Trade, simply follow the steps below:
Open the most updated version of the Syfe app. If you don't have the Syfe app, download it and sign up for a Syfe Trade account using Singpass.
2. If you're already a Syfe client, there's no need to re-register for a separate Syfe Trade account. You can access Syfe Trade within your app. You'll however need to complete an assessment of your investment knowledge to use Syfe Trade.
3. Once your Syfe Trade account is set up, transfer funds using PayNow, FAST / GIRO, or wire transfer. Remember to add the reference code to your transaction reference.
4. You can start trading within the same business day after your funds have been added to your Syfe Trade account.