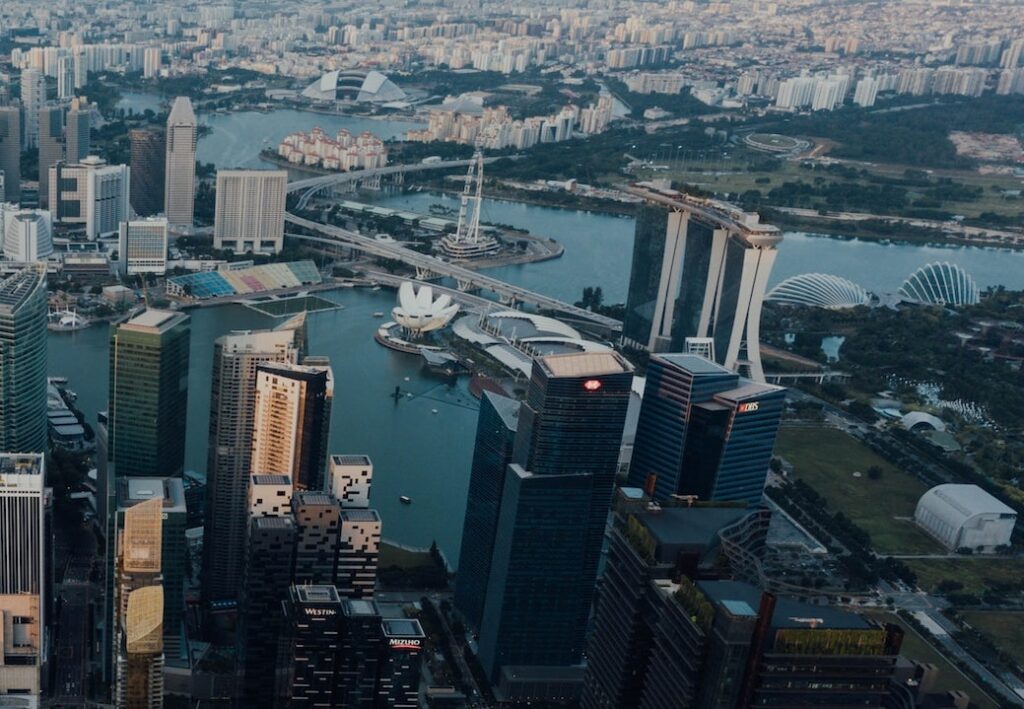 Summary:
S-REITs experienced a downturn primarily due to rising interest rates in Q3 2023.
Despite this volatility, a turning point appears likely, especially in 2024. S-REITs' operational performance has remained resilient. With compelling valuations and attractive yields, the potential conclusion of the rate hike cycle presents an opportunity for S-REITs.
Our Syfe REIT+ portfolios, while impacted by the broader S-REIT market downturn, have shown greater resilience in these challenging market conditions.
What caused the sell-off in S-REITs?
The recent downturn in Singapore REITs(S-REITs) has caught the eye of investors. After a robust rally in early 2023, rising interest rates in September and October cast a shadow and triggered a fresh wave of sell-offs.
You may ask why the prices of S-REITs are so sensitive to interest rate movements. Here are the three main reasons:
Increasing interest rates lead to higher financing costs for REITs, resulting in lower net profits and the rewards for shareholders, known as distribution per unit (DPU).
2. Higher interest rates make REIT dividend yields less attractive compared to safer options like government bonds, leading investors to gravitate towards these lower-risk investments.
3. Higher interest rates also mean a steeper discount rate for property valuations, potentially dampening a REIT's net asset value.
Is the turning point in sight?
Despite the volatility of S-REITs observed in Q3 2023, the turning point could be in sight especially in 2024.
Operational Performance Stays Strong
The operational performance of S-REITs has remained robust in 2023, notwithstanding the anticipated economic slowdown in Singapore,
In office space, Core CBD (Grade A) rents saw a 2.2%* year-on-year increase. The retail sector experienced a significant surge in Q3 2023, with island-wide rents rising 1.4%* quarter-on-quarter, exceeding Q2's 0.8%* growth. The logistics sector remained notably resilient, with prime rents up 11.7%* year-to-date, defying subdued economic predictions.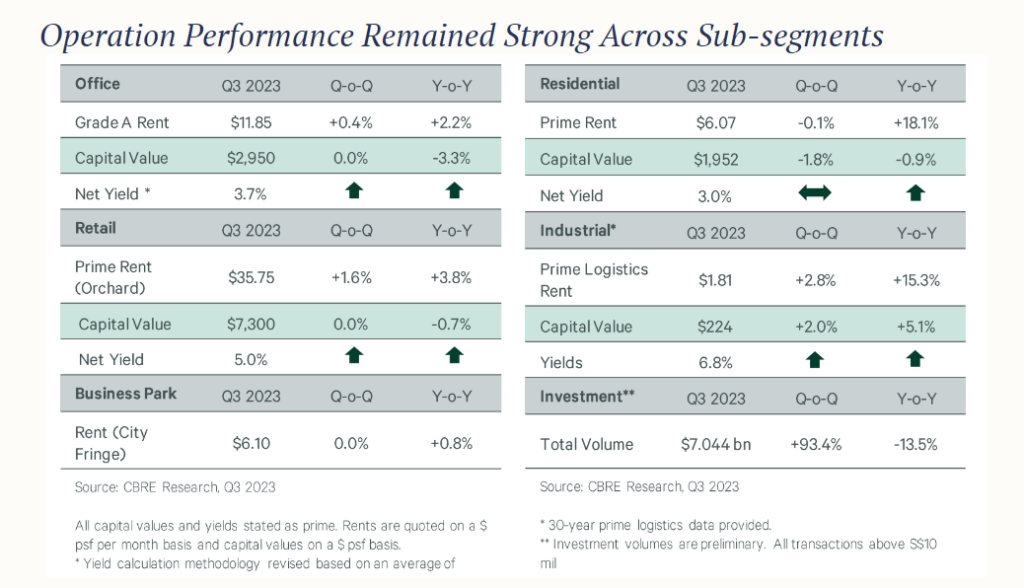 *Source: Singapore Figures Q3 2023, CBRE
Valuation looks attractive
The recent decline in S-REITs has resulted in more attractive valuations. With the price-to-book ratio at 0.85X, near a decade low, it signals a potential value-buying opportunity for investors.
Provide consistent and attractive yield
S-REITs continue to provide attractive yields for those looking to grow their passive income stream, The average dividend yield for S-REITs currently stands at 7.7%, offering a higher yield spread of 430 bps above Singapore Government 10Y bond yields at 3.5%. Those looking to grow their passive income stream and have been considering SSBs or T-Bills can also consider S-REITs within their portfolio, given that its yields are much more attractive than what current Government bonds are offering.
The Fed may be done with rate hikes
The main challenge facing S-REITs is the rising interest rates. However, this headwind is likely to lessen moving forward.
At the November FOMC meeting, the Fed maintained the benchmark rate. Market consensus suggests the Fed may have ended its cycle of rate hikes. Looking ahead to 2024, both the Fed and market participants anticipate a decrease in interest rates, though the trajectory of these reductions is still uncertain.
With interest rate concerns largely factored into the current pricing, the potential end of the rate hike cycle presents a window of opportunity for S-REITs. The halt in interest rate hikes could set the ground for price rebound in S-REIT prices in 2024.
Syfe REIT+ Portfolio Performance Update
Launched in partnership with the SGX, Syfe REIT+ is an optimised portfolio of the 20 most well-known Singapore REITs. Instead of fully replicating the iEdge S-REIT Leaders index, we use an optimisation process to construct an index-tracking portfolio.
When the S-REITs were sold off recently, REIT+ portfolio were not fully spared and felt the negative impact. However, the performance continues to be better than the broader S-REITs market, as gauged by the iEdge S-REIT Leaders Index. The portfolio was much more resilient in the tough markets, particularly in 2022 and 2023. In both years, the REIT+ (100% REITs) portfolio outperformed the benchmark by 1.7% in 2022 and 1.5% in 2023 YTD.
The relative resilience in performance is due to our optimization process embedded in the portfolios construction and management. Our selection focuses on REITs that are SGD-denominated, liquid, and backed by a decent market capitalization and reputable management teams. Additionally, our investment team manages corporate actions like rights issues and acts in your best interest. Dividends are also automatically reinvested to enhance your returns.
Focus on Quality and Diversification
The near-term outlook for S-REITs may remain subdued as we anticipate the Fed will maintain interest rates for some time. At the current juncture, we encourage S-REIT investors to stay patient and invest in a diversified REIT portfolio such as Syfe REIT+.
With a diversified portfolio, the poor performance of a single REIT subsector will have a much smaller impact on your overall portfolio returns. This also helps you avoid the risk of being overexposed to any one REIT. If you are eager to accumulate more REITs at the current attractive prices, consider adopting a dollar-cost averaging (DCA) strategy. For example, you could choose to invest $1,000 into your Syfe REIT+ portfolio each month. This approach allows you to buy more at lower prices during market dips, while minimising the risk of deploying all your cash should the market decline further.
Read More:
Invest in Singapore's top properties through REIT+
A 2023 Guide To Start Investing In REITs In Singapore
4 Tips To Pick The Best REITs In Singapore Besides Dividend