US stocks ended lower on Thursday as investors took in Federal Reserve Chairman Jerome Powell's hawkish comments on rate hikes. Although Wall Street had started the session higher following Tesla's blockbuster earnings, major US indices finished down after Powell said that a half-point interest rate hike is "on the table" for May's policy meeting.
Here are the week's top stock headlines.
Snap falls short
Social media company Snap reported first-quarter results on Thursday that showed missed expectations for profit and sales. However, Snap saw a better-than-expected jump in daily users. Shares of Snap fell as much as 10% immediately after the results, but rebounded to rise over 7% at one point during after-hours trading. The stock ended up gaining 0.7% after extended trading. 
Snap CEO Evan Spiegel attributed the company's disappointing first quarter to a challenging operating environment that affected advertising revenues. This included advertisers who pulled their campaigns following Russia's invasion of Ukraine in February.
The company forecasts June quarter revenue to rise between 20% and 25%, lower than Wall Street's estimate of 28%, warning that inflation, labor shortages and rising interest rates could affect revenue growth.
On the bright side, Snap achieved 332 million global daily active users, up 18% year-over-year. The company expects to hit 344 million daily users in the next quarter, ahead of analyst estimates of 341 million.
Vroom vroom: Tesla's record Q1 profit
Tesla posted a record first-quarter profit of $3.3 billion on Wednesday, handily beating analysts' expectations. Shares jumped during Thursday's trading, before sliding off alongside the broader market. Overall, Tesla shares are up 40% over the past year, compared to 6% for the S&P 500.
The company's automotive gross margins jumped to a record 33%, led by an increase in the number of car deliveries and an increase in average car prices.
In the first three months of 2022, Tesla delivered more than 310,000 cars. On the company's earnings call, CEO Elon Musk predicted that Tesla would produce 60% more cars this year compared to last year.
Apart from electric vehicles, Tesla seems to be focusing on autonomous driving too. The company previously announced plans to produce a self-driving robotaxi by 2024, although no further details have been provided.
Netflix loses its chill
Netflix shares crashed 35% on Wednesday after it disclosed a sharp drop in subscribers and warned that millions more could cancel their subscriptions. Shares fell a further 3.5% on Thursday. The drops have so far erased more than $50 billion of Netflix's market value.
In its first-quarter earnings report, Netflix reported a loss of 200,000 subscribers during the first quarter. Worryingly, it's the first time the streaming service has reported a subscriber loss in more than 10 years.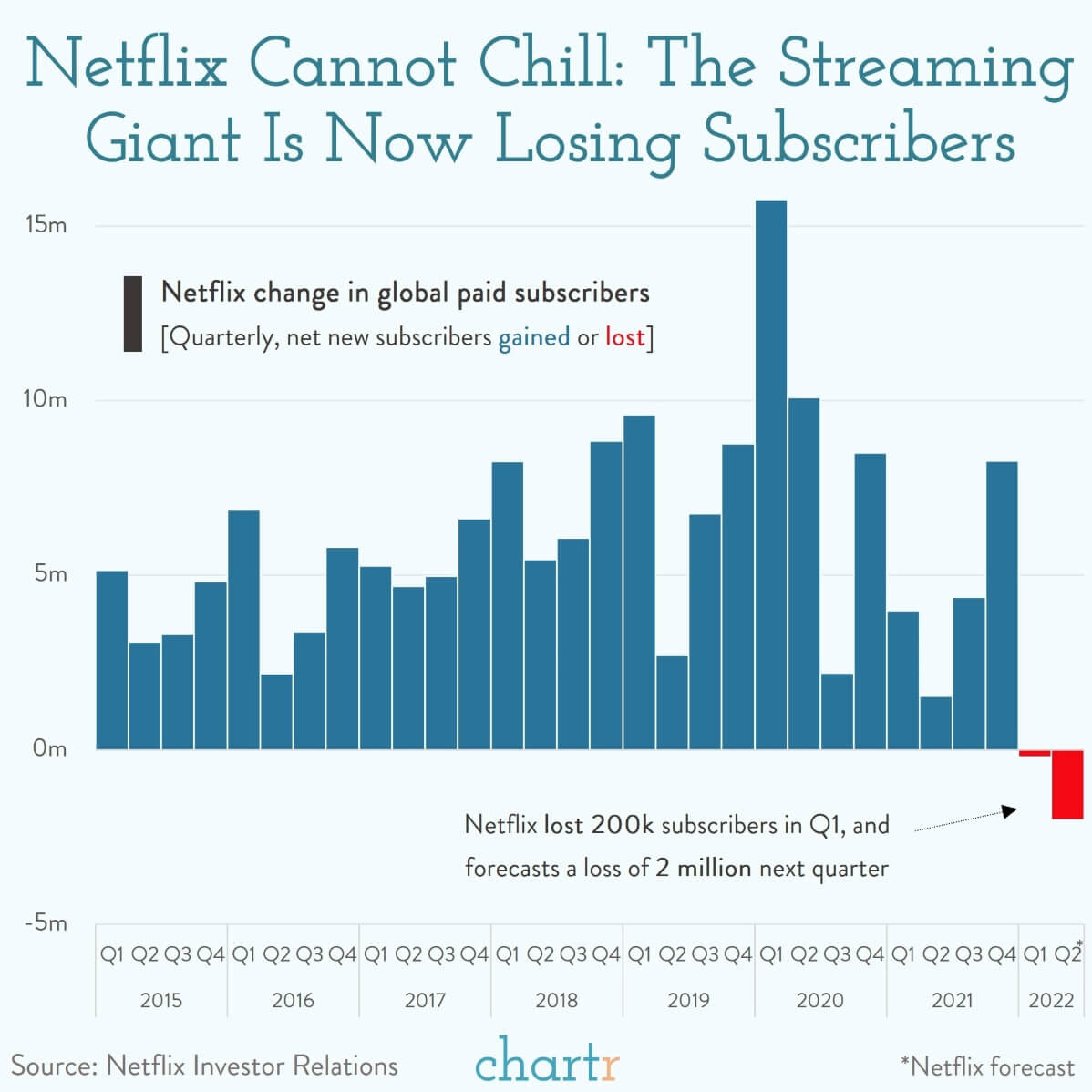 Part of that loss is to be expected. Netflix has raised prices in key markets, and consumers pushed back by quitting the service. Furthermore, Netflix's exit from Russia amid the war caused it to lose 700,000 subscribers.
Netflix faces stiff competition from streaming rivals like Disney+ and Amazon. For the second quarter, the company is forecasting a global paid subscriber loss of 2 million.
Netflix is struggling with revenue growth as well. The company posted revenue of $7.87 billion for the quarter, missing analyst estimates. It said password sharing was a key factor, estimating that more than 100 million non-paying households watch Netflix this way. To boost growth, the company is cracking down on password sharing and may introduce an ad-supported streaming tier in the future.
Not everyone is convinced though. Well-known investor William Ackman sold his $1.1 billion investment in Netflix on Wednesday, even though his hedge fund Pershing Square Capital Management had bought the shares only three months ago.
In an investor note, Ackman wrote that while Netflix's plans to change its business model made sense, investing in the company felt too risky.
United Airlines takes to the skies
Shares of United Airlines soared 9% on Thursday after the company forecasted 2022 to be its first profitable year since the pandemic struck.
The airline carrier released an upbeat outlook despite missing first quarter revenue estimates. Its revenue of $7.6 billion may be lower compared to pre-pandemic days, but it is still more than double the $3.2 billion reported a year ago.
For the second quarter, United is predicting revenue per passenger mile to increase 17% over 2019 as higher fares help cover an increase in expenses. The airline is seeing strong demand in both business travel and leisure bookings as the stablising Covid situation has sparked a renewed demand for travel.
Last week, Delta Airlines forecasted a return to profitability this year too, suggesting that airlines could be at a turning point in their recovery.