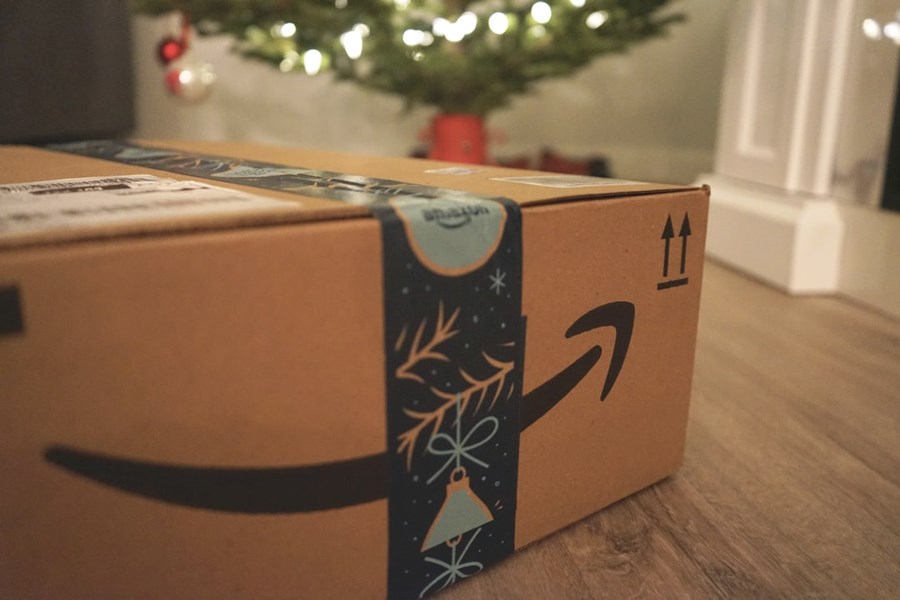 Markets continued to slip on Thursday after diplomatic talks between Ukraine and Russia yielded no progress. Despite the volatility, some stocks soared while others stumbled on disappointing earnings.
Let's get right to it.
Amazon stock split
Amazon's share price surged 5.4% yesterday after the company announced a 20-for-1 stock split and a $10 billion share buyback. Amazon's stock split won't fundamentally change anything about its business, but serves to make their shares more accessible due to the lower share price.
By reducing its share price, Amazon could become a contender for inclusion in the Dow Jones Industrial Average. The index weights its components by stock price.
If approved, the stock split will occur in June, before Google parent Alphabet undergoes its own 20-for-1 stock split.
CrowdStrike fires up
Shares of cybersecurity firm CrowdStrike surged 12.5% yesterday after the company reported better-than-expected earnings.
CrowdStrike's fiscal fourth-quarter revenue jumped 63% year-over-year to reach $431 million, beating the consensus estimate of $412 million. The company gained 1,638 net new subscription customers during the quarter, and subscription revenues soared 66% for the reported period.
Buoyed by the strong outlook, CrowdStrike provided positive guidance. The firm expects to rake in more than $2 billion in annual sales for fiscal year 2023, saying it will pursue market share as cybersecurity concerns intensify.
Cry me a Rivian
Rivian dropped 6.4% yesterday as the electric vehicle (EV) maker warned that supply-chain woes could cut its 2022 production outlook in half.
"The 2022 production guidance was disappointing and well short of what they said in their road show, and the fourth-quarter loss was wider than expected," noted CFRA Research analyst Garrett Nelson.
The company reported a net loss of $2.46 billion for the fourth quarter, compared with a year-ago loss of $353 million. Rivian's $54 million revenue for the quarter was also below analyst estimates of $60 million.
That said, losses are par the course for EV companies trying to scale production. It remains to be seen if Rivian can solve its supply chain issues and fend off competition from GM and Ford. Both companies are launching their own EV pickup trucks and SUV – the same vehicle types that Rivian produces.
Asana slumps
Shares of Asana dropped 22.1% yesterday after releasing fourth-quarter results that failed to meet investors' expectations.
Asana is a collaboration software company that makes cloud-based project management tools. At first glance, the company's reported results looked quite decent. Asana's fourth-quarter revenue rose 64% year-over-year, and management forecast positive guidance targets for the next quarter and fiscal year.
However, investors were expecting much more. Asana's decelerating pace of growth – it exceeded revenue expectations by 9% in Q2, 7% in Q3, and only 6% in Q4 – also contributed to its stock price slump.
Despite lacklustre financial figures, Asana reported some notable business highlights. As the company focuses more on larger enterprise accounts, the number of customers spending $50,000 or more on an annualised basis in Q4 increased 125% year-over-year.
Halliburton rises
As oil prices continue to rise, energy stocks are having a moment.
Oil equipment and services provider Halliburton gained 9% yesterday, buoyed by the greater demand for energy production after the US banned Russian oil.
Halliburton's revenue grew 6% to $15.3 billion in 2021, boosted from increased drilling activity from oil producers and elevated demand for oilfield services. With oil prices trending higher, demand for Halliburton's equipment and services will likely stay strong.
Want to start investing?
Simply download the Syfe app and sign up for your Syfe Trade account using Singpass. From now to 31 March 2022, you get to enjoy 5 free trades every month and super-low commissions of US$0.99 per trade thereafter.