US stocks closed higher on Thursday following Federal Reserve chairman Jerome Powell's second day of testimony before US lawmakers.
Stocks got a boost after Powell reiterated the Fed's commitment to bring down inflation while downplaying the idea that government stimulus checks during the pandemic was a key driver behind US inflation.
If gains hold through the close of trading today, the S&P 500 could be up for the week following last week's tumble where it fell 5.8%.
Here are the week's top highlights.
Revlon
Cosmetics company Revlon has become the latest meme stock. Shares have skyrocketed by over 350% since the company filed for bankruptcy on 16 June. The company owns brands such as Revlon, Elizabeth Arden and Cutex. 
In a court filing, Revlon said that supply chain disruptions have pushed up the costs of raw materials for its products and prompted vendors to ask for cash payments in advance.
Revlon's surge is similar to what happened to rental car company Hertz after it filed for bankruptcy in 2020. Hertz shares jumped more than 500% at one point after intense retail investor interest.
Kellogg
On Tuesday, breakfast cereal maker Kellogg announced plans to split into three independent entities – a global snack company, a US cereal company, and a pure-play plant-based food producer.
While Kellog is often associated with cereal brands such as Froot Loops and Rice Krispies, the cereal business makes up only 20% of their revenue and is no longer seen as a key growth driver for the company. The snack business instead has more potential given its global focus. Following the split, the snack company will be the biggest of the three. 
Kellogg has been focusing on its global snacking division in recent years as sales of US cereals slowed.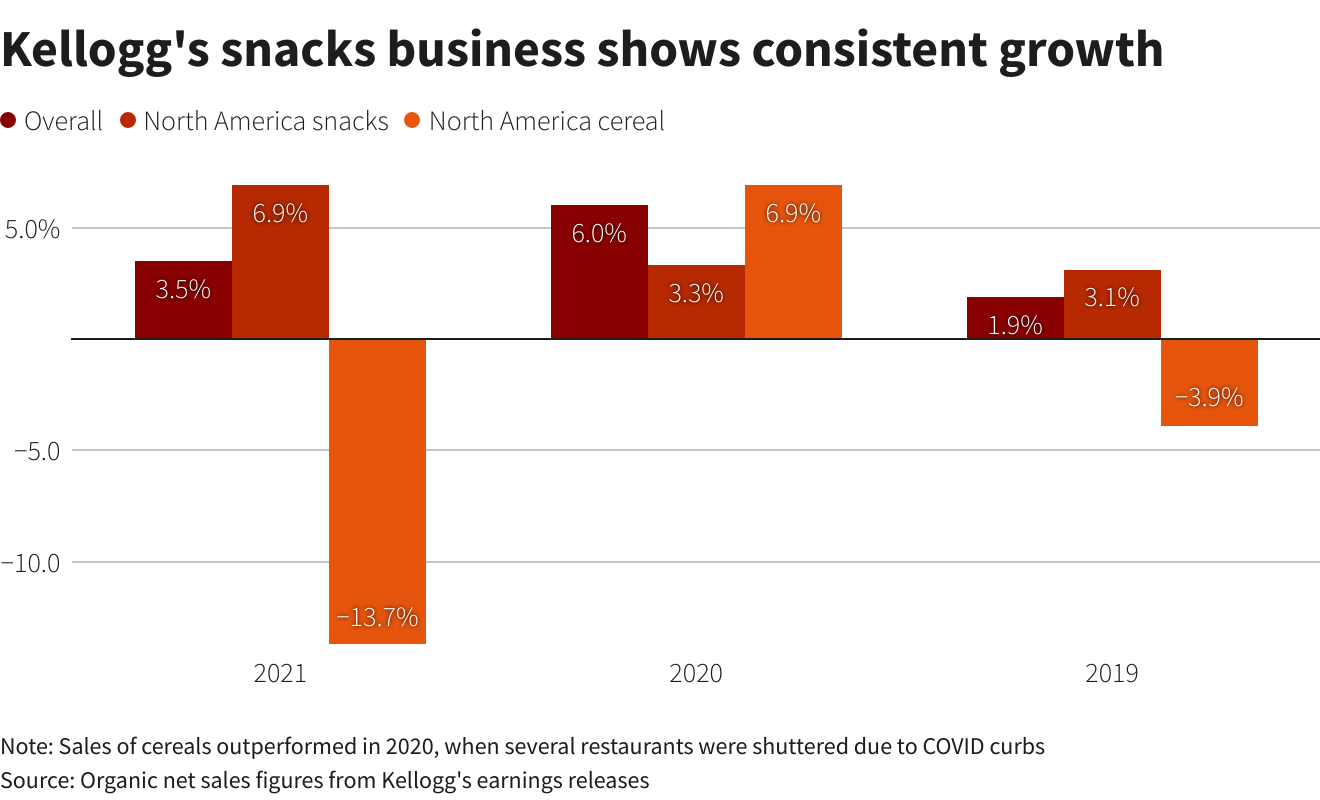 With the rise in consumers snacking more often between meals, rivals like Oreo-cookie owner Mondelez have similarly jumped on the snacking bandwagon. They recently acquired energy bar maker Clif Bar & Co. for close to $3 billion to ramp up their presence in the competitive snacks market.
Tesla
Tesla made headlines once again this week. On Tuesday, CEO Elon Musk said the company will cut 10% of its salaried workforce in the next three months while increasing the number of hourly employees in anticipation of a downturn in the US. This amounts to an overall reduction of close to 3.5% of Tesla's overall headcount.
In an interview with a Tesla owners group that was recorded last month but only published late Wednesday, Musk revealed that Tesla's new factories in Germany and the US are "losing billions of dollars" due to battery shortages and supply disruptions in China that have significantly curtailed production.
He even voiced fears that Tesla could go bankrupt. "The past two years have been an absolute nightmare of supply chain interruptions, one thing after another," Musk said. "We're not out of it yet. That's overwhelmingly our concern is how do we keep the factories operating so we can pay people and not go bankrupt."
That said, Musk recently noted at the Qatar Economic Forum that the demand for Tesla cars is "extremely high and the wait list is long". It seems Tesla is confident that demand will remain robust even after it raised the price of its cars in the US by almost 5%.
Tesla shares closed relatively flat on Thursday and is up 12% over the past month. However, shares are down nearly a third since the start of the year.
Valneva
US-listed shares of French biotech company Valneva jumped 27% yesterday after Pfizer acquired an 8.1% stake in the company. Valneva will use the proceeds from Pfizer's investment to fund Phase 3 development of a Lyme disease vaccine. In 2020, Valneva and Pfizer agreed to jointly develop and commercialise the vaccine for Lyme disease.
FedEx
Shares of FedEx rose more than 3% after the company reported its latest quarterly results after hours on Thursday. For its fiscal fourth-quarter, revenue increased 8% to $24.4. The shipping company also issued positive guidance on its full fiscal year and projected a rise in adjusted earnings.
FedEx recently announced a dividend increase of 53%, one of the first major strategic moves from new CEO Raj Subramaniam who took over on 1 June 2022.