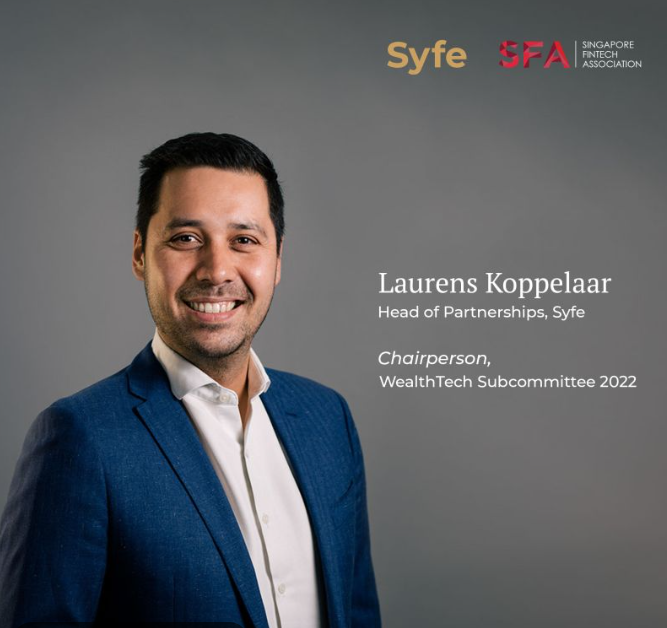 The Singapore FinTech Association (SFA) recently launched two new subcommittees – WealthTech and Web 3.0 – to better foster collaboration in Singapore's FinTech ecosystem and facilitate the development of solutions for industry issues.
Syfe's Head of Partnerships, Laurens Koppelaar, has been appointed as Chair of the WealthTech subcommittee. With more and more Singaporeans using some form of automated financial advisory service to manage their money, the launch of the subcommittee is particularly timely.
We sat down with Laurens to find out more about his passion for FinTech and his direction for the subcommittee.
Congratulations on being named Chair of the WealthTech subcommittee! The early part of your career was spent in more traditional financial institutions (FIs). What sparked your interest in FinTech?
Early in my career, I saw first-hand how there was much room for improvement when it comes to serving customers better. I realised that FinTech has the ability to create significant and lasting change with the potential to benefit the masses, and not just the lucky few.
Which FinTech trend are you most excited about?
I am very bullish on FinTech and its ability to foster an inclusive ecosystem. For consumers, that means enjoying a more level playing field and getting access to high quality financial products that were previously only available for folks in a higher income tax bracket.
More specifically, the widespread adoption of WealthTech means more people can benefit from long-term passive investing. Five or six years ago, investing was more complex, opaque, and expensive than it is now. Not everyone could afford to invest with the high fees and large account minimums.
But today, advances in digital wealth technologies have made investing more affordable and understandable for the average man (or woman) on the street.
Before joining Syfe, you headed the Singapore office at Symbo, a digital insurance platform. Do you see many similarities between InsurTech and WealthTech? What inspired you to switch?
Both WealthTech and InsurTech share many similarities: Using technology to help serve customers better. Also, people often put off getting insurance or investing as they don't know where to begin. The irony is that the best time to start was yesterday!
Insurance and investments are two sides of the same coin when it comes to growing your wealth. I felt that WealthTech provided more opportunities to help people build a better financial future. That's my personal motivation: To help others achieve their financial goals, whether that's retiring at 40, pursuing an alternative career path, or sending their kids to Ivy League colleges.
How do you see the WealthTech industry evolving in Singapore?
The digital wealth landscape in Singapore has grown so much in just a few years, and I expect more innovation to come. This will bring about more personalised and immediate services, better customer experience, and more affordable fees. The result would be consumers who are more financially educated and empowered to take charge of their own financial situation.
As WealthTech evolves, its adoption will become even more widespread. Syfe's oldest customer is a 93-year-old who's as comfortable on our mobile app as any Gen Zer! We could soon see more customers like them as digitalisation simplifies previously complex procedures.
Lastly, I see Singapore solidifying its position as a global Wealth Hub and WealthTech market where talent and customer adoption will drive best-in-class innovation.
As Chair of the WealthTech subcommittee, what are your plans for the months ahead?
Our subcommittee consists of eight members who come from the full spectrum of the WealthTech value chain: B2C, B2B, traditional FIs. This ensures we get a wide and fair representation across all stakeholders.
Our mission is to foster the development and growth of Singapore's WealthTech ecosystem in three focus areas:
1. Advocacy for digital wealth across the value chain to spur adoption and encourage innovation
2. Engagement with regulators to promote regulation that remains fit for purpose as customer preferences evolve
3. Build a pipeline of talent to cater for future growth and ensure there are skill sets in place in the multifaceted domain of WealthTech.
Naturally, this will be an industry-wide initiative and engagement with the wider community is key – building connections with those currently in the WealthTech ecosystem as well as those looking to be part of this growing industry in the near future.
That's exciting! We can't wait to see the WealthTech subcommittee make its mark on Singapore's FinTech scene. On a more personal level, what's next for you at Syfe?
One of the exciting things about Syfe as a FinTech with big aspirations is that we're always looking at innovative ways to continue being of value to our customers and partners.
Over the past months, we've been working with partners to jointly drive financial education in the workplace and improve employee financial wellbeing as part of our Syfe for Work initiative. I'm excited to deepen our collaboration with these leading organisations to champion financial literacy and education.
Additionally, I'm working with industry stakeholders to drive greater adoption of digital wealth management and achieve an impact on a bigger scale, in Singapore and beyond.