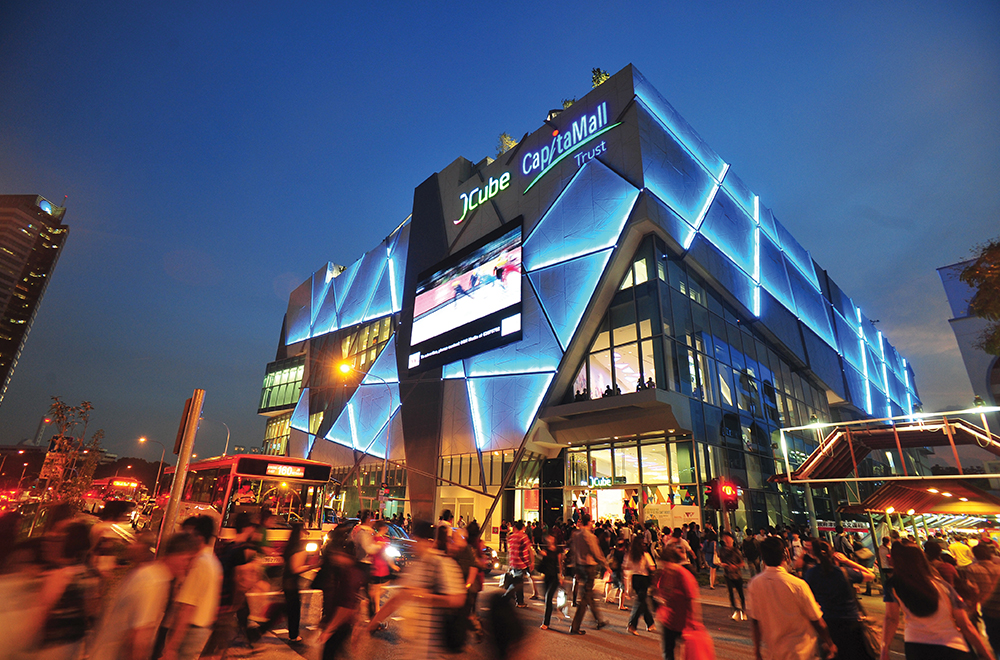 A wave of optimism has washed over Singapore's REIT sector as Covid-19 restrictions ease. Last Thursday (24 March), Prime Minister Lee Hsien Loong announced the government's intent to make a "decisive step forward towards living with COVID-19."
The maximum group size for social gatherings and dining in has been doubled to 10 people, and Singapore will reopen its borders to all fully vaccinated travellers from 1 April 2022. Up to 75% of those who can work from home are now permitted to return to the office. Additionally, some large-scale events will be allowed to resume.
These bode well for the so-called reopening plays like retail, hospitality, and office REITs. Moreover, with core inflation expected to average 2% – 3 % this year, REITs are gaining interest as an inflation hedge.
As we head into the second quarter of 2022 and beyond, here's what might be ahead for retail REITs.
Singapore's retail REITs landscape
Retail REITs have long been a popular choice for REIT investors. After all, you can simply head down to a mall to assess its footfall, retail offerings and amenities to gauge the performance of the REIT that manages that mall.
Singapore's retail REITs typically own and manage retail real estate, such as suburban malls and / or central region malls. For instance, Frasers Centrepoint Trust (FCT) is one of the largest suburban retail mall owners in Singapore with malls like Causeway Point and Hougang Mall under its portfolio.
On the other hand, Starhill Global REIT operates mainly central region malls like Wisma Atria and Ngee Ann City, two of the most popular malls along Orchard Road.
Meanwhile, CapitaLand Integrated Commercial Trust (CICT) would be an example of a REIT which owns both suburban malls (such as Junction 8 and Tampines Mall) and malls located in the central region (such as Raffles City and Plaza Singapura).
Retail sales pick up
Since late last year, we've seen a gradual recovery in retail sales. Singapore retail sales grew 11.8% in January 2022 on a year-over-year basis. This marked the fifth straight month of gains for retail sales.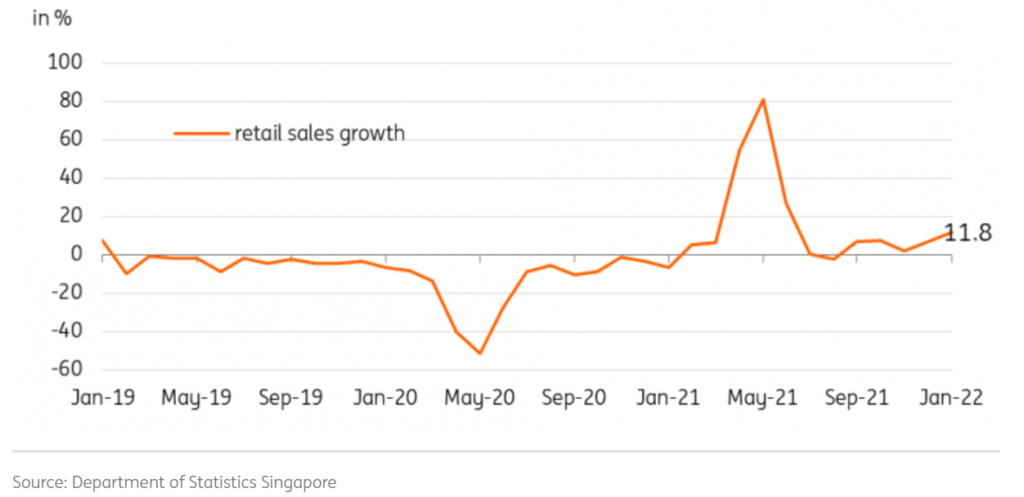 As people prepare to slip back into office wear with the work-in-office cap being raised from 50% to 75%, apparel and footwear retailers could see a boost in coming months. The food & beverage sector will likely benefit from relaxed group size limits and the current 10.30pm cut-off for alcohol sales and consumption being lifted. As Singapore welcomes more tourists this year, the increase in visitor arrivals should support spending on retail sales as well.
These are strong positives for the performance of retail REITs going forward. Notably, retail REITs gained 1.5% last Thursday, following PM Lee's announcement. Retail REITs also saw a surge in trading with S$21.4 million in traded value, representing a 58% increase against their 3-month average daily traded value.
Improving dividend yield for retail REITs
Lower rental reliefs and the recovery of shopper traffic and tenant sales last year helped many Singapore retail REITs improve their financial performance in 2021. This translated to higher dividend yield for FY2021 compared to FY2020.
We compiled data for retail REITs with market cap more than S$500 million and found that they averaged yield increases of 55% year on year.

Retail REITs were one of the best performing sub-sectors, generating almost 10% in total returns in 2021.
Retail rents likely to hold steady
Another positive for retail REITs is that Singapore's future retail supply remains low compared with the 5-year average of preceding years. This suggests that rents will likely remain stable in the immediate future.
Central malls play catch up
With most people working from home last year, suburban malls naturally outperformed their centrally located counterparts. Suburban malls, particularly those connected to transport hubs like MRT and bus stations, generally see residents go through the mall every day as they go about their activities. This generates stable footfall and resilient tenants sales.
While many residents will frequent nearby malls for food and necessities, fewer are likely to patronise central malls that regularly. Central malls also tend to cater more to tourists, which all but dried up in the midst of the pandemic.
As more of the office crowd returns, the outlook for central malls should improve. Suntec REIT reported higher occupancy rates for its retail properties and noted that tenant sales recovered faster than footfall and exceeded pre-Covid levels in December 2021.
The resumption of travel will mean a significant boost for tourist-focused malls as well.
Omni-channel retail: The new normal?
Covid-19 undeniably took a huge toll on many retailers. In 2020, we bid farewell to several high profile retail brands such as Robinsons, Topshop, and Esprit.
One silver lining is that several retailers have swiftly taken over the prime retail space vacated. We now have IKEA at JEM and Courts at The Heeren. While some brands may exit, more resilient retailers have proved ready to fill vacated spaces with new concepts.
This speaks to how brick-and-mortar retail will remain relevant even as e-commerce grows in popularity. Going forward, consumers are likely to indulge in both online and physical shopping depending on their needs and preferences.
There are encouraging signs that landlords recognise this and are keeping up with the evolving retail landscape by introducing omnichannel experiences to strengthen the relevance of their malls.
For instance, CapitaLand, which manages CapitaLand Integrated Commercial Trust, launched eCapitaMall (a digital mall) and Capita3Eats (a food ordering platform) in 2020 to augment the online to offline experience for their shoppers and retailers.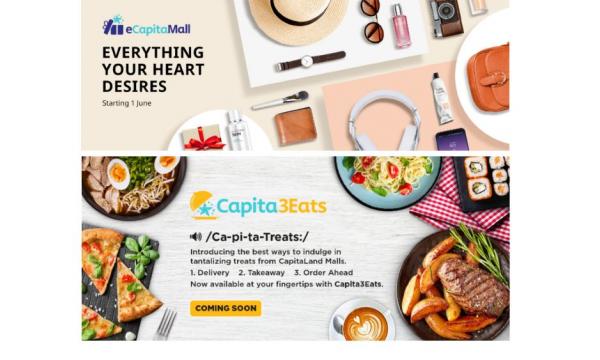 Frasers Centrepoint Trust adopted a similar strategy with its Frasers eStore and Makan Master digital platforms. These platforms provide multiple fulfilling options (in-store, click & collect and delivery) and order stacking as well.
Well-located and well-managed malls thrive
Ultimately, the success of retail REITs depends on how well-located and well-managed their malls are. While short-term hiccups may occur, high quality malls will always be able to attract new tenants and keep shoppers coming back.
One easy way to invest in the reopening play is a diversified REIT portfolio holding not just retail REITs but other sectors like office, hospitality, industrial and healthcare. As the old saying goes, don't put all your eggs in one basket. One option to consider is Syfe REIT+, a portfolio holding 20 of the largest Singapore REITs such as CapitaLand Integrated Commercial Trust, Mapletree Commercial Trust, Ascendas REIT and more.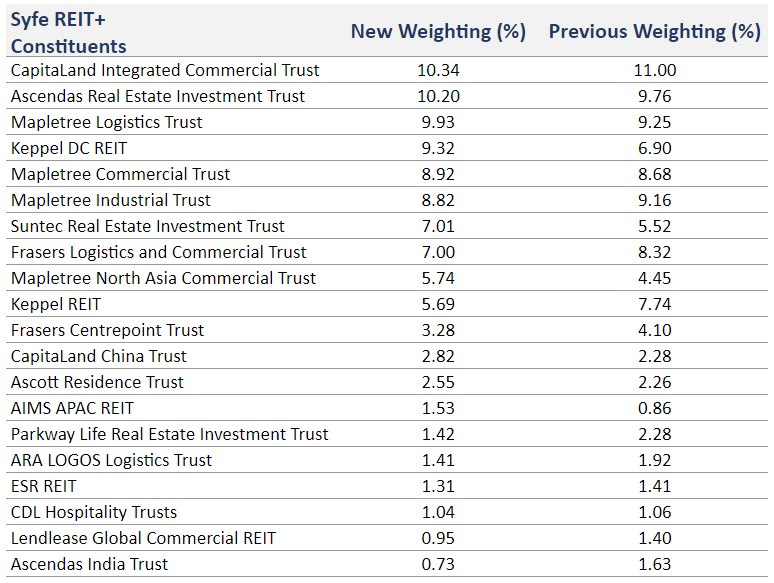 Syfe REIT+ tracks the iEdge S-REIT Leaders index and was launched in partnership with the SGX. In 2021, it generated a dividend yield of 4.8%.
With no minimum investment amount, the portfolio could be a good option for investors who are looking dollar cost average effectively into the Singapore REIT market. If you're looking for a way to earn passive income in Singapore, Syfe REIT+ is the perfect portfolio to get you started on investing in REITs.