The outlook seems bright for Singapore office REITs. More employees may be heading back to the workplace after the government raised the work-from-office cap from 50% to 75%.
This is positive news for the five Singapore REITs that have significant exposure to office properties in Singapore.

CapitaLand Integrated Commercial Trust (CICT) and Mapletree Commercial Trust (MCT) both manage a mix of office and retail properties, including Mapletree Business City and the new Capita Spring.
Suntec REIT has 82% of its portfolio in the office sector. Its office properties in Singapore include Suntec City, MBFC Towers 1 and 2, and One Raffles Quay.
Keppel REIT is a pure-play office REIT whose top tenants include companies in banking and financial services, government agencies, technology and media.
For OUE Commercial REIT, its portfolio includes office, retail and hospitality assets. It manages three office buildings in the Central Business District (CBD), including One Raffles Place.
Overview of Grade A offices in Singapore
The office sector spans a wide variety of properties but most office REITs manage Grade A commercial assets located in the CBD.
In Singapore, Grade A offices are typically leased by multinational corporations in the financial and technology sectors. For instance, Facebook takes up four levels in Marina One and DBS is the anchor tenant at Tower 3 of MBFC.
Buoyant Grade A office outlook
CBD Grade A office rents are expected to grow 4.6% year-on-year in 2022, according to real estate management firm Cushman & Wakefield. This comes on the back of limited new office supply and more ageing office buildings taken off stream for redevelopment.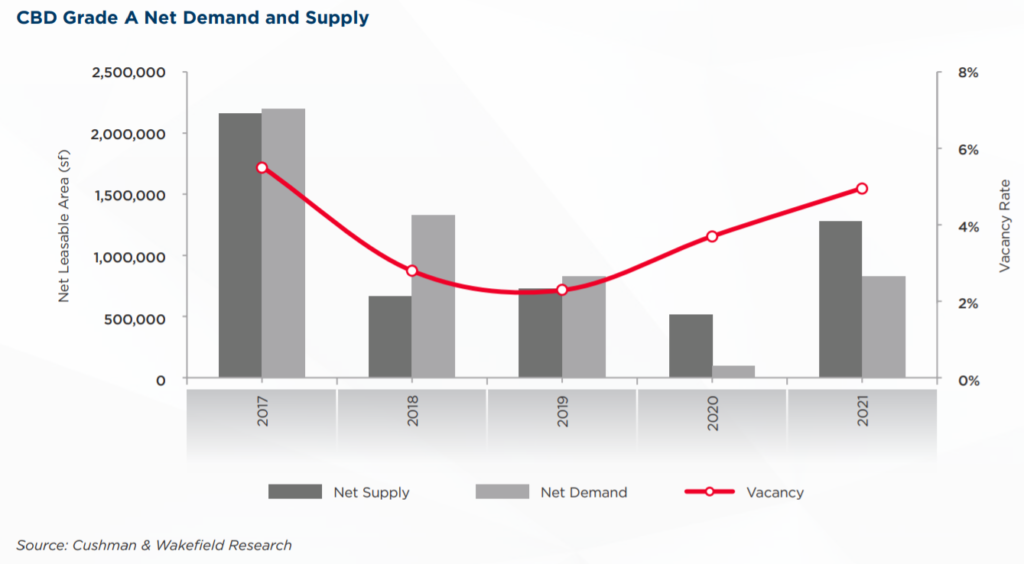 Guoco Midtown is the only Grade A office building expected to come online in the CBD this year. Meanwhile, AXA Tower and Singapore Land Tower are slated for upgrades, leaving their displaced tenants seeking new spaces.
For the first quarter of 2022, JLL Singapore reported that Grade A CBD office rents rose 2.3%. This marks the third consecutive quarter of accelerated growth within the overall CBD office space.
Grade A office space also registered positive net absorption of 373,000 square feet in the fourth quarter of 2021, according to a recent report by Colliers. This means that the space vacated during the period was less than the new office take-ups that happened. Grade A vacancy dropped by 1.3% to 5% last quarter as companies moved into the recently completed CapitaSpring building.
Office investment sales similarly picked up, growing 3.7% quarter-on-quarter in Q4 2021. Notable deals include the sale of One George Street from CapitaLand Integrated Commercial Trust and FWD Group to a joint venture between JPMorgan Global Alternatives and Nuveen Real Estate for S$1.28 billion. This reflects a healthy investment appetite for premium Grade A offices.
Strong demand from tech and financial firms
In 2022, technology and financial services firms will continue to be major sources of office demand in Singapore. "Given favorable funding conditions and the exponential growth of the digital economy, the number of tech firms is set to grow, providing a steady pipeline of demand for office spaces," Cushman & Wakefield said.
The firm also pointed out that more asset managers are setting up shop in Singapore. This follows the growth of family offices here, which has seen a ten-fold increase between 2017 and 2020.
With Singapore's strong positioning as a hub for technology and investment funds, more companies are expected to strengthen their presence in Singapore. Additionally, there's a flight to high-quality office spaces underway as employers strive to provide healthy and sustainable workplaces for their employees. Lazada, KPMG and Red Hat are some notable firms that moved from Grade B office buildings to Grade A in 2021.
These should support office demand growth in the near future, which should translate to better earnings for office REITs.

Office REITs one of the top performers in 2021
Office REITs returned 10% in 2021, making them one of the best performing REIT subsectors.
Data from the Urban Redevelopment Authority (URA) shows that office rental prices increased 0.9% in Q4 2021, compared with a 3.5% decline in Q3. On a year-on-year basis, office rents improved 1.9% in 2021, after falling 8.5% in 2020.

Both Suntec REIT and Keppel REIT reported office occupancy rates of 97.5% and 95.4% respectively, as of 31 December 2021. This was higher than Singapore's Core CBD occupancy rate of 93.3%. Meanwhile, CICT reported that average office rental improved 2.6% quarter-on-quarter to S$10.33 psf as of December 31 2021.
Will workers return to the office?
Over the longer term, the outlook for office REITs depends very much on whether employees will permanently return to their office desks. Although working from home provides flexibility, it cannot replace the collaborative atmosphere and social interactions a physical office space fosters.
And while it may be liberating to "go to work" in pajamas, employees and employers are starting to realise that permanent remote work could mean a blurring of work-life boundaries and missed opportunities for mentorship and office camaraderie.
As we've seen with banks, more companies may start to offer flexibility in terms of when and where people work, but still expect employees to work from the office to benefit from the collaborative elements of communal work spaces.
The office is here to stay
With relatively small home sizes in Singapore, there will always be employees who view offices as the most optimal working environment. These can be parents who need to get away from their children's crying or employees living in high-density households.
This will bode well for office REITs, especially those that can improve their properties and meet the post-pandemic requirements of safety and flexibility.
For exposure to the return-to-office trend, consider a diversified REIT portfolio like Syfe REIT+. It holds 20 of the largest REITs in Singapore, including office REITs like Keppel REIT, CICT, MCT and Suntec REIT.
With no minimum investment amount, Syfe REIT+ is an ideal way to start investing in Singapore office REITs. You can make a lump sum investment, or choose to make regular investments over time since there are no brokerage fees charged. This is unlike buying REITs through a local broker, which will set you back $10 to $25 per transaction.