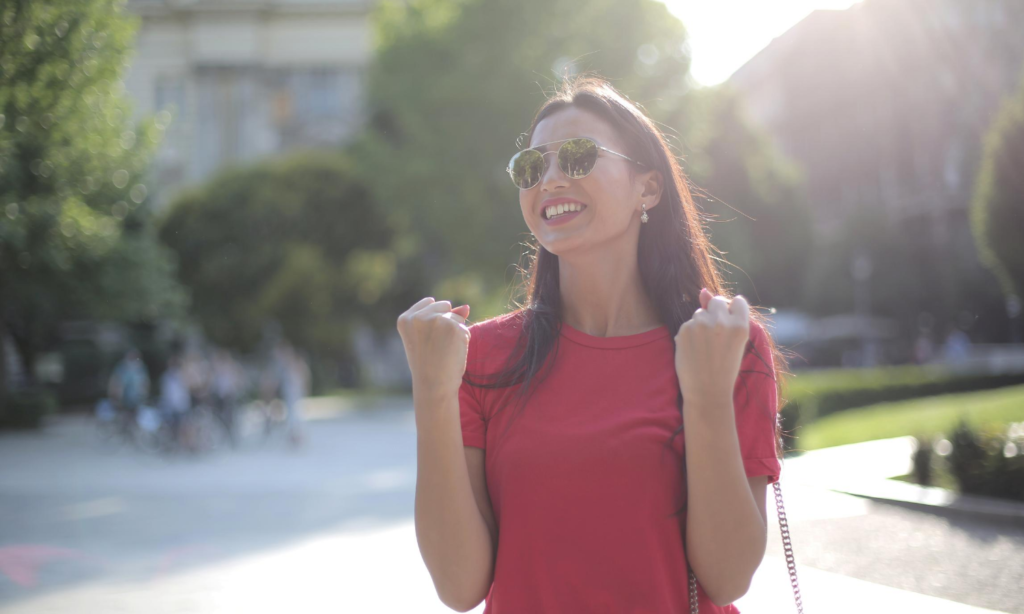 Have a specific investment view you want to express? Or just want more flexibility in personalising your portfolio to your particular goals, interests, or risk appetite? You can now select from over 100 best-in-class ETFs across asset classes, sectors and geographies to build your own portfolio.
Here's what we mean. Let's say you strongly believe in sustainable investing. You could invest in an ESG portfolio covering a broad range of environmental, social and governance (ESG) areas.
But what if you strongly believe in climate change and only want to back companies at the forefront of clean energy and water sustainability? A broad ESG portfolio might not provide the targeted exposures you seek.
With Syfe Custom portfolios, you're in the driver's seat. You can select investments like the iShares Global Clean Energy ETF and the Invesco Water Resources ETF as the building blocks of your own climate change portfolio. You have complete control over your portfolio weights and how much you want to invest. Best of all, there are no brokerage fees and no investment minimums.
A curated investment universe
We understand the paradox of choice. There are over 8,000 ETFs in the market after all. Going through all the available options and choosing the best ones for your portfolio is a Herculean task. No wonder some investors prefer to avoid choosing all together and end up sitting on the sidelines.
This is why we have pre-selected a list of ETFs for you according to our rigorous screening methodology. We only pick the best low-cost, highly liquid, index-tracking ETFs to ensure that you not only achieve your desired market exposure but also gain optimal risk-adjusted returns.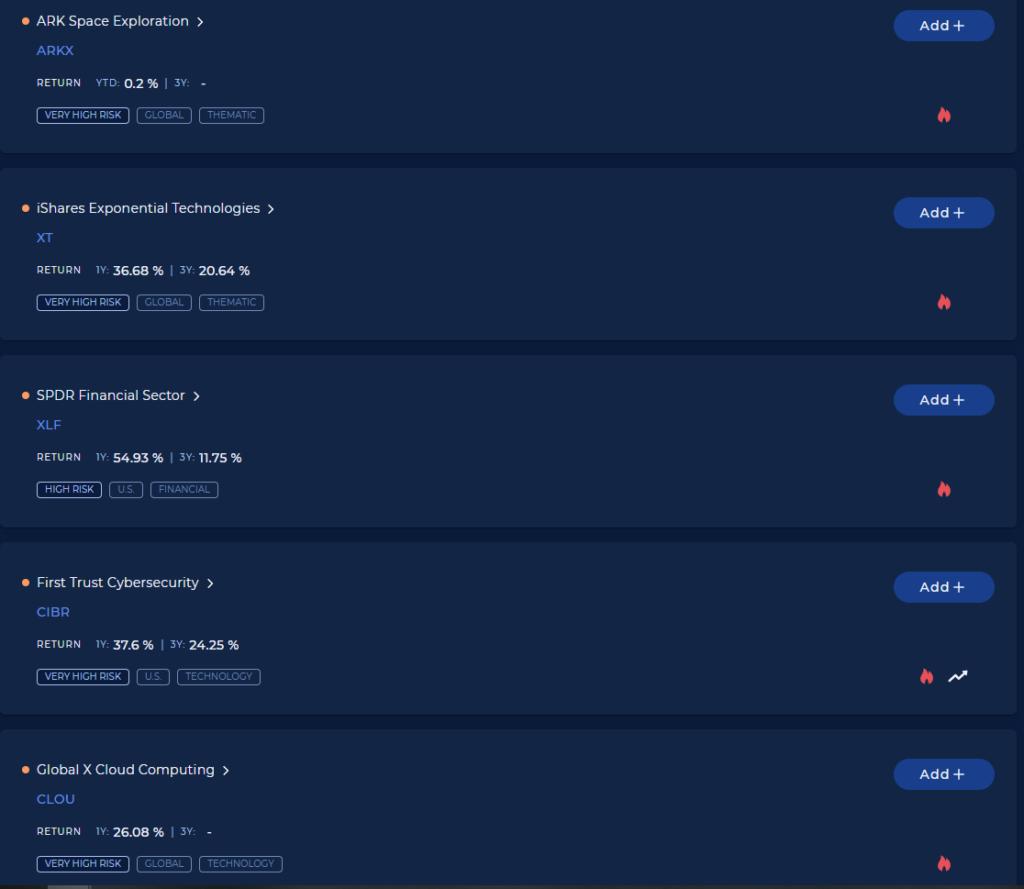 Our ETFs are managed by world-leading asset managers such as BlackRock, Invesco, State Street, Vanguard, and ARK. Between them, these familiar names manage trillions of dollars in assets under management. Their solid experience and proven track record gives us confidence that the ETFs they manage are well-structured and well-run.
See how your assets shape your portfolio
At this point you may be wondering why you can't simply buy your desired ETFs directly from a brokerage.
You could, of course, do that but you'll be missing out on the convenience and insights that the Syfe platform offers. For instance, although a brokerage may provide you with the historical returns of the individual ETFs, it does not give you the historical returns of a portfolio made up of those ETFs in your chosen allocations. 
Similarly, you may not be aware that the ETFs you have picked all share the same top portfolio holdings, or that your assembled portfolio has an overwhelming tilt to a particular market. Without these insights, it can be difficult to truly evaluate whether your portfolio is suitable for your investment objectives and risk tolerance.
This is why each time you create a Syfe Custom portfolio, we provide you with all the necessary portfolio analysis: historical returns, exposures across asset classes, sectors and geographies, as well as overall portfolio risk.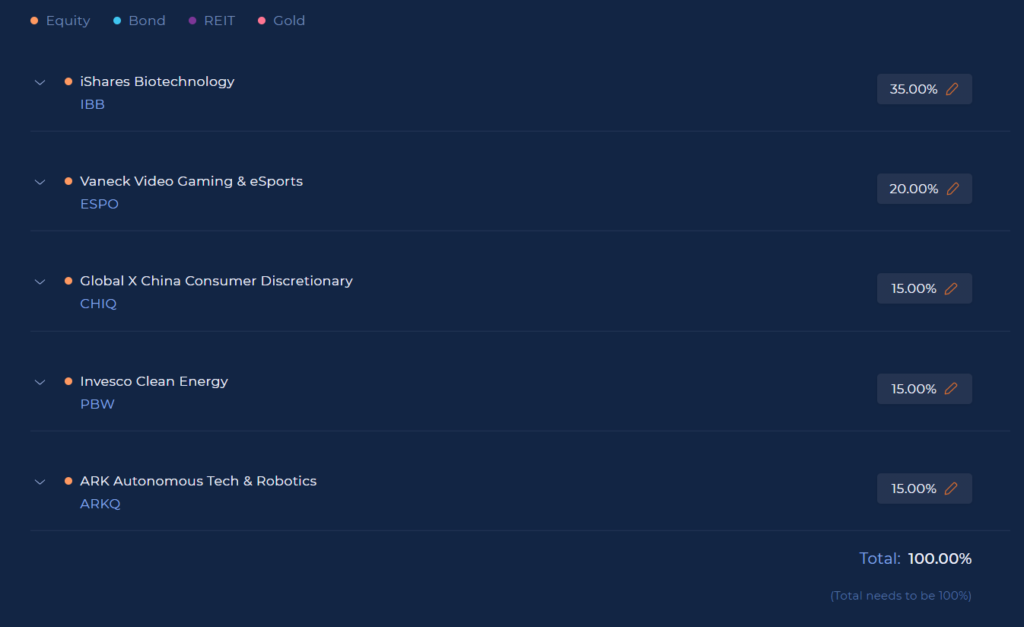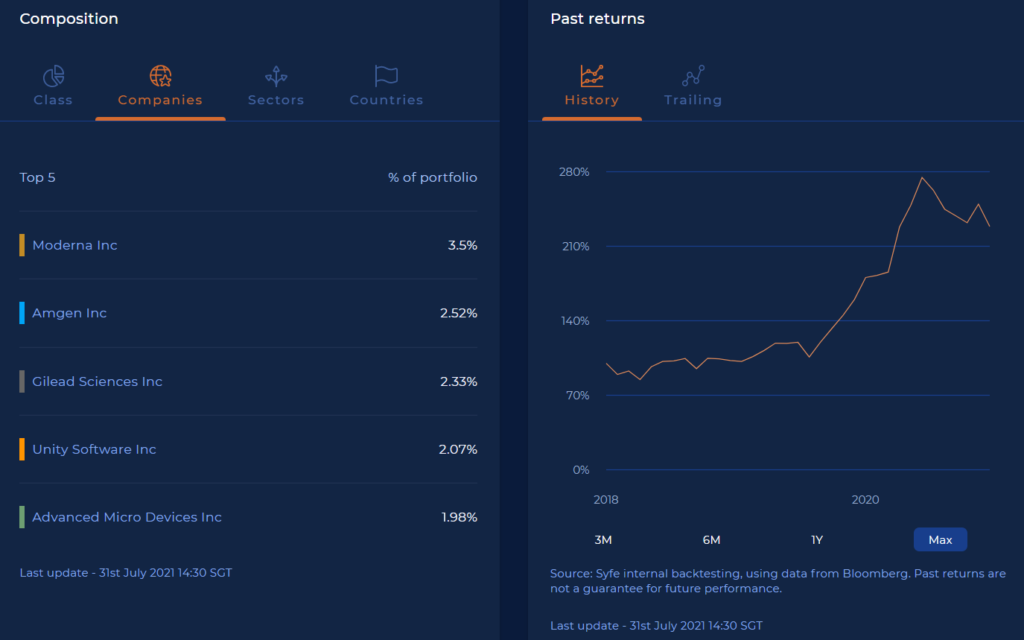 When you make edits to the portfolio, be it adjusting asset allocations, adding or removing assets, we provide immediate feedback on how the overall portfolio diversification, past returns, and risk level changes with your adjustments.
Based on these details, you can continue tweaking your portfolio until you are completely satisfied with how it fits in with your overall goals.
A closer look at our ETF risk ratings
We believe that everyone should invest according to their risk tolerance. To help you determine whether your custom portfolio is aligned to your risk appetite, we provide the portfolio's overall risk rating for your review.
We calculate this rating by using the weighted average risk scores of the individual ETFs within your portfolio. Each ETF in our investment universe is first given a risk score between 1 to 5 based on its underlying asset class, geography and sector exposures. A score of 1 is very low risk; a score of 5 is very high risk.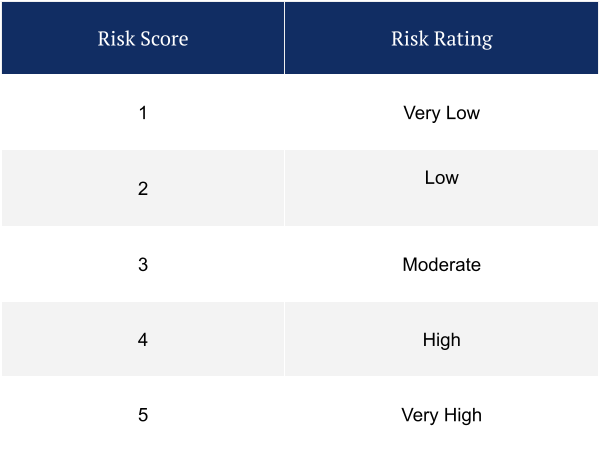 For example, an equity ETF will have a higher risk score relative to a bond ETF. An ETF that invests in global markets will have a lower risk score relative to one that invests in a single emerging market. An ETF exposed only to the technology sector will be given a higher risk score relative to one that is exposed to a broad range of sectors.
If you have a medium risk appetite, you may want to consider choosing ETFs that are rated 3 or lower. Have a higher risk tolerance? ETFs with a 4 or 5 risk score can be options to consider.
When should you use a Syfe Custom portfolio?
Syfe Custom portfolios are a great option if you are looking to add specific exposures to your core investments. For example, you may want to complement your Syfe Core Growth portfolio with clean energy stocks. Our Custom portfolio allows you to choose the clean energy ETFs of your choice and invest in them.
Another use case for Custom portfolios is when you want more control over your investments. You may like our Core Growth portfolio but decide that you want to have a greater allocation to Chinese equities. On the Syfe platform, you can replicate the Core Growth portfolio but increase your exposure to China ETFs. 
You can use Custom portfolios any way you prefer – all with no minimum investment and no lock-in. The fees you pay for Custom portfolios are the same as all other Syfe investment portfolios too. Our low fees start from 0.35% per year and you may withdraw your funds at any time with no extra charges.
Need some inspiration? You can also refer to our five thematic portfolios: ESG & Clean Energy, Disruptive Technology, Healthcare Innovation, China Growth, and Global Income. These portfolios have been created using the same best-in-class ETFs we have curated on the Syfe platform.