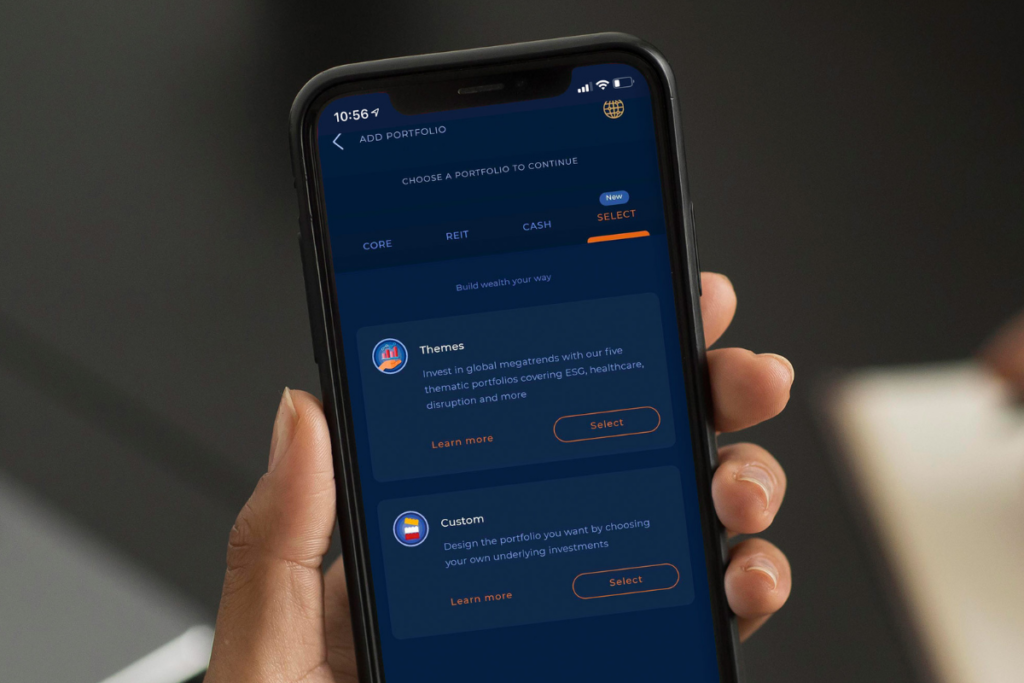 Everyone is unique. We all have different values, preferences, experiences and backgrounds that shape who we are. You could be a passionate advocate for the environment or an ardent believer in new technology. No matter your ideals, wouldn't it be great if your investments could reflect your beliefs?
With Syfe, you can now invest in a portfolio that's as unique as you are. Build a portfolio you believe in and let us handle everything else from rebalancing to dividend reinvestment. These features come at no additional cost and are designed to give your portfolio an edge over those offered by traditional brokerages.
Build your portfolio with Syfe Custom
With Syfe, it's easy to build a truly personalised portfolio. Our investment team has done the groundwork for you by carefully curating around 100 of the best exchange traded funds (ETFs) in the market. We have selected only those that are low-cost, highly liquid and track their benchmarks closely.
You can add up to eight of these ETFs in your Syfe Custom portfolio. For example, if you're bullish about technology, you could add Cathie Wood's ARK Innovation ETF (ARKK) and ARK Next Generation Internet ETF (ARKW) to your portfolio. For some diversification, you might also include the Global X Cloud Computing ETF (CLOU) and VanEck Vectors Video Gaming & eSports ETF (ESPO).
It's your call how you want to build your portfolio. With nearly 100 ETFs, there are millions of different ways you can assemble your Custom portfolio.
Information at your fingertips
As you're designing your Custom portfolio, you'll be able to view all the necessary portfolio analysis: historical returns, exposures across asset classes, sectors and geographies, top ETF holdings, as well as overall portfolio risk.
Not fully satisfied? Add or remove holdings, or adjust your portfolio asset allocation. Whenever you make an edit, you'll see immediately how your overall portfolio diversification, past returns, and risk level changes with your adjustment.
Once your ideal portfolio has been created, all you need to do is fund your account – no manual trading necessary! We'll automatically buy your assets in your desired allocation and reinvest all dividends received.
Prefer ready-made portfolios? Explore Syfe Themes Portfolio
Not everyone enjoys the rigours of building an investment portfolio from scratch. That's why we offer Themes portfolio, a collection of five thematic portfolios expertly designed to capture long-term structural shifts such as sustainability and disruptive technologies.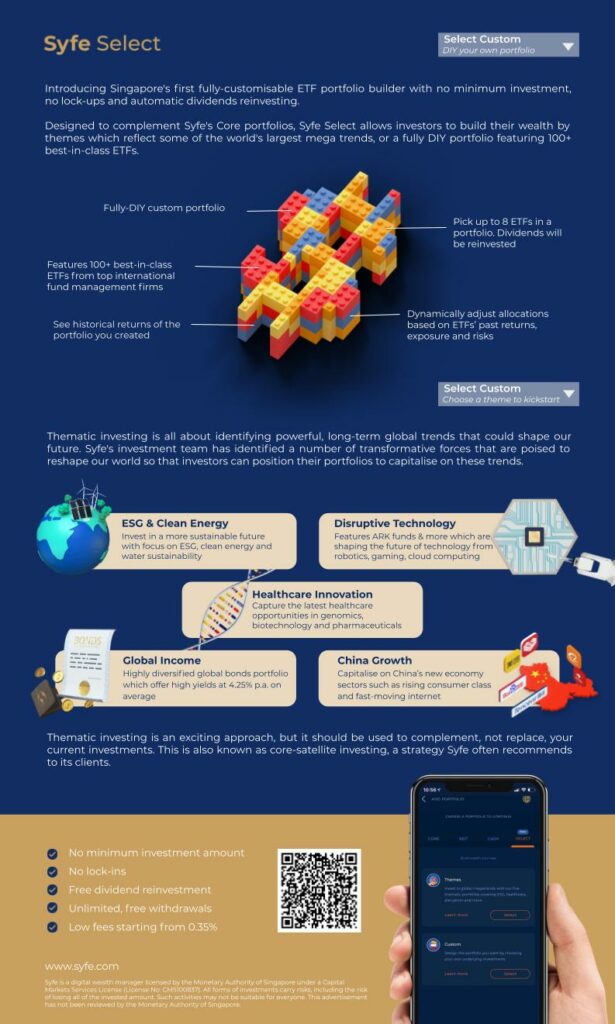 We've constructed each thematic portfolio using a proprietary asset class risk budgeting methodology. Our investment team also keeps watch on all new emerging trends for possible inclusion in the portfolio.
Here's a snapshot of the five Syfe Theme portfolios.
We've built Syfe Themes from the same universe of around 100 carefully vetted ETFs that make up Custom portfolios. While asset allocations within our thematic portfolios are currently fixed, we plan to allow you to tweak these allocations very soon.
How to use Syfe portfolios
Although it can be exciting to create your own portfolio or invest in ideas you care about, it is important to consider more strategically how Syfe can complement your existing investments.
Our wealth experts typically recommend using Syfe Core as the core portfolio holdings to grow your long-term wealth. Thereafter, you may use Syfe to gain additional exposure to certain themes or to meet certain investment needs.
For instance, you can get a well-rounded exposure to stocks, bonds and gold through the Core Growth portfolio, and use the Global Income thematic portfolio for your passive income needs. The former serves as your "core" allocation while the latter functions as a "satellite" in an investment approach known as a core-satellite strategy.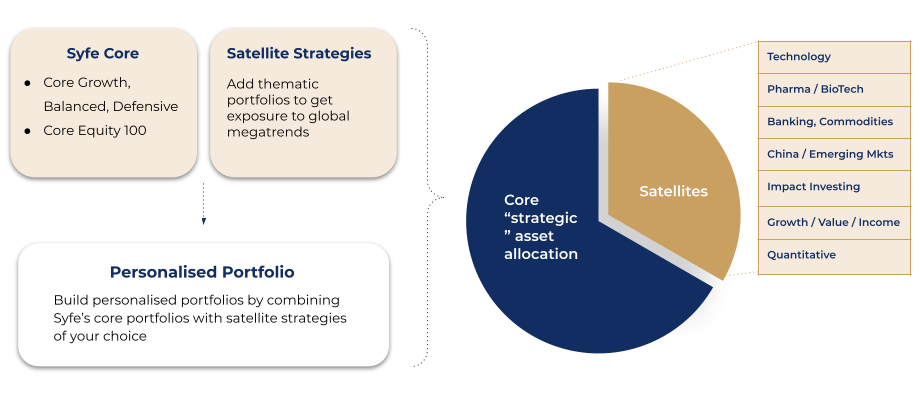 Build wealth your way
At Syfe, we believe in low fees. That's why we use ETFs as the building blocks of our portfolios, and why our all-in fees start from just 0.35% per year.
You can start investing with no minimum amount and no lock-in period. Plus, all brokerage fees are absorbed by us. Whether $500 or $5,000, this means you can easily dollar cost average into your Syfe portfolios each month.
Ready to build your own portfolio or explore our thematic options? Get started with Syfe Portfolios now.