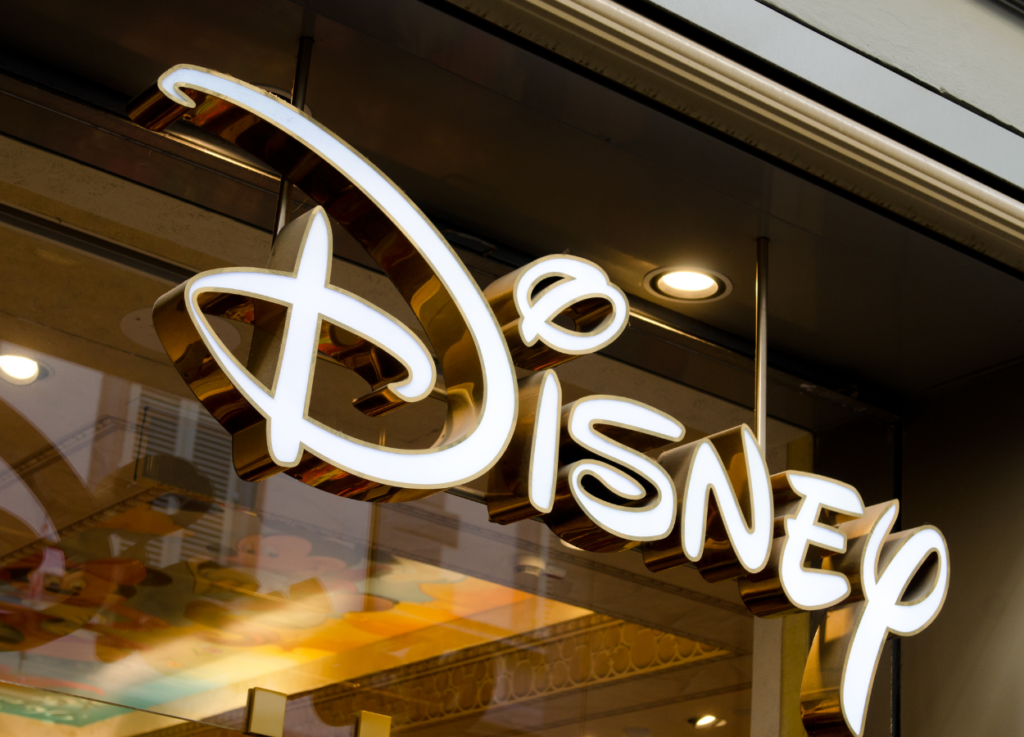 In a surprising reversal, Tesla CEO Elon Musk has decided not to join Twitter's board after all.
Musk's actions can send a stock soaring, or sink it. His influence was on full display after Twitter shares soared more than 20% last Monday on news that he had purchased a 9.2% stake in the company.
The announcement propelled Twitter (TWTR) into Syfe Trade's top 10 most traded stocks last week. Disney (DIS) and Amazon (AMZN) saw healthy trading interest as well, bringing them into our top 20 most traded stocks.
Here's what to know about these three companies.
Twitter
Elon Musk is now Twitter's largest shareholder after purchasing nearly 10% of the social media company's shares. Twitter shares rose after Musk's stake was revealed, and continued to rise after Musk was appointed to Twitter's board of directors.
In a surprise twist, Musk has decided not to join Twitter's board after all. Twitter shares briefly tumbled more than 8% on Monday, before closing up 1.7%. The stock is now up 42% over the past month.
By turning down a seat on Twitter's board, Musk is now free to initiate a full buyout of Twitter and take on a more active role within the company. He has previously tweeted his thoughts on an edit button and Twitter accepting Dogecoin.
Even if he chooses not to pursue this option, as the largest shareholder, Musk still has the power to influence decisions. It remains to be seen whether his inputs will help Twitter reach its 2023 growth targets:
315 million monetisable daily active users by Q4 2023 (Twitter currently has 217 million and added 18 million monetisable daily active users in 2021)
$7.5 billion annual revenue in 2023 (Twitter made $5.1 billion in 2021)
Though Twitter has a lot of cultural relevance, the company has long struggled with monetising its user base.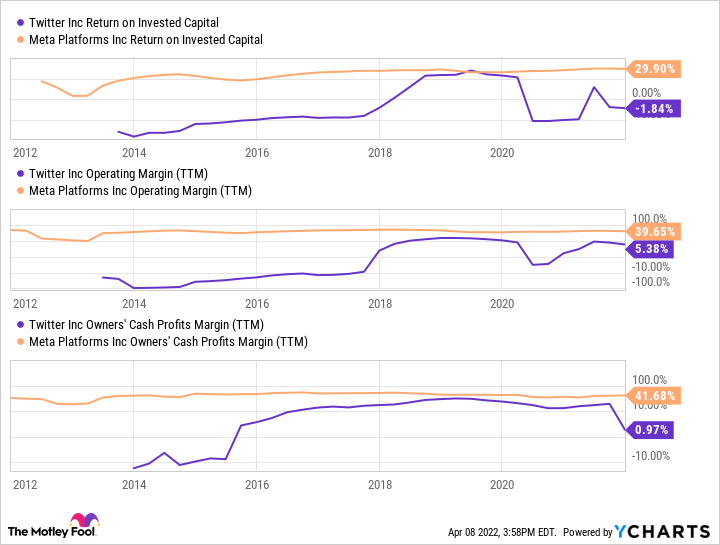 Even after so many years, Twitter still lags Meta Platforms in translating its user base into revenue and cash flows.
Analysts currently have a "Hold" call on Twitter.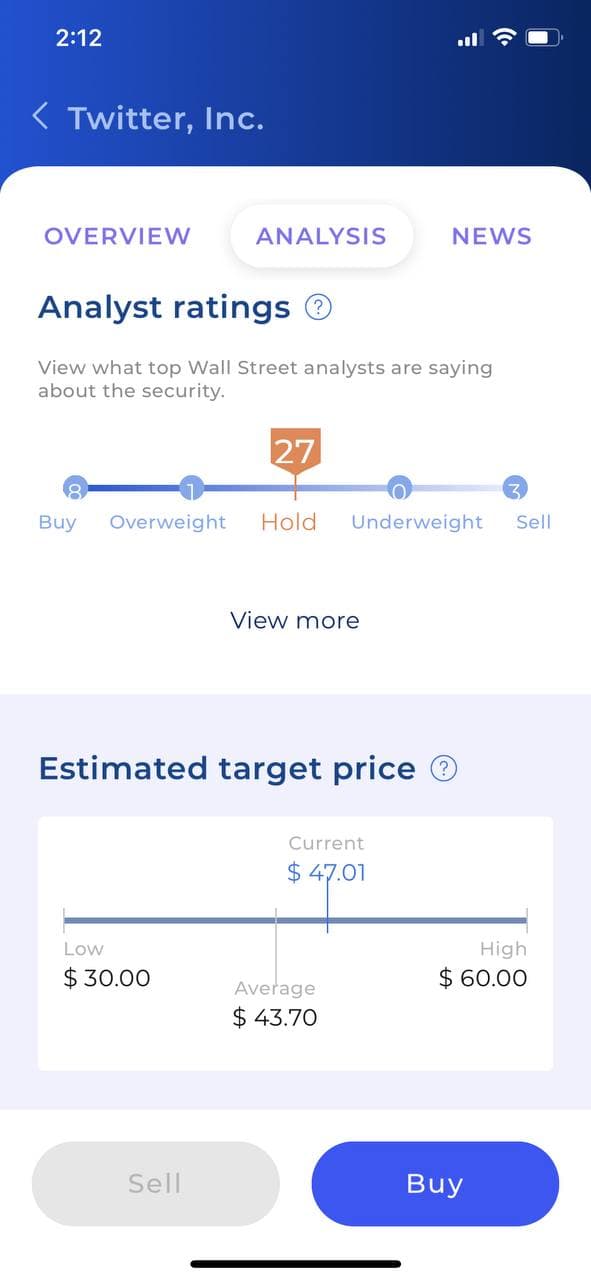 Disney
Shares of entertainment conglomerate Disney have been under pressure for many months. The stock is down 30% over the past one year as the pandemic kept families away from Disney's theme parks and attractions.
But as COVID-19 restrictions ease in many parts of the world, Disney's theme parks are welcoming people back in droves. In its fiscal first quarter (ended 1 January 2022), Disney's parks, experiences and consumer products division saw revenues swell to $7.2 billion during the quarter. This represents a 100% year-over-year gain in theme park revenue as guests return to Disney's theme parks.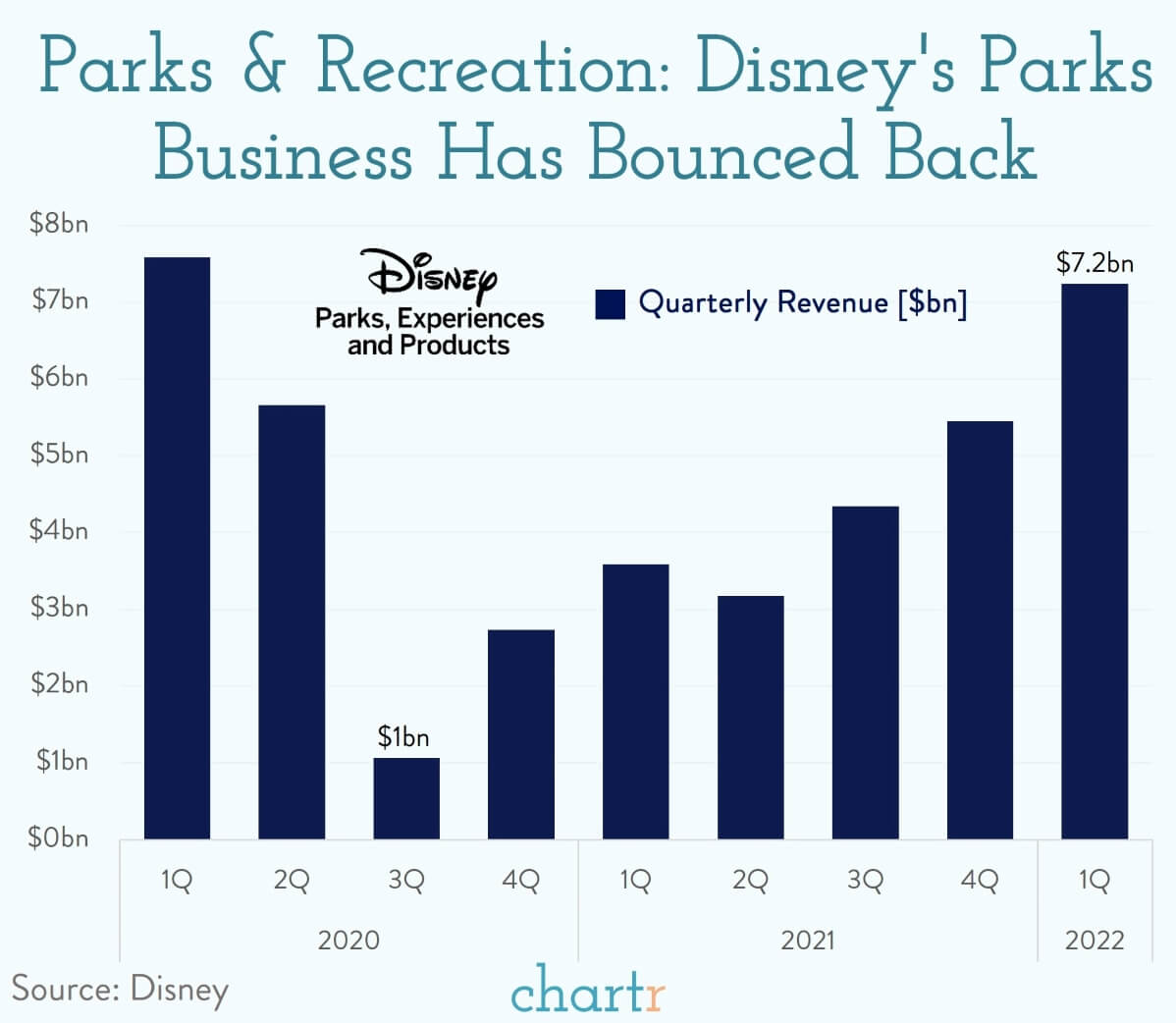 Pent-up demand from consumers also boosted guest spending. Disney reported that guests are spending on average 40% more than they were before the pandemic struck. With international travel picking up, theme park attendance and spending stand to grow even further in the months ahead.
Disney's streaming platform Disney+ is also growing rapidly. Launched less than three years ago, Disney+ now boasts 130 million streaming subscribers as of 1 January 2022, beating analyst estimates.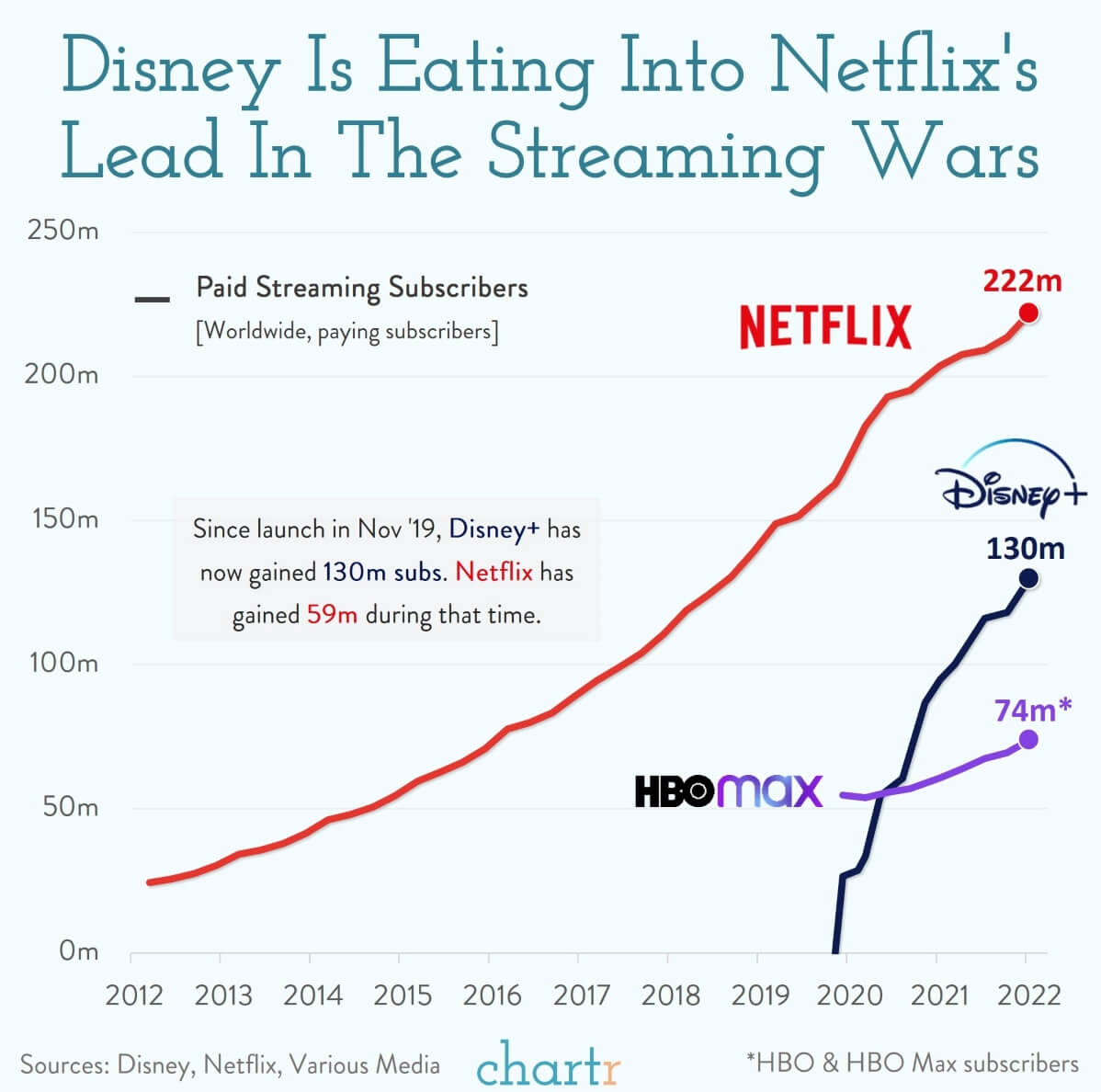 In its earnings report, Disney provided positive guidance for subscriber growth, forecasting 230 million to 260 million Disney+ subscribers by 2024. The company also reiterated that releases on Disney+ is likely to remain an important distribution channel for its original content.
Supporting the buoyant outlook for the company, investment bank Wells Fargo reiterated Disney with an Overweight rating in a recent March call.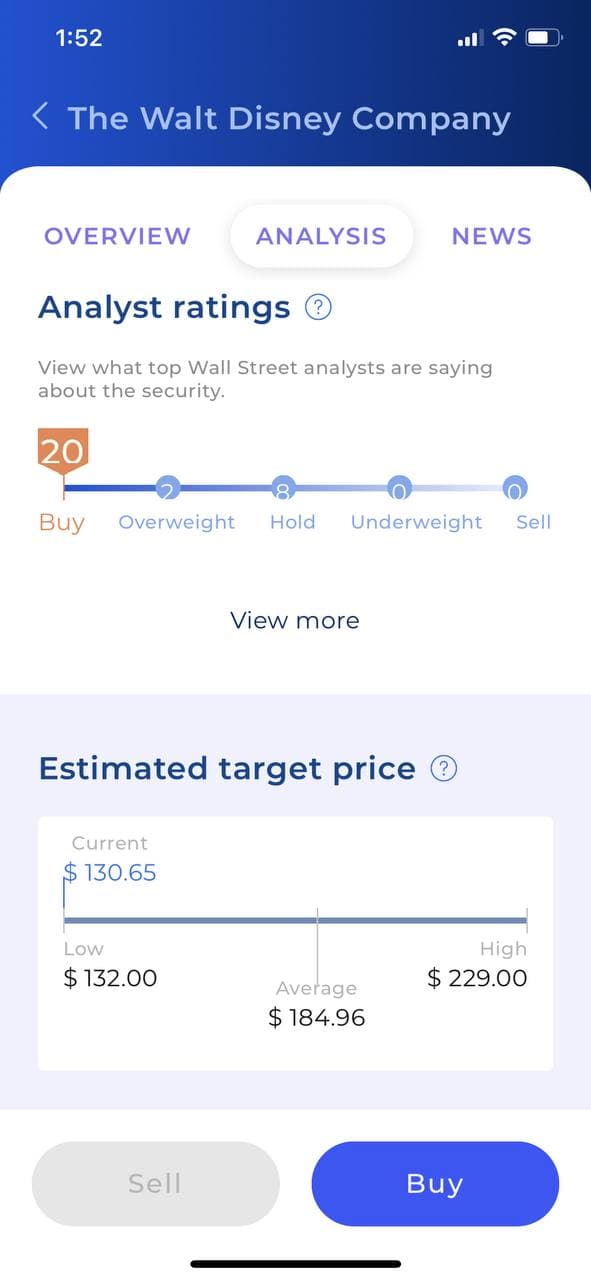 Other analysts share a similar sentiment. Based on stock data shown on Syfe Trade, the average price target for Disney is currently $184.96. This implies a 40% upside from current levels.
Amazon
Amazon is a favourite among Syfe Trade investors. The stock is frequently among our top 10 most traded stocks and the company's recent stock split announcement created positive momentum for its share price. At this time of writing, the stock has climbed 11% since bottoming out on 8 March 2022.
Amazon has a finger in every pie, so to speak. Let's take a closer look at its various business segments outside of e-commerce.
The company is a major player in cloud computing via Amazon Web Services (AWS), which forms Amazon's third-largest reporting segment by net sales. It bought Whole Foods in 2017 to enter grocery retailing. It's aggressively expanding into entertainment with its $8.5 billion acquisition of film and TV studio MGM. The deal gives Prime Video, Amazon's streaming service, access to more than 4,000 films and 17,000 TV shows.
The company is in healthcare as well through Amazon Care, its virtual and in-person health offering.
Now, Amazon has entered the space race. The company's Project Kuiper plans to send thousands of internet satellites into space over the next five years in order to provide customers in remote locations with affordable broadband. Amazon has booked 83 rockets to accomplish this goal, the largest rocket deal in commercial space history. (Rival Starlink, operated by Elon Musk's SpaceX, has already launched over 2,000 satellites.)
One potential headwind to watch out for is news that workers in one of Amazon's fulfillment centers voted to unionise. This decision may impact costs. According to Morgan Stanley, if 1% of Amazon's entire workforce unionises, operating costs will increase by $150 million per year.
Still, Wall Street analysts are bullish on Amazon stock despite this development. Based on stock data shown on Syfe Trade, analysts' average target price is $4,107 per share, implying a healthy 36% upside from current levels.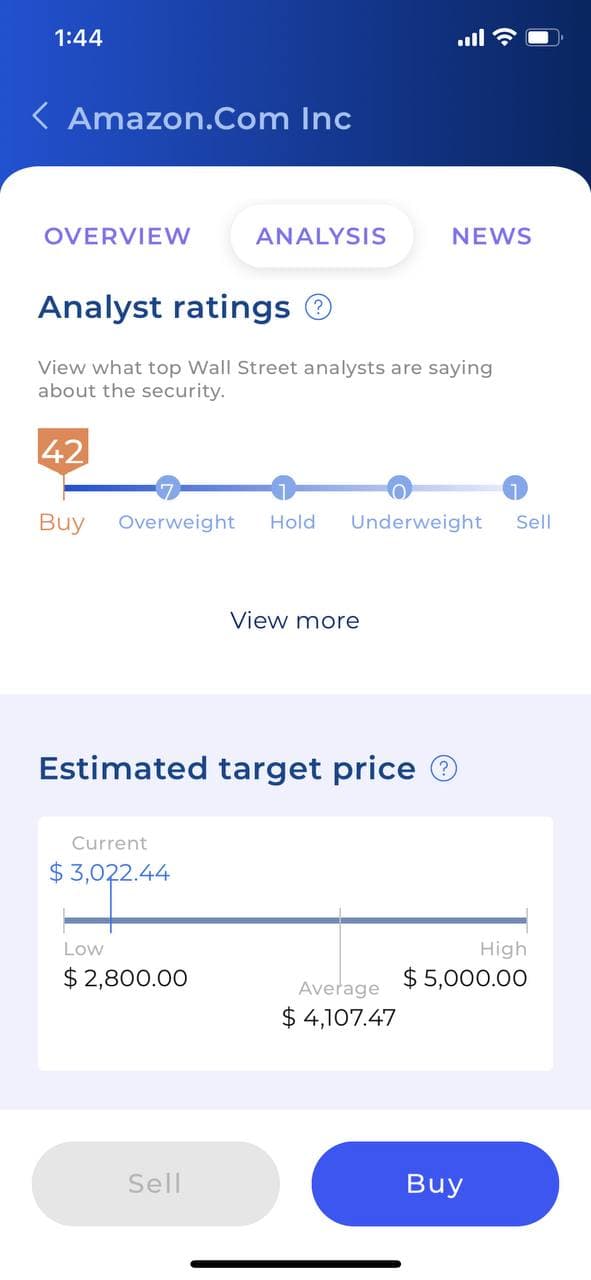 Want to start investing?
Simply download the Syfe app and sign up for your Syfe Trade account using Singpass. New clients enjoy an introductory offer of five free monthly trades for the first three months, and just US$0.99 per trade from your sixth trade onwards! There are no platform fees and no minimum charges, so you truly get to invest for free.