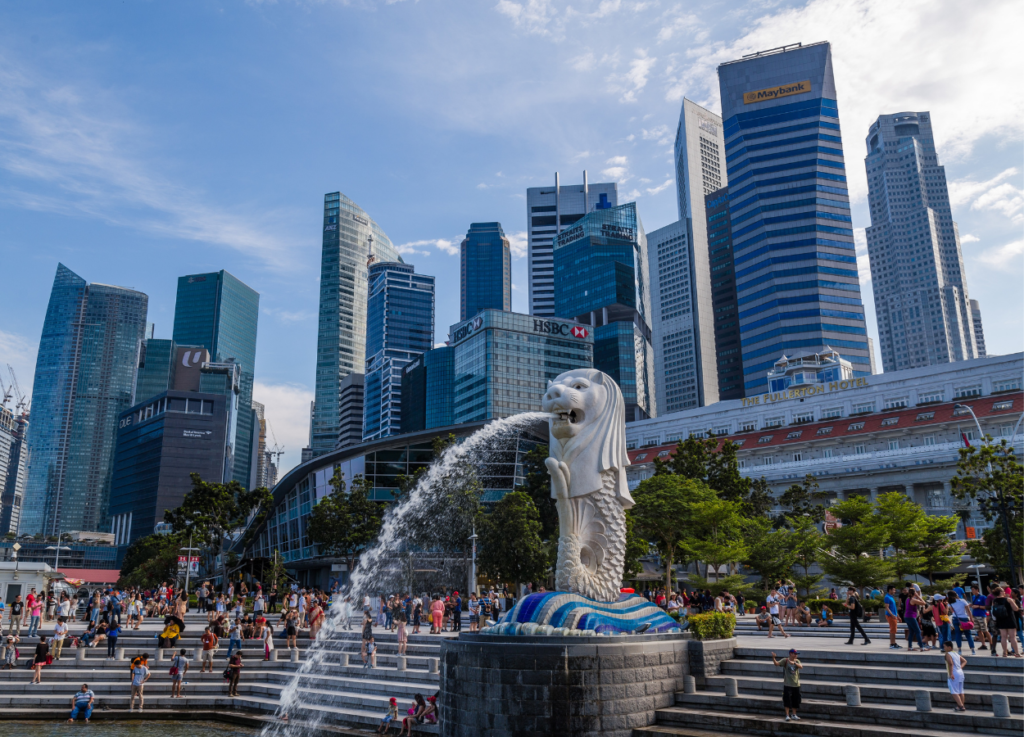 The original version of this article first appeared in The Business Times.
Contributed by Dhruv Arora, CEO and Founder of Syfe in collaboration with the Singapore Exchange (SGX)
Singapore Real Estate Investment Trusts (REITs) are turning the corner with the recent announcements to lift COVID-19 restrictions. Despite the rising rate environment, REITs have steadily been an active sector among investors. Even institutional investors who were previously overall net sellers in the Singapore market year to date, have turned net buyers of S-REITs since February 2022. Looking comparatively at the global landscape, the iEdge S-REIT Index gained 1.3% year-to-date vs -4.9% average for Global REITs and -4.6% for S&P 500 for 1Q22.
What is driving the resilience of the Singapore REIT sector against its global peers?
In the last decade, Asia has been a significant contributor to the growth of the global REIT sector. Although the US dominates the global REIT market and continues to grow strongly, there has been significant growth in Asia, especially from the three largest markets in Asia – Japan, Singapore and Hong Kong.
Singapore REITs (S-REITs) are an important component of the local market, comprising 13% of the Singapore Exchange's (SGX) market capitalisation. This ratio is the highest globally across stock markets in the world and speaks volumes about the sectors' importance to the Singapore market.
Small yet powerful
Most interestingly, Singapore, though small in land size, is home to one of the world's most diverse collections of REITs, with around 85% of S-REITs and property trusts owning properties outside of Singapore. In most other regions, REIT assets are predominantly based locally. This makes the Singapore REIT sector unique in terms of asset and geography diversification.
It is perhaps this diversification that has helped S-REITs be one of the most resilient among its peers. When you put together the 10 best performing S-REITs and property trusts with over a 10-year listing history, they have averaged 12.5% in 10-year annualised total returns vs 10% in APAC based REITs.
Brighter days ahead for Singapore REITs
Brighter days are ahead for Singapore's REIT sector as pandemic-related restrictions ease.
Looking at 2022 alone, the index is now up 4.5% in March alone, having rallied sharply after Prime Minister Lee Hsien Loong announced the easing of safe management rules.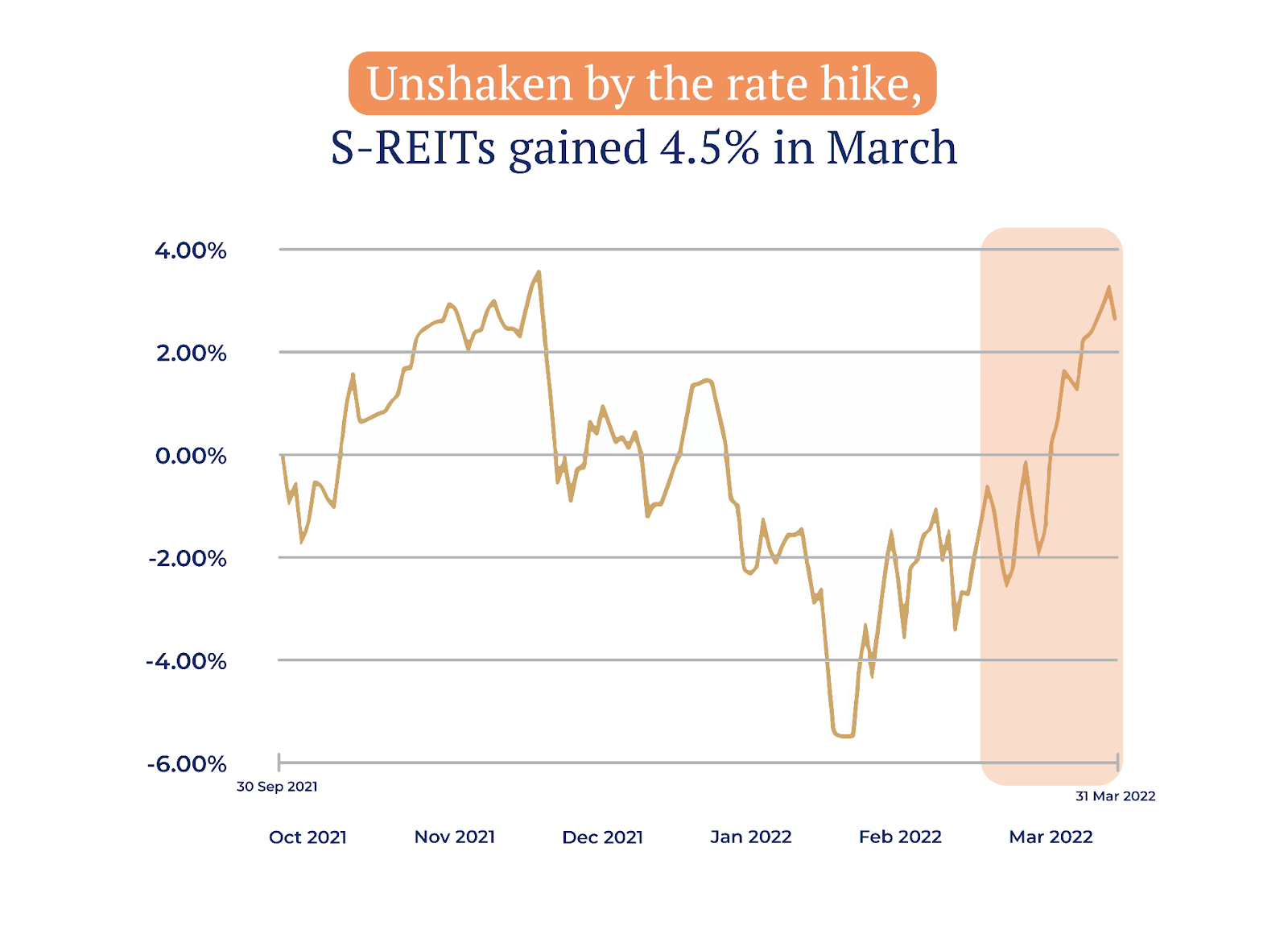 In the months ahead, S-REITs seem poised to continue their recovery trajectory as Singapore and the world re-opens.
S-REITs are widely seen as resilient income generators. They have another edge: REITs tend to do well during inflationary periods.
To use an example from the US, when we compare US REITs and the S&P 500 during different inflationary periods, we see REITs outperforming considerably when inflation is moderately high. Moderate inflation is defined to be more than 2.5% annually.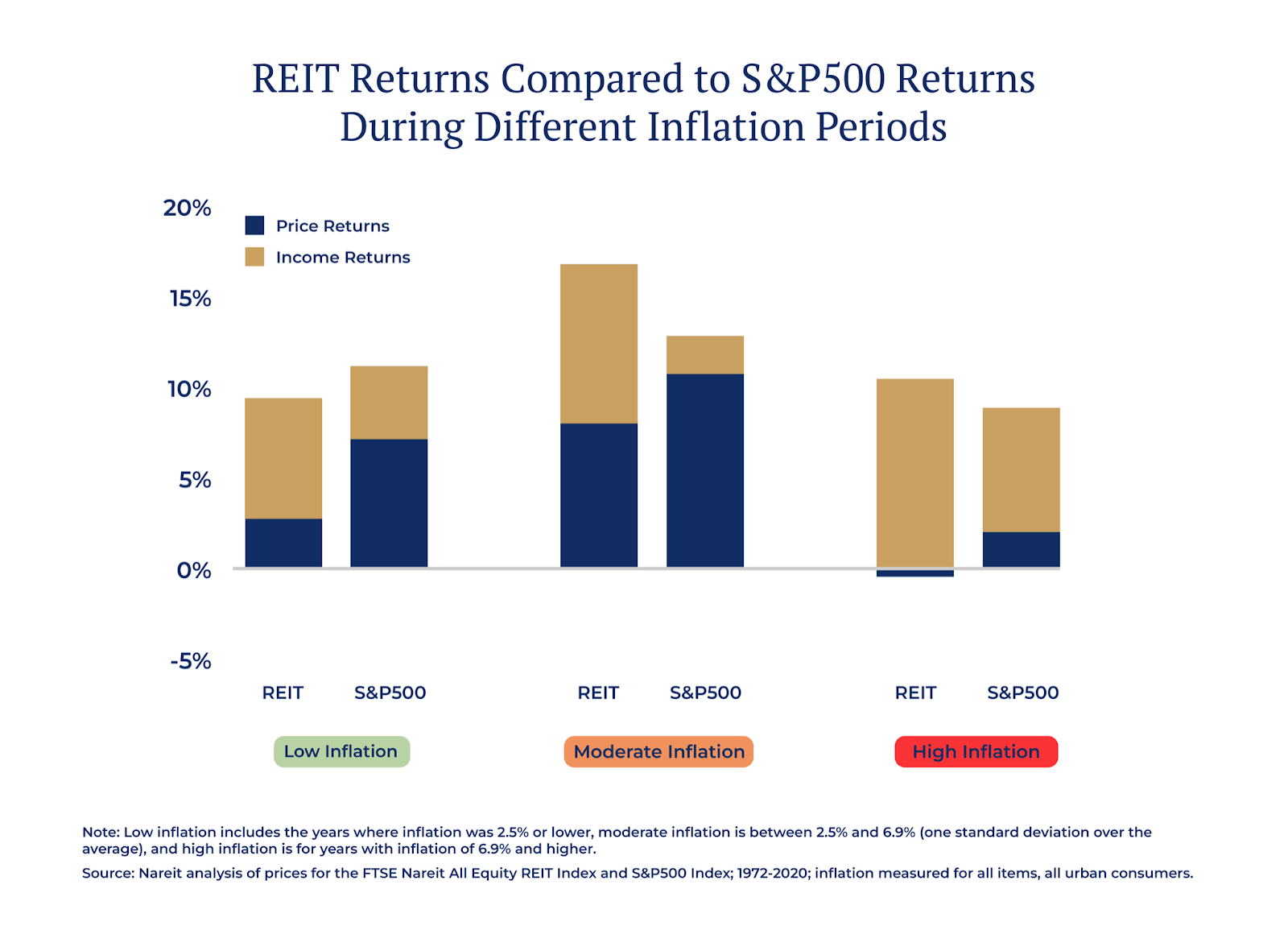 I would expect to see this trend play out in Singapore too. The Monetary Authority of Singapore expects core inflation to be closer to 3% this year.
As prices rise, so do rents. This increases the amount of rental income REITs can earn – benefits that are then passed on to the investor.
REITs can weather rate hikes
Although REITs are sensitive to interest rates, given the impact on borrowing costs and yield spreads, S-REITs took the Fed rate hike in March in stride. One driver of this resilience is S-REITs' prudent management of interest rate risks. According to SGX Research, this results in a low correlation with US interest rate cycles historically. Additionally, S-REITs currently have an average gearing ratio of 37%, comfortably below the regulatory threshold of 50%. This means that S-REITs can service their debt and still have room to raise more debt acquisitions or operations.
Retail REITs benefit from Singapore's reopening
Retail REITs are poised for growth now that social distancing measures have eased.
Centrally-located malls in particular stand to benefit from the return of the office crowd and the resumption of travel. These malls tend to cater more to tourists, which all but dried up in the midst of the pandemic.
Since late last year, we've seen a gradual recovery in retail sales. Singapore retail sales grew 11.8% in January 2022 on a year-over-year basis, marking the fifth straight month of gains for retail sales. This uptrend is another positive for the performance of retail REITs going forward.
Singapore office assets to recover
Grade A office rents in Singapore's Central Business District (CBD) saw the fastest quarterly growth in Q1 2022, according to JLL Singapore in a recent report.Overall, rental rates have recovered by 6.9% since bottoming in Q1 2021.
In light of limited new office supply and more ageing office buildings taken off stream for redevelopment, Cushman & Wakefield have forecasted CBD Grade A office rents to grow 4.6% year-on-year in 2022.
This positive momentum in office rental rates supports a brighter outlook for Singapore office REITs. Additionally, with up to three-quarters of office workers being allowed to return to their workplaces, we could see increased leasing activities and more buoyant sentiment.
Data centres and logistics properties remain in demand
Beyond the reopening play and relaxation of Covid rules, structural trends that were accelerated by the pandemic will continue to play out. This includes strong e-commerce adoption rate and the rapid growth of the digital economy.
These factors will continue to drive robust demand for new economy assets like data centres and modernised logistics space.
In recent times, data centres have become an essential asset as the world consumes and produces more and more data each day. S-REITs that traditionally focused on industrial assets are now expanding their data centre investments. Last year, Ascendas REIT and Mapletree Industrial REIT announced their acquisition of data centres in Europe and the US respectively.
According to DBS Research, new economy assets now occupy over 90% of large-cap industrial REITs' portfolios. Going forward, this pivot to new economy assets could potentially translate into earnings and DPU growth for many large-cap industrial REITs.
Consider a diversified approach
As the old saying goes, don't put all your eggs in one basket. Like all leading fund managers, that was the same philosophy SGX and Syfe used while creating Syfe REIT+. For instance, retail and office REITs were among the worst performers of 2020, but rebounded significantly in 2021. This underlies the difficulty in picking "winning" sub-sectors. Instead, a broad-based investment in different segments like retail, office, industrial, hospitality and healthcare is more likely to weather any potential headwinds, for building a resilient future.