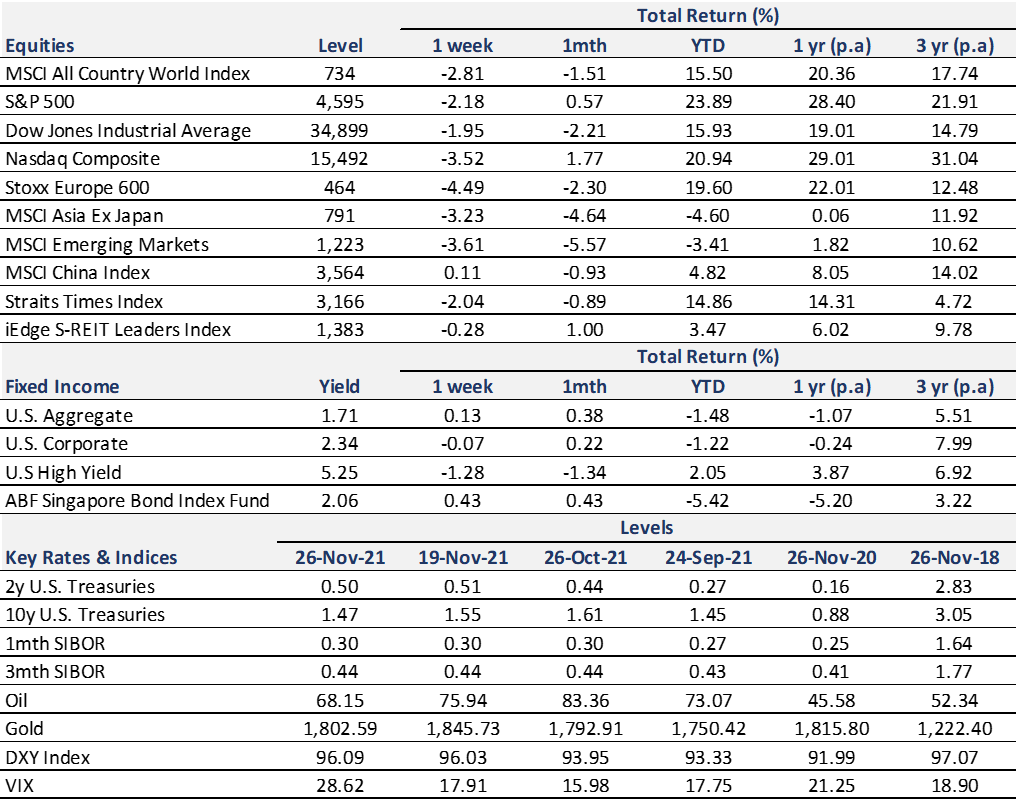 Thought Of The Week
Virus Fears Return, Rate Hike Bets Adjusted, Powell Renominated
U.S market indexes ended the week lower on news that scientists and policy makers are rushing to determine how infectious the new variant may be. The World Health Organization (WHO) says Omnicron, or B.1.1.529, was first identified in South Africa but has been found in Hong Kong, Israel and Belgium. With headlines calling it the 'worst ever variant' and causing panic, markets turned back to their early-pandemic playbook (buy stay-at-home stocks, sell travel-related stocks). Cruise lines fell more than 10% and CBOE Volatility Index jumped 54% to close at 28.62 on Friday.
Amid the uncertainty, money markets also dialled back bets on the pace of monetary policy tightening, pushing back the timing of a first 0.25% rate increase from June to September in the futures markets. The coming days and decisions from the WHO will be closely watched to determine if there are further signs of broader spread or just a scare for markets.
Meanwhile, Fed chair Powell was renominated for a second term and Fed Governor Brainard nominated as vice chair by President Biden on Monday. The announcement provided a moment of certainty for investors as it signals policy continuity towards normalization. While markets rose after the news, it is also worthwhile to note that his second term will be more challenging with some of his members opposing his speed of quantitative policy tightening.
The Oil Drama
Oil had been climbing steadily through the year as the world economy recovered from the pandemic gradually. In October, WTI recorded a 52-week high of $84.41 per barrel and remained stubborn at that level. OPEC+'s refusal to tame the soaring energy costs prompted several countries including U.S, China, India, Japan and South Korea to release their oil reserves on Tuesday. However, oil still rose on the day since the amount released was small relative to demand, and it was more like a gesture to signal their political unhappiness to OPEC+ before the scheduled policy meeting so that supply can potentially be increased to curb the soaring prices.
The tide quickly reversed on Black Friday when the new variant sparked fears of renewed lockdowns and hurt global demand. Oil prices plunged more than 11%, amplified by thin trading volumes and exacerbated by algo-driven trading as key technical levels broke down. While this is likely to be an overreaction and a reminiscent of March 2020, it could give the OPEC+ a reason to defend an output freeze or an output cut when they meet next week.
Chart Of The Week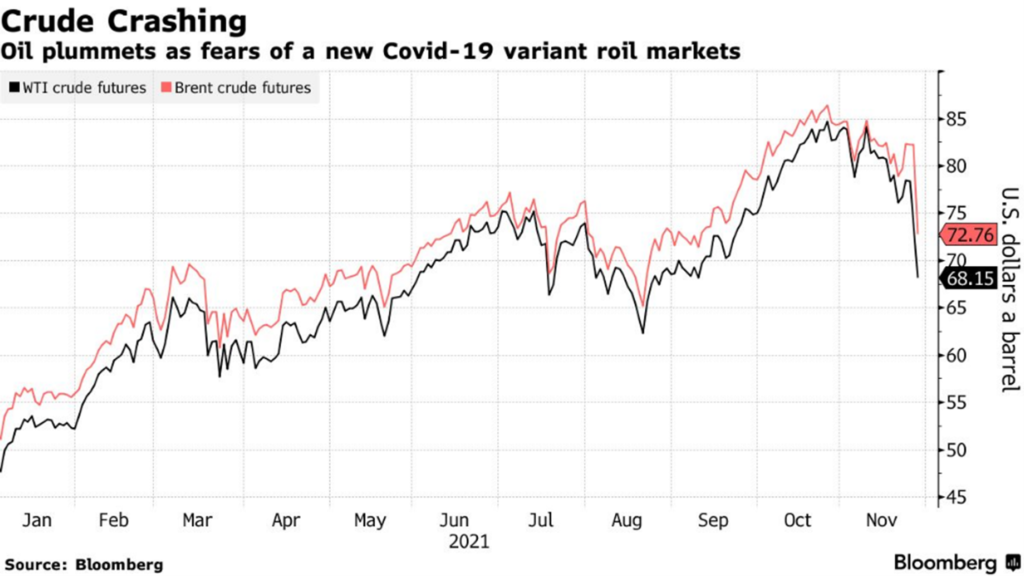 Important Information and Disclosure
Equity Price Level and Returns: All returns represent the total return for stated period. MSCI ACWI: Global equity index provided by Morgan Stanley Capital International (MSCI). S&P 500: Market capitalization index of U.S stocks provided by Standard & Poor's (S&P). Dow Jones: Price-weighted index of U.S stocks provided by S&P. NASDAQ: Market capitalization index of U.S stocks provided by NASDAQ. Stoxx 600: Market capitalization index of stocks listed in European region. MSCI Asia Ex Japan: Asia excluding Japan equity index provided by MSCI. MSCI EM: Emerging markets equity index provided by MSCI. SSE: Capitalization weighted index of all A-shares and B-shares listed on Shanghai Stock Exchange. STI: Market capitalization index of stocks listed on Singapore Exchange. SREITLSP: Market capitalization index of the most liquid real estate investment trusts in Singapore.
Fixed Income Yield and Returns: All returns represent total
return for stated period. Global Aggregate: Global investment grade debt from both developed and emerging markets issuers. U.S. Aggregate, U.S Corporate, High Yield provided by Bloomberg Barclays Indices, ICE Data Services & WSJ. SBIF: ABF Singapore bond index fund provided by Nikko AM.
Key Interest Rates: 2-Year U.S Treasuries, 10 Year Treasuries, Bloomberg. 1-month, 3-month SIBOR: Singapore Interbank Offered Rates provided by Association of Banks in Singapore (ABS). Oil (WTI): Global oil benchmark, Bloomberg. Gold: Gold Spot USD/Oz, Bloomberg. DXY Index: U.S. Dollar Index, Bloomberg. VIX: Expectation of volatility based on S&P index options provided by Chicago Board Options Exchange (CBOE).
The information provided herein is intended for general circulation and/or discussion purposes only. It does not account for the specific investment objectives, financial situation or needs of any individual. The information in this document is not intended to constitute research analysis or recommendation and should not be treated as such.
This does not constitute an offer or solicitation to buy/sell any financial instrument or to participate any investment strategy. No representation or warranty whatsoever (without limiting to accuracy, usefulness, adequacy, timeliness or completeness) in respect of any information (without limiting to any statement, figures, opinion, view or estimate). Syfe does not undertake an obligation to update the information or to correct any inaccuracy that may become apparent at a later time. All information presented is subject to change without notice. Syfe shall not be responsible or liable for any loss or damage whatsoever arising directly or indirectly as a result of any person acting on any information provided herein.
The information provided herein may contain projections or other forward-looking statement regarding future events or future performance of countries, assets, markets or companies. Actual events or results may differ materially. Past performance figures are not necessarily indicative of future of likely performance. Any reference to any specific company, financial product or asset class in whatever way is used for illustrative purposes only and does not constitute a recommendation. Investors should note that there are necessarily limitations and difficulties in using any graph, chart, formula or other device to determine whether or not, or if so, when to, make an investment. The contents hereof are considered proprietary information and may not be produced or disseminated in whole or in part without Syfe's written consent.