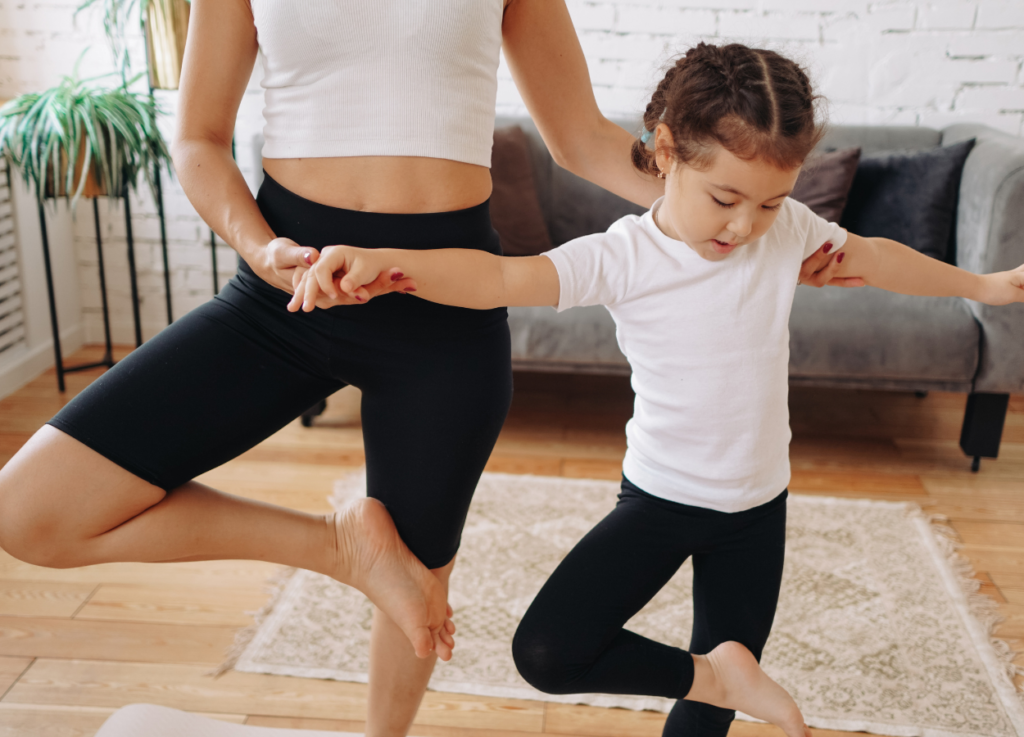 Table of contents
---
Having kids is expensive. According to NUS economists in 2018, the cost to raise a child in Singapore is estimated to be between S$280,000 and S$560,000, depending on household income.
Yet, as many parents can attest, you can't put a price on the joys of watching your child grow up.
If you're ready to have a baby, this article is for you. We put together how much it will cost to raise a child in Singapore, and how you can plan and manage your finances to meet these needs.
Pregnancy to birth
The financial responsibilities start even before your baby is here! The usual cost components for most parents include prenatal check-ups, delivery costs (vaginal or C-section), pregnancy supplements, maternity wear and impulse purchases of cute baby beanies.
On average, this might come up to $5,000 to $15,000, mainly based on whether you choose to have your baby in a private or public hospital.
Baby's first year
Babies need a lot more than just your love, care, and attention. Here's a quick overview of what baby essentials new parents will spend on and how much they cost.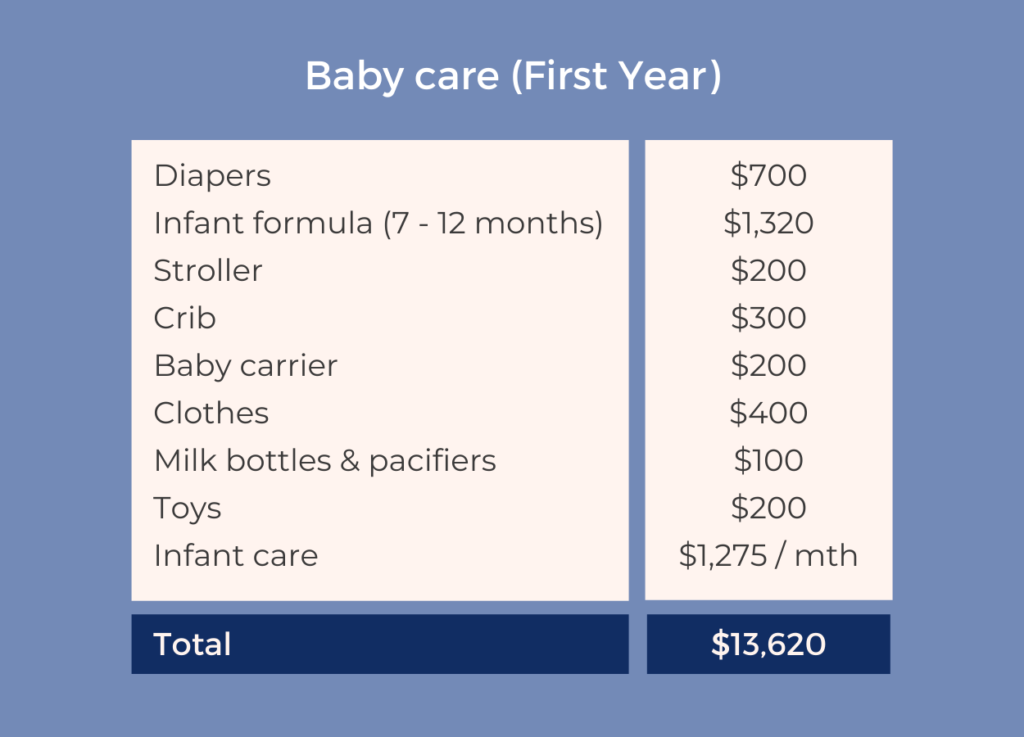 The price estimates can vary depending on how quickly your baby goes through the items above, what brand of infant formula you buy, how long you breast-feed for, and whether you purchase brand-new items or receive pre-loved pieces from family and friends.
For instance, most formula milk brands retail for about $55 for an 850 gram milk tin. Some special formulations cost more while housebrand infant formulas tend to be more budget-friendly.
Infant care costs are another consideration. While having a family member help take care of your baby can save a lot of money, that option is not always available.
For your baby's first-year expenses, plan to set aside around $3,500 (if you have alternative childcare arrangements) to at least $13,620 if you intend to place them in infant care centres.
Ages 1 to 6
After 12 months, your baby doesn't need formula milk and can switch to dairy milk and baby food. At this stage, costs tend to come mainly from infant and child care expenses.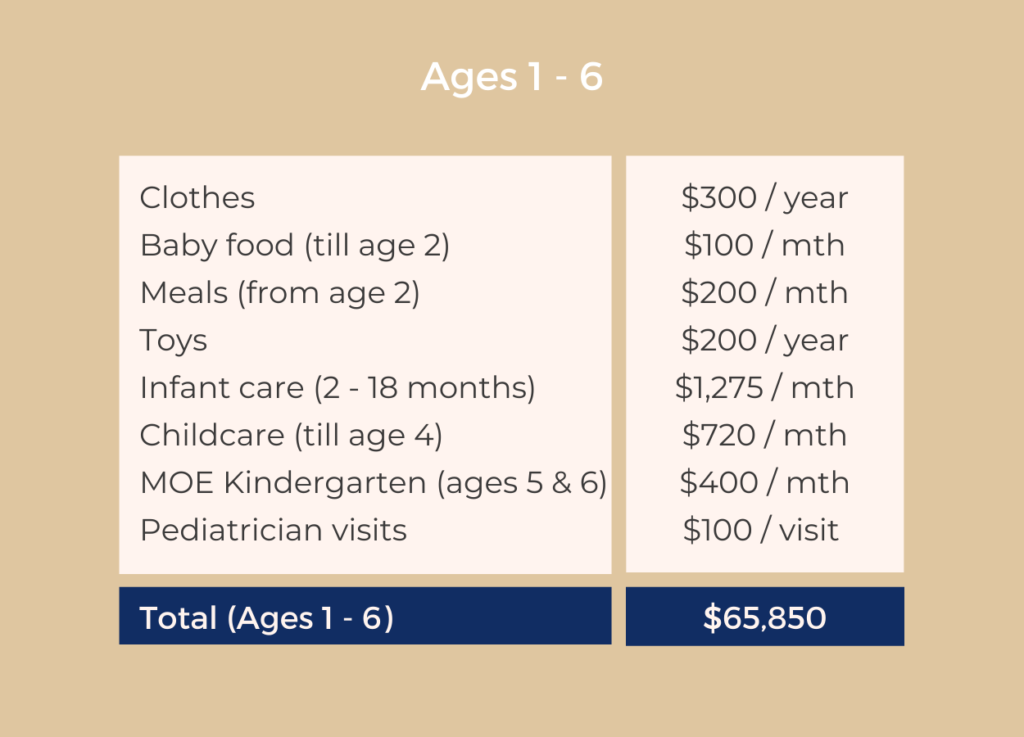 Parents can expect to spend around $65,850 before their child heads off to primary school, which comes to around $914 each month.
Ages 7 to 18
Singaporean parents rejoice! Primary school fees for Singaporeans are free while secondary and pre-university school fees are $5 and $6 a month respectively. For permanent residents and international students however, school fees will cost more.
That said, there are usually miscellaneous fees on top of school fees. Your child will also need school essentials such as textbooks, uniforms, bags, stationery and meal allowances.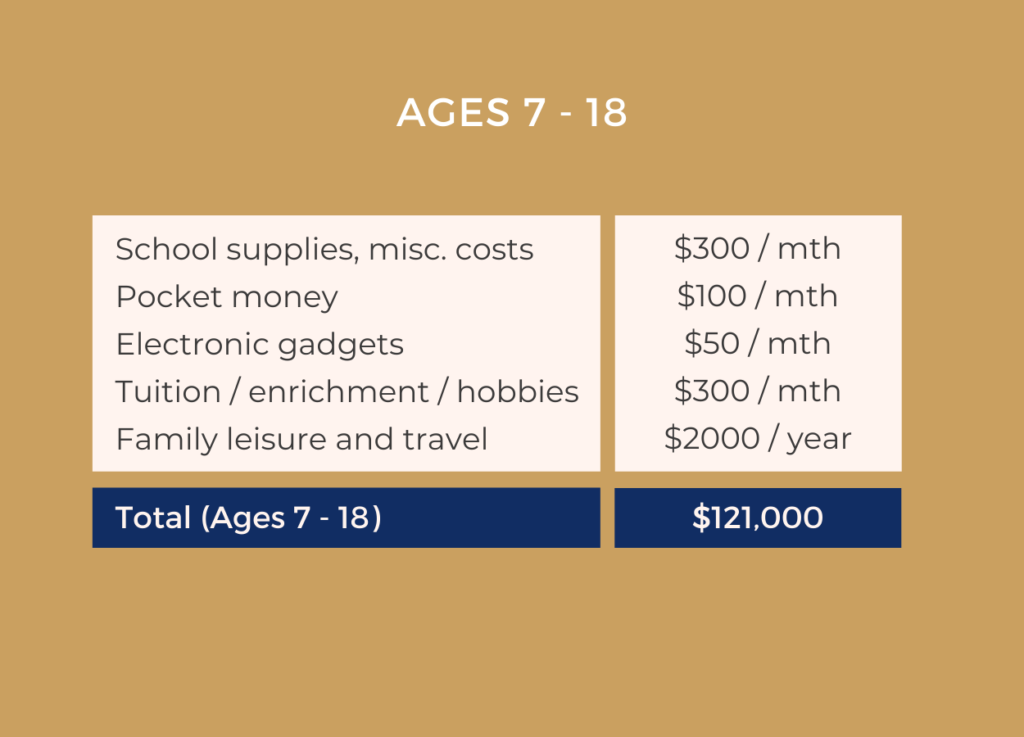 You may also wish to send your child for tuition or enrichment classes. It's not unheard of for some kids to be taking violin, ballet, tennis, and Chinese lessons all within the same week! If you want to nurture your child's talents and interests as best as you can, be prepared to aside a higher budget for these classes.
For your child's school-going years, you can expect to spend an average of $121,000 over 11 years, or about $916 each month.
The college years
Your financial responsibilities don't end when your child turns 18. It's common for parents in Singapore to pay for their child's university fees and even other costs such as campus accommodation and allowances for food and transport.
On average, a four-year course at our local universities cost $37,850 for Singapore citizens. If your child aspires to be a doctor, know that the tuition fees for medicine at NUS cost about $211,500 for the five-year course.
The living expenses for a university student in Singapore can add up to $10,300 a year on average, so set aside a further $41,200 if you want to fully support your child. All in all, your child's university education and living expenses may add up to $79,050 over four years, assuming they take a general course here.
If they want to pursue their education overseas, the costs will be a lot more significant. The most popular destinations for university education are the United States, Australia, and the United Kingdom. School fees and living expenses for a four-year course in these countries can range from S$242,000 to S$506,600.
You need $289,520 to raise a child in Singapore and send them to a local university
Our calculations are a rough estimate of how much it costs to raise a child in Singapore and pay for their higher education here. There are additional expenses like insurance premiums, childcare when your child starts primary school, annual family holidays and emergency doctor visits that have not been factored in. If you want to send your child abroad to study, the costs will naturally be a lot higher.
Depending on your family's lifestyle, you may spend more or less than this estimated figure of $289,520. But it's helpful to have this in mind so you know what you're in for, financially speaking.
How to start planning your finances for a baby
Ideally, you should start preparing your finances before welcoming your baby.
According to Ritesh Ganeriwal, Syfe's Head of Investment Advisory, a good strategy is to save for pregnancy-related costs and your baby's first-year expenses ahead of time. The father-of-two notes that this lets you rest easy knowing that you have funds already set aside for the baby, as well as a buffer for add-ons you may want to consider such as maternity insurance.
Pregnancy-related costs and your baby's first-year expenses might clock in anywhere from $8,500 to $28,620 depending on your budget. If you're planning to have a baby in the next two to three years, you can start saving up using a cash management solution like Syfe Cash+. With projected returns of 2.3% per year, it offers better yield compared to traditional bank savings.
Your financial future matters too
Now that you have a rough idea of how much it costs to raise a child in Singapore, you may be thinking about saving for your child's university fees as early as you can, especially since an overseas education can cost almost a quarter million dollars.
While you want to give your child the best, don't neglect your own financial future. In fact, Ritesh points out there is a way to provide for your child while taking care of Future You.
You can consider this simple monthly investment plan to save for your child's university education as well as your own retirement needs.
Grow your portfolio with Syfe Core Growth

The Core Growth portfolio is optimised for higher returns over the longer term and is primarily invested in global stocks such as Microsoft, Apple, Tesla, Facebook and many more top stock holdings.
Based on Syfe's forecast, the investment plan above will produce a portfolio value of $741,194 after 18 years. This sum should comfortably cover your child's higher education needs and allow you to put the remaining towards your retirement nest egg. At that point, you may want to transfer the balance to a passive income generating portfolio, reinvest the sum in a balanced retirement fund, or simply let it continue to grow.
And there you have it! A plan to tackle how much it costs to raise a child in Singapore while taking care of your future self. Of course, different people will have different financial needs and you should always consider your own financial goals, risk appetite and investment horizon before embarking on any investment plan.
Disclaimer: Past returns are not a guarantee of future performance. All forms of investments carry risks, including the risk of losing all of the invested amount. Such activities may not be suitable for everyone.