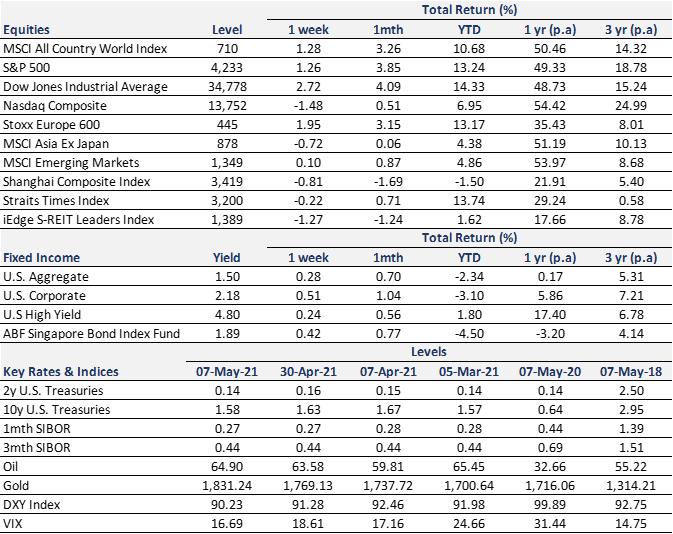 Thought Of The Week
April U.S Employment, Tech Sell-Off, Yellen Reverses
While the weekly U.S jobless claims continue to fall to fresh pandemic low indicating some momentum on the economic rebound, the U.S jobs report released on Friday was a huge reality check. Only 266,000 jobs were added in April, well below consensus estimate of 1 million. The surprisingly weak data eased some fears about higher inflation and a potential cutback of government stimulus. Even though Fed remains committed to near-zero interest rates in the near term, a pullback in its heavy monthly bond purchases seems increasingly likely in the second half of this year in order to curb excessive risk-taking that is causing stretched valuations and vulnerabilities in the financial system.
U.S Treasury Secretary Janet Yellen also indicated that "interest rates will have to rise somewhat" and, although the statement was blindingly obvious (so that the economy does not overheat), markets were unhappy and sold off as a result. Subsequently, Yellen had to clarify that it was not an immediate recommendation and reiterated the independence of the central bank. All of that is keeping a lid on the market's enthusiasm this week, even perhaps encouraging some profit-taking by technology investors.
"Clique-Politics" In G7 Meeting
As quoted by Sun Tzu in his 'The Art of War', "the enemy of my enemy is my friend" and that aptly sums the atmosphere of the two-day G7 meeting in London this week. With China's rising power on the global stage, major G7 economies are increasingly threatened and have laid the groundwork during the meeting to "work collectively" in the face of arbitrary, coercive economic policies and practices by China with reference to its Belt and Road initiative and other economic threats. China followed to rebuke them "to stop interfering in other countries' internal affairs". Meanwhile, China also formally suspended economic dialogue with Australia on Thursday to show its growing frustration with the country. Though there was not much dialogue going on, the symbolism is clear and political tensions may still matter in the near term.
How Profitable Are Vaccine Makers?
In every crisis lies great opportunity, and the vaccine makers who were prepared found success. Pfizer's first quarter revenue soared 42% to $14.58 billion with vaccine sales contributing nearly 25%. This number is likely to grow further if the vaccine could gain FDA authorization for teens by next week and for younger children by Q4. Earnings per share (EPS) for Moderna also beat analyst forecasts by a wide margin in its first ever profitable quarter though revenue missed estimates slightly.
The shining numbers, however, attracted some unwanted attention from regulators. On Wednesday, U.S announced that it will support a proposal to suspend intellectual-property protections for Covid-19 vaccines, joining an effort to increase global supply by allowing any pharmaceutical manufacturer in the world to make "copycat" vaccines without fear of infringement. The waiver was expectedly opposed by the vaccine makers as they argue that it will proliferate counterfeit vaccines and manufacturing bottlenecks were the main constraints instead. On the other hand, Dr. Anthony Fauci, Director of the National Institute of Allergy and Infectious Diseases was agnostic on a waiver but warned that the process could get bogged down in time-consuming litigation when the crisis is still far from over.
Chart Of The Week
Initial unemployment claims fell to a fresh pandemic low last week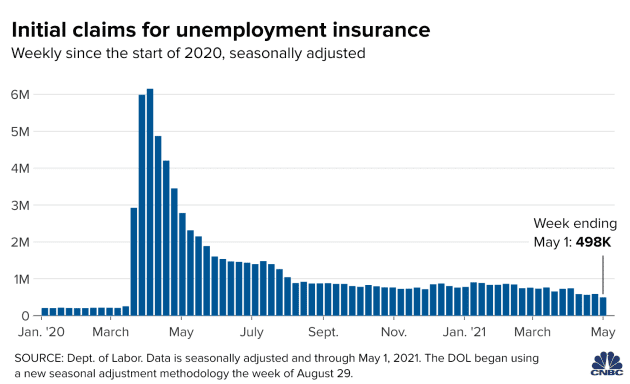 Important Information and Disclosure
Equity Price Level and Returns: All returns represent the total return for stated period. MSCI ACWI: Global equity index provided by Morgan Stanley Capital International (MSCI). S&P 500: Market capitalization index of U.S stocks provided by Standard & Poor's (S&P). Dow Jones: Price-weighted index of U.S stocks provided by S&P. NASDAQ: Market capitalization index of U.S stocks provided by NASDAQ. Stoxx 600: Market capitalization index of stocks listed in European region. MSCI Asia Ex Japan: Asia excluding Japan equity index provided by MSCI. MSCI EM: Emerging markets equity index provided by MSCI. SSE: Capitalization weighted index of all A-shares and B-shares listed on Shanghai Stock Exchange. STI: Market capitalization index of stocks listed on Singapore Exchange. SREITLSP: Market capitalization index of the most liquid real estate investment trusts in Singapore.
Fixed Income Yield and Returns: All returns represent total return for stated period. Global Aggregate: Global investment grade debt from both developed and emerging markets issuers. U.S. Aggregate, U.S Corporate, High Yield provided by Bloomberg Barclays Indices, ICE Data Services & WSJ. SBIF: ABF Singapore bond index fund provided by Nikko AM.
Key Interest Rates: 2-Year U.S Treasuries, 10 Year Treasuries, Bloomberg. 1-month, 3-month SIBOR: Singapore Interbank Offered Rates provided by Association of Banks in Singapore (ABS). Oil (WTI): Global oil benchmark, Bloomberg. Gold: Gold Spot USD/Oz, Bloomberg. DXY Index: U.S. Dollar Index, Bloomberg. VIX: Expectation of volatility based on S&P index options provided by Chicago Board Options Exchange (CBOE).
The information provided herein is intended for general circulation and/or discussion purposes only. It does not account for the specific investment objectives, financial situation or needs of any individual. The information in this document is not intended to constitute research analysis or recommendation and should not be treated as such.
This does not constitute an offer or solicitation to buy/sell any financial instrument or to participate any investment strategy. No representation or warranty whatsoever (without limiting to accuracy, usefulness, adequacy, timeliness or completeness) in respect of any information (without limiting to any statement, figures, opinion, view or estimate). Syfe does not undertake an obligation to update the information or to correct any inaccuracy that may become apparent at a later time. All information presented is subject to change without notice. Syfe shall not be responsible or liable for any loss or damage whatsoever arising directly or indirectly as a result of any person acting on any information provided herein.
The information provided herein may contain projections or other forward-looking statement regarding future events or future performance of countries, assets, markets or companies. Actual events or results may differ materially. Past performance figures are not necessarily indicative of future of likely performance. Any reference to any specific company, financial product or asset class in whatever way is used for illustrative purposes only and does not constitute a recommendation. Investors should note that there are necessarily limitations and difficulties in using any graph, chart, formula or other device to determine whether or not, or if so, when to, make an investment. The contents hereof are considered proprietary information and may not be produced or disseminated in whole or in part without Syfe's written consent.