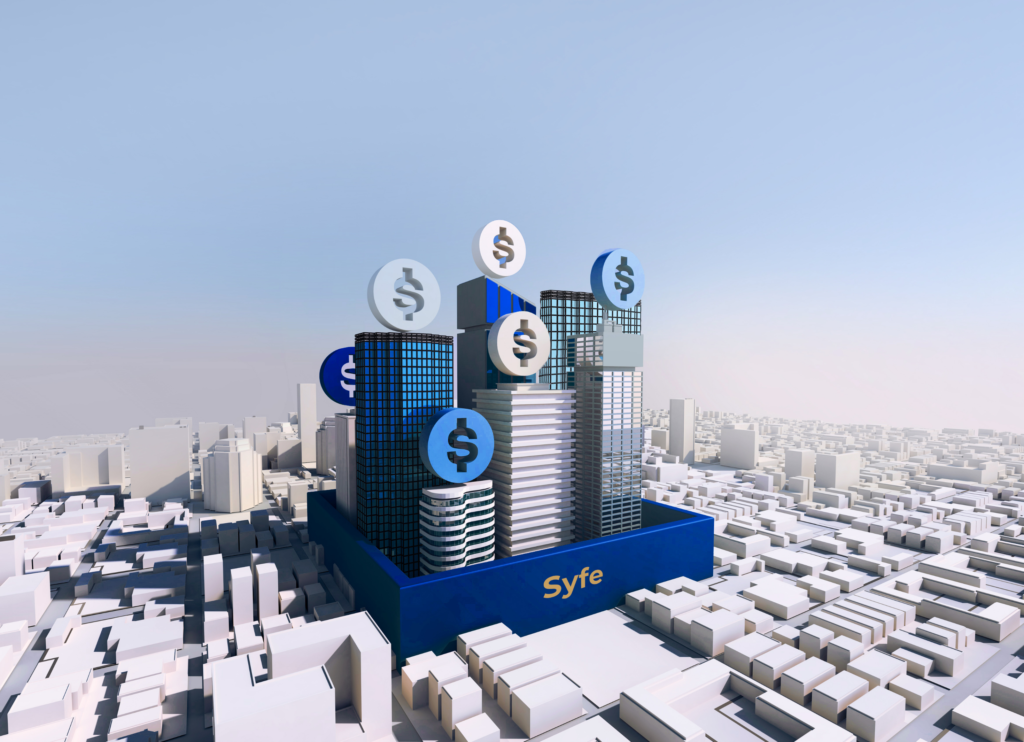 Syfe REIT+ holds 20 of Singapore's largest REITs in one portfolio, such as CapitaLand Integrated Commercial Trust, Ascendas REIT, Mapletree Commercial Trust, and more. In essence, REIT+ is a diversified portfolio that covers all real estate sectors: retail, commercial, industrial, residential, hospitality and healthcare.
You don't need a brokerage account to get started. Simply create a Syfe account using Singpass to start investing in REITs. As an added convenience, you can transfer funds to your portfolio using PayNow.
Syfe is licensed and regulated by the Monetary Authority of Singapore (License – CMS100837). Your funds and assets are held securely with DBS, HSBC and Citibank.
SGX collaboration: iEdge S-REIT Leaders Index
Syfe REIT+ is the first to collaborate with Singapore Exchange (SGX) to offer SGX's iEdge S-REIT Leaders index to retail investors. This index is the most liquid representation of the S-REIT market in Singapore and incredibly popular with large financial institutions.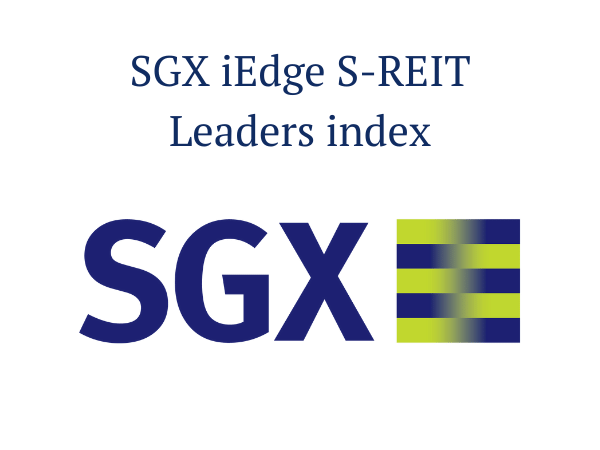 By investing in Syfe REIT+ you can replicate the returns of the Singapore REIT market.
20 REITs in one portfolio
With Syfe REIT+ you own 20 REITs at once. That's akin to owning a part of over 650 properties, without the hassles of being a landlord.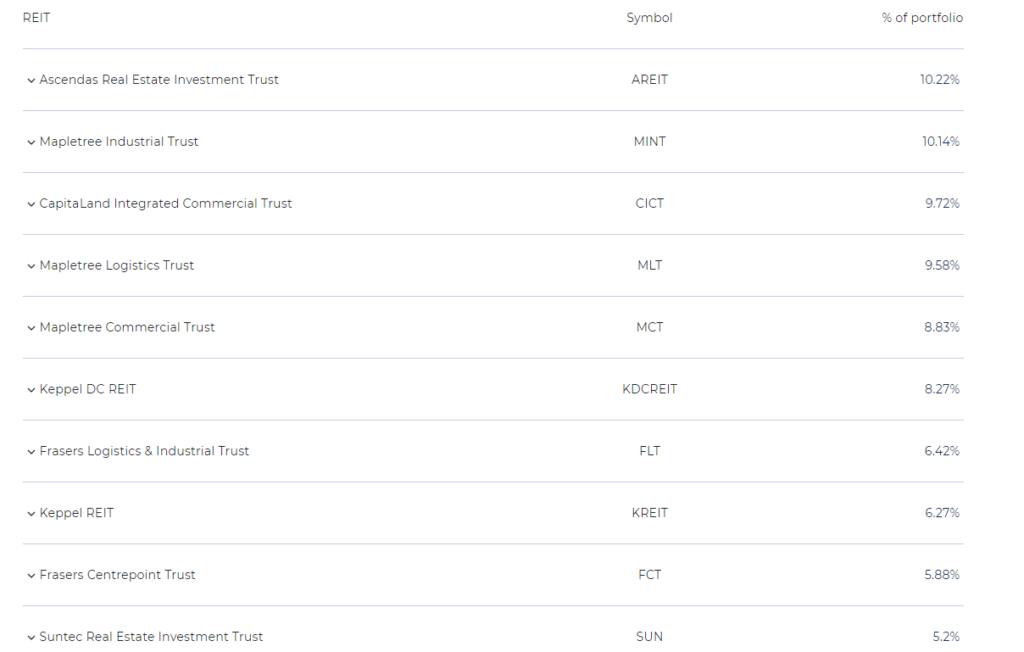 Here's a closer look at the top 5 REIT holdings.
Ascendas REIT
Singapore's first and largest listed business space and industrial REIT. Properties in its portfolio include Changi Business Park, One-North and Logis Hub @ Clementi.
Mapletree Industrial Trust
Invests in industrial properties and data centres. Its property portfolio comprises 87 industrial properties in Singapore and 27 data centres in North America.
CapitaLand Integrated Commercial Trust
Invests in predominantly Singapore based commercial properties, including office and retail assets. Seen as the largest proxy for Singapore commercial real estate, its properties include landmarks like Asia Square Tower 2, CapitaGreen, Bugis Junction, and Raffles City.
Mapletree Logistics Trust
Invests in logistics warehouses in the Asia-Pacific region, namely Singapore, Japan, China, South Korea, Vietnam, Australia, and Hong Kong.
Mapletree Commercial Trust
Invests in Singapore commercial properties for office and/or retail purposes. Its portfolio includes VivoCity, Singapore's largest mall and Mapletree Business City, one of the largest integrated developments in Singapore.
Optional Risk Management
Syfe offers investors the choice of a 100% REIT portfolio or a REITs with Risk Management portfolio.
With the former, you'll get 20 REITs in your portfolio. With the latter, you'll get the same 20 REITs as well as Singapore Government Bonds
If you feel more comfortable with portfolios that don't fluctuate too wildly based on market conditions, the REITs with Risk Management option may be a better fit for you.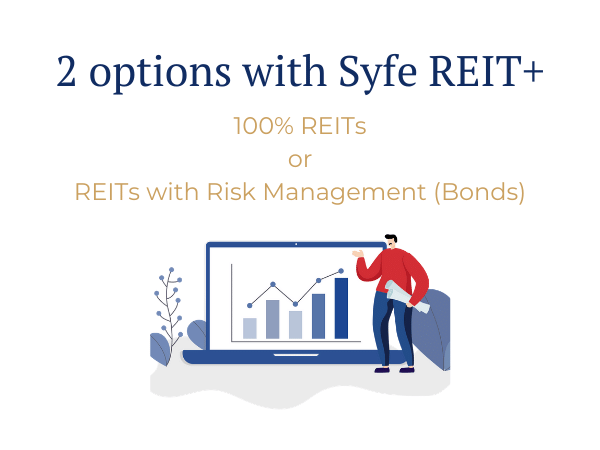 To defend against rising market volatility in adverse conditions, it uses a proprietary Automated Risk-managed Investing approach called ARI to limit downside risk.
During periods of increased volatility, ARI increases the bond allocation to mitigate portfolio risk. When volatility abates, ARI will again increase the REITs allocation to deliver better returns. Learn more about ARI here.
Invest with $0 brokerage fees
Syfe REIT+ offers you a more convenient and cost-effective alternative to DIY investing. When you invest in REIT+, your all-inclusive management fee ranges from 0.65% to 0.4% per year. You pay $0 in brokerage or trading costs, no matter how many transactions you make.
As an added bonus, dividends are automatically reinvested in your portfolio. Reinvesting these dividends can increase your returns by about 0.5% per year. That's almost equivalent to covering your fees!
Replicating the REIT+ portfolio on your own is possible, but be prepared to fork out brokerage fees for 20 buy transactions. With brokerage fees in Singapore costing $10 to $25 for each transaction, that's a pretty penny you'll have to pay just to invest. And when you sell, you'll incur similar costs for each REIT sold.
With REIT+, there is no minimum investment amount or lock-in period. You can also withdraw your funds any time with no fees. If you're keen to start investing in Singapore REITs, REIT+ could be the ideal portfolio for you.