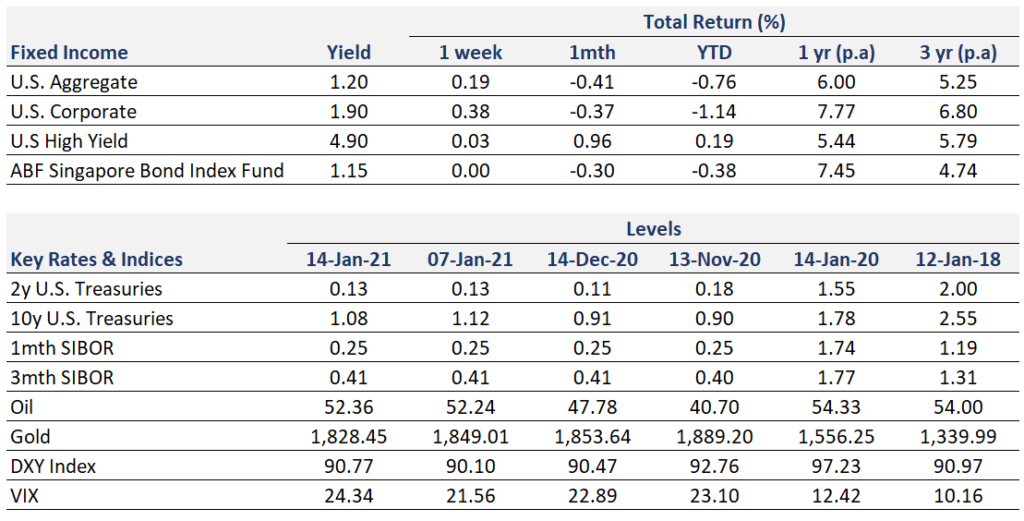 Week Ahead
China Q4 GDP
Europe CPI (Dec)
US President Biden Speaks
ECB Press Conference
Thought Of The Week
Second Impeachment, Jobless Claims, $1.9 Trillion Fiscal Package
Continuing the long list of unprecedented events in 2020, markets now have a new addition – Trump's second impeachment, in relation to the recent siege on the US Capitol and inciting violence. (Trump was previously impeached in Dec 2019 for abusing his power when he persuaded Ukrainian President to dig out dirt on Joe Biden and his son but was later acquitted due to insufficient votes during the Senate trial).
Convicting Trump after he leaves office on January 20 will be more of a symbolic move as it could prevent him from running for presidency or any other public office again. Amidst the political drama, labour market continued to struggle as new US weekly jobless claims climbed to its highest level since August – 965,000 compared to 784,000 during the prior week. This could be attributed to the rapidly rising Covid-19 cases, additional $300 supplementary payments incentive and the delayed applications from Christmas and New Year.
Biden also announced his plans for a $1.9 trillion relief package that includes stimulus checks, expanded unemployment benefits and minimum wage increase that is expected to be passed in mid-March when the special unemployment benefits expire. Market dipped this week after Biden gave a reminder of a potential tax hike.
China's Drum Beats Louder
China recorded its highest trade surplus of $78 billion for December as the country continues to boom during the pandemic while other economies struggled to cope. The surge in exports came largely from the demand for medical products and pandemic-related purchases, which may face more competition when lockdown restrictions are lifted, and consumption shifts back from goods to services.
After withstanding Trump's trade war, China is looking to deepen its ties with Asia and Europe while relying more on domestic consumption to power its next phase of growth. Chinese 'Big 3' companies – Alibaba, Tencent and Baidu also managed to get a temporary breather from reports stating that they may be omitted from the US blacklist as it might cause a larger problem for US investors. With Jack Ma still nowhere in sight after the sudden halt of Ant Group's IPO, big Chinese companies may still face headwinds from the pressure by the Chinese Communist Party.
Covid-19 Deaths, Infections and Hospitalizations
Given the stellar performance of the stock market in recent weeks, it is easy for one to overlook the harsh reality of the pandemic. With more than 90 million cases confirmed globally and deaths near 2 million, the fight against Covid-19 is far from over. Recent attempts to revive social life and economic activities have also resulted in another resurgence of infections with countries such as China and South Korea reporting new clusters. Although 35 million doses have been administered in 49 countries till date, delivering billions of doses across the globe will not only be logistically challenging, but countries may also experience unequal access to vaccines with varying degrees of efficiency.
Chart Of The Week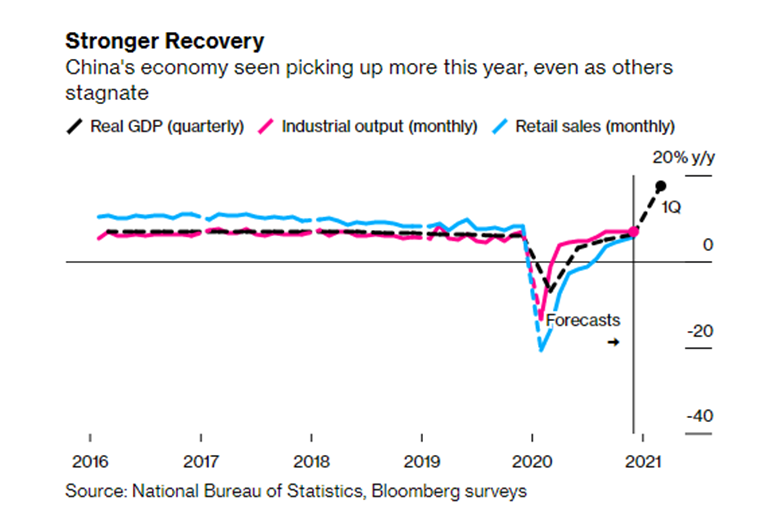 Important Information and Disclosure
Equity Price Level and Returns: All returns represent the total return for stated period. MSCI ACWI: Global equity index provided by Morgan Stanley Capital International (MSCI). S&P 500: Market capitalization index of U.S stocks provided by Standard & Poor's (S&P). Dow Jones: Price-weighted index of U.S stocks provided by S&P. NASDAQ: Market capitalization index of U.S stocks provided by NASDAQ. Stoxx 600: Market capitalization index of stocks listed in European region. MSCI Asia Ex Japan: Asia excluding Japan equity index provided by MSCI. MSCI EM: Emerging markets equity index provided by MSCI. SSE: Capitalization weighted index of all A-shares and B-shares listed on Shanghai Stock Exchange. STI: Market capitalization index of stocks listed on Singapore Exchange. SREITLSP: Market capitalization index of the most liquid real estate investment trusts in Singapore.
Fixed Income Yield and Returns: All returns represent total return for stated period. Global Aggregate: Global investment grade debt from both developed and emerging markets issuers. U.S. Aggregate, U.S Corporate, High Yield provided by Bloomberg Barclays Indices, ICE Data Services & WSJ. SBIF: ABF Singapore bond index fund provided by Nikko AM.
Key Interest Rates: 2-Year U.S Treasuries, 10 Year Treasuries, Bloomberg. 1-month, 3-month SIBOR: Singapore Interbank Offered Rates provided by Association of Banks in Singapore (ABS). Oil (WTI): Global oil benchmark, Bloomberg. Gold: Gold Spot USD/Oz, Bloomberg. DXY Index: U.S. Dollar Index, Bloomberg. VIX: Expectation of volatility based on S&P index options provided by Chicago Board Options Exchange (CBOE).
The information provided herein is intended for general circulation and/or discussion purposes only. It does not account for the specific investment objectives, financial situation or needs of any individual. The information in this document is not intended to constitute research analysis or recommendation and should not be treated as such.
This does not constitute an offer or solicitation to buy/sell any financial instrument or to participate any investment strategy. No representation or warranty whatsoever (without limiting to accuracy, usefulness, adequacy, timeliness or completeness) in respect of any information (without limiting to any statement, figures, opinion, view or estimate). Syfe does not undertake an obligation to update the information or to correct any inaccuracy that may become apparent at a later time. All information presented is subject to change without notice. Syfe shall not be responsible or liable for any loss or damage whatsoever arising directly or indirectly as a result of any person acting on any information provided herein.
The information provided herein may contain projections or other forward-looking statement regarding future events or future performance of countries, assets, markets or companies. Actual events or results may differ materially. Past performance figures are not necessarily indicative of future of likely performance. Any reference to any specific company, financial product or asset class in whatever way is used for illustrative purposes only and does not constitute a recommendation. Investors should note that there are necessarily limitations and difficulties in using any graph, chart, formula or other device to determine whether or not, or if so, when to, make an investment. The contents hereof are considered proprietary information and may not be produced or disseminated in whole or in part without Syfe's written consent.