Week In Review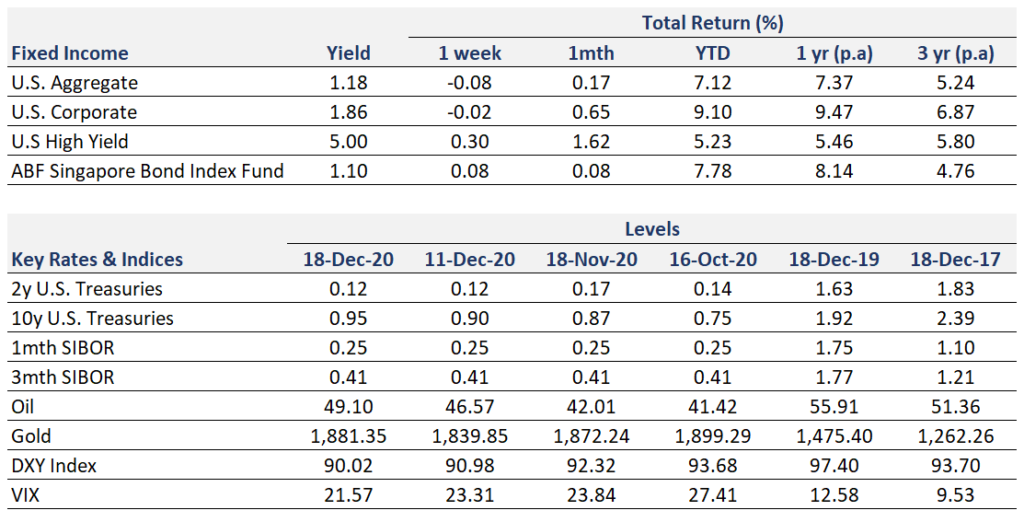 Week Ahead
Thought Of The Week
Vaccine and Stimulus: So close yet so far
The narrative of vaccine-driven optimism and progress toward a stimulus package remains largely unchanged as it continues to support the stock market higher. The US Food and Drug Administration (FDA) decided on Thursday to approve Moderna's vaccine on an emergency basis which could add millions of additional doses in coming weeks without the need to kept in ultra-cold storage unlike Pfizer/Biotech. Although this emergency use authorization is not a full approval, it allows widespread distribution with only children excluded. On the stimulus front, US congressional leaders are still trying to complete the deal by this weekend, extending the deadline from Friday, when funding for government operations was due to expire. A late stumbling block emerged again on Friday as both sides could not agree on the Fed's lending programmes.
The Last FOMC Meeting in 2020
After a year of crisis-fighting intervention, the US Federal Reserve finally had its last meeting for the year on Wednesday. As expected, Fed Chairman Jerome Powell maintained his dovish stance and promised to continue buying $120 billion of debt per month "until substantial further progress has been made toward the Committee's maximum employment and price stability goals". Powell also re-emphasized that the Fed is accommodating a higher inflation rate in the short term so that it can achieve "inflation at the rate of 2% over the longer term" while suggesting that fiscal policy is better suited to deliver help in the coming months, urging more action from Congress to pass the stimulus bill. While recent economic data has shown a slowdown in the labour market recovery and retail sales remain weak, the medium-term picture has improved as a result of faster-than-expected rollout of vaccinations.
Robinhood faces legal action for "Gamifying" investing
Volatile markets, low interest rates and increased time at home due to the lockdowns have encouraged many retail investors to turn speculative day trading for quick profits. Robinhood, which has drawn in 13 million users this year, was fined $65 million by Securities and Exchange Commission for providing its customers with inferior prices despite promoting its services as commission-free. It is also facing legal action by the Massachusetts Securities Division for not putting in place proper controls to safeguard inexperienced investors and encouraging them to purchase more complex products with in-app prompts and emoji-laden messages. First-time or inexperienced stock investors should avoid chasing returns influenced by attention and biases so that they can reap the rewards of investing over the longer term.
Important Information and Disclosure
Equity Price Level and Returns: All returns represent the total return for stated period. MSCI ACWI: Global equity index provided by Morgan Stanley Capital International (MSCI). S&P 500: Market capitalization index of U.S stocks provided by Standard & Poor's (S&P). Dow Jones: Price-weighted index of U.S stocks provided by S&P. NASDAQ: Market capitalization index of U.S stocks provided by NASDAQ. Stoxx 600: Market capitalization index of stocks listed in European region. MSCI Asia Ex Japan: Asia excluding Japan equity index provided by MSCI. MSCI EM: Emerging markets equity index provided by MSCI. SSE: Capitalization weighted index of all A-shares and B-shares listed on Shanghai Stock Exchange. STI: Market capitalization index of stocks listed on Singapore Exchange. SREITLSP: Market capitalization index of the most liquid real estate investment trusts in Singapore.
Fixed Income Yield and Returns: All returns represent total return for stated period. Global Aggregate: Global investment grade debt from both developed and emerging markets issuers. U.S. Aggregate, U.S Corporate, High Yield provided by Bloomberg Barclays Indices, ICE Data Services & WSJ. SBIF: ABF Singapore bond index fund provided by Nikko AM.
Key Interest Rates: 2-Year U.S Treasuries, 10 Year Treasuries, Bloomberg. 1-month, 3-month SIBOR: Singapore Interbank Offered Rates provided by Association of Banks in Singapore (ABS). Oil (WTI): Global oil benchmark, Bloomberg. Gold: Gold Spot USD/Oz, Bloomberg. DXY Index: U.S. Dollar Index, Bloomberg. VIX: Expectation of volatility based on S&P index options provided by Chicago Board Options Exchange (CBOE).
The information provided herein is intended for general circulation and/or discussion purposes only. It does not account for the specific investment objectives, financial situation or needs of any individual. The information in this document is not intended to constitute research analysis or recommendation and should not be treated as such.
This does not constitute an offer or solicitation to buy/sell any financial instrument or to participate any investment strategy. No representation or warranty whatsoever (without limiting to accuracy, usefulness, adequacy, timeliness or completeness) in respect of any information (without limiting to any statement, figures, opinion, view or estimate). Syfe does not undertake an obligation to update the information or to correct any inaccuracy that may become apparent at a later time. All information presented is subject to change without notice. Syfe shall not be responsible or liable for any loss or damage whatsoever arising directly or indirectly as a result of any person acting on any information provided herein.
The information provided herein may contain projections or other forward-looking statement regarding future events or future performance of countries, assets, markets or companies. Actual events or results may differ materially. Past performance figures are not necessarily indicative of future of likely performance. Any reference to any specific company, financial product or asset class in whatever way is used for illustrative purposes only and does not constitute a recommendation. Investors should note that there are necessarily limitations and difficulties in using any graph, chart, formula or other device to determine whether or not, or if so, when to, make an investment. The contents hereof are considered proprietary information and may not be produced or disseminated in whole or in part without Syfe's written consent.