Week In Review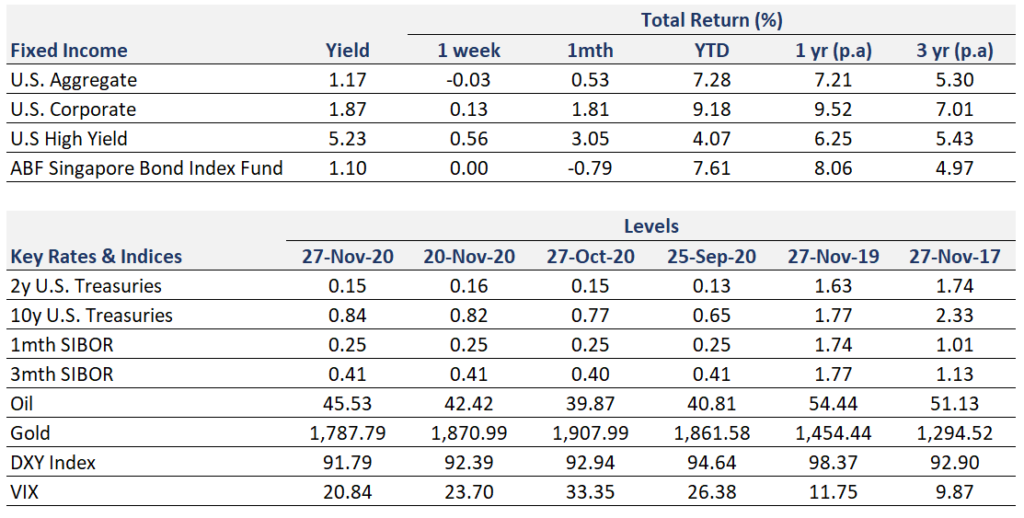 Week Ahead
Caixin Manufacturing PMI
RBA Rate Statement
US ISM Manufacturing/ Non-Manufacturing PMI
US Nonfarm Payrolls and Unemployment Rate
Thought Of The Week
Another Covid-19 vaccine joins the party
Markets continue to be driven by pandemic news with optimism in vaccine progress supporting risk assets. The positive trials announced by Pfizer-Biotech and Moderna had lifted stock markets, signaling a potential end to the lockdowns. For the third Monday in a row, a rival pharmaceutical company announced its trial results – AstraZeneca-Oxford reported an average efficacy of 70% but doubts have since risen about the conduct of the trials. In one of the subgroups, the participants were limited to age below 55 and received a half-dose followed by a full dose, making the efficacy of 90% look like a lucky break. Markets took notice and AstraZenca shares slid almost 7% since the announcement.
Janet Yellen is the Treasury Secretary we need
Joe Biden, the U.S. president-elect, is expected to nominate former Fed chair, Janet Yellen as his Treasury Secretary. If confirmed by the Senate, Yellen would become the first woman to hold the job. Her constant questioning of economic models and forecasts, ability to enforce tax laws and regulations, and the command of soft power in America made her the key architect of economic recovery when she led the Fed from 2014-2018. As Treasury Secretary, Yellen will again face a monumental challenge as U.S. tries to bounce back from this widespread and deadly pandemic.
Chart Of The Week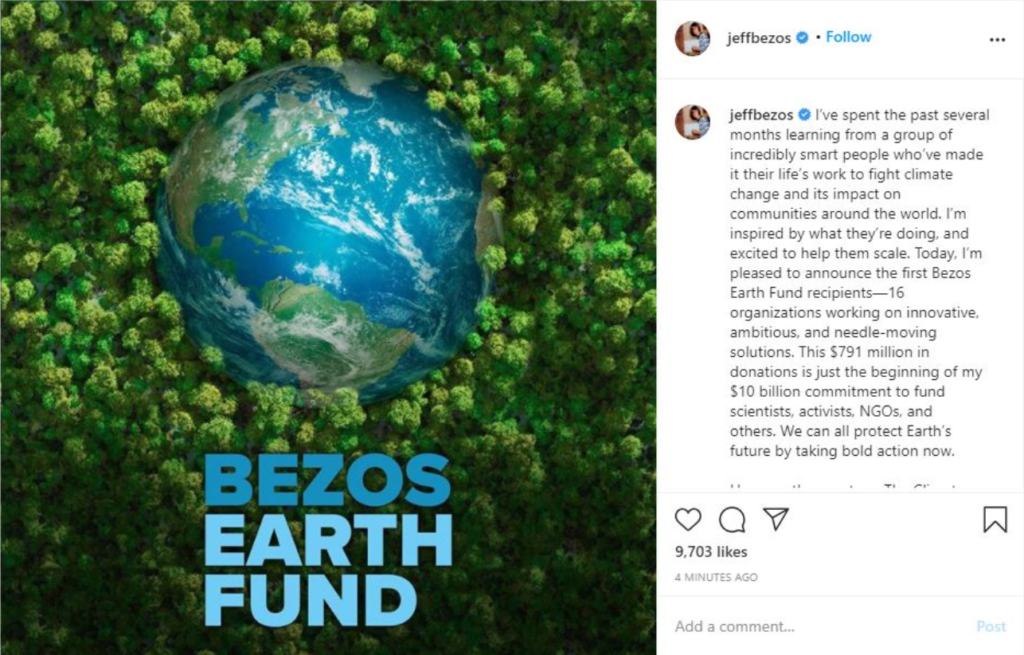 Joining the latest trend of green charities that includes Bill Gates and Michael Bloomberg, Amazon founder Jeff Bezos has pledged $10 billion to the Bezos Earth Fund. He has cut several cheques to the most established green groups in the U.S. Although it is a nice gesture, it seems to be lacking in both disruption and innovation coming from Bezos, a man often celebrated as one of the most disruptive innovators. Either way, climate change is real, and it takes more than the combined efforts by each billionaire.
Important Information and Disclosure
Equity Price Level and Returns: All returns represent the total return for stated period. MSCI ACWI: Global equity index provided by Morgan Stanley Capital International (MSCI). S&P 500: Market capitalization index of U.S stocks provided by Standard & Poor's (S&P). Dow Jones: Price-weighted index of U.S stocks provided by S&P. NASDAQ: Market capitalization index of U.S stocks provided by NASDAQ. Stoxx 600: Market capitalization index of stocks listed in European region. MSCI Asia Ex Japan: Asia excluding Japan equity index provided by MSCI. MSCI EM: Emerging markets equity index provided by MSCI. SSE: Capitalization weighted index of all A-shares and B-shares listed on Shanghai Stock Exchange. STI: Market capitalization index of stocks listed on Singapore Exchange. SREITLSP: Market capitalization index of the most liquid real estate investment trusts in Singapore.
Fixed Income Yield and Returns: All returns represent total return for stated period. Global Aggregate: Global investment grade debt from both developed and emerging markets issuers. U.S. Aggregate, U.S Corporate, High Yield provided by Bloomberg Barclays Indices, ICE Data Services & WSJ. SBIF: ABF Singapore bond index fund provided by Nikko AM.
Key Interest Rates: 2-Year U.S Treasuries, 10 Year Treasuries, Bloomberg. 1-month, 3-month SIBOR: Singapore Interbank Offered Rates provided by Association of Banks in Singapore (ABS). Oil (WTI): Global oil benchmark, Bloomberg. Gold: Gold Spot USD/Oz, Bloomberg. DXY Index: U.S. Dollar Index, Bloomberg. VIX: Expectation of volatility based on S&P index options provided by Chicago Board Options Exchange (CBOE).
The information provided herein is intended for general circulation and/or discussion purposes only. It does not account for the specific investment objectives, financial situation or needs of any individual. The information in this document is not intended to constitute research analysis or recommendation and should not be treated as such.
This does not constitute an offer or solicitation to buy/sell any financial instrument or to participate any investment strategy. No representation or warranty whatsoever (without limiting to accuracy, usefulness, adequacy, timeliness or completeness) in respect of any information (without limiting to any statement, figures, opinion, view or estimate). Syfe does not undertake an obligation to update the information or to correct any inaccuracy that may become apparent at a later time. All information presented is subject to change without notice. Syfe shall not be responsible or liable for any loss or damage whatsoever arising directly or indirectly as a result of any person acting on any information provided herein.
The information provided herein may contain projections or other forward-looking statement regarding future events or future performance of countries, assets, markets or companies. Actual events or results may differ materially. Past performance figures are not necessarily indicative of future of likely performance. Any reference to any specific company, financial product or asset class in whatever way is used for illustrative purposes only and does not constitute a recommendation. Investors should note that there are necessarily limitations and difficulties in using any graph, chart, formula or other device to determine whether or not, or if so, when to, make an investment. The contents hereof are considered proprietary information and may not be produced or disseminated in whole or in part without Syfe's written consent.