Week In Review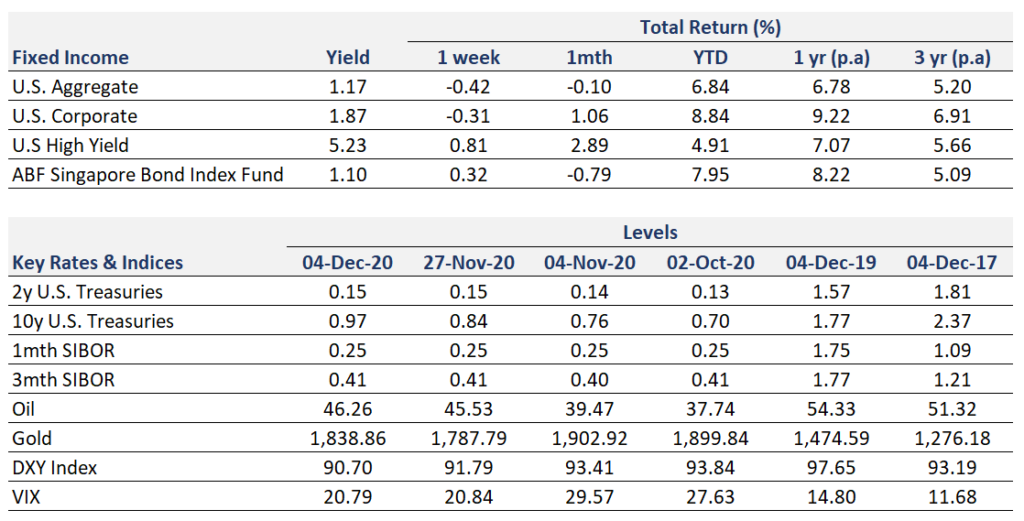 Week Ahead
Japan Q3 GDP
EIA Short-Term Energy Outlook
European Central Bank Meeting
Thought Of The Week
US inflation expectations rise amidst optimism
The alignment of several stars in recent weeks – Biden's victory, positive vaccine results and better-than-expected corporate profits continued to reinforce the "Everything Rally".
The MSCI All-Country World Index climbed another 12% in November to record its best month and equity funds saw their strongest three weeks stretch of inflow. This wave of market exuberance was largely led by beaten-up industries including airlines, banks and energy as investors eye faster economic recovery and higher inflation over the next several years.
The U.S 10-year breakeven rate also climbed to 1.87%, its highest level since May 2019. Nonetheless, there is a danger that this stimulus-soaked and vaccine-happy rally has become too oblivious to the immediate economic challenges and the longer-term damage caused by the pandemic.
EU-UK trade talks hit a roadblock again
The interminable tedious EU-UK divorce has predictably hit a major obstacle once again, receding any prospect of a trade deal by the weekend. France's President, Emmanuel Macron, is demanding a stricter UK state-aid regime and wants to preserve existing fishing rights for the French fleet in British waters after Brexit, adding new elements into the negotiation at the eleventh hour.
The concerned group also includes the Netherlands, Denmark and Belgium, whose economies are closely intertwined with UK. Hope still remains on both sides that the last-minute bust-up can be resolved and a deal can be reached ahead of a European Council meeting in Brussels on Thursday.
Chinese companies face delisting threat under audit law
The US Congress passed a new legislation on Wednesday that would force US-listed Chinese companies to prove that they are not controlled by a foreign government and to share their audited accounts – something that is currently prohibited by Beijing. This is part of a broader push by US to take a more assertive stance towards Beijing in economic areas over fears that critical technologies and intellectual property could be stolen.
Once Trump signs the new bill into law, Chinese companies such as Alibaba would have three years to comply with the new audit requirements or delist from American exchanges.
Chart Of The Week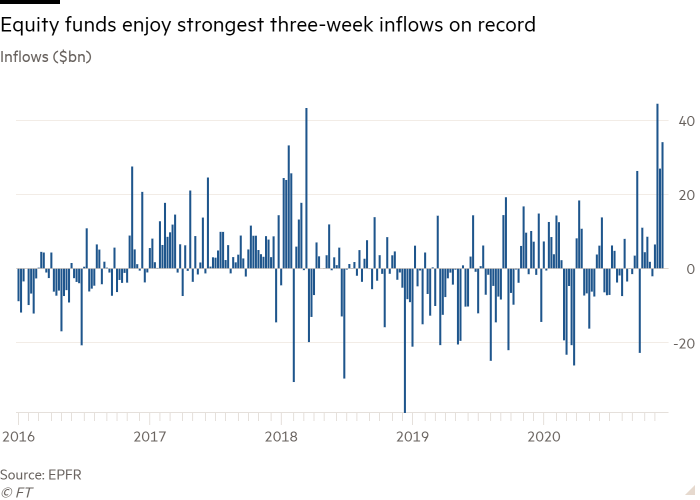 Important Information and Disclosure
Equity Price Level and Returns: All returns represent the total return for stated period. MSCI ACWI: Global equity index provided by Morgan Stanley Capital International (MSCI). S&P 500: Market capitalization index of U.S stocks provided by Standard & Poor's (S&P). Dow Jones: Price-weighted index of U.S stocks provided by S&P. NASDAQ: Market capitalization index of U.S stocks provided by NASDAQ. Stoxx 600: Market capitalization index of stocks listed in European region. MSCI Asia Ex Japan: Asia excluding Japan equity index provided by MSCI. MSCI EM: Emerging markets equity index provided by MSCI. SSE: Capitalization weighted index of all A-shares and B-shares listed on Shanghai Stock Exchange. STI: Market capitalization index of stocks listed on Singapore Exchange. SREITLSP: Market capitalization index of the most liquid real estate investment trusts in Singapore.
Fixed Income Yield and Returns: All returns represent total return for stated period. Global Aggregate: Global investment grade debt from both developed and emerging markets issuers. U.S. Aggregate, U.S Corporate, High Yield provided by Bloomberg Barclays Indices, ICE Data Services & WSJ. SBIF: ABF Singapore bond index fund provided by Nikko AM.
Key Interest Rates: 2-Year U.S Treasuries, 10 Year Treasuries, Bloomberg. 1-month, 3-month SIBOR: Singapore Interbank Offered Rates provided by Association of Banks in Singapore (ABS). Oil (WTI): Global oil benchmark, Bloomberg. Gold: Gold Spot USD/Oz, Bloomberg. DXY Index: U.S. Dollar Index, Bloomberg. VIX: Expectation of volatility based on S&P index options provided by Chicago Board Options Exchange (CBOE).
The information provided herein is intended for general circulation and/or discussion purposes only. It does not account for the specific investment objectives, financial situation or needs of any individual. The information in this document is not intended to constitute research analysis or recommendation and should not be treated as such.
This does not constitute an offer or solicitation to buy/sell any financial instrument or to participate any investment strategy. No representation or warranty whatsoever (without limiting to accuracy, usefulness, adequacy, timeliness or completeness) in respect of any information (without limiting to any statement, figures, opinion, view or estimate). Syfe does not undertake an obligation to update the information or to correct any inaccuracy that may become apparent at a later time. All information presented is subject to change without notice. Syfe shall not be responsible or liable for any loss or damage whatsoever arising directly or indirectly as a result of any person acting on any information provided herein.
The information provided herein may contain projections or other forward-looking statement regarding future events or future performance of countries, assets, markets or companies. Actual events or results may differ materially. Past performance figures are not necessarily indicative of future of likely performance. Any reference to any specific company, financial product or asset class in whatever way is used for illustrative purposes only and does not constitute a recommendation. Investors should note that there are necessarily limitations and difficulties in using any graph, chart, formula or other device to determine whether or not, or if so, when to, make an investment. The contents hereof are considered proprietary information and may not be produced or disseminated in whole or in part without Syfe's written consent.