Still going uphill
All eyes were on Jackson Hole on Friday as Chair Powell was set to indicate if there might be a Fed pivot – given that there are some signs that inflation has peaked, and hence could the Fed be less aggressive in subsequent FOMC meetings.
The Fed's preferred inflation indicator: PCE deflator (Personal Consumption and Expenditures price indicator, which is seen as a broader and more timely indicator of consumer behaviour) declined for the first time (on a month on month basis) since the early days of the pandemic. As compared to the same time last year, it is still up 6.3%. About ¾ of the basket used to calculate PCE is services-oriented and this portion tends to be stickier.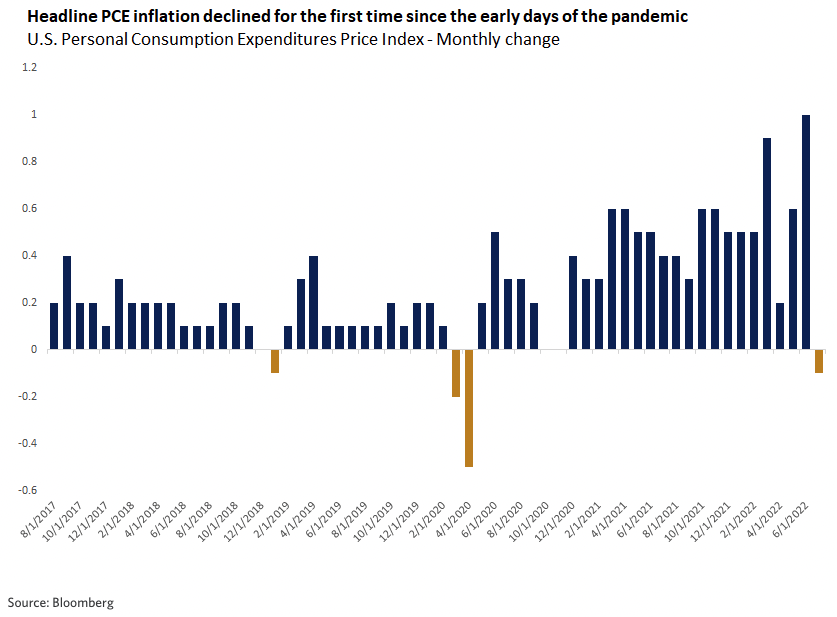 US stocks plunged following Powell's more-hawkish-than-expected comments that the Fed must continue to raise interest rates until they see consistent data showing that price stability is back. The S&P 500 fell more than 3%, its worst daily performance since June 2022, when the index fell 20% from its peak.
The Fed has twin goals: achieving price stability and maximising employment. As rates go higher in order to achieve the first goal, we are starting to see signs that tightened financial conditions are reverberating through the broader economy, despite record low unemployment currently.
Openings starting to close?
Looking at the latest jobs report, the unemployment rate is low and there are still almost 2 jobs available for each person seeking employment. However, according to Goldman Sachs, job openings have started to decline and some companies have announced hiring freezes with many to follow. We are starting to hear about layoffs in large blue-chip companies too.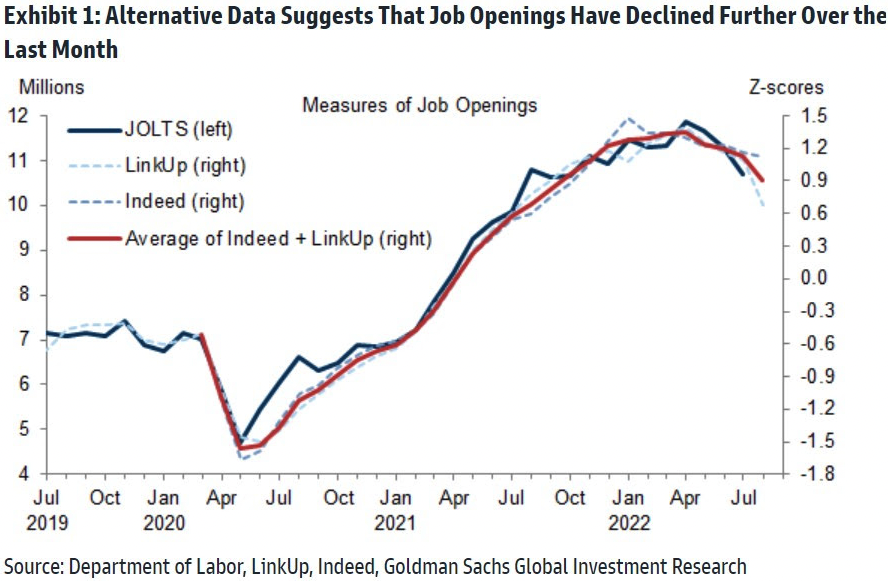 It may take some time for effects of higher rates to percolate through the economy and show up in data for the Fed to be convinced that they have done enough to slow inflation down.
A breakthrough?
Elsewhere, Chinese stocks had a stellar week, led by technology companies. Using KWEB as a proxy for these companies, the ETF tracking Chinese internet companies is up more than 10% for the week.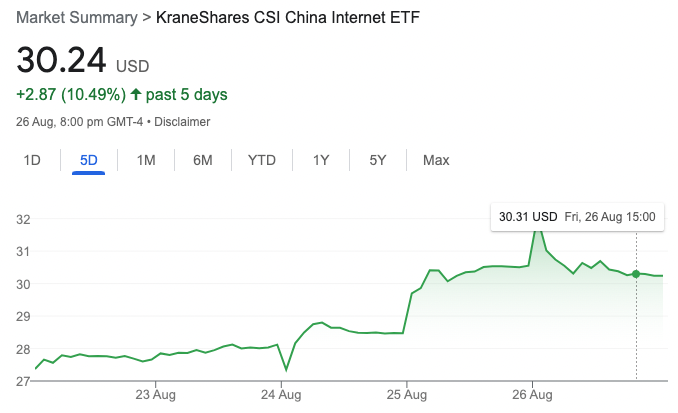 Chinese regulators have indicated to major accounting firms that they should be prepared to bring audit work papers to Hong Kong, where a review by US officials can be conducted.
The path to resolving this, where there is a systematic approach to having Chinese companies listed in the US comply with audit rules in order to remain listed, is still long but this is a positive step into resolving the audit dispute that has been ongoing for more than a year.
Market Stats
The information provided herein is intended for general circulation and/or discussion purposes only. It does not account for the specific investment objectives, financial situation or needs of any individual. The information in this document is not intended to constitute research analysis or recommendation and should not be treated as such.
This does not constitute an offer or solicitation to buy/sell any financial instrument or to participate any investment strategy. No representation or warranty whatsoever (without limiting to accuracy, usefulness, adequacy, timeliness or completeness) in respect of any information (without limiting to any statement, figures, opinion, view or estimate). Syfe does not undertake an obligation to update the information or to correct any inaccuracy that may become apparent at a later time. All information presented is subject to change without notice. Syfe shall not be responsible or liable for any loss or damage whatsoever arising directly or indirectly as a result of any person acting on any information provided herein.
The information provided herein may contain projections or other forward-looking statement regarding future events or future performance of countries, assets, markets or companies. Actual events or results may differ materially. Past performance figures are not necessarily indicative of future of likely performance. Any reference to any specific company, financial product or asset class in whatever way is used for illustrative purposes only and does not constitute a recommendation. Investors should note that there are necessarily limitations and difficulties in using any graph, chart, formula or other device to determine whether or not, or if so, when to, make an investment. The contents hereof are considered proprietary information and may not be produced or disseminated in whole or in part without Syfe's written consent.