Jobs Report – Still Strong
Job growth remained robust in September, but easing slightly from the summer months. The US economy added 263,000 jobs, lower than 315,000 in August but still a strong showing signalling that the fight against inflation still has some legs.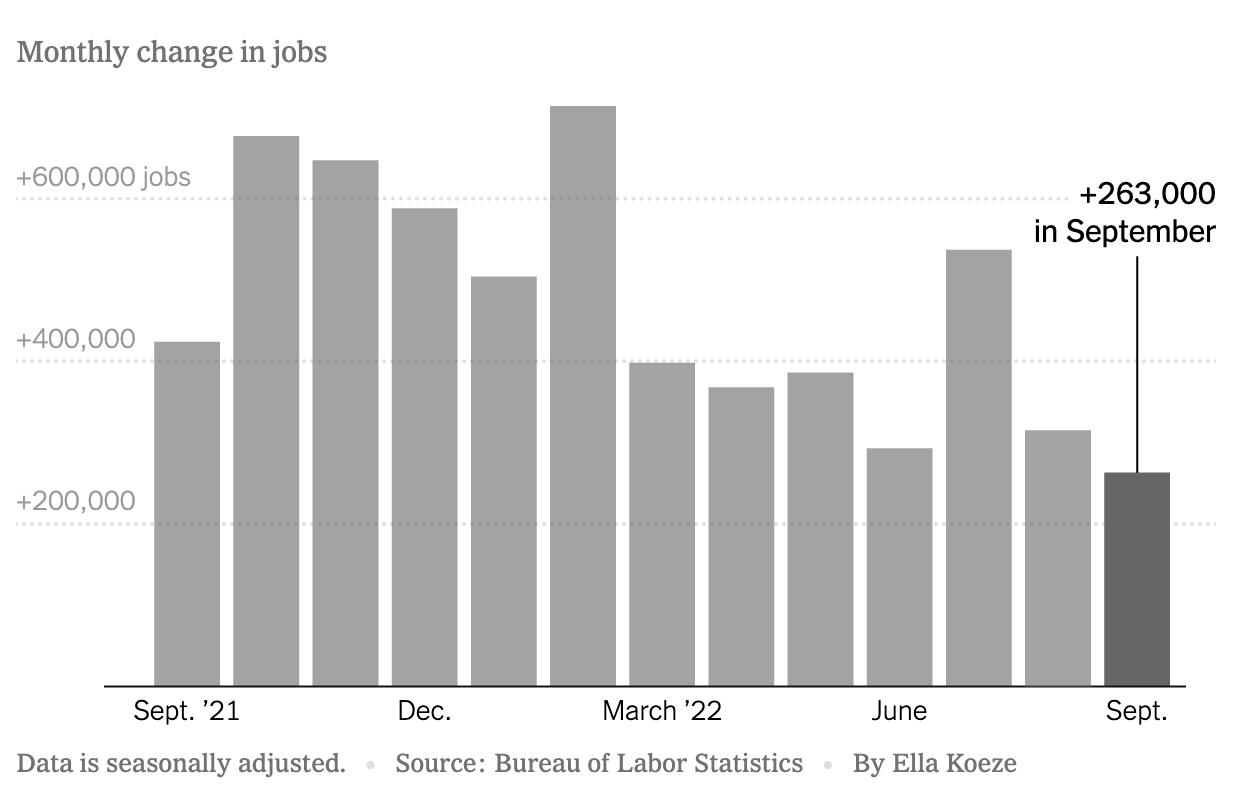 Image credit: New York Times
The report also indicated that hiring in retail is now flat, and jobs in trucking have fallen. Companies may be expecting consumers to pull back their spending as everyone adjusts to a period of financial uncertainty. Equally relevant, as corporate profits weaken, as do hiring ambitions.
Rising Dollar
The strength of the US dollar is starting to show up in earnings for US companies. According to FactSet, S&P 500 companies derive 40% of their revenues (on average) from international sources. Companies that report this quarter are starting to highlight the unfavourable impact of foreign exchange on international sales.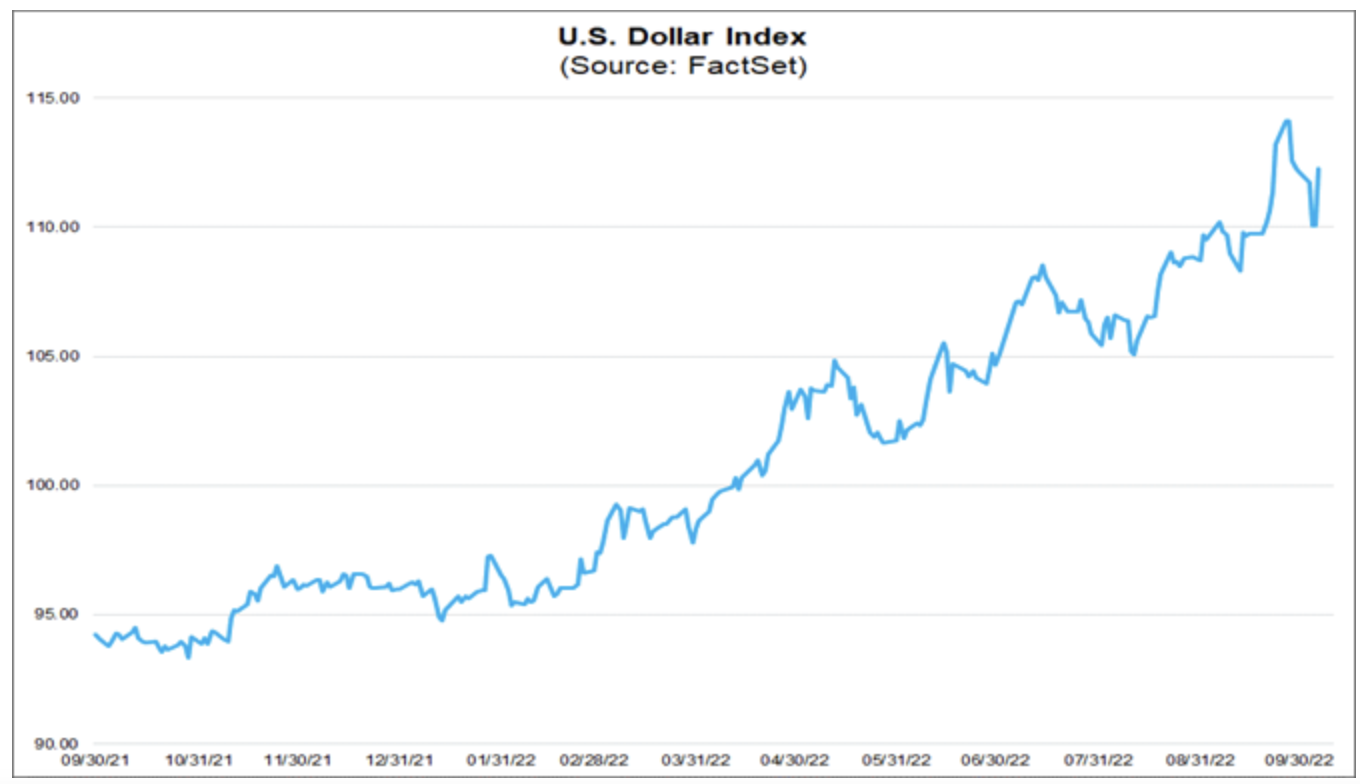 In hindsight, one of the best trades to have put on at the start of the year would have been to be long the dollar. Investors holding US ETFs and stocks have exposure to the dollar already, helping to offset stock market losses to a certain extent.
As interest rates are expected to stay higher for longer, flows going to ultra-short duration bond funds have surged, where investors are being paid modestly to wait out the market volatility. For investors looking to park their USD in low-volatility, cash-like ETFs, here are some ideas to consider.
Inclusion
China was closed for the Golden Week Holiday. MSCI, a major index provider, is considering adding more China A shares to its EM indices. China A shares are traded in RMB on Shanghai and Shenzhen Stock Exchanges. They have been included in the flagship MSCI EM indices for at least three years, but at a much-reduced weight of 20%.
A favourable decision for Chinese shares will boost demand and diversify the investor base. However, there are remaining roadblocks that needs to be addressed before full inclusion can happen.
Market Stats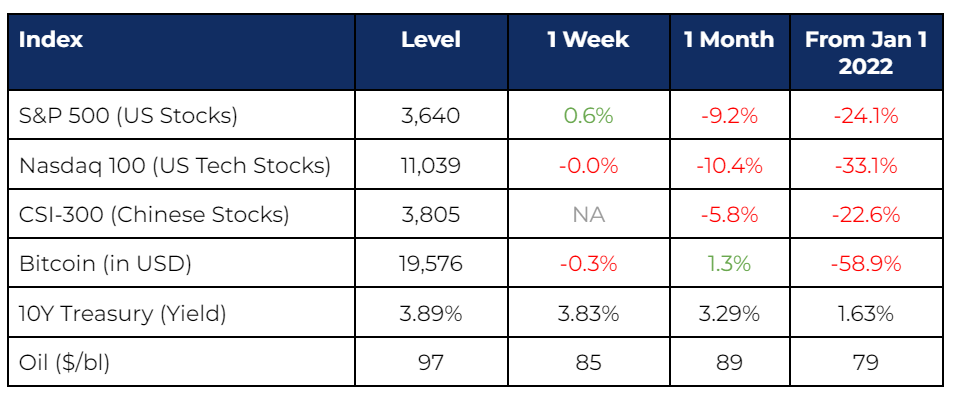 The information provided herein is intended for general circulation and/or discussion purposes only. It does not account for the specific investment objectives, financial situation or needs of any individual. The information in this document is not intended to constitute research analysis or recommendation and should not be treated as such.
This does not constitute an offer or solicitation to buy/sell any financial instrument or to participate any investment strategy. No representation or warranty whatsoever (without limiting to accuracy, usefulness, adequacy, timeliness or completeness) in respect of any information (without limiting to any statement, figures, opinion, view or estimate). Syfe does not undertake an obligation to update the information or to correct any inaccuracy that may become apparent at a later time. All information presented is subject to change without notice. Syfe shall not be responsible or liable for any loss or damage whatsoever arising directly or indirectly as a result of any person acting on any information provided herein.
The information provided herein may contain projections or other forward-looking statement regarding future events or future performance of countries, assets, markets or companies. Actual events or results may differ materially. Past performance figures are not necessarily indicative of future of likely performance. Any reference to any specific company, financial product or asset class in whatever way is used for illustrative purposes only and does not constitute a recommendation. Investors should note that there are necessarily limitations and difficulties in using any graph, chart, formula or other device to determine whether or not, or if so, when to, make an investment. The contents hereof are considered proprietary information and may not be produced or disseminated in whole or in part without Syfe's written consent.