#OPECSupplyCuts #TeslaDeliveries #BRICSCurrency
Topic #1: OPEC+ announces surprise cuts in oil supply
On April 2, Saudi Arabia and other members of OPEC+ announced surprise oil production cuts of around 1.16 million barrels per day, in a move that made oil prices, like Brent Oil shore up over 4% on open. The total volume of cuts now stands at 3.66 million bpd, which equals 3.7% of global demand. The move came just one day before a virtual meeting of an OPEC+ ministerial panel, which had been expected to maintain the existing cuts of 2 million bpd until the end of 2023.
Why did it happen?
The unexpected announcement has been attributed to concerns over a possible demand reduction and the need to maintain stability in the oil market. Meanwhile, Russian deputy prime minister Alexander Novak stated that the cut is because of the Western banking crisis and "interference with market dynamics," which refers to a Western price cap on Russian oil. The cut will also punish oil short sellers or those who bet on oil price declines. Oil prices had fallen towards $70 a barrel last month, the lowest in 15 months.
What does this mean for investors?
Cutting oil supplies can lead to a rise in its price, which can be sustained over a longer period of time. This in turn might lead to an increase in inflation levels at a time when the world is trying to fight inflation and it puts additional pressure on the Fed. While the market expects a cut in interest rates in the medium term, the data-driven Fed can still further hike the rates if inflation levels are higher than expected.
Topic #2: Tesla hits record deliveries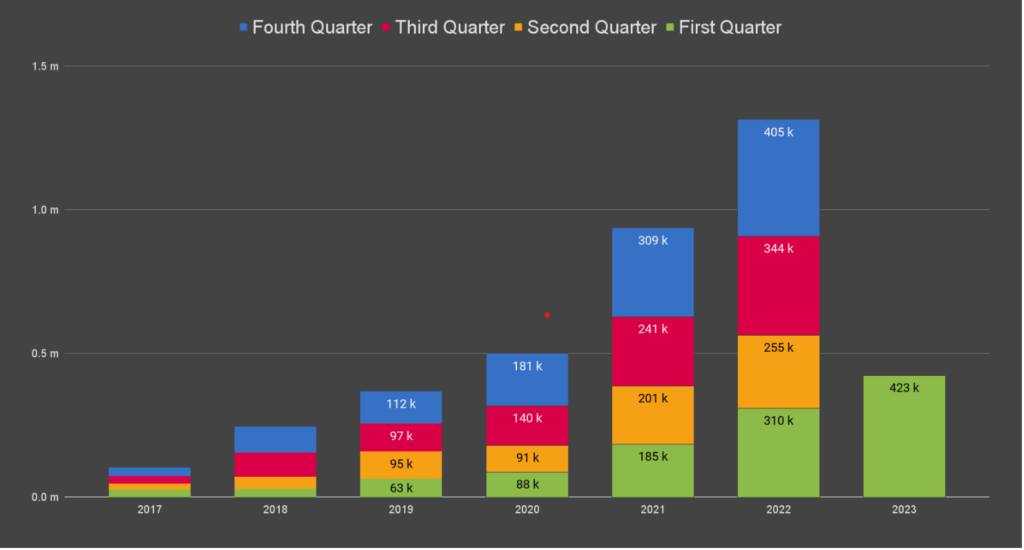 Tesla Inc reported record vehicle deliveries for Q1 2023, delivering 422,875 vehicles, up 36% YoY and 4% QoQ after price cuts. Tesla's CEO, Elon Musk had set a goal of delivering 2 million vehicles this year, up 52% YoY from 2022. The deliveries were below Wall Street's average estimate of around 432,000 vehicles for the quarter, according to FactSet data.
The modest sales growth could be due to rising competition and a bleak economic outlook. In January, Tesla slashed prices globally by as much as 20% after missing Wall Street delivery estimates for 2022, sparking a price war among automakers. Tesla's price cuts stoked demand, but investors have been concerned about eroding margins.
Other factors that may have affected demand include the potential reduction of U.S. electric vehicle subsidies, which could affect Tesla's pricing competitiveness. Additionally, Chinese rivals such as BYD and Xpeng have been dropping prices to defend market share amid weakening demand. Finally, Tesla's CEO has warned that the prospect of recession and higher interest rates could lead to further price cuts to sustain growth at the expense of profit.
Topic #3: BRICS creating a new currency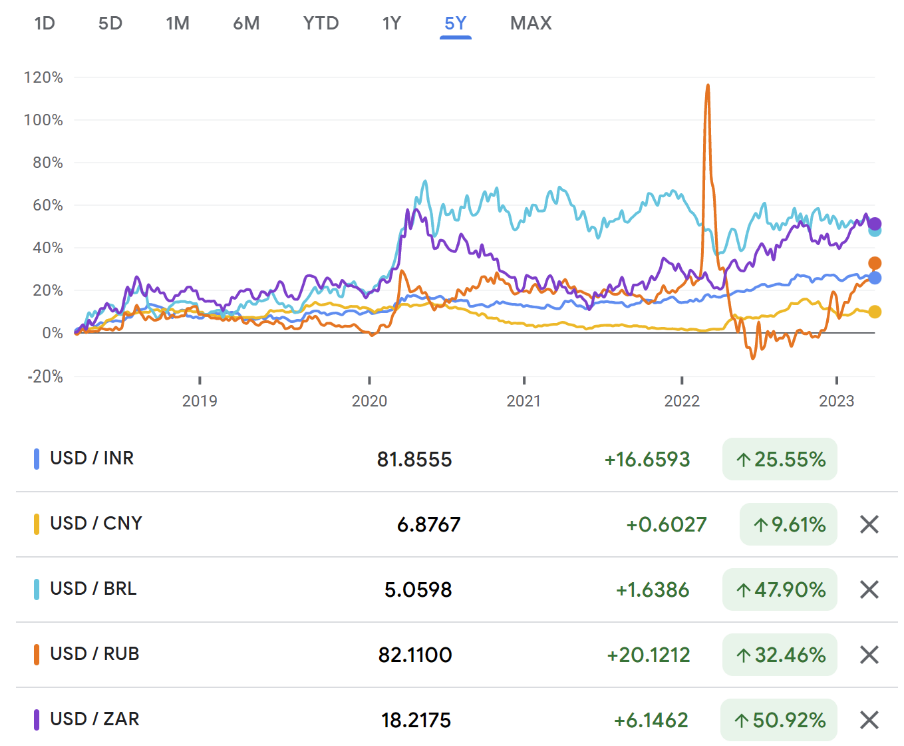 The BRICS nations – Brazil, Russia, India, China, and South Africa – are reportedly working on creating a new digital currency to reduce their reliance on Western-dominated monetary systems. The proposed currency, which could be backed by assets like gold, aims to facilitate trade and investment among the nations while providing a more stable and secure currency for international transactions.
If successful, the new currency has the potential to challenge the dominance of the US dollar and the euro in international trade and finance, providing emerging economies with an alternative means of conducting transactions. It could also strengthen economic ties among the BRICS countries, promoting investment and growth within the bloc, potentially benefiting the global economy as a whole.
However, the creation of a new digital currency by the BRICS nations will undoubtedly face several challenges, including integrating the new currency into existing financial systems and establishing regulatory frameworks to govern its use. Gaining the trust and acceptance of the global financial community will also be crucial in ensuring the success of the new currency and its ability to challenge traditional financial systems.
Overall, the rise of a new global currency backed by the BRICS nations has the potential to transform the international financial landscape, leading to a more inclusive and diverse global financial system. The move highlights how important it is for investors to diversify assets based on geography as well.
| | | | | |
| --- | --- | --- | --- | --- |
| Index | Level | 1 Week | 1 Month | From Jan 1 2023 |
| S&P 500 (US Stocks) | 4,105 | +1.20% | +2.83% | +7.34% |
| Nasdaq 100 (US Tech Stocks) | 13,063 | +0.72% | +6.94% | +20.25% |
| CSI-300 (Chinese Stocks) | 4,124 | +1.92% | +2.21% | +6.05% |
| Bitcoin (in USD) | 28,032 | +0.77% | +29.19% | +68.82% |