We've raised the projected returns of Syfe Cash+ to 3% p.a. from 2.4% p.a. This marks our fifth hike since June 2022, in line with the rising interest rate environment.
As interest rates continue to climb, the projected returns for Cash+ will keep going up in tandem with rising rates – as they have been doing so in recent months:
June 2022: Projected returns raised to 1.5% p.a. from 1.2% p.a.
August 2022: Projected returns raised to 1.9% p.a. from 1.5% p.a.
September 2022: Projected returns raised to 2.3% p.a. from 1.9% p.a.
November 2022: Projected returns raised to 2.4% p.a. from 2.3% p.a.
December 2022: Projected returns raised to 3% p.a. from 2.4% p.a.
In fact, the current projected return of 3% p.a. is now above our launch rate of 1.75% in 2021!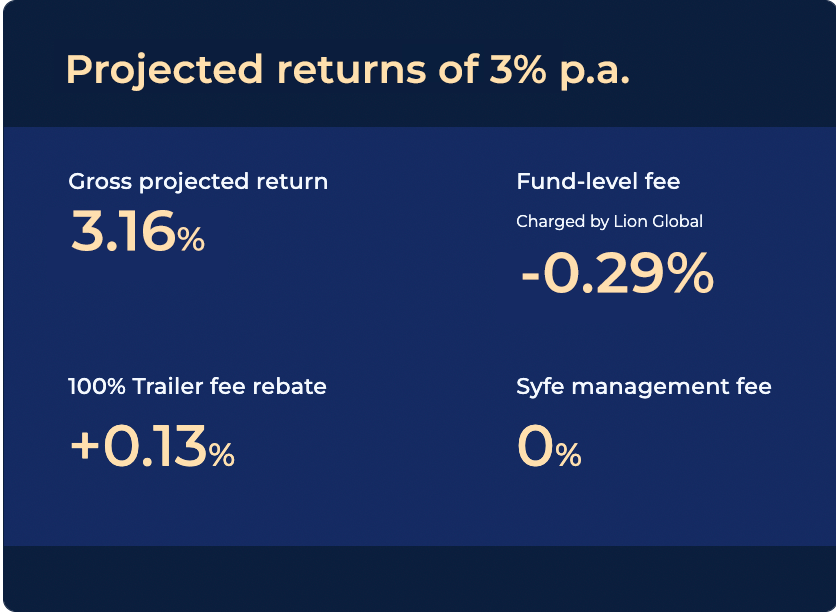 Rising interest rates have been a headwind for many assets this year. But for cash management solutions like Syfe Cash+, rising rates are a silver lining since projected returns will trend up alongside higher interest rates.
Here are the realised returns for Cash+ in 2022:

Syfe Cash+ has consistently delivered steady returns and was on track to achieve the previously projected returns. For instance, before the increase in projected yield to 2.3%, Cash+ met the previously advertised yield of 1.9%, having generated annualised returns of 1.92% as of 25 September 2022.
Moreover, Cash+ has never experienced a single week of negative returns in the year to date. For investors seeking shelter from the market volatility, Cash+ has been a safe haven offering stable returns with almost no volatility.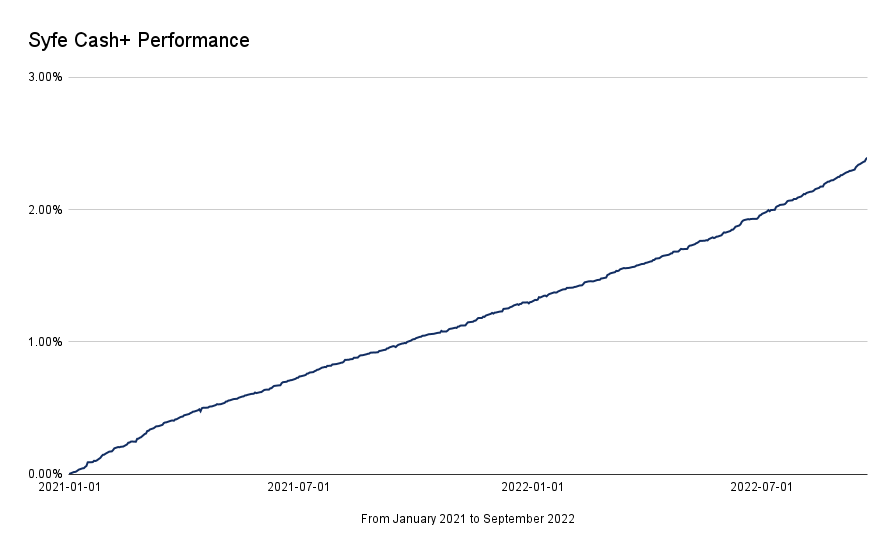 What's the outlook for Syfe Cash+?
Last week, the Federal Reserve raised interest rates by 0.75% for the third time to combat decades-high inflation in the US.
Fed projections indicate that officials expect to raise rates by at least 1.25% during the remaining two policy meetings of 2022. This suggests that another 0.75% rate hike could be possible at the November FOMC meeting, followed by a 0.50% hike at the December meeting.
Based on the Fed's dot plot, the central bank is likely to keep raising interest rates well into 2023, and rate cuts are not foreseen until 2024.
Looking ahead, we expect the projected yield for Syfe Cash+ to move higher in tandem with rising rates. This is unlike fixed deposits where you'll be locked in at your offer rate for the specified duration. You won't get a higher rate even if interest rates rise further.
In a rising interest rate environment, the flexibility to take advantage of higher rates can help you maximise the earning potential of your cash savings.
Cash+: The ideal solution for your cash
Cash+ offers stability, flexibility, and ease of use.
Whether you're building up your emergency fund, saving for an upcoming big purchase, or setting aside funds for a dollar-cost averaging strategy into Syfe's investment portfolios, Cash+ is the smarter home for your hard-earned money. Plus, it allows you to stay agile as projected returns climb alongside rising interest rates.