Editor's note: The projected returns have been raised to 2.3% p.a. in September 2022.
We've raised the projected returns of Syfe Cash+ to 1.9% p.a. from 1.5% p.a. This marks our second hike since June, when we raised our projected returns to 1.5% p.a. from 1.2% p.a.
At 1.9% p.a., our current projected yield is now above our launch rate of 1.75% in 2021!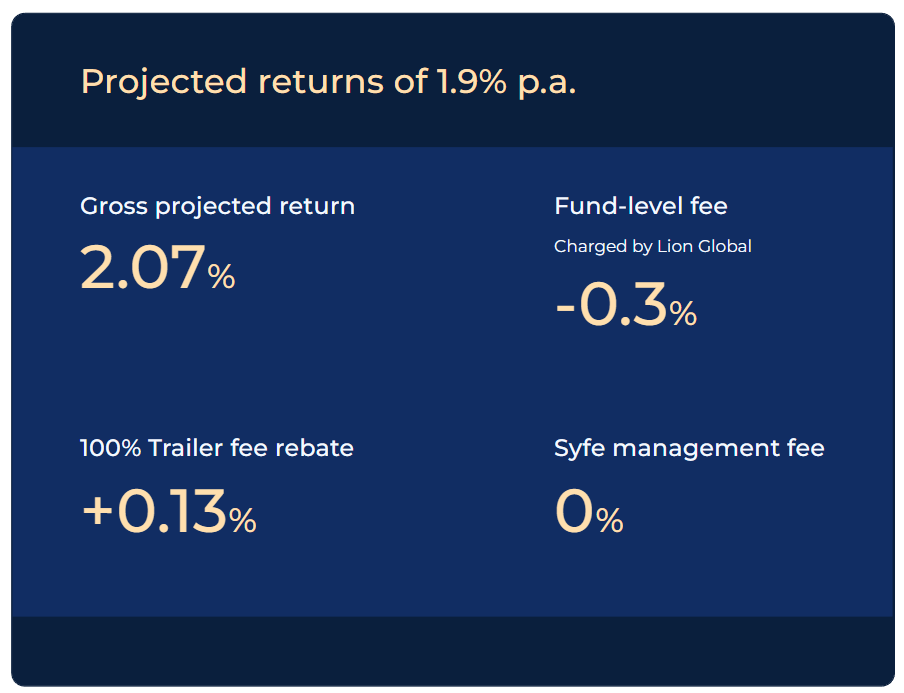 Amid the volatility this year, many investors have turned to cash management solutions like Cash+ as a shelter for their savings. Cash+ is a very low risk investment that gives you higher yield than what you can get from traditional bank deposits.
In the year to date, Cash+ has consistently delivered steady returns. Moreover, it has never experienced a single week of negative returns.
Here are the realised returns of the portfolio for 2022:

Before the increase in projected yield to 1.9%, Cash+ was on track to deliver on the previously advertised yields of 1.2% and 1.5% – when interest rates were lower – having generated annualised returns of 1.51% in the month of July.
Now that interest rates have risen, we expect Syfe Cash+ to continue serving as shelter from volatility while still offering flexibility and earning up to 1.9% annually.
Syfe Cash+ vs peers
Cash+ holds two underlying funds: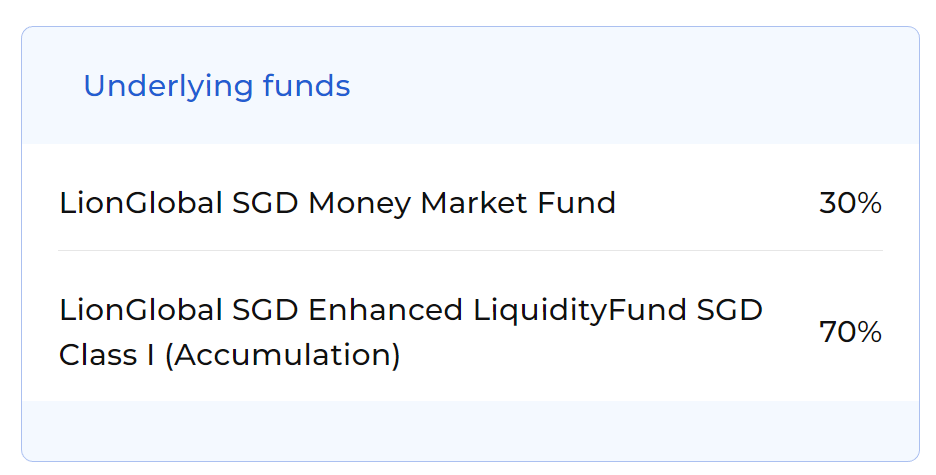 This allocation prioritises stability of returns, with lower duration and credit risk as compared to other solutions in the market that hold riskier short duration funds. While their advertised projected yields may be higher, such products are more volatile and have resulted in drawdowns for investors.
Cash management solutions should offer stable returns with almost no volatility. Investors should be aware that products with a higher projected yield may also come with more volatility and even periods of negative returns.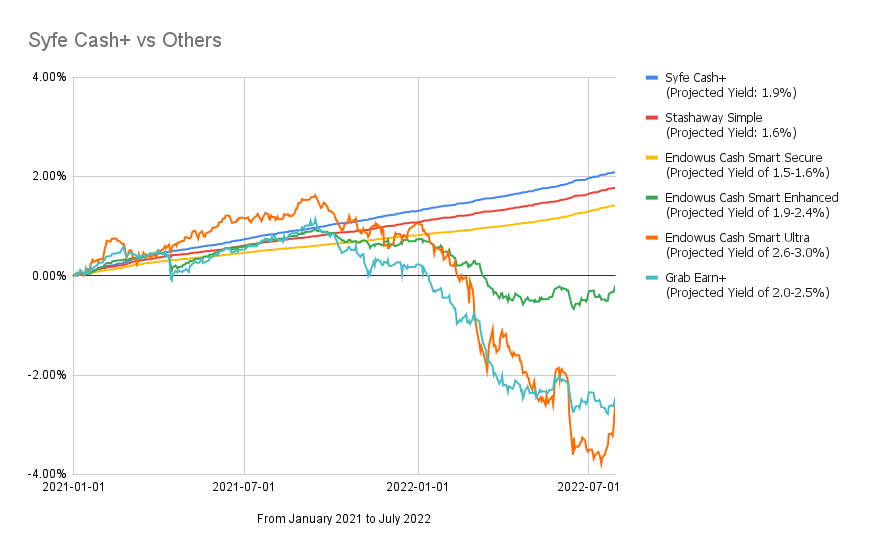 Looking ahead
In July, the Federal Reserve raised interest rates by 0.75% for the second straight month to combat decades-high inflation in the US. Rate hikes of this magnitude and pace have not happened since the late 1980s.
Following robust US job growth in July, many economists now expect the Fed to again increase rates by 0.75% when they meet in September. The strong jobs data also suggest the Fed might need to continue aggressively hiking interest rates to cool the economy.
As interest rates look set to climb, we expect the projected yield for Syfe Cash+ to move higher in tandem with rising rates.
Cash+: The ideal solution for your cash
Cash+ offers stability, flexibility, and ease of use.
Whether you're building up your emergency fund, saving for an upcoming big purchase, or setting aside funds for a dollar-cost averaging strategy into Syfe's investment portfolios, Cash+ is the smarter home for your hard-earned money.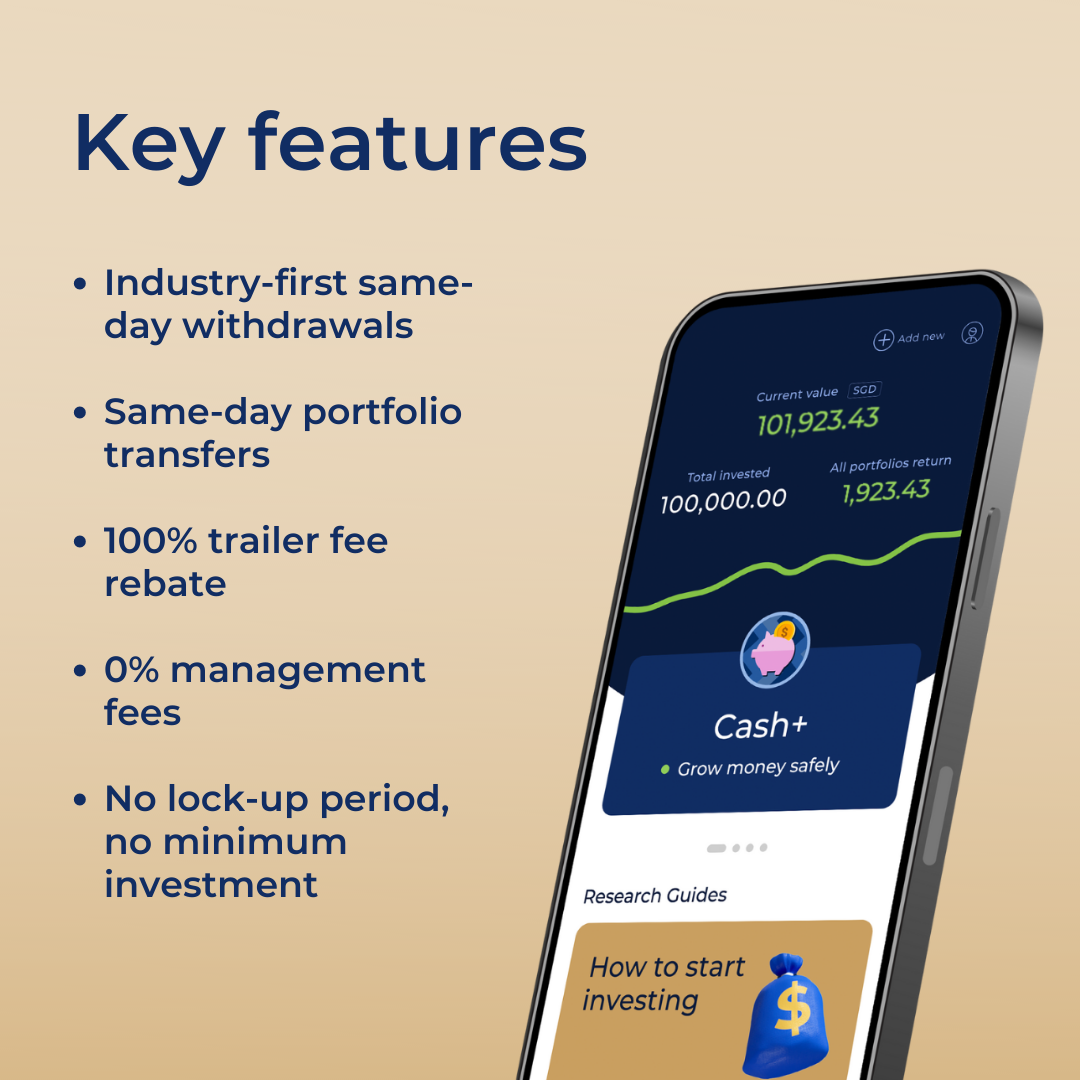 Creating a Cash+ portfolio is easy. Simply sign up for Syfe Cash+ here. All it takes is 3 minutes with Singpass.
If you're an existing Syfe customer, simply log in to your account and click on "Add Portfolio" to set up your Cash+ portfolio.