Editor's note: The projected returns for Syfe Cash+ has been revised higher to 2.3% in September 2022.
The interest rate environment has changed dramatically this year. As rates move higher, we've revised our Syfe Cash+ projected returns to 1.5% p.a., from 1.2% p.a. previously. Looking ahead, we expect the projected yield for Syfe Cash+ to gradually move higher as interest rates continue to rise.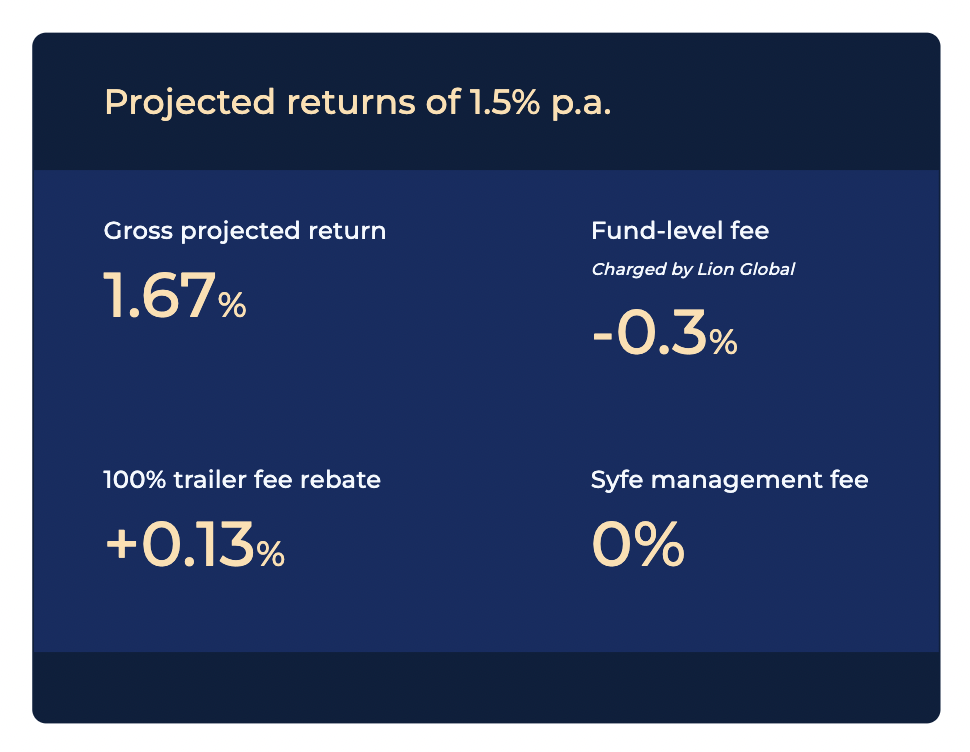 Amid the current market selloff, many investors have turned to cash management solutions as a safe haven to ride out the volatility. With stable and consistent returns, Cash+ has provided clients with a shelter for their savings.
Syfe Cash+ has never had a week of negative returns in the 2022 year to date. Before the increase in projected yield from 1.2% to 1.5%, Cash+ was on track to deliver on the previously advertised 1.2% projected yield, gaining steadily over time despite elevated volatility in the markets.
Here are the realised returns of the portfolio for 2022:

Given the rising interest rate environment, proceeds from maturing bonds will be reinvested into higher-yielding bonds. This has pushed up the projected yield for Syfe Cash+ to 1.5% p.a.
Syfe Cash+: How it stacks up against its peers
Cash+ holds two funds: a money market and an enhanced liquidity fund. This allocation prioritises stability of returns, with lower duration and credit risk as compared to other solutions in the market that hold riskier short duration funds. While their advertised projected yields may be higher, such products are more volatile and have resulted in drawdowns for investors.
Cash management solutions should offer stable returns with almost no volatility. Investors should be aware that products with a higher projected yield may also come with more volatility and even periods of negative returns.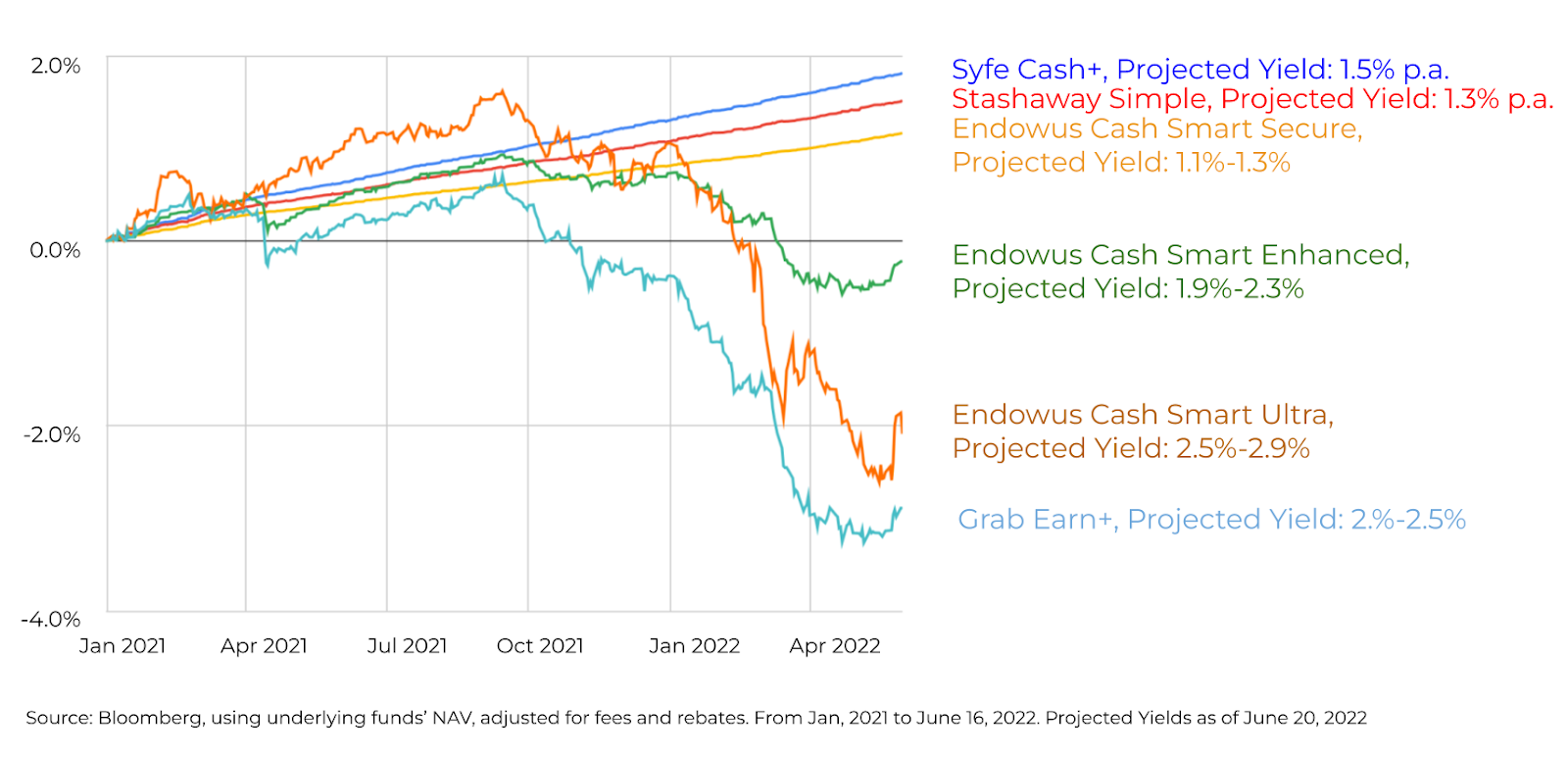 Singapore Savings Bonds (SSB) are another option that investors turn to. While SSB offer relatively attractive interest rates over the long-term, they can be less flexible than cash management products in terms of withdrawal times, investment minimums, and lock-in periods.
Moreover, there can be times where investors might not get their full requested SSB allotment if there's an oversubscription.
The outlook for Syfe Cash+
Looking ahead, we expect the projected yield for Syfe Cash+ to gradually move higher as interest rates continue to rise.
Last Wednesday, the Federal Reserve announced a 0.75% interest rate hike and indicated that another 0.75% increase could be possible in July.
US inflation is currently at decades-high. The Fed is widely expected to implement additional rate hikes in the coming months to bring down soaring prices. On average, Fed policymakers now expect interest rates to rise to around 3.4% by the end of the year.
Components of an ideal cash management solution
An ideal cash management solution should offer stability, flexibility, and ease of use.
Syfe Cash+ is a very low risk investment that gives you higher yield than what you can get from traditional bank deposits. In the last few months where bond and equity markets have been volatile, Cash+ has been a safe haven for investors – gaining steadily while still offering flexibility:
Cash+ is the first cash management product to offer same-day withdrawals with no fees
You decide how much – and when – to invest or withdraw funds
You can move money from Cash+ to your Syfe investment portfolios automatically each month to make dollar cost averaging easier
From corporates to families, our clients use Cash+ in various ways: As an alternative to bank savings for short-term goals; for expenses and consumption; as "dry powder" for opportunistic investments; and for peace of mind in a volatile market.

Keen to earn more on your savings? Sign up for Syfe Cash+ here. All it takes is 3 minutes with Singpass.