Low interest rates aren't going anywhere, at least until 2023. The US Federal Reserve has all but confirmed that it plans to keep rates near zero for the foreseeable future.
This has direct consequences for interest rates and bond yields worldwide, which will stay low for the next few years.
With 2021 underway, here's why Singapore REITs (S-REITs) are looking doubly attractive, especially for income investors.
Resilience in retail and industrial REITs
S-REITs have rebounded strongly since March this year. Although the recovery has been unevenly distributed, with "COVID-resilient" sectors like industrial and healthcare REITs benefitting more, the overall resurgence of the REIT sector is expected to pick up in 2021 as more economic activities open up and business volumes increase.
Within the industrial sector, the outlook for data centres, logistics and business parks remains positive. The increasing need for more data security, cloud applications, and other software solutions will provide strong demand for data centres in the years to come. Meanwhile, office de-centralisation and e-commerce trends are likely to drive business parks and warehouse demands in the near-term.
For retail REITs, footfall and consumer spending have steadily returned as Singapore approaches Phase 3 of circuit breaker measures. The year-end holiday season is also expected to give tenant sales a boost.
A boost for office and hospitality REITs
A potential shot in the arm for office REITs could come from the expansion plans of Chinese technology giants. Tencent, Alibaba, and ByteDance are reportedly looking to set up their regional headquarters in Singapore and are likely to take up Grade A prime CBD offices.
Although the recovery for hospitality REITs remains uncertain until vaccines become widely available and travel resumes, the sector should recover over the medium to long term. Most countries are targeting vaccine distributions by mid-2021. As mass gatherings become safe and more travel bubbles are established, the tide should turn for the hospitality sector.
Attractive yield
Despite a more challenging operating environment during the pandemic, many S-REITs are still paying dividends, although some have trimmed payouts to conserve cash.
And compared to other asset classes, S-REITs have significantly higher yields. The average dividend yield for S-REITs is currently at 6.6%. Compare this to the 10-year government bond yield of 1% and the 12-month Singapore fixed deposit rate of 0.5%. For investors seeking income, it is clear that S-REITs are still the better choice amid this lower-for-longer interest rate environment.
A diversified REIT portfolio is the way to go
Convinced that REITs are the right investment for you? Instead of picking REITs, go with a diversified REIT portfolio with counters across all REIT sub-sectors.
Think about it this way. You will be exposed to industrial and healthcare REITs, which have outperformed the past months. You will also be positioned to tap into the recovery of retail, office and hospitality REITs. If any one sector experiences an unexpected setback, your REIT investments in the other sectors will cushion the dip.
The easier way with Syfe REIT+
One of the easiest ways to get a diversified REIT portfolio is through the Syfe REIT+ portfolio. It holds 20 of Singapore's largest REITs and tracks the performance of the SGX iEdge S-REIT Leaders Index.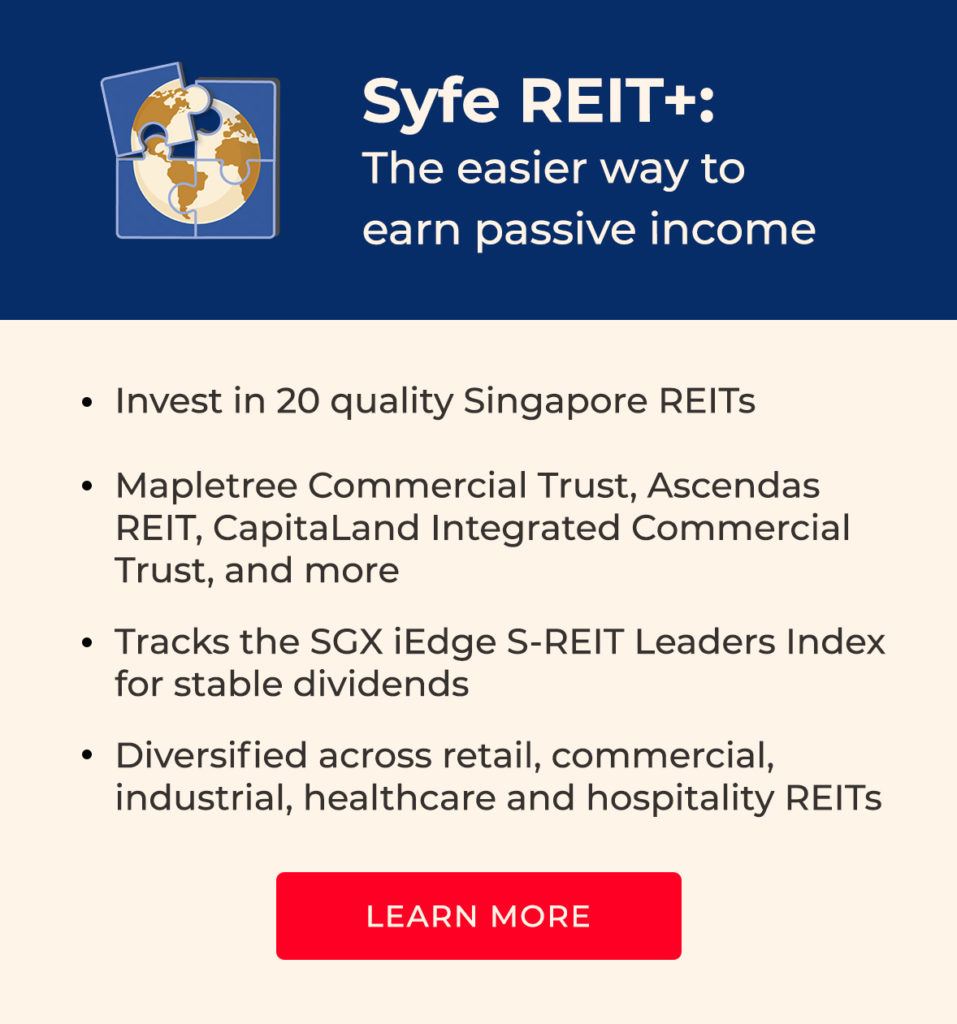 In short, you'll own high-quality REITs like Mapletree Industrial Trust, CapitaLand Integrated CommercialTrust, Ascendas REIT, Keppel REIT and more, all within one portfolio.
It's also an easy and affordable way to gain Singapore real estate exposure. For one, there are no brokerage fees or investment minimums. If you're planning to make regular contributions, REIT+ will be more cost effective than buying REITs through a broker.
Ready to capitalise on S-REITs' comeback? Get started with the REIT+ portfolio here.