US stocks continue to tumble as the conflict between Russia and Ukraine escalates. The S&P 500 sunk deeper into a correction on Wednesday, while the Dow and Nasdaq posted their fifth straight consecutive loss.
Russia has launched an attack on Ukraine, with Ukraine's minister of foreign affairs saying in a statement that a "full-scale invasion" of his country was underway.
Stock markets are likely to face further volatility as the crisis escalates. Here's what could happen next.
Stock markets
So far this year, investors have grappled with multiple headwinds: surging inflation, looming rate hikes, and persistent supply-chain crunches. The Russia-Ukraine conflict is yet another uncertainty for investors to wade through.
Although stocks often tumble amid geopolitical tensions, history shows that the effects tend to be short-lived. According to LPL Financial, it takes on average 20 days for the S&P 500 index to bottom after a geopolitical crisis, and around 43 days (1.5 months) to recover.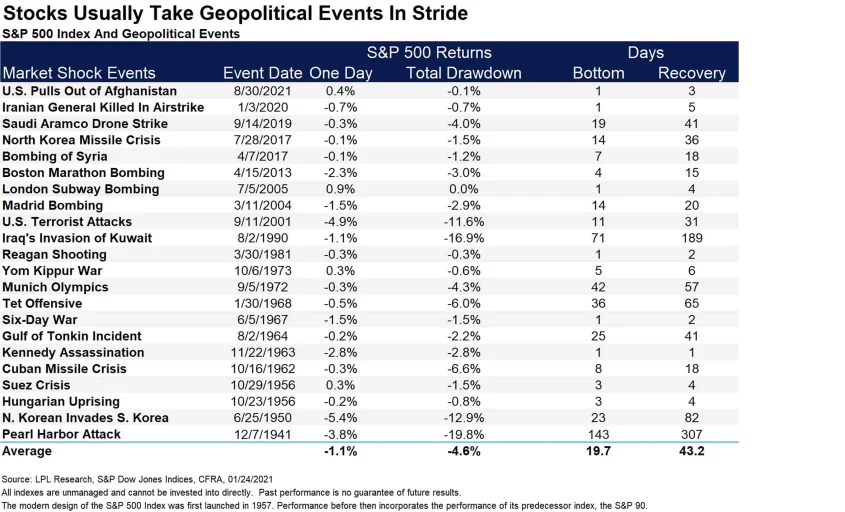 Additionally, history suggests that stock markets rebound after a correction. Data compiled by Dow Jones Market Data shows that the S&P 500 closes higher in the following three-week, one-month, six-month and full-year periods after a correction.

This chimes with our own analysis that market declines occur far less frequently as compared to advances. Additionally, market advances are not only more frequent but they are also outsized.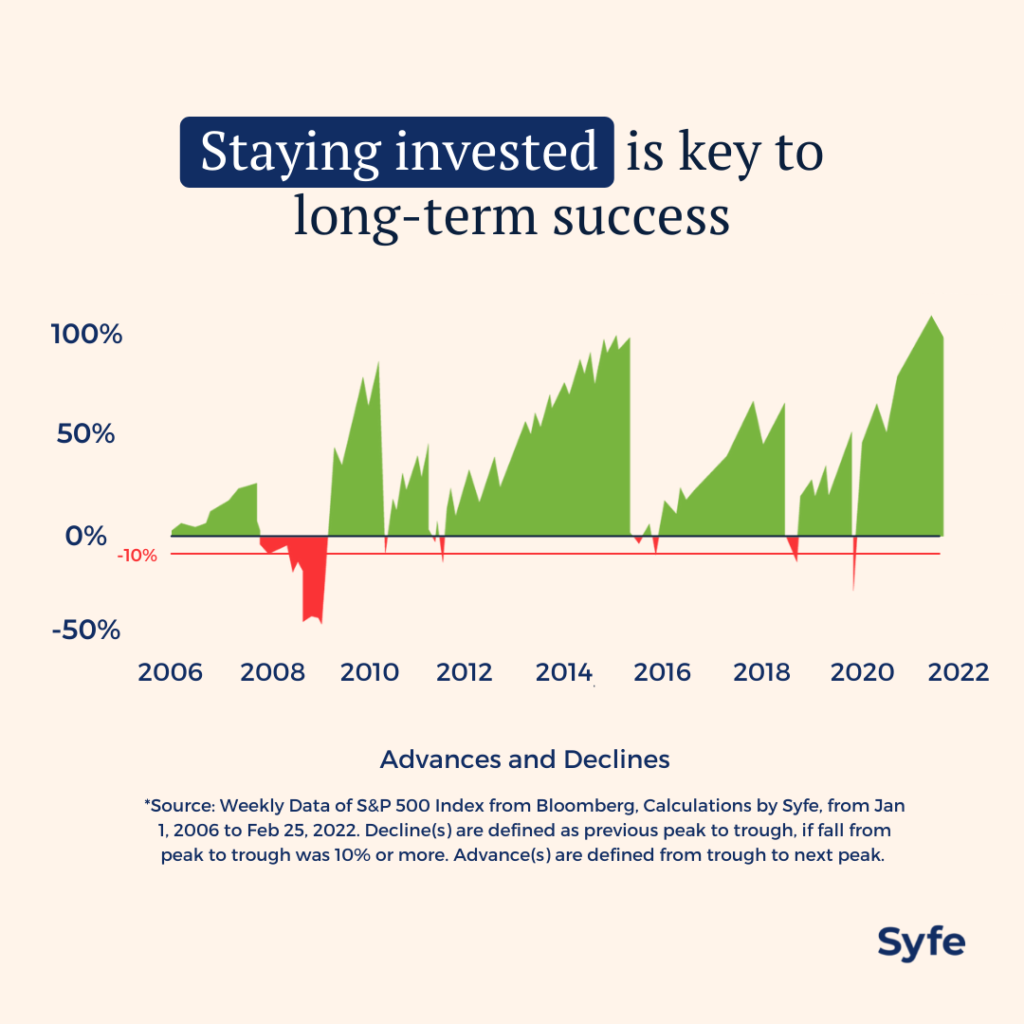 Even though the fear factor may remain elevated in the near-term, long-term investors will probably be able to ride out this volatility, as they have so many others.
Energy prices
Oil prices have reached a new high as markets fear Russia's energy exports could be disrupted by the conflict. Brent crude futures crossed the US$100 level for the first time since 2014 while natural gas prices jumped 4.7%.
This could mean petrol and electricity gets more expensive for consumers. On the flipside, rising energy prices are good news for energy stocks and ETFs. The S&P 500's energy sector is up more than 20% this year, versus a correction in the S&P 500.
Will energy prices continue to surge? The US and the European Union are starting to impose sanctions against Russia. German Chancellor Olaf Scholz halted the new Nord Stream 2 gas pipeline from Russia – and Russia reacted by warning of higher European gas prices.

Even so, analysts think the impact on energy prices may be temporary. A significant, long-term disruption in Russian energy supply is unlikely because that is not in the interest of either Russia, European consumers or the US, according to Edward L. Morse, global head of commodities research at Citigroup.
Gold
With volatility rocking markets, investors have flocked to gold. Spot gold rose 1.82% and last traded at a new high of $1,942.26. Meanwhile, the SPDR Gold Shares ETF is up about 4% since the start of the year.
Energy
Europe relies on Russia for around 35% of its natural gas. If Russia retaliates against sanctions by cutting gas supplies to Europe, this could cause gas prices to spike. Oil markets could also be affected by supply disruptions from Russia.
Inflation
There is a risk inflation could surge higher amid rising energy prices. This could dampen consumer spending.
The Fed will likely start its tightening cycle in March with a 25-basis-point (bps) interest rate hike. Towards the end of the week, traders pared back expectations that the Fed will make a double-hike (50bps instead of 25bps), boosting market sentiment.
What should investors do?
Markets are likely to remain on edge in the immediate term as geopolitical tensions persist. While the uncertainty can be unsettling, it pays to sit tight and stay invested.
For investors of Syfe's Core Equity100 portfolio, missing the best 3 months (in the last ten years) can cut your overall return by 22%. Missing the best 6 months reduces your total return by almost 40%.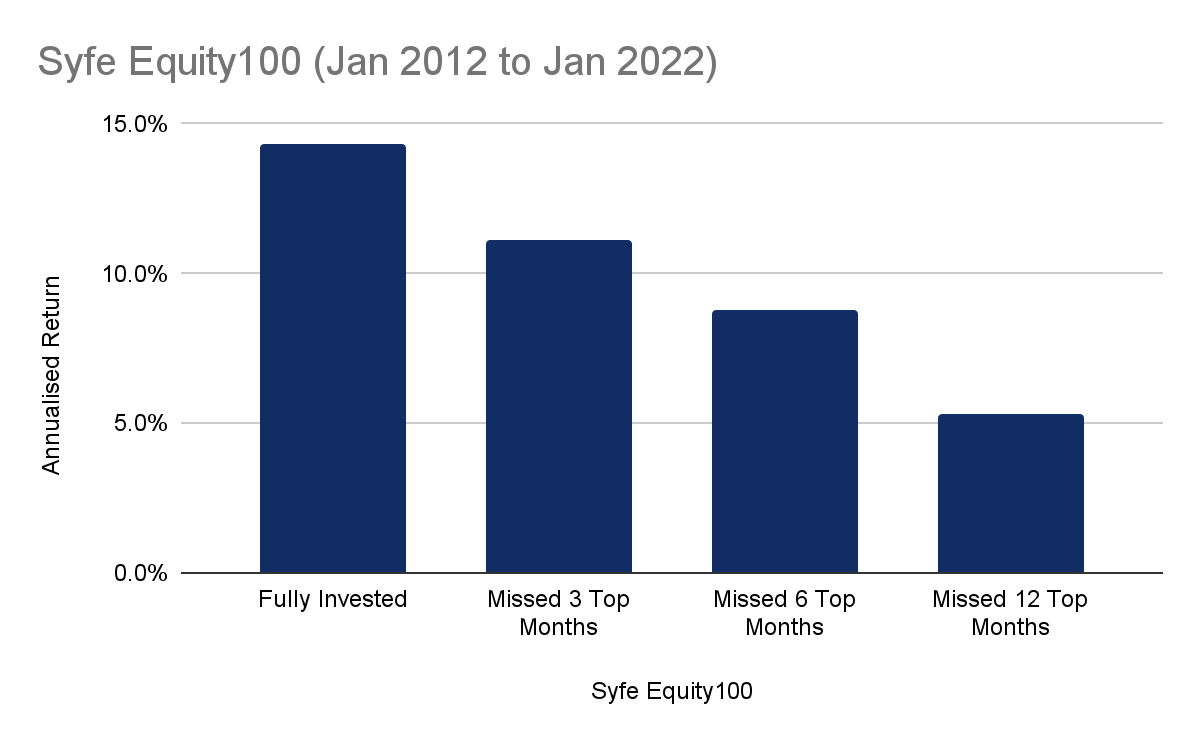 By pulling out of the market, you could miss a few bad days, but might also end up missing any recovery that follows.
How can you help?
Enjoyed some gains from your investments and wish to help in the war in Ukraine? This resource contains links you may find helpful.
This article was updated on 28 February 2022.