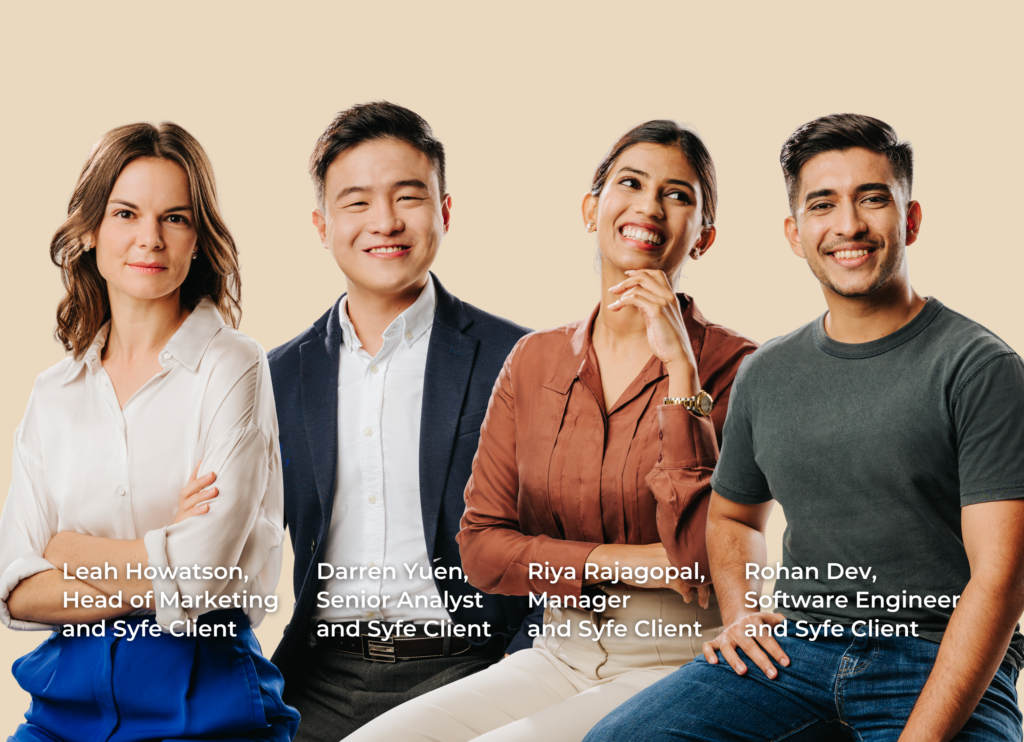 Between meetings, networking and mentoring, it can be hard for busy professionals to make investing a top priority. After a long day in the office, who has the time to study the markets and manage a portfolio?
But as Warren Buffett famously said, "If you don't find a way to make money while you sleep, you will work until you die".
With digital wealth platforms becoming mainstream, it's easy to start investing even if you're time-strapped. Syfe spoke to four professionals on they manage their money while juggling high-flying careers.
There's an app for that
In this day and age, you don't even need to get on your laptop to start investing. It takes just five minutes to download an investment app like Syfe, answer a few questions about your goals and risk appetite, and register for an account.
This ease of use is what drew Leah Howatson, head of marketing at an online furniture retailer, to Syfe. "By providing a super simple interface, transparent fees and a lot of helpful information on the app, I can quickly manage my money and get back to doing what I love," she says.
She's currently invested in ESG (environmental, social, and governance) assets via Syfe's custom portfolios. She likes this option as it allows her to design her own portfolio with investments she believes in. From disruptive tech to healthcare, ESG to China growth, investors can explore over 100 expertly curated exchange traded funds (ETFs), Leah notes.
"I can align my values to my investments easily. For example, I've invested in clean energy as I believe strongly in it. ETFs also make it easy for someone like me, who doesn't have time to follow the market so closely."
Don't let your savings idle
For Riya Rajagopal, a manager at a global accounting firm, she began investing once she started work and diligently sets aside a fixed sum each month in investment platforms.
"I noticed that keeping my money in the bank was not doing anything for me," she says.
Indeed, with inflation surging, cash sitting in the bank could lose purchasing power if interest earned lags behind inflation. Compare this to the S&P 500, which has historically generated an annual average return of 10.5% for the last 64 years.
Riya notes that investing with Syfe has "made [her] savings grow". Her investments in Syfe's Core Defensive, ESG & Clean Energy, and Cash+ portfolios have enabled her to work towards her goals. The latter is a cash management account that provides 2.3% projected returns each year.
"Financial freedom means not having to worry about dipping into my savings to buy that additional luxury I like or booking holidays on a whim", she adds.
Let the experts do the heavy lifting
Successful, long-term investing starts with a diversified portfolio. Syfe's Core portfolios are designed with this in mind and hold investments across different asset classes, sectors, and geographies.
Once you've selected your portfolio, Syfe does the rest of the work for you. This includes notifying you if your chosen portfolio isn't in line with your preferred risk level, automatically investing your funds, and rebalancing your portfolio.
This hassle-free approach is what Rohan Dev, a software engineer at a multinational technology conglomerate, was seeking in an investment partner. He's currently invested in Syfe's Core Equity100 and Core Growth portfolios.
"Syfe helps me by dynamically allocating funds across different asset classes without my intervention and based on my predetermined risk appetite," he says.
Darren Yuen, a senior analyst at a global consulting firm, concurs. "I appreciate how the automated rebalancing feature keeps my portfolio in check."
One place for all your investment needs
Investing isn't one-size-fits-all. We all have different life goals we're working towards, and our investments need to account for that.
To Rohan, financial freedom means "being debt-free and being flexible enough to be able to pivot in life without hurting my standard of living considerably". For Leah, it means freeing up her "time and mental space" to focus on the people and things that matter.
Singaporean investors typically hold multiple accounts for their different investments. They may have some stock holdings with different brokerage firms, some money in robo-advisory platforms, and spare cash in savings accounts. The main downside to this arrangement is the hassle it takes to keep track of your money.
"Time is money. Juggling different accounts means more work for me. It makes monitoring my investments more challenging too," says Darren.
This is why he appreciates being able to see all his investments and savings on his Syfe app. He uses Syfe's US brokerage service (Syfe Trade) and invests for retirement through Syfe's managed portfolios. He also parks his spare cash with Cash+.
"Syfe helps me invest better and worry less," he says. "I also like that I can make single stock bets to complement my long-term goals."
Tips on how to start investing
All four professionals we spoke with agree that it's never too late to start investing. The sooner you invest, the more time your money has to compound and grow.
Rohan urges: "Start young, and begin charting financial milestones to hit at every phase of life."
For Darren, his advice is to "start small and gradually invest more as you build up your confidence."
Leah finds it helpful to "talk with friends" and gather insights and feedback from those around her.
To Riya, it's always a good time to start investing. "If you're new to investing, start simple and let the experts like Syfe make your money work for you."