US stocks fell yesterday as the S&P 500 concluded its worst first-half performance since 1970. The index has dropped 21% for the first half of 2022, dragged down by surging inflation, interest rate hikes, and geopolitical unrest.
To curb inflation, the Federal Reserve raised interest rates by 75 basis points earlier in June, its most pronounced rate hike since 1994. Analysts now expect another 75 basis point hike at the Fed's upcoming July meeting if inflation continues to run hot.
Below are this week's top headlines.
Nike
Nike reported its fiscal fourth-quarter earnings on Monday. Despite topping Wall Street's expectations for quarterly profit and revenue, shares are down roughly 7% over the past five days.
For the fourth quarter, Nike reported revenue of $12 billion. But the company expects first-quarter revenue to come in below estimates due to COVID-19 disruptions in China, its most profitable market. Additionally, ongoing challenges such as increased transportation costs and supply chain snarls are expected to weigh on Nike's prospects.
General Mills
On Wednesday, General Mills reported fiscal fourth-quarter earnings that beat on both top and bottom lines. Revenue rose 8% to $4.9 billion for the quarter while net income increased 23% year-over-year. This comes despite higher inflation and ongoing supply chain disruptions that put pressure on its profit margins.
The Cheerios maker projects sales growth to reach 4% to 5% in fiscal 2023 and raised dividends by 6%.
General Mills shares are up 9% over the past month and its performance follows other earnings beat by consumer staples stocks like Kroger. Other competitors such as Kellogg have also seen their shares flourish steadily by 11% since January this year as snacking trends persist, following its three-way split last week.
Bed Bath & Beyond
Shares of Bed Bath & Beyond have dropped 31% over the past five days following the departure of CEO Mark Tritton amid a steep loss for the quarter.
During the three months ending 28 May, the company's net loss widened to $358 million from $51 million a year earlier. Same-store sales, a key retail metric, plunged 24% in the quarter compared with a year ago.
The home goods retailer owns subsidiaries such as Buybuy Baby, Cost Plus, Inc and Harmon Stores.
Bed Bath & Beyond has been under pressure from rising inflation and a rapid change in consumer spending patterns. Although Mark Tritton attempted to revive the business with private label offerings, the turn-around strategy ultimately did not succeed.
Sue Gove, the company's independent board member and a retail veteran, will be taking over as interim CEO.
Spirit Airlines
Spirit Airlines rose 6% yesterday after the company delayed a shareholders' vote on its proposed merger with Frontier Airlines till 8 July. The merger between them would create the fifth-largest budget airline in the US.
Spirit Airlines is currently in talks with both Frontier and JetBlue for a buyout. Frontier had offered to buy Spirit for $2.9 billion in February but JetBlue countered with a $3.6 billion offer two months later.
If JetBlue succeeds in acquiring Spirit, the deal will strengthen their position in Florida, Los Angeles and Las Vegas.
Competition between Frontier and JetBlue has intensified over the past months with each side upping their offer prices. Although Spirit's CEO Ted Christie finds the deal with Frontier more "superior" and has repeatedly rejected JetBlue's offer citing higher regulatory scrutiny, JetBlue has been pushing Spirit to accept its bid. The postponement now means Spirit will continue talks with both parties.
As travel interest picks up, US air travel traffic has recovered to almost pre-pandemic levels. As the potential Spirit-Frontier merger shows, consolidation is another emerging trend within the air travel industry as well. This has made airline stocks an interesting sector for investors.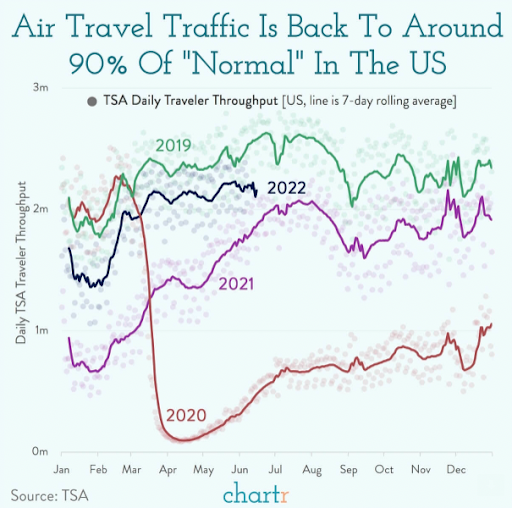 Carnival
Shares of cruise line operator Carnival slipped 2.5% yesterday after Morgan Stanley slashed its price target on the stock by almost half. The investment bank also warned that Carnival's share price could potentially fall to zero in a worst-case scenario. Weak demand caused by trip cancellations amid a potential recession could sink profits while Carnival's current debt levels of over $35 billion could be another stumbling block.
Shares of rival operators Royal Caribbean and Norwegian Cruise were down 3.1% and 3.9% respectively as well.