Worst start in 50 years
The S&P 500 fell 2% this week after a 7% rally last week. The US stock market is on track for its worst first half in more than 50 years, since the 1970s. Even investors in diversified balanced portfolios (with equity and bonds) have experienced drawdowns. Assets that were initially thought of as unaffected by the larger macroeconomic trends did not prove to be a safe refuge, with Bitcoin, the largest cryptocurrency, down more than 50%.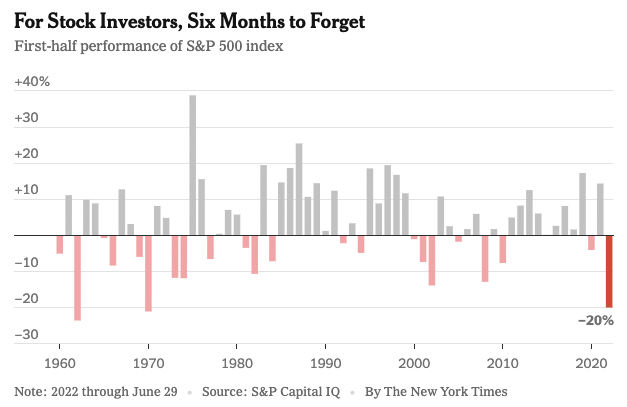 The question on many investors' minds would be how much worse can it get? We've looked at it historically here.
Concerns shifting from inflation to growth
As we mentioned last week, the latest consumer inflation expectations came in lower than expected. A more reliable indicator of inflation expectations that the Fed watches closely is the 5 year/5 year breakevens, which captures average inflation for five years in five years' time. This indicator has now fallen below pre-pandemic levels and closer to the Fed's long term target inflation of 2%.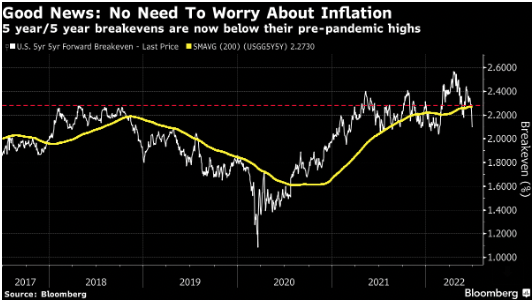 Fed is still on a warpath against inflation
At a meeting with other central bankers in Portugal this week, Chair Powell said that slowing growth down for supply to catch up remains a "necessary adjustment that needs to happen".
We are already seeing signs that the economy is slowing down. IHS Markit, provider of financial market information, estimated Q2 2022 US GDP to grow at 0.1%, a downward revision from 2.4%. Other forecasters now say that it is possible for economic growth to even turn negative for a second consecutive quarter, marking a commonly held but unofficial definition of a recession.
The National Bureau of Economic Research, which decides when expansions and contractions start and end, defines recessions differently, as "a significant decline in economic activity that is spread across the economy and lasts more than a few months."
Currently, most economists and policymakers going by that definition, would concur that the United States is not in a recession yet. However, more believe that a recession is likely in the next year, as the Fed taps on the brakes a bit too hard to slow down the economy and rein in inflation.
China reopens tentatively
The Chinese equity markets, as represented by MSCI China, fell 1 % over the week, but companies in the leisure sector rose as China halved its mandatory two week hotel quarantine. 
In fact, Chinese stocks are approaching a bull market. The CSI 300, representing 300 stocks traded on Shanghai Stock Exchange and Shenzhen stock exchange, had locked in five weeks of gains and risen almost 20% since its lows in April. In contrast to other major economies grappling with inflation, China's inflation rate is currently 2% and leaves PBoC with a lot of room for policy stimulus in order to achieve its GDP growth target of 5.5%.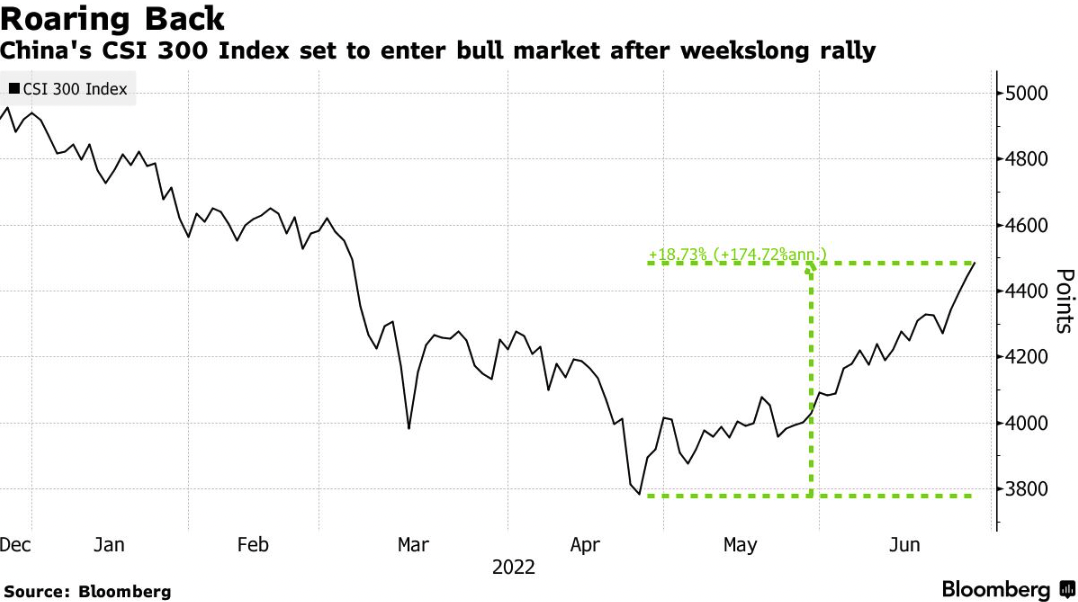 Earning Insights
We covered market moves here.
Market Stats
The information provided herein is intended for general circulation and/or discussion purposes only. It does not account for the specific investment objectives, financial situation or needs of any individual. The information in this document is not intended to constitute research analysis or recommendation and should not be treated as such.
This does not constitute an offer or solicitation to buy/sell any financial instrument or to participate any investment strategy. No representation or warranty whatsoever (without limiting to accuracy, usefulness, adequacy, timeliness or completeness) in respect of any information (without limiting to any statement, figures, opinion, view or estimate). Syfe does not undertake an obligation to update the information or to correct any inaccuracy that may become apparent at a later time. All information presented is subject to change without notice. Syfe shall not be responsible or liable for any loss or damage whatsoever arising directly or indirectly as a result of any person acting on any information provided herein.
The information provided herein may contain projections or other forward-looking statement regarding future events or future performance of countries, assets, markets or companies. Actual events or results may differ materially. Past performance figures are not necessarily indicative of future of likely performance. Any reference to any specific company, financial product or asset class in whatever way is used for illustrative purposes only and does not constitute a recommendation. Investors should note that there are necessarily limitations and difficulties in using any graph, chart, formula or other device to determine whether or not, or if so, when to, make an investment. The contents hereof are considered proprietary information and may not be produced or disseminated in whole or in part without Syfe's written consent.