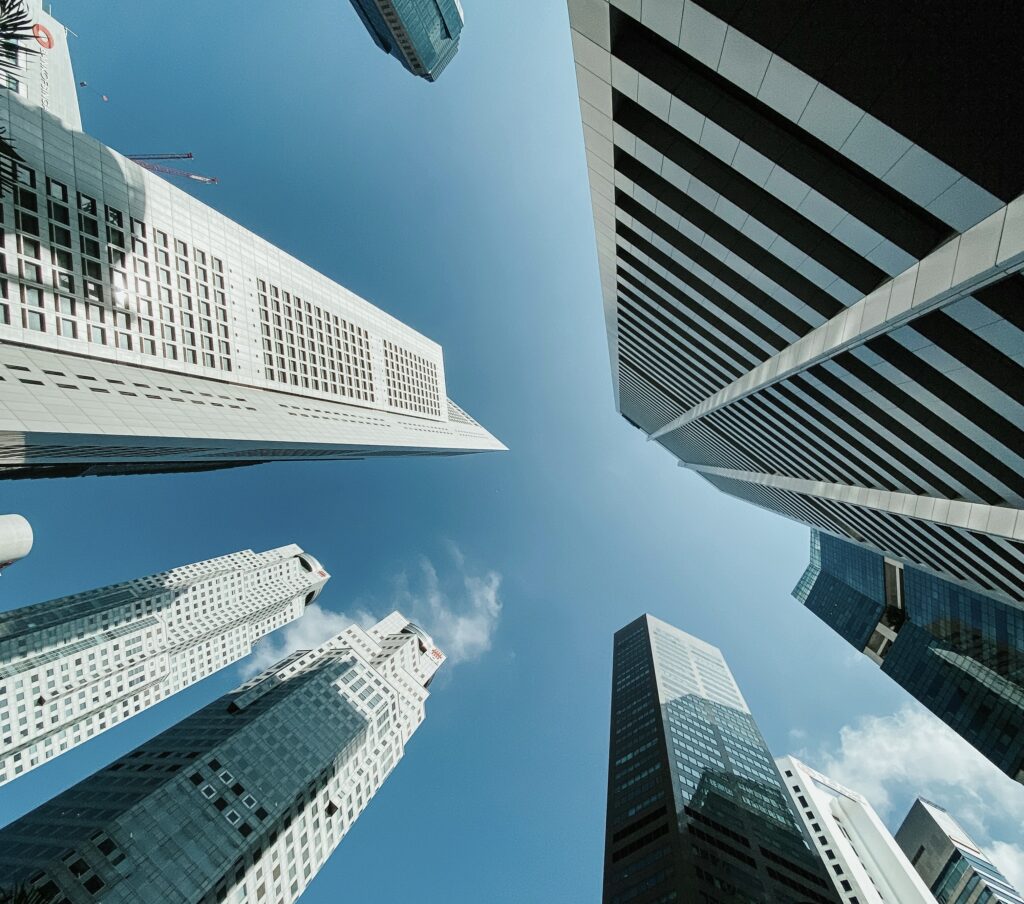 Table of contents
---
Is a recession coming in 2023? In November, the US Federal Reserve raised interest rates by 0.75% for the fourth consecutive time, and signalled that rates are likely to trend higher in the coming months.
With many investors already feeling the pinch from rising prices, what can you do to prepare for the possibility of a recession?
Long-term investors know the merits of keeping calm, staying invested, and dollar-cost averaging into the market. Now may also be a good time to complement your core holdings with satellite exposures that can hold up in a recession or hedge against inflation. While no investment is 100% immune to an economic downturn, there are some that are traditionally considered "recession-proof", or seen as natural inflation hedges. You may consider augmenting your core portfolio with such ideas.
Recession-proof stocks to consider
Stocks of companies that provide essential goods or services have historically held up better in an economic downturn. These include:
Consumer staples: Recession or not, people still need to buy necessities like bread, eggs, and toiletries. And they tend to shop at discount retailers like Costco in the US or Sheng Siong in Singapore for cheaper groceries.
Utilities: In good times or bad, people still need water, electricity, and gas to survive. Utility stocks typically pay out dividends as well, which makes them even more defensive.
Healthcare: Medical care is an essential service that people need. Healthcare stocks that tend to be resilient include makers of medical devices like pacemakers and major pharmaceutical companies.
Inflation hedges to consider
Inflation is likely to remain higher-for-longer in the medium term, as Ravi Menon, managing director of the Monetary Authority of Singapore (MAS) said in a recent speech.
"The era of cheap money, cheap labour and cheap energy is most likely over," he warned.
Rising costs put pressure on consumers and businesses alike, but some asset classes have historically been seen as inflation hedges. These investments usually hold or increase their values in an inflationary environment and can help cushion portfolios.
Hedge inflation with REITs
Singapore REITs (S-REITs) are known to be a resilient asset class.
Although they have been pressured by rising interest rates in 2022, REITs are a natural inflation hedge since property rents rise as general prices rise. Looking ahead, S-REITs look set to continue benefiting from Singapore's reopening as well as long-term structural trends.
With more employees returning to office, rents for Grade A office spaces in the Central Business District (CBD) have risen every quarter since early 2021.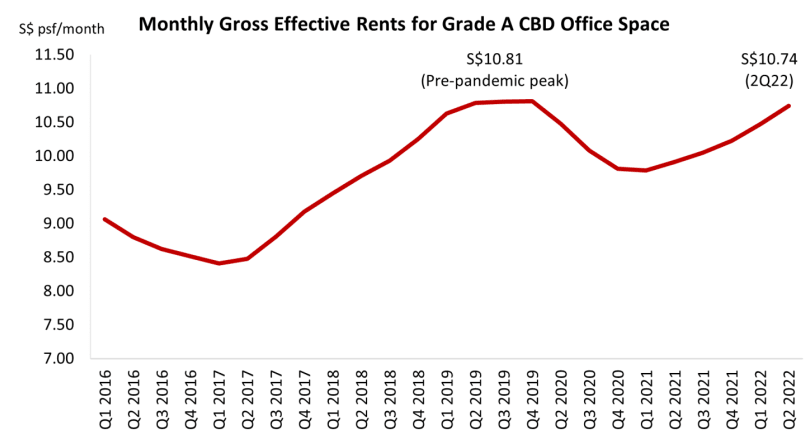 Industrial rents have also climbed for seven consecutive quarters, supported by e-commerce trends and robust logistics demand.
For retail and hospitality REITs, a rebound in visitor arrivals could provide a boost. Singapore expects to receive 4 to 6 million visitors this year. In the first half of 2022, Singapore registered 1.5 million visitor arrivals, nearly 12 times more compared to the same period last year.
Don't forget TIPS
TIPs – Treasury inflation-protected securities – are another inflation hedge to consider. They're bonds issued by the US government that protect your money from inflation. When inflation rises, the principal value of your bond increases and you receive a higher interest payment from your bond. This helps to maintain your purchasing power during periods of high inflation.
Singapore investors can easily purchase TIPs through exchange-traded funds (ETFs) such as the Vanguard Short-Term Inflation-Protected Securities ETF (VTIP).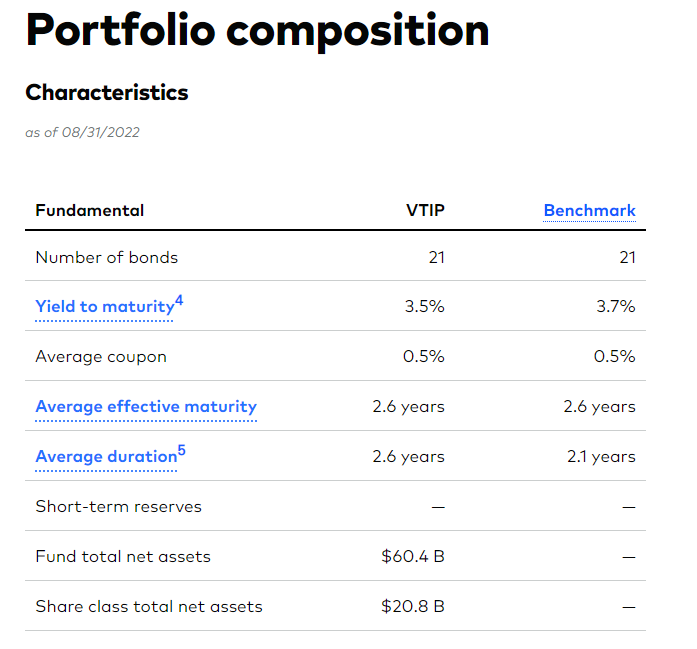 The fund holds TIPS with relatively short maturities of less than five years. In the current environment of rising interest rates, shorter-duration bonds tend to be more attractive. When the underlying bonds mature, the proceeds can be reinvested into higher-yielding bonds.
Get defensive with dividend stocks
In the face of economic uncertainty, stocks tend to fall, particularly those of companies that are not turning a profit yet. If you want to add some stability to your portfolio, dividend stocks may be the answer.
Dividend stocks tend to be less volatile amid market declines. For instance, the SPDR S&P Dividend ETF has held up much better than the broader S&P 500 index so far this year.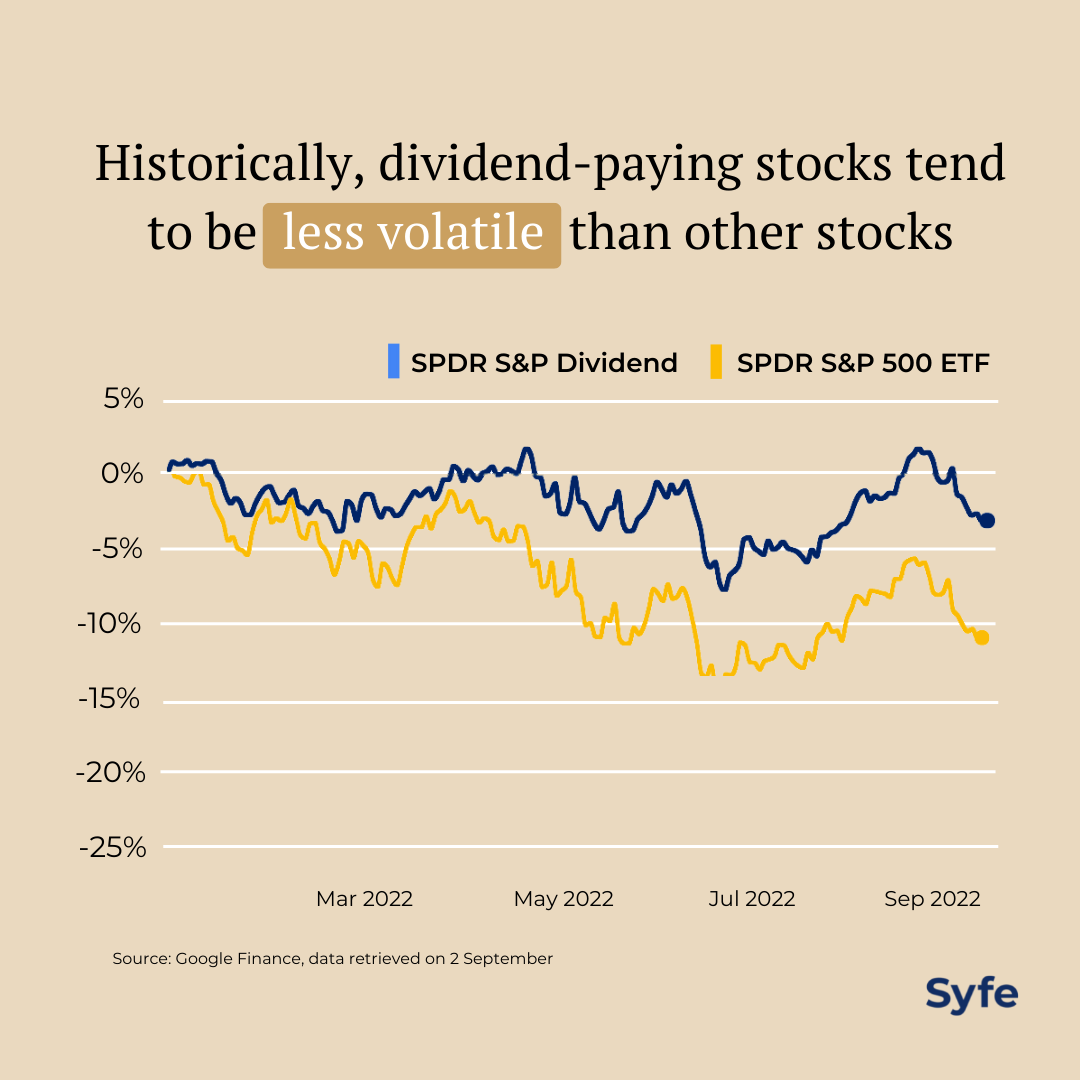 Moreover, companies that can maintain or even increase their dividend payouts in a recession usually have robust businesses. They are more likely to hold up better in a slowing economy and continue generating decent profits. Examples include Coca-Cola, Johnson & Johnson, and Procter & Gamble. Boom or bust, these companies have increased their dividends every year for at least 60 consecutive years.
As you pick the best dividend stocks for your portfolio, look at more than just the stock's dividend yield. Factors like dividend history, payout ratio, dividend growth rate, and company fundamentals are also important.
Bottom line
The months ahead will likely be characterised by uncertainty. Will a recession hit? How prolonged will the downturn be?
Nobody knows what the future will bring, but now may be a good time to revisit your portfolio and if necessary, include satellite exposures that can hold up in a recession or hedge against inflation.
You can do this conveniently from Syfe's all-in-one platform. Here's what a sample satellite portfolio could look like.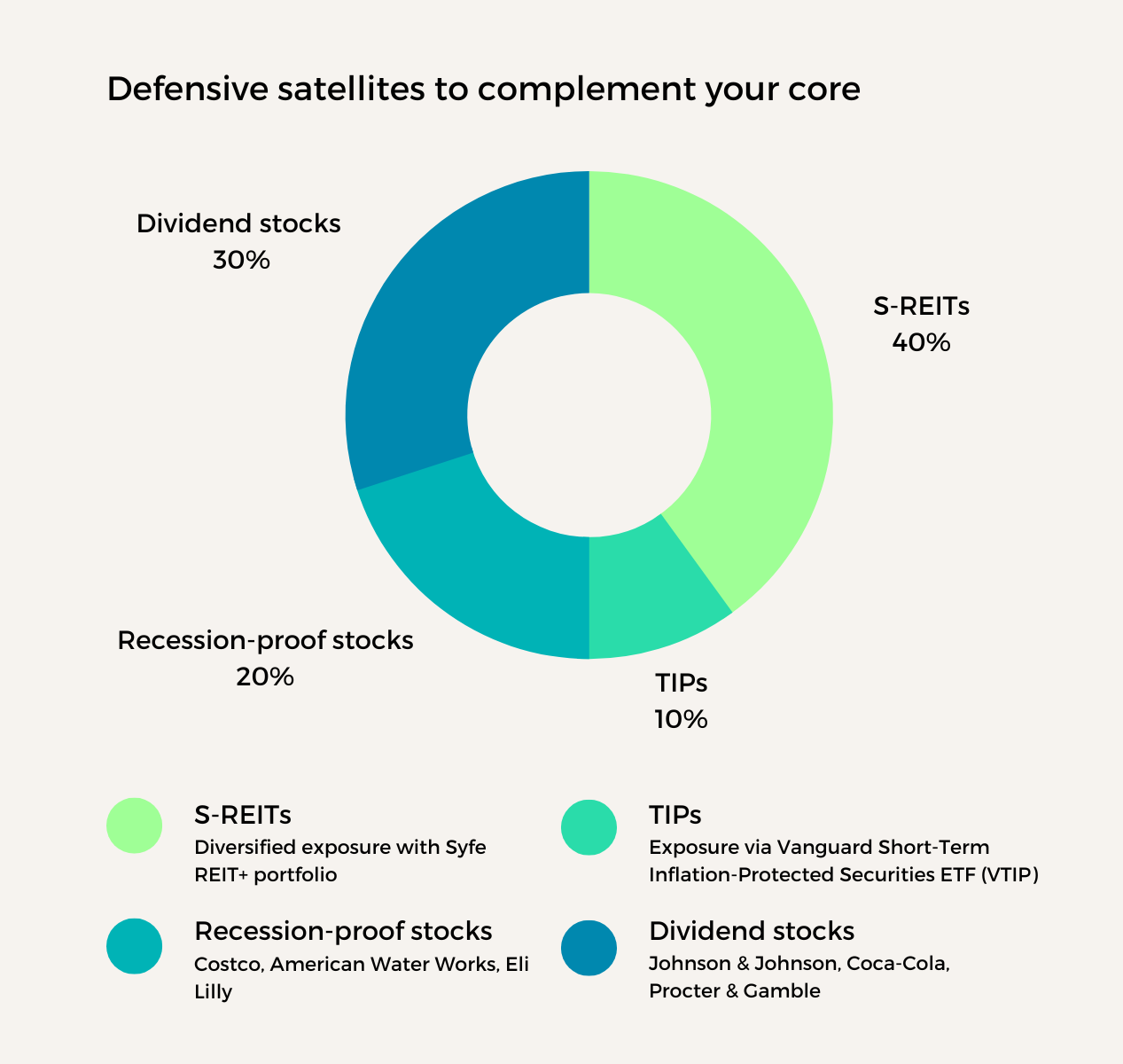 For one-stop, diversified exposure to Singapore REITs, consider Syfe REIT+. The portfolio holds 20 of Singapore's largest REITs across the office, industrial, retail and hospitality sectors to help weather market ups and downs better.
For an easy and secure way to invest in TIPs, recession-proof stocks and dividend stocks, consider Syfe Trade. You can buy your favourite stock with just US$1 and enjoy free monthly trades.
More importantly, remember that this too shall pass. Markets have recovered following every recession. In the meantime, lower asset prices could open up opportunities for long-term investors to invest more in quality companies with strong financial fundamentals.