On 8 March, the world celebrated International Women's Day with the theme 'Choose to Challenge'.
We saw inspiring examples of women challenging the status quo in their careers and family lives. Yet, this mindset doesn't always extend to money matters – especially when it comes to investing.
Only 28% of Singapore women feel confident and knowledgeable about investments, compared to 48% of men, based on the OCBC 2020 Financial Wellness Index. 75% of men have investments but just 60% of women do.
Investing is the most important money move that many women aren't making. By leaving your savings in cash, you're not just losing out to inflation but also missing out on market gains that can be earned over time.
Start where you are
A question our wealth experts usually get is "How do I start investing?"
The answer depends on your unique financial situation, but here's what to have in place before you head into the world of investing.
First, you should have an emergency fund. We suggest keeping three to six months' worth of your take-home pay in there, but how much to set aside depends on your needs and lifestyle.
Next, check that you have adequate insurance coverage and no outstanding high interest debt such as credit card debt.
After settling these essentials, determine how much of your surplus funds you can set aside for investments. You can follow the 50/30/20 method: 50% of your paycheck is spent on needs, 30% on wants, and 20% for savings and / or investments.
If you've reached your target for your emergency fund, you may also wish to earmark the full 20% for investments.
What to invest in
According to the same OCBC survey, 42% of women don't know the best way to grow their money. Many women (38%) still feel that investing is gambling.
The truth is, there is nothing complicated about investing. You can be a successful investor just by knowing the basics. Invest in low-cost index funds, diversify, and stay invested for the long haul.
One popular type of index fund is the exchange traded fund (ETF). ETFs replicate the performance of a market benchmark or index. One example is the SPDR S&P 500 ETF, better known as SPY. With just one ETF, you are effectively investing in the stocks of all 500 companies on the S&P 500 index. That's instant diversification!
Other than investing in a wide array of companies and sectors, you should also look at asset class diversification. The key is to not put all your eggs in one basket. For instance, when stock prices fall, bond values tend to rise.
That's why it's important to invest in a mix of stocks and bonds for a diversified portfolio. You can even add assets like gold or REITs for additional diversification.
Hassle-free investing at your finger-tips
Diversifying your portfolio isn't as complex as it sounds. You can open an account with a digital wealth manager like Syfe and start investing in a diversified, fully managed portfolio right away.
One option to consider are the Syfe Core portfolios. They hold stock, bond and gold ETFs that are globally diversified across 23 markets.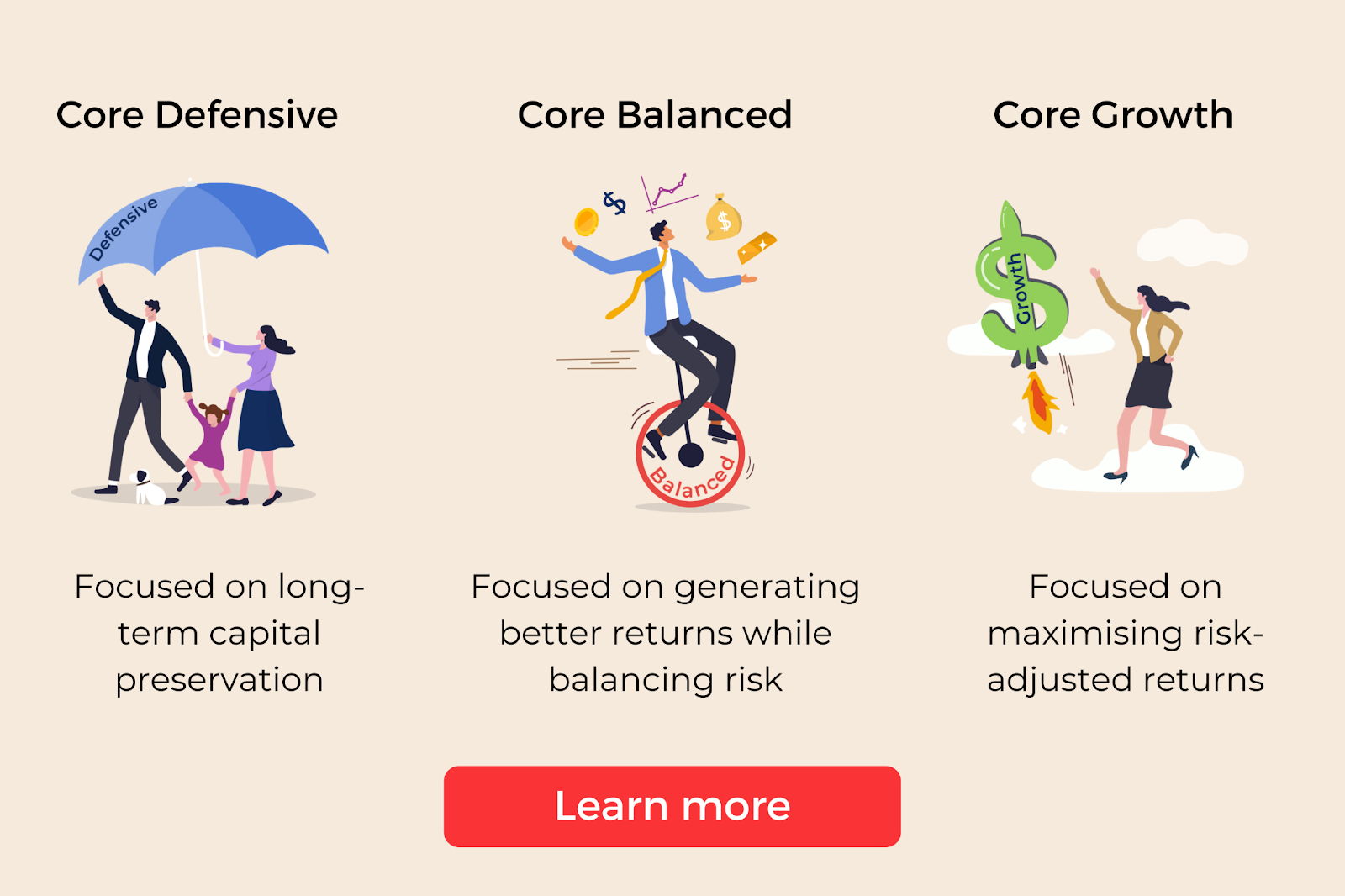 Investing with Syfe is made even easier with no minimum investment amount and no lock-in period. Plus, setting up an account and transferring funds into your portfolio can take as little as 15 minutes.
The sooner you start, the better
Is there an ideal time to start investing? Yes, as soon as you can. The earlier you start investing, the more time your investments have to compound.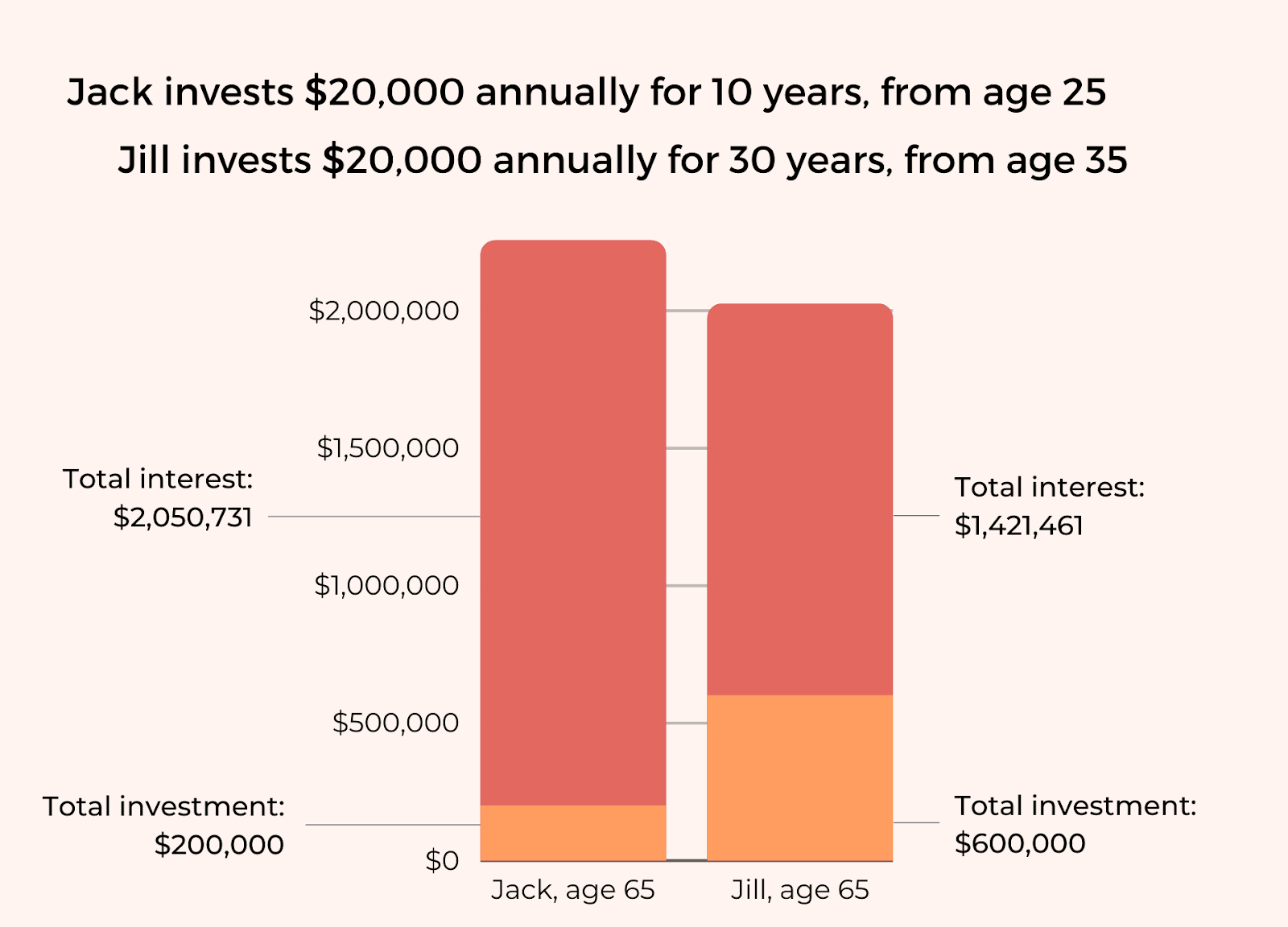 Let's take Jill for example. Although she starts investing at age 35, diligently setting aside $20,000 every year for 30 years, she ends up with less money than Jack.
The reason? Jack started investing much earlier than Jill. This gave his money more time to grow, earning returns not just on his initial investment, but on other returns accumulated.
As the saying goes, the best time to start investing was yesterday. The second-best time is today. Start making your money work for you now. All it takes is simply 3 minutes to start investing in Singapore.