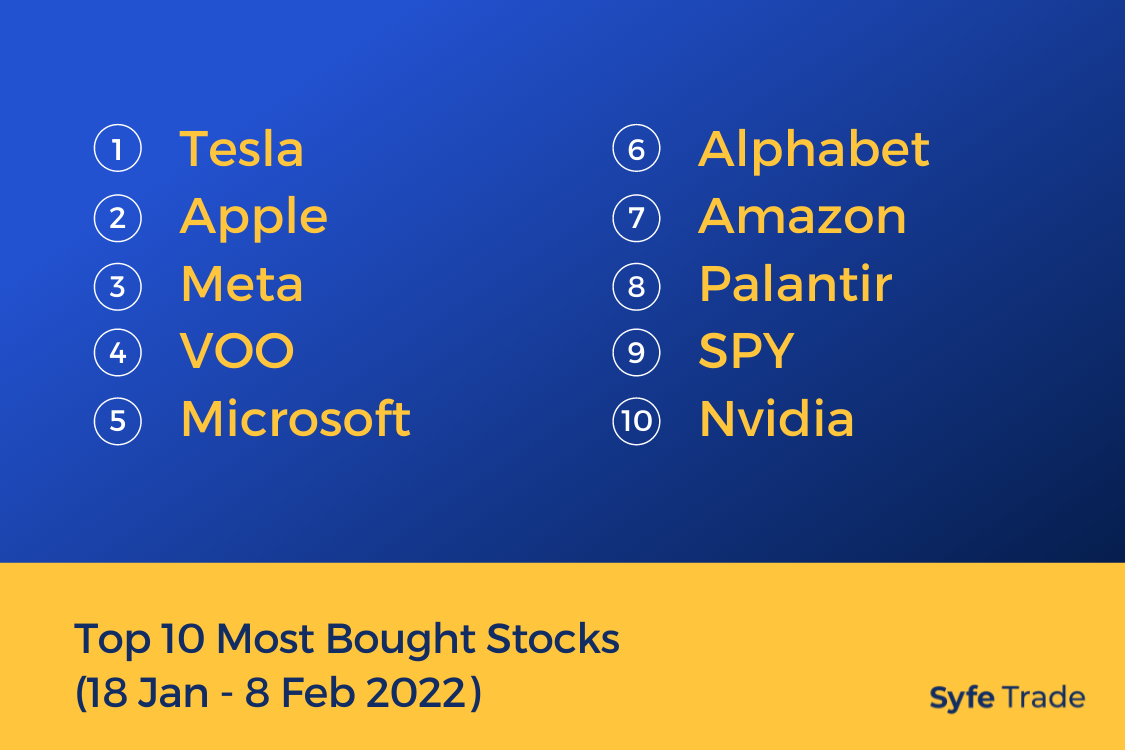 Curious to find out what investors have been buying on Syfe Trade? Here are the top 10 most bought stocks and ETFs since our launch in January.
We've also compiled a quick primer to these companies in case you want to check them out for yourself. Time to put your FOMO (fear of missing out) to rest!
1: Tesla
Tesla is the largest electric vehicle (EV) manufacturer in the US. Its sales have soared in all markets, especially in Europe and China. According to Zacks research, robust demand for Models 3 and Y has been boosting Tesla's revenues.
The company recently reported solid fourth quarter earnings, outperforming revenue and profit estimates.
Over the past year, Tesla has shown that it can navigate challenging manufacturing conditions well. Despite the global chip shortage, Tesla's vehicle deliveries rose 87% in 2021. The company expects 50% average annual growth in vehicle deliveries over the next several years, and its two new factories in Texas and Germany, respectively, are expected to begin production soon.
That said, Tesla recently highlighted in its fourth quarter 2021 conference call that it expects the chip shortage to continue and supply chain disruptions to affect its factories.
2: Apple
According to Morgan Stanley, Apple is their "top pick for 2022". The company is highly profitable and generated $93 billion in free cash flow in 2021.
Apple primarily makes money by selling its devices (iPhone, iPad, Macbook, various wearables) and by providing services to those devices. The latter includes payment services like Apple Pay and cloud services such as iCloud and App Store purchases.
In its fourth quarter earnings report, the company reported services revenue of $19.5 billion, a record 24% growth over the prior-year period, and overall revenue of $123.9 billion. In fact, Apple's services revenue growth outpaced its overall revenue growth.
Most recently, Apple announced a new financial services innovation – a Tap to Pay feature for the iPhone that allows people to buy goods from merchants in the US by tapping their phones together. This effectively turns iPhones into point-of-sale terminals.
3: Meta Platforms
Meta is the parent company of popular social media apps Facebook, Instagram and Whatsapp and currently generates a significant bulk of its revenue from digital advertising. Last year, it announced a pivot into the metaverse, which Bloomberg Intelligence estimates to be an $800 billion opportunity by 2024.
Meta shares have fallen by more than 20% at this time of writing as investors sold off after the company reported disappointing earnings for its 2021 fourth quarter. Meta revealed increased competition from TikTok and how Apple's privacy changes have affected its advertising platform. CFO David Wehner has estimated that the iOS challenges will cost Meta roughly $10 billion in ad revenue this year.
Despite these challenges, Meta was still hugely profitable in 2021. It surpassed $100 billion in annual revenue for the first time and made more than $46 billion in profit.
4: Vanguard S&P 500 ETF (VOO)
VOO is one of the largest and most popular S&P 500 ETFs. As the name suggests, it tracks the S&P 500 and includes all the stocks within the index, such as Apple, Facebook, Microsoft, Tesla and many more.
VOO is offered by Vanguard, which has made a name for itself as a low cost fund provider. Indeed, VOO has an expense ratio of just 0.03%. Its closest competitor, the SPDR S&P 500 ETF (SPY), has an expense ratio of 0.09%.
5: Microsoft
Microsoft used to be known for its personal computer (PC) software. Not anymore. Today, it has successfully pivoted to cloud computing, offering services such as Azure (the world's second-largest cloud infrastructure platform after Amazon Web Services), Office 365 and Dynamics enterprise software.
As testament to the strong growth in its cloud services business, total cloud revenue accounted for 43% of Microsoft's top line last quarter.
The company is also expanding into the metaverse. It announced a deal in January to buy video game publisher Activision Blizzard to grow its gaming segment and pave the way for its metaverse developments.
6: Alphabet
Alphabet is the parent company of Google and a world leader in digital advertising revenue. The pandemic has been an opportunity for Google, boosting demand for digital ads as people spend more time online. The company reported full-year revenue of $257.6 billion in 2021, a significant jump from $182.5 billion in 2020.
Notably, Alphabet reported that YouTube ads brought in $8.63 billion in revenue during the fourth quarter of 2021, indicating growth in segments beyond traditional ad revenue.
Alphabet was the top Big Tech stock of 2021. It gained 65% last year, its third straight double-digit annual gain. Most recently, Alphabet announced a 20-for-1 stock split that will take effect in July. The move makes Alphabet stock more accessible and could potentially pave the way for the stock to be included in the Dow Jones Industrial Average index.
7: Amazon
From its beginnings as a humble bookstore, Amazon has expanded into the e-commerce giant it is today. Apart from its Amazon online shopping platform, its business units also include its cloud computing segment Amazon Web Services (AWS), subscription services (Prime), third-party seller services, and advertising.
Amazon delivered solid fourth quarter 2021 results, driven by the stellar performance of AWS and its advertising business. AWS revenue surged 40% while advertising sales grew 32% year over year. Amazon's advertising business made more than YouTube, and more than double what Twitter, Snapchat and Pinterest made combined.
Most recently, the company announced a 17% price hike for its Prime service – its first price increase since 2018. Amazon is also introducing more original content for Prime Video; in September, it will launch its new "Lord of the Rings" TV adaptation.
8: Palantir Technologies
Palantir is an American software company that specialises in big data analytics. The company was founded by venture capitalist Peter Thiel in 2004 and went public in September 2020.
Palantir has two proprietary data analytics programs, Gotham and Foundry. Gotham is built more for government applications while Foundry is geared towards more commercial uses. The company counts many US government agencies like the FBI, CIA and NSA as its customers. That said, commercial revenue has been steadily growing. Palantir's commercial customers increased 46% in the third quarter of 2021, leading to a year-over-year doubling of private sector revenue.
The company is due to report fourth quarter earnings on 17 February. As the meme stock frenzy of 2021 faded, Palantir's stock has now fallen more than 60% from its 52-week high.
9: SPDR S&P 500 ETF (SPY)
SPY is the largest S&P 500 ETF with assets under management of over $400 billion. Being the first S&P 500 ETF to be established, SPY is also the best recognised.
Similar to VOO, the ETF tracks the performance of the S&P 500 index and includes component stocks such as Apple, Facebook, Microsoft, and Tesla. SPY has an expense ratio of 0.09%.
10: Nvidia Corporation
Nvidia is a chipmaker well known for its graphics processing units (GPUs) that make video games more realistic and thrilling. Nvidia's chips also power a range of other applications such as data centers, autonomous driving, artificial intelligence, cloud computing and bitcoin mining.
During their fiscal third quarter (September 2021 through November 2021), Nividia's revenue jumped 50% year over year, driven mainly by results in its gaming and data center segments. These two platforms accounted for 87% of Nvidia's total revenue in the fiscal third quarter.
Nvidia is making a foray into the metaverse as well with its Nvidia Omniverse platform. Omniverse enables companies to build their own metaverses from customer service avatars to digital twins of factories and even entire cities.
The company will report results for their fiscal fourth quarter on 16 February.
Want to start investing?
Simply download the Syfe app and sign up for your Syfe Trade account using Singpass! Plus, you get to earn over S$200 in cash credits when you use Syfe Trade.
Want to know what others are saying about the platform? Check out a review of Syfe Trade here.
All views, opinions, and analyses in this article should not be read as personal investment advice and individual investors should make their own decisions or seek independent advice. This article has not been prepared in accordance with legal requirements designed to promote the independence of investment research and is considered a marketing communication. Reference in this document to specific securities should not be interpreted as a recommendation to buy or sell these securities, but is included for the purposes of illustration only. Past performance is not a reliable indicator of future results.