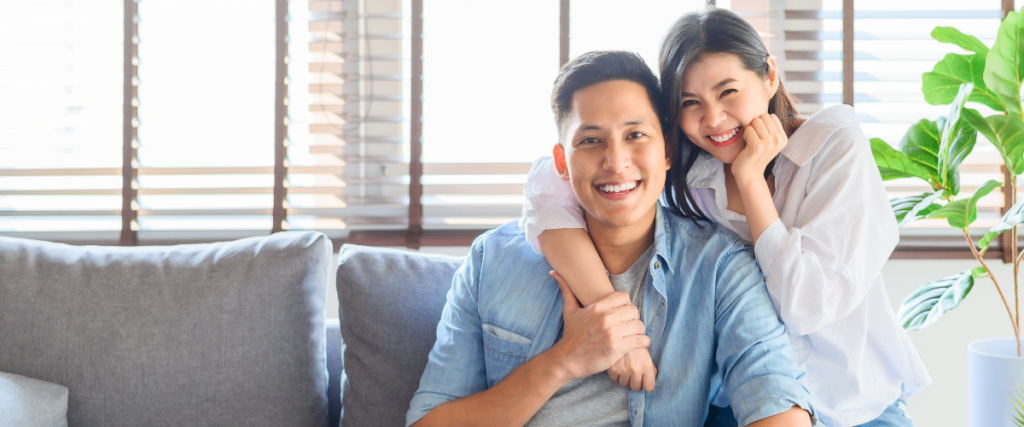 With headlines warning about inflation and rising interest rates, you may be wondering what this means for your savings and investments. Here's what to know.
The Federal Reserve is planning to raise rates in March to fight inflation
The Monetary Authority of Singapore (MAS) has raised the "slope" of its Singapore dollar policy band in response to stronger-than-expected inflation
Translation: It's only a matter of time before we start feeling the effects of higher prices and rising rates in Singapore. This begs the question – how can we save more and make our money work harder in this inflationary environment?
One option is to reduce your mortgage installments through refinancing your home loan. Your property is likely to be one of the most expensive things you own in Singapore. As such, your mortgage is likely also your largest source of debt.
Syfe has partnered with PropertyGuru Finance to introduce SmartRefi as a solution for homeowners to save more on their mortgage payments. Just like how our investment solutions are built around transparency, accessibility and data-driven technology, PropertyGuru Finance is independent from the banks that provide mortgages. The platform offers unbiased mortgage advice and the best refinancing deals in Singapore across all major banks.
With the extra savings from your refinanced home loan, we then show you how you can maximise your money and beat inflation.
Interest rates won't stay low forever
Singapore's mortgage interest rates tend to be closely linked with US interest rates. Many home loan interest rates are pegged to the Singapore Interbank Offered Rate (SIBOR) and, more recently, the Singapore Overnight Rate Average (SORA), which are linked to interbank exchange rates.
Since the start of the COVID-19 pandemic, interest rates have fallen to record lows. A quick search on the PropertyGuru Finance home loan page shows interest rates starting from 0.86%. But as the Fed moves to raise rates this year, we expect Singapore's interest rates to gradually rise in 2022 and beyond too.
While no one can say for certain when exactly that will happen, homeowners currently have the opportunity to capitalise on the low rates now and secure it for the next few years by refinancing their home loans.
What is refinancing?
When you refinance your home loan, you replace it with a housing loan that offers more favourable terms. A common example is refinancing your HDB housing loan – which currently comes with interest rates of 2.6% – to a bank loan that offers a lower interest rate.
You can also refinance a home loan from one bank to another to take advantage of better rates. For instance, interest rates may have come down in the years since you got your current home loan.
Refinancing your home loan at a lower interest rate can help lower your monthly interest repayments and/or adjust your housing loan tenure.
For example, let's say you're currently paying 2.6% on your HDB home loan, with $650,000 outstanding and remaining tenure of 23 years. Your monthly repayment is $3,131. By switching to a loan with a 0.86% interest rate (the current best rate tracked on PropertyGuru Finance), you can expect to pay $534 less each month. This adds up to potential net savings of $29,054 after three years, assuming no change in the interest rate.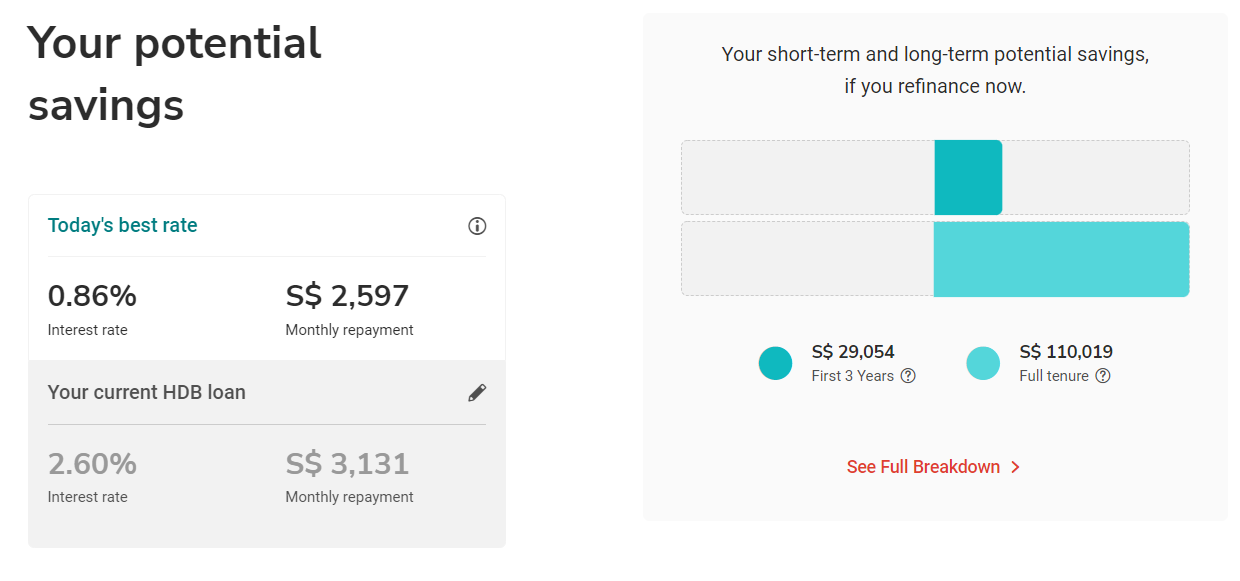 SmartRefi: A smarter way to refinance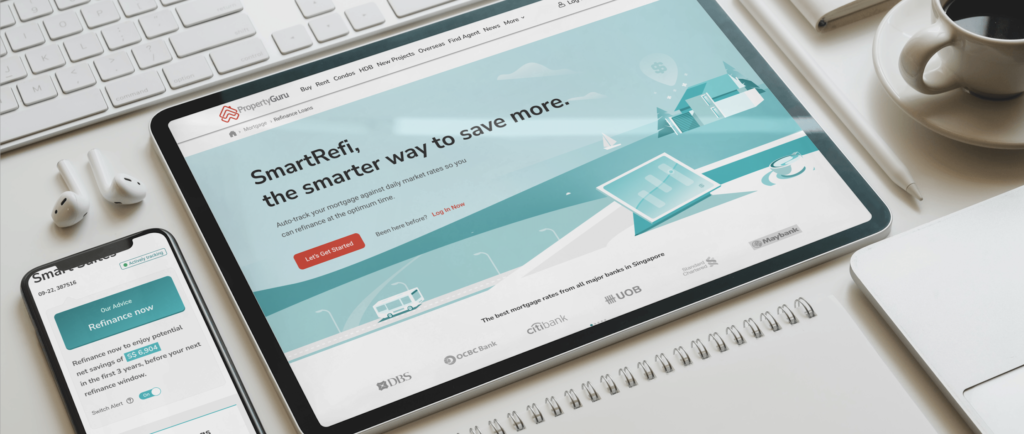 One of the biggest challenges with refinancing is figuring out the best time to refinance. Many people want to refinance when interest rates are at their lowest. However, how can homeowners possibly monitor interest rates every day?
SmartRefi, a new mortgage solution from PropertyGuru Finance, is the answer. The platform auto-tracks your mortgage against daily market rates from all major banks so you can refinance at the optimum time – with minimum effort.
All you need to do is answer a few simple questions about your refinancing goals and current mortgage. Then, sit back and let SmartRefi do all the work for you.
SmartRefi's loan engine tracks your loan profile against real-time interest rates across all banks in Singapore on a daily basis. The Switch Alert feature notifies you when there are significant savings from refinancing. If you decide to refinance, PropertyGuru Finance's mortgage experts will help you process your refinancing at no additional cost. This includes helping out your application and paper work from start to end.
Interested to learn more? Check out SmartRefi or reach out to a PropertyGuru Finance mortgage expert now.
Don't lose your extra savings to inflation
So the good news is that you're now saving more after refinancing your home loan. But did you know that your extra savings may be losing its purchasing power if you simply leave it in the bank?
The MAS now sees core inflation at 2% to 3% in 2022, from the 1% to 2% expected in October last year. Given that the rate of return for bank savings averages less than 1%, your cash in the bank is losing out to inflation.
If you want to make the most of your extra savings, consider investing in Singapore real estate investment trusts (REITs). According to DBS, investing in Singapore REITs is an effective way to hedge against inflation via the pass-through of price increases in rental contracts and property prices.
"Rental and cap rates will be rising in line with inflation and the sector is a strong proxy to the physical property sector," noted Joanne Goh, a senior investment strategist at DBS.
Read more: How to hedge your portfolio against inflation
With higher Additional Buyer's Stamp Duty (ABSD) rates for Singaporeans buying second or third and subsequent properties, REITs are a way to invest in real estate more affordably too. You can get access to a diverse range of properties such as shopping malls, business towers, logistics parks, hotels, and hospitals.
REITs are also known as powerful income generators. They are mandated by law to distribute 90% of taxable income as dividends. In recent years, most S-REITs have generated average dividend yields of between 4% and 6%.
How to invest in S-REITs through Syfe REIT+
You can invest in REITs by buying your preferred counters directly through a brokerage platform. But if you're looking for a smart and fuss-free option, consider Syfe REIT+.
Here are the key features of REIT+:
Singapore's 20 largest REITs in one portfolio
Diversified exposure
4.8% dividend yield in 2021
No minimum investment, no lock-in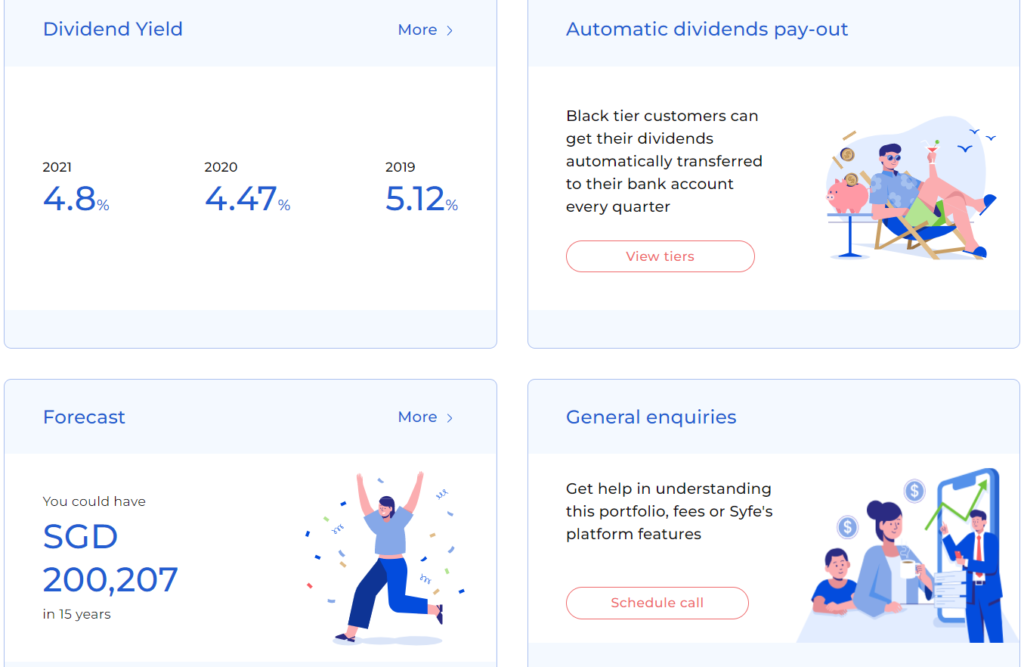 As Syfe REIT+ holds all the top REITs such as Ascendas REIT, CapitalLand Integrated Commercial Trust and Mapletree Industrial Trust, you don't have to worry about choosing REITs or guessing which REIT sector is going to perform well.
The all-inclusive management fee starts from 0.65% per year and reduces to 0.35% as your investment grows. Download the Syfe app today to get started, or talk to our wealth experts to find out more.