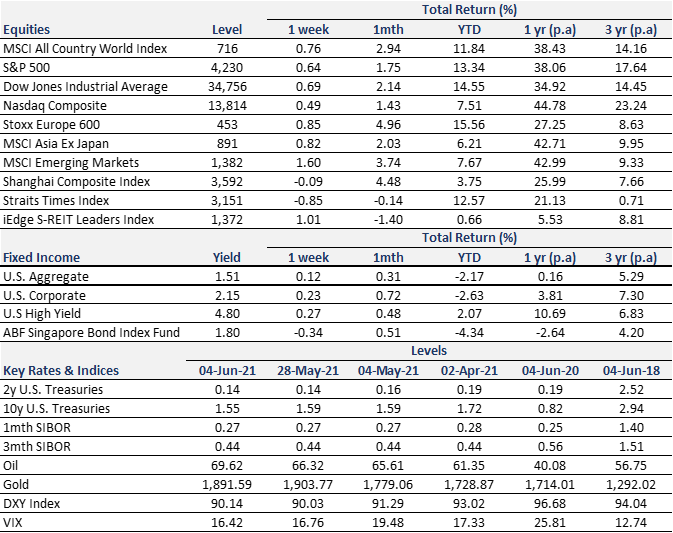 Thought Of The Week
Quiet Markets, May Jobs Report, Biden's China Blacklist
While meme stocks and cryptocurrencies have been causing a ruckus in recent weeks, global equities were largely in a stretch of tranquillity as market watchers awaited Friday jobs report for clues on whether the Fed will be joining Team Taper. S&P500 had not traded up or down by more than 0.25% in any session for the past week but eventually closed 0.9% higher in Friday's trading session after the release of the U.S jobs report which eased concerns that Fed would be paring back its bond-buying program and start raising interest rates. Although May's payrolls increase of 559,000 landed below forecast, it was not too hot or too cold for investors. It signalled an inflection point in the reopening of the economy due to increased vaccinations and fewer business restrictions, as well as the fact that the economy is not overheating.
Meanwhile, U.S President Joe Biden signed an order on Thursday to amend the Chinese blacklist imposed by his predecessor that aims to ban U.S investments into Chinese companies that "undermine the security or democratic values of the United States and our allies." The list includes 59 firms involved in China's defence and surveillance technologies and the move came ahead of the June 11 deadline under Trump's executive order in November 2020. It also sent a mixed message to market watchers as his tough line on China continues to weigh on the economic ties even though the new list is much more targeted at certain core technologies and productive conversations between the two nations have become more frequent. On the other hand, President Xi Jinping's government has already started preparing for the worst, outlining plans to invest heavily in chip production to become self-sufficient in modern technologies.
Meme-Stock Mania Is Back With Free Popcorn
After weeks of relative peace, meme stock mania captivated markets again this week with AMC Entertainment Holdings taking the centre stage. With a shareholder base of 3 million retail investors that owns more than 80%, they are in for a 'treat' as CEO Adam Aron promised them with "free popcorn" when then attend their first movie at an AMC theatre this summer. The company also managed to raise $587 million within hours in the latest new shares issuance even though it stated that "we caution you against investing in our Class A common stock, unless you are prepared to incur the risk of losing all or a substantial portion of your investment," in their filing statement in bold. Shares peaked at $62.55 on Wednesday before closing the week at $48.00 suggesting its highly speculative nature. With the current buzz around AMC, it is easy to forget that it was (and still is) a company that was on the brink of collapse considering its debt load and weak earnings prospects. Regardless, the meme-driven rally has injected $1.25 billion into the company since the start of second quarter and that should be sufficient for them to deliver on their popcorn promise.
Chart Of The Week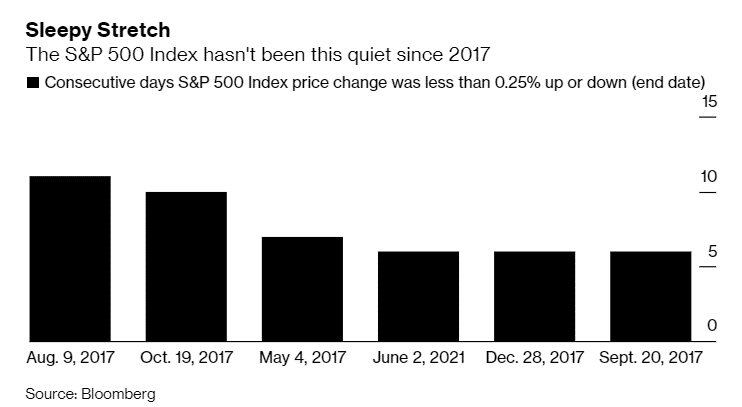 Important Information and Disclosure
Equity Price Level and Returns: All returns represent the total return for stated period. MSCI ACWI: Global equity index provided by Morgan Stanley Capital International (MSCI). S&P 500: Market capitalization index of U.S stocks provided by Standard & Poor's (S&P). Dow Jones: Price-weighted index of U.S stocks provided by S&P. NASDAQ: Market capitalization index of U.S stocks provided by NASDAQ. Stoxx 600: Market capitalization index of stocks listed in European region. MSCI Asia Ex Japan: Asia excluding Japan equity index provided by MSCI. MSCI EM: Emerging markets equity index provided by MSCI. SSE: Capitalization weighted index of all A-shares and B-shares listed on Shanghai Stock Exchange. STI: Market capitalization index of stocks listed on Singapore Exchange. SREITLSP: Market capitalization index of the most liquid real estate investment trusts in Singapore.
Fixed Income Yield and Returns: All returns represent total return for stated period. Global Aggregate: Global investment grade debt from both developed and emerging markets issuers. U.S. Aggregate, U.S Corporate, High Yield provided by Bloomberg Barclays Indices, ICE Data Services & WSJ. SBIF: ABF Singapore bond index fund provided by Nikko AM.
Key Interest Rates: 2-Year U.S Treasuries, 10 Year Treasuries, Bloomberg. 1-month, 3-month SIBOR: Singapore Interbank Offered Rates provided by Association of Banks in Singapore (ABS). Oil (WTI): Global oil benchmark, Bloomberg. Gold: Gold Spot USD/Oz, Bloomberg. DXY Index: U.S. Dollar Index, Bloomberg. VIX: Expectation of volatility based on S&P index options provided by Chicago Board Options Exchange (CBOE).
The information provided herein is intended for general circulation and/or discussion purposes only. It does not account for the specific investment objectives, financial situation or needs of any individual. The information in this document is not intended to constitute research analysis or recommendation and should not be treated as such.
This does not constitute an offer or solicitation to buy/sell any financial instrument or to participate any investment strategy. No representation or warranty whatsoever (without limiting to accuracy, usefulness, adequacy, timeliness or completeness) in respect of any information (without limiting to any statement, figures, opinion, view or estimate). Syfe does not undertake an obligation to update the information or to correct any inaccuracy that may become apparent at a later time. All information presented is subject to change without notice. Syfe shall not be responsible or liable for any loss or damage whatsoever arising directly or indirectly as a result of any person acting on any information provided herein.
The information provided herein may contain projections or other forward-looking statement regarding future events or future performance of countries, assets, markets or companies. Actual events or results may differ materially. Past performance figures are not necessarily indicative of future of likely performance. Any reference to any specific company, financial product or asset class in whatever way is used for illustrative purposes only and does not constitute a recommendation. Investors should note that there are necessarily limitations and difficulties in using any graph, chart, formula or other device to determine whether or not, or if so, when to, make an investment. The contents hereof are considered proprietary information and may not be produced or disseminated in whole or in part without Syfe's written consent.