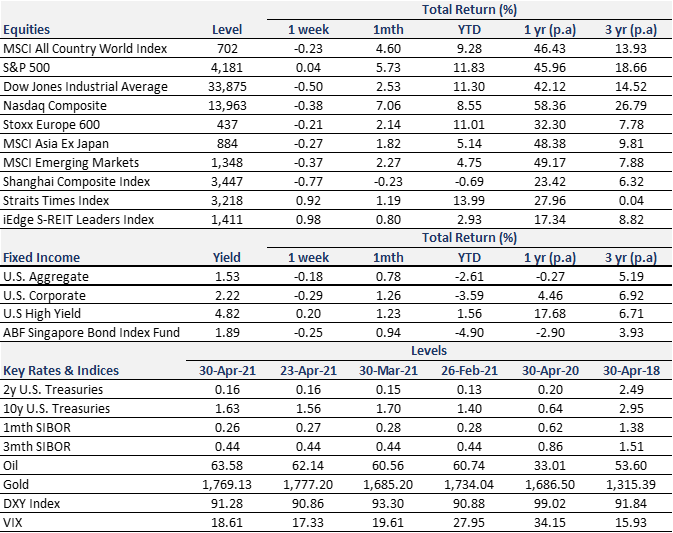 Thought Of The Week
Fed Stays Put, Corporate Earnings Report
The Federal Reserve finished its two-day policy meeting on Thursday and expectedly did nothing on policy. Fed Chair Powell said it was not time to talk about scaling back on bond buying and acknowledged that "these one-time increases in prices are likely to have only transitory effects on inflation". Not surprisingly, the status quo left stocks relatively flat, and the meeting was seen more as a message to market participants to sit back and observe as the economic recovery continues to unfold.
Meanwhile, investors kept themselves busy with the earnings season as more than 50% of the S&P 500 has reported. Despite the strong average earnings growth and action under the surface, that did not translate to index-level moves since expectations were already high. S&P closed flat for the week. Asian stocks retreated Friday as China's antitrust crackdown weighed on technology firms, while Treasuries and the U.S dollar held steady.
India Overtakes As Pandemic Hotspot
Despite being home to the world's largest vaccine manufacturer (Serum Institute of India Ltd.), India is not only running short of doses but is setting daily records for new infections as a second wave overwhelms hospitals and crematoriums.
When India launched its vaccination drive in January, the chances of success looked high as it could produce more shots than any country in the world and had decades of experience inoculating pregnant women and babies in rural areas. That initial promise has since evaporated, and the government's plans are in disarray.
Instead of supporting vaccine production and scaling up its health system, Modi's government was focused on making a show of India's ability to help the world while political parties were more interested in holding mass rallies for the state elections. India's million-strong army of trained health workers, Accredited Social Health Activists (ASHAs), was also not deployed to rural areas – the strategy that made its polio vaccination such a success, and an over-reliance on an app-based technology made it hard for its poor and rural citizens to sign up. In addition, there was no coordination on how the vaccination policy will work and now states are left to fend for themselves.
Private hospitals that started at a fixed price of $3 a dose are currently charging $8-$16, making it more costly for the remaining 98% of its 1.3 billion population to be inoculated. Former chief economic adviser, Arvind Subramanian also tweeted that "there should be one price for vaccine jabs all over India. That price should be zero."
Chart Of The Week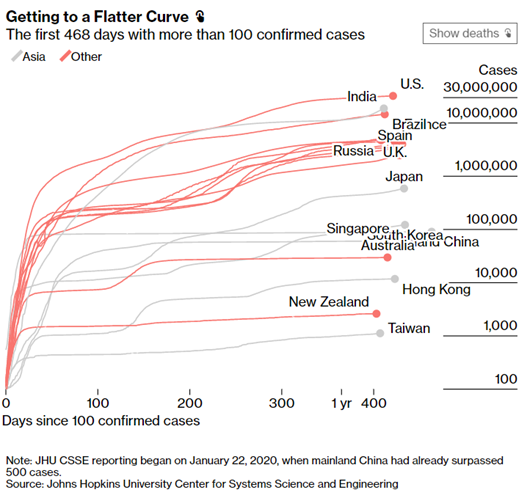 Important Information and Disclosure
Equity Price Level and Returns: All returns represent the total return for stated period. MSCI ACWI: Global equity index provided by Morgan Stanley Capital International (MSCI). S&P 500: Market capitalization index of U.S stocks provided by Standard & Poor's (S&P). Dow Jones: Price-weighted index of U.S stocks provided by S&P. NASDAQ: Market capitalization index of U.S stocks provided by NASDAQ. Stoxx 600: Market capitalization index of stocks listed in European region. MSCI Asia Ex Japan: Asia excluding Japan equity index provided by MSCI. MSCI EM: Emerging markets equity index provided by MSCI. SSE: Capitalization weighted index of all A-shares and B-shares listed on Shanghai Stock Exchange. STI: Market capitalization index of stocks listed on Singapore Exchange. SREITLSP: Market capitalization index of the most liquid real estate investment trusts in Singapore.
Fixed Income Yield and Returns: All returns represent total return for stated period. Global Aggregate: Global investment grade debt from both developed and emerging markets issuers. U.S. Aggregate, U.S Corporate, High Yield provided by Bloomberg Barclays Indices, ICE Data Services & WSJ. SBIF: ABF Singapore bond index fund provided by Nikko AM.
Key Interest Rates: 2-Year U.S Treasuries, 10 Year Treasuries, Bloomberg. 1-month, 3-month SIBOR: Singapore Interbank Offered Rates provided by Association of Banks in Singapore (ABS). Oil (WTI): Global oil benchmark, Bloomberg. Gold: Gold Spot USD/Oz, Bloomberg. DXY Index: U.S. Dollar Index, Bloomberg. VIX: Expectation of volatility based on S&P index options provided by Chicago Board Options Exchange (CBOE).
The information provided herein is intended for general circulation and/or discussion purposes only. It does not account for the specific investment objectives, financial situation or needs of any individual. The information in this document is not intended to constitute research analysis or recommendation and should not be treated as such.
This does not constitute an offer or solicitation to buy/sell any financial instrument or to participate any investment strategy. No representation or warranty whatsoever (without limiting to accuracy, usefulness, adequacy, timeliness or completeness) in respect of any information (without limiting to any statement, figures, opinion, view or estimate). Syfe does not undertake an obligation to update the information or to correct any inaccuracy that may become apparent at a later time. All information presented is subject to change without notice. Syfe shall not be responsible or liable for any loss or damage whatsoever arising directly or indirectly as a result of any person acting on any information provided herein.
The information provided herein may contain projections or other forward-looking statement regarding future events or future performance of countries, assets, markets or companies. Actual events or results may differ materially. Past performance figures are not necessarily indicative of future of likely performance. Any reference to any specific company, financial product or asset class in whatever way is used for illustrative purposes only and does not constitute a recommendation. Investors should note that there are necessarily limitations and difficulties in using any graph, chart, formula or other device to determine whether or not, or if so, when to, make an investment. The contents hereof are considered proprietary information and may not be produced or disseminated in whole or in part without Syfe's written consent.