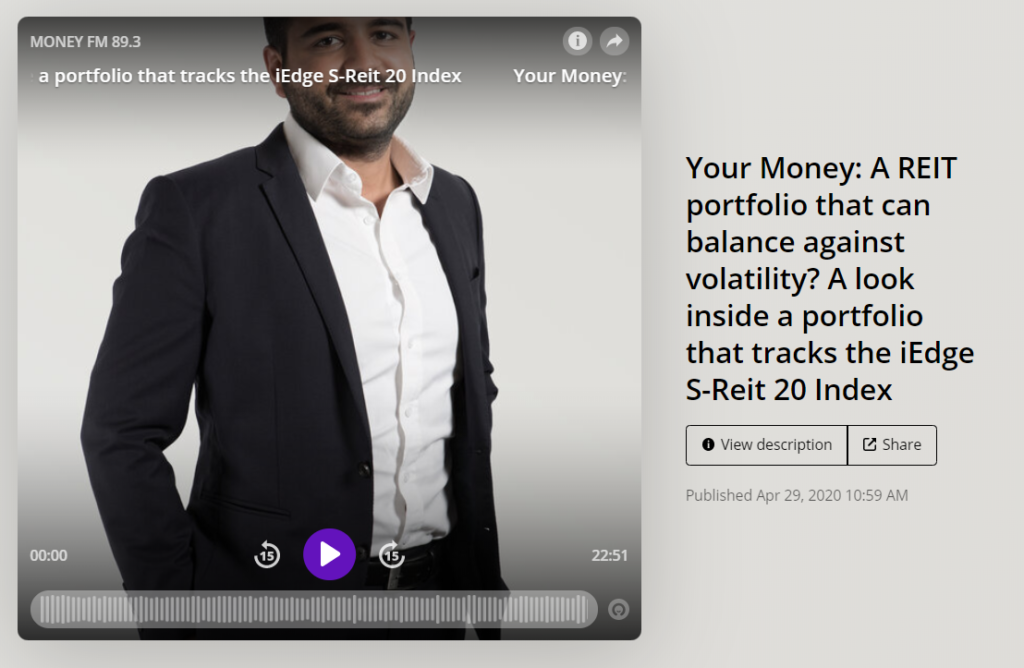 Dhruv Arora, CEO and Founder of Syfe, recently spoke with Michelle Martin, host of MONEY FM 89.3's popular Your Money programme to discuss Syfe's new offering with SGX and the steps investors can take to protect themselves from volatility. Listen to the podcast here or read the highlights of his interview below.
As Singapore faces nearly another month of circuit breaker measures, all eyes are on the economic repercussions of this COVID-19 crisis. While there is still a lack of clarity on earnings estimates for the rest of the year, companies are already warning of lower profits. The uncertainty is compounded by varying estimates of when it will be possible to restart economic activities, and the risks of false starts in the event of a subsequent infection wave.
On the flipside, the market sell-off has provided attractive entry-points for long-term investors. This period could be a good buying opportunity if you do not need to cash in your investment for some years. As it is impossible to predict when the market will bottom out, a diversified, well-balanced portfolio is much more important than focusing on when exactly prices will hit rock bottom.
A diversified REIT portfolio for all investors
In collaboration with Singapore Exchange (SGX), Syfe recently rolled out a REIT+ portfolio that allows everyone to easily invest in and track the SGX's iEdge S-REIT Leaders Index. The index measures the performance of the largest and most tradeable Singapore REITs (S-REITs) in the market. All in all, these REITs span all real estate sub-sectors – retail, commercial, industrial, residential, and hospitality.
During the interview, Dhruv shared that investors have two choices with the REIT+ portfolio: a 100% REITs option or a REITs with Risk Management option. With the 100% REITs portfolio, investors can adopt an efficient index investing strategy with S-REITs to achieve market returns and broad diversification.
This minimises the risk of going all in on any one sector; hospitality REITs for instance have been squeezed by COVID-19 containment measures. He explained that as each REIT constituent within the index is capped at a weightage of 10%, this helps investors avoid sector risk, the risk of being overexposed to any one sector.
Can investors preserve capital with REIT+?
Dhruv pointed out while the overall long-term outlook for S-REITs is positive, short-term market corrections can, and do, happen. For investors worried that their portfolios could face significant drawdowns if REIT prices plunge, the REIT+ with Risk Management portfolio uses Syfe's proprietary risk management algorithm to limit downside risk and preserve capital.
During periods of increased volatility, the algorithm increases the bond allocation to mitigate portfolio risk. When volatility abates, we will again increase the REITs allocation to deliver better returns. This helps investors sleep better at night, knowing that regardless of economic conditions, their portfolio will be managed to avoid large drawdowns of their investment capital.
Should investors be buying REITs amid the economic uncertainty?
Another question posed to Dhruv during the interview was why Syfe decided to introduce the REIT+ portfolio in the midst of a pandemic. Dhruv acknowledged that while malls and hotels may be operating significantly below capacity for the time being, investors should take a medium to long-term view.
Firstly, the market has priced in the COVID-19 impact on REITs. Secondly, investors now have the opportunity to stock up on quality REITs, previously trading at all-time highs, at discounted prices.
Finally, he remains bullish on Singapore's real estate sector. The value of REITs is well-anchored by physical real estate, which in land scarce Singapore, trends upwards over the long term. Despite the recent challenges posed by the COVID-19 pandemic, REITs remain a fundamentally resilient asset class over the long term.
Time in the market is everything
Over the next few quarters, Dhruv expects the economy to start gaining traction again. While there may be some rough patches ahead, he is confident of the resilience in the REIT sector.
Dhruv sees the current price weakness as a good buying opportunity for long-term investors. By getting in now, investors are accumulating extra time in the market, which historically beats timing the market in the long run.
As things stand, a well-diversified REITs portfolio can smooth out the ride for investors. The REIT+ portfolio gives investors access to the largest and most tradeable S-REITs in the market with fees that start from as low as 0.35% per annum. With no minimum investment and no brokerage or withdrawal fees, investors can also dollar cost average into their REIT+ portfolio to build up their REIT holdings month after month.
To get started, open a Syfe account in minutes using MyInfo. New Syfe clients enjoy 6 months free investing when they sign up using the SYFEWAIVER promo code. They can also speak to a Syfe wealth expert to find out more about how the REIT+ portfolio can help them meet their financial goals.