Topic #1: Higher rates haven't been bad for everyone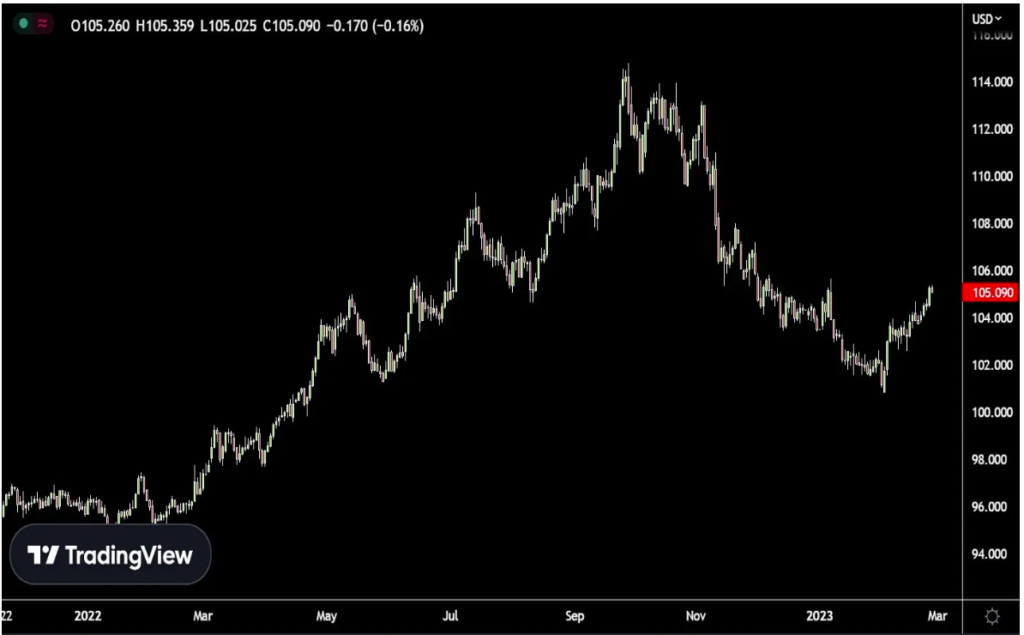 The US dollar has been on the rise in the past week. In fact, the US Dollar Index (DXY) tracks the performance of the US dollar against a basket of top foreign currencies and has risen by 4% from its low of 100.82 on February 3rd.
Why did this happen?
Higher interest rates make the currency more attractive to international savers and investors, and investors are anticipating a peak rate of around 5.4%. Recent US economic data suggests that the Federal Reserve will need to raise rates even higher to bring inflation sustainably back toward its 2% target. Additionally, in times of market turbulence, investors flock to the safe-haven dollar.
So, are high interest rates always bad?
Historically, interest rates of 5% or more were the norm, and stocks performed well during those periods. Higher interest rates can encourage people to save, which could lead to increased investment in new technology and factories, improving productivity and growth prospects.
While higher rates may cause shaky firms to fail and make it difficult for some to purchase property, a future built on more saving and less excessive consumption is more sustainable in the long run. For investors with a long-term outlook, a more sustainable future is a more valuable one.
Topic #2: Warren buffet's newsletter to shareholders
Warren Buffett's annual letters to shareholders of Berkshire Hathaway came out on February 25th, along with Berkshire's earnings. Here the top 3 valuable investment insights from his annual letter:
Buy the business, not the stock: Buffett champions long-term investing and encourages investors to think like a business owner rather than just a renter of stock. This mindset encourages investors to pay closer attention to management quality and ride out tough times with confidence.
Buybacks can be beneficial: Critics of buybacks are "economic illiterates or silver-tongued demagogues," according to Buffett. He argues that buybacks can be mutually beneficial transactions between a company and its investors when done at a fair price, which can increase free cash flow per share for remaining shareholders.
Bet on America: Buffett has been investing for more than 80 years, and he believes that American firms are the best choice for investment due to their better-aligned incentive structures, with bosses aiming to make money for themselves and their employees.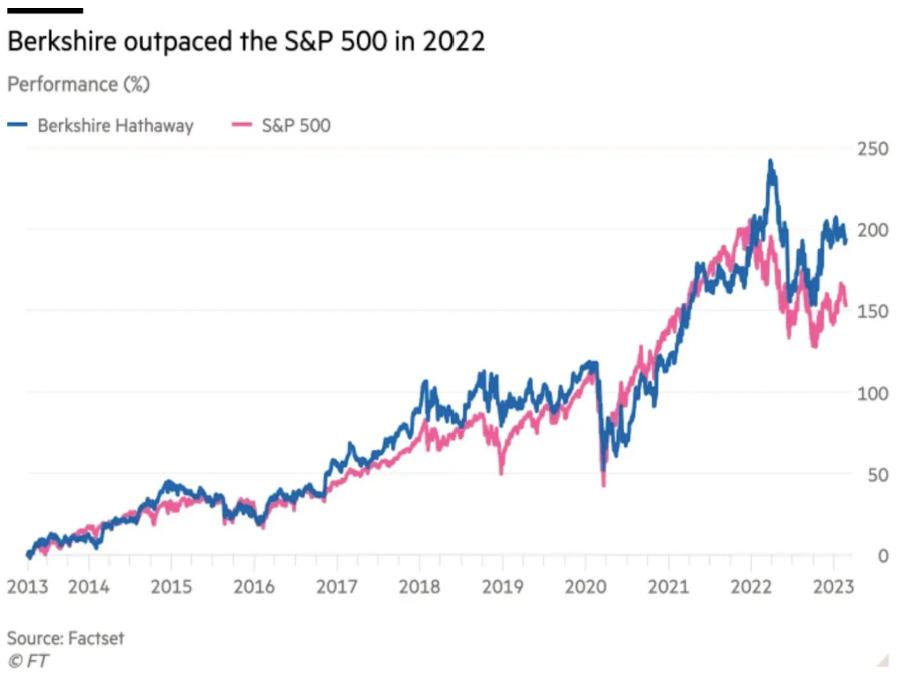 The bigger picture: Gotta have faith.
Buffett sold over $16 billion of stocks last quarter, including TSMC, US Bancorp, and Bank of New York Mellon. This boosted Berkshire Hathaway's cash pile to nearly $130 billion by the end of 2022. However, despite selling stocks and increasing cash holdings, Buffett remains optimistic about the US economy. He reminded investors to have faith in the world's largest economy and not make a long-term bet against it.
Topic #3: Zoom is looking to stay on in a post-covid world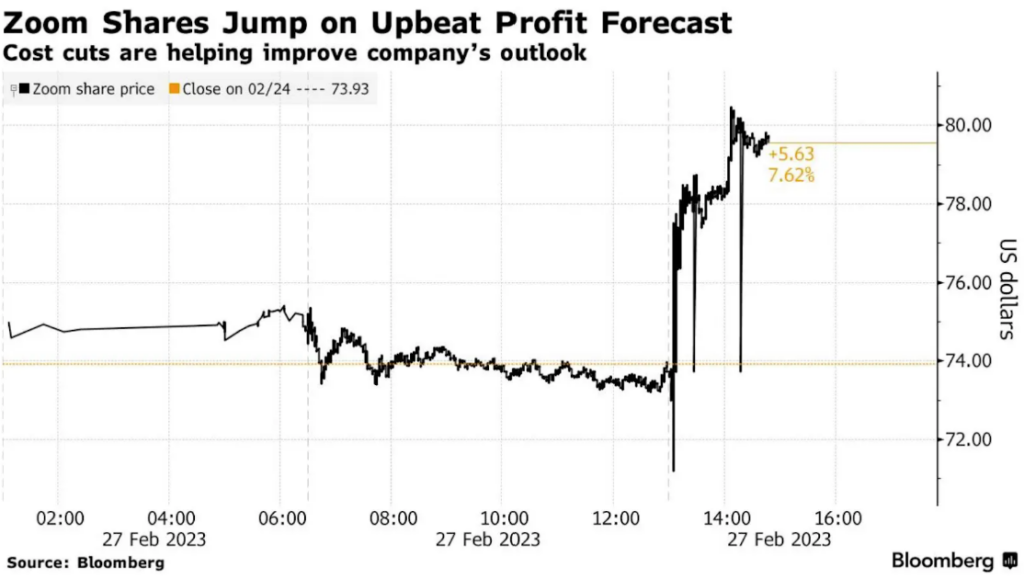 Zoom's quarterly results have surpassed expectations, with its business customer count up 12% and the number of firms paying over $100,000 growing by 27%. Zoom's successful adaptation to the pandemic has allowed the company to add non-video services to its lineup, such as contact center features and internet phone, and slim down its staff and spending. Furthermore, Zoom's upcoming artificial intelligence (AI) products, like transcription, translation, and sales intelligence tools, have excited investors, resulting in an 8% increase in shares. This move to AI is crucial, as analysts predict that AI will be the biggest driver of near-term growth in the tech industry.
Why should you care?
With cost-cutting companies and workers favoring hybrid workplaces, Zoom's success in adapting to the pandemic and offering non-video services puts it in a strong position to continue growing, especially with the upcoming AI products.
| | | | | |
| --- | --- | --- | --- | --- |
| Index | Level | 1 Week | 1 Month | From Jan 1 2023 |
| S&P 500 (US Stocks) | 4,054 | 1.33% | -1.59% | 5.79% |
| Nasdaq 100 (US Tech Stocks) | 12,290 | 1.52% | -1.39% | 13.15% |
| CSI-300 (Chinese Stocks) | 4,130 | 2.23% | 1.07% | 6.24% |
| Bitcoin (in USD) | 22,376 | -4.73% | -4.08% | 34.76% |
Source: Google Finance, as of 25th February, 2023