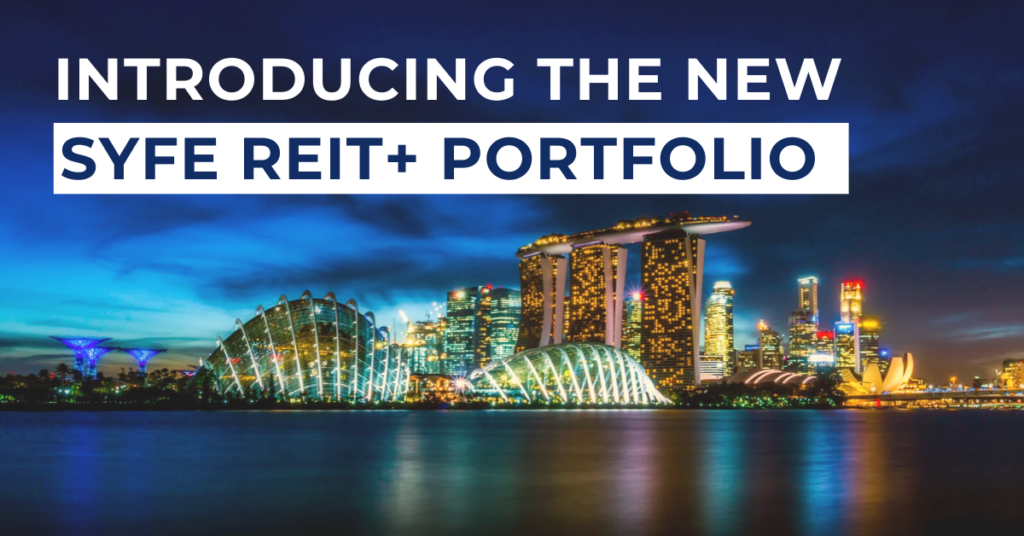 Real estate investment trusts (REITs) have long attracted Singaporean investors with their stable dividends and high yields. But buying a REIT can be costly and time-consuming.
You need to know how to select the best performing REITs (there are currently 40 REITs in Singapore), and how to build and manage a diversified REIT portfolio. Owning a portfolio of multiple REITs is a costly investment as well after you include brokerage and transaction fees.
The minimum fee for most brokerages in Singapore is around $25. This refers to the minimum commission charged, regardless of how little you're trading. If you purchase 10 REITs through your broker, you could be paying around $250 in commissions alone, assuming you buy the minimum lot size for each REIT. If you invest $1,000 in each REIT, that's 2.5% in brokerage fees.
Is there a way for investors to own a diversified REITs portfolio while paying as little in fees as possible?
Introducing Syfe REIT+, the better way to invest in Singapore real estate. For as little as $1, investors can gain instant access to 15 of the best Singapore REITs in one risk-managed portfolio.
What you get with Syfe REIT+
Syfe REIT+ is the first risk-managed portfolio that blends the income potential of Singapore-listed REITs (S-REITs) with the security of Singapore Government Bonds. The 15 S-REITs that make up your portfolio deliver high dividend yields and long-term capital appreciation to help you meet your SGD income needs.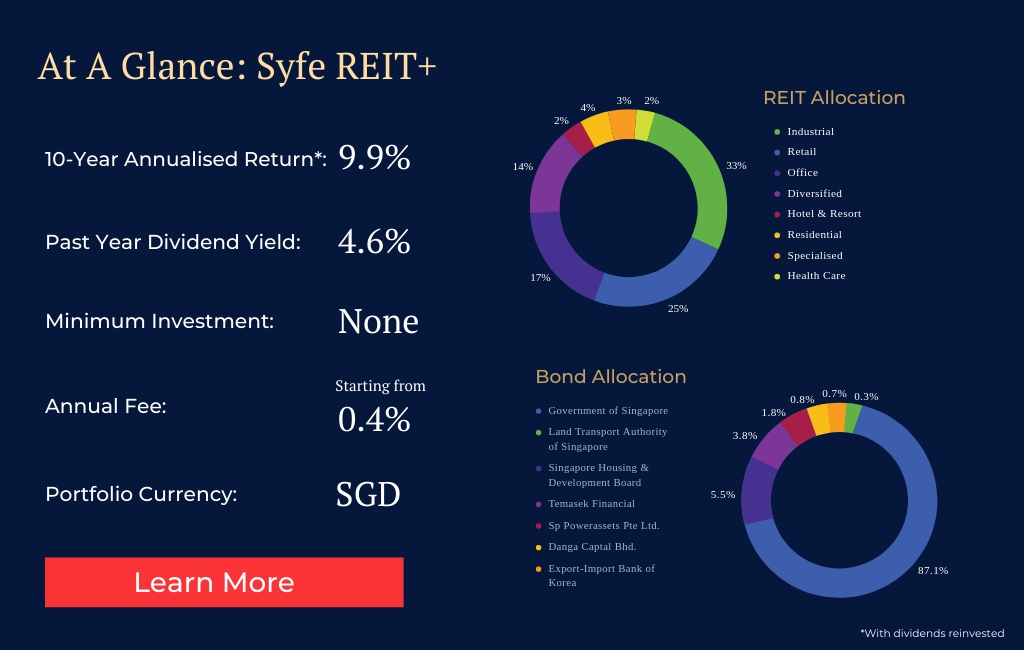 The 15 S-REITS have been carefully selected to provide exposure to income-producing and growth-oriented real estate assets in Singapore. Properties owned by the REITs include Oasia Hotel Downtown, Suntec City, and Gleneagles Hospital, among many others. All in all, your REIT+ portfolio allows you to own a part of 680 properties through the 15 S-REITs.
What's more, your REIT+ portfolio is fully diversified across all real estate sub-sectors – retail, commercial, industrial, residential, hospitality and healthcare.
To manage your portfolio risk more holistically, your REIT+ portfolio includes the ABF Singapore Bond Index Fund, the first exchange traded fund (ETF) bond fund in Singapore. The fund invests primarily in Singapore government bonds, one of the world's highest-yielding AAA-rated government bonds, and quasi-Singapore government entities.
Passive income, your way
With the REIT+ portfolio, you can choose between two options:
Dividends automatically reinvested in your REIT+ portfolio
2. Dividends disbursed as quarterly payouts
For investors who wish to further boost their long-term returns, reinvesting their dividends will mean they automatically purchase more REIT units each time dividends are paid. Dividends are reinvested at no extra charge so you won't be charged a brokerage commission for purchasing these additional units.
For investors who wish to receive recurring income to offset their living expenses, the second option can better meet their needs.
Better risk-adjusted returns
Like stocks, REIT prices are influenced by changing market conditions. To defend against rising market volatility, your REIT+ portfolio uses a proprietary Automated Risk-managed Investing approach called ARI to limit your downside risk. ARI manages your REIT+ portfolio to maintain a Downside Risk of 15%. A 15% Downside Risk portfolio simply means there's a 97.5% chance the portfolio will not lose more than 15% of its current value over the next twelve months.
By pairing REITs with the ABF Singapore Bond Index ETF, ARI cushions your portfolio impact during adverse market conditions. This is how ARI would have performed.
When higher volatility was forecasted i.e the start of the US China trade war in 2018, ARI would have increased your bond allocation to mitigate the risk in your portfolio. When markets rebounded in 2019, ARI would have increased your REITs allocation to deliver better returns.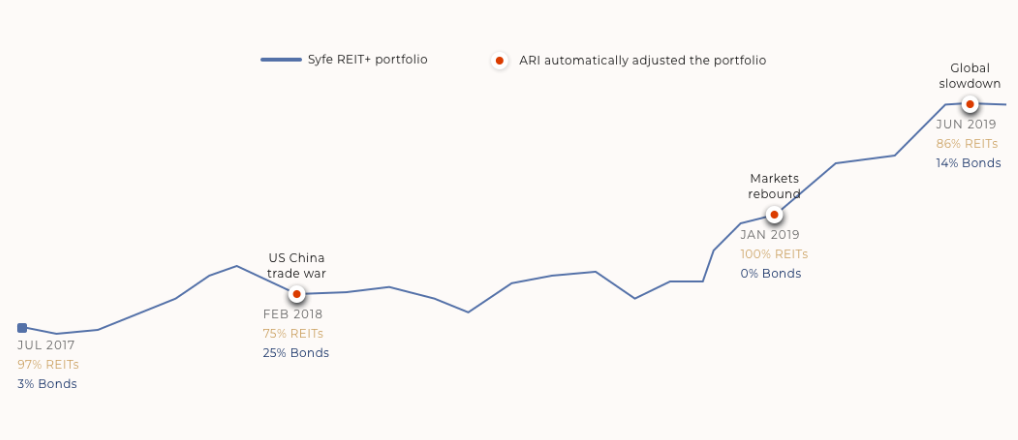 This strategy minimizes fluctuations in your portfolio value to deliver higher risk-adjusted returns and a greater peace of mind.
Compare this to the iEdge S-REIT 20 Index below. Over the past years, we can see that the iEdge S-REIT 20 Index (which tracks the top 20 largest and most tradeable S-REITs) experienced considerably higher volatility with several large price drops.
The unsettling ups and downs of the REIT market was mitigated with the use of ARI in the REIT+ portfolio.
Low fees
Similar to Syfe's global portfolios, the REIT+ portfolio has no minimum investment and low fees starting from 0.4% per annum. This makes real estate investing accessible for a wider audience.
Because you're invested in SGD-denominated REITs, your REIT+ portfolio is not impacted by the volatility of other major currencies, and you don't pay any currency conversion charges. There are no entry or exit fees, and you can choose to withdraw anytime you like.
Getting started with Syfe REIT+
REITs offer an easy way of collecting rental income without the hassle of owning physical properties. Your REIT+ portfolio gives you all the benefits of being a landlord, minus the time, effort and huge financial commitment. If you want to invest in real estate, choose REIT+.
Explore our REIT+ portfolio here and sign up for a Syfe account in 3 easy steps.
For Syfe clients who wish to include the REIT+ portfolio in their investments, simply log into your Syfe dashboard and click "Add Portfolio" to select the REIT+ portfolio.