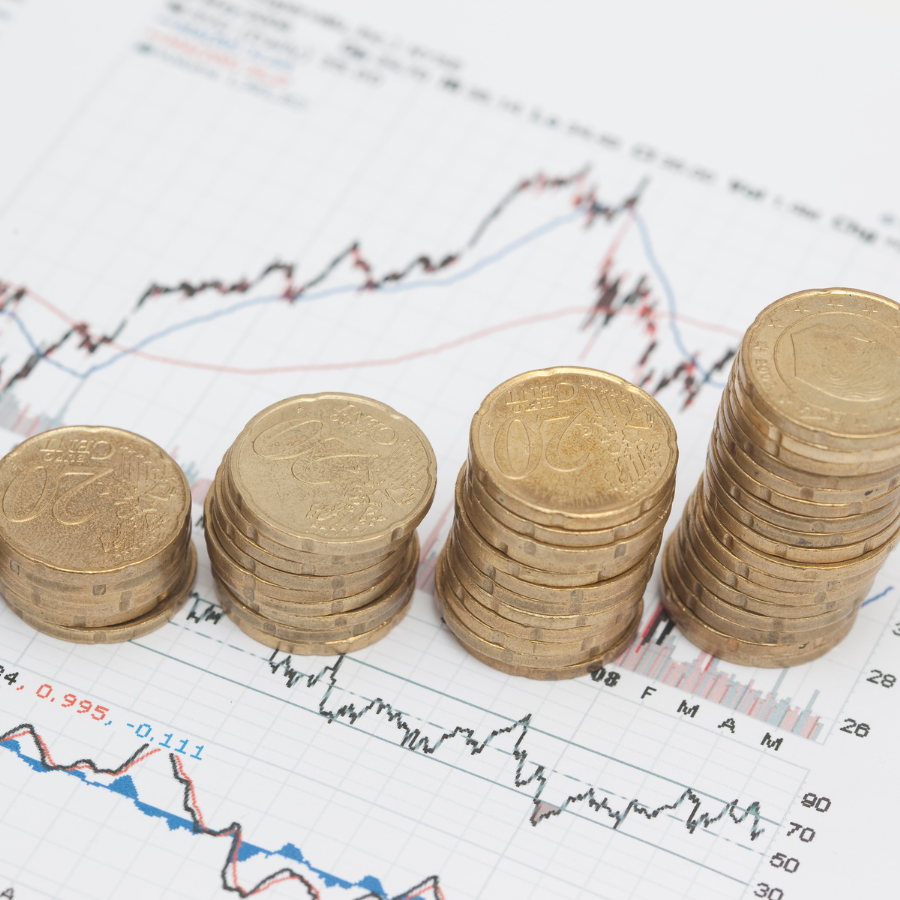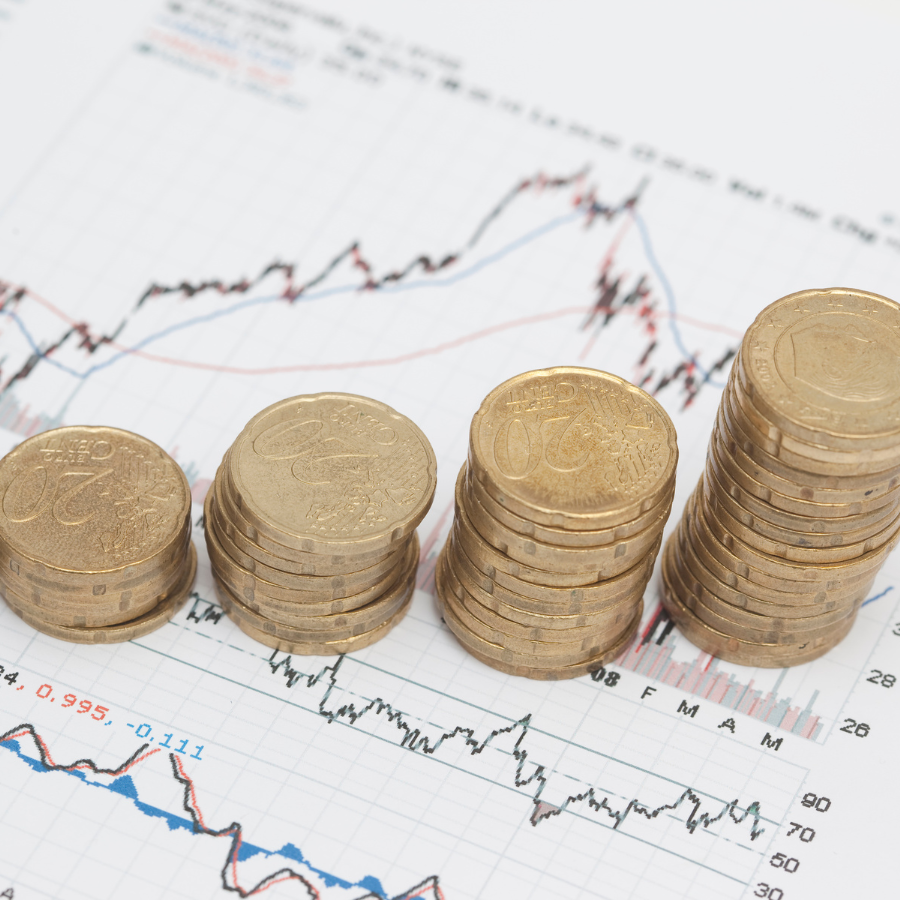 Earnings season is once again upon us! This is a time when publicly traded companies reveal how they've fared in the previous quarter (in the form of earnings per share and revenue figures) and provide forward guidance for the months ahead.
Following one of the worst first-half performances for the US stock market, Q2 2022 earnings will shed light on how companies are coping with various headwinds like surging inflation, rising interest rates, supply chain woes and geopolitical uncertainty. This can help investors determine the outlook for a stock.
When is earnings season?
Earnings season happens four times a year, usually in January, April, July and October. Most companies release their earnings reports outside of market hours so they don't interrupt the trading day.
That said, investors can still trade earnings (i.e. buy or sell stocks based on their financial results) using their brokerage's extended hours trading feature.
Earnings and stock prices
A company's stock price may rise or fall depending on the earnings released. If earnings come in above analysts' estimates, or the company performs better than expected, the stock could jump. For instance, Netflix shares jumped nearly 7% in after-hours trading after the company reported fewer subscriber losses than expected in the second quarter.
If earnings fall below analysts' expectations however, the stock could drop. An example is how Snap plunged 23% in after hours trading on Thursday after missing revenue estimates for the second quarter.
Sometimes, the stock could move in opposite directions to their company earnings, so it's not always a given that a stock will fall on negative earnings. A stock could also remain flat if earnings are in line with analysts' expectations.
Earnings to watch
Next week, major tech companies such as Amazon, Apple, Alphabet, Microsoft and Meta will report earnings. Tech and growth stocks have tumbled this year on the prospect of higher interest rates as central banks worldwide tighten monetary policies to tame inflation.
Here are some Big Tech earnings to watch.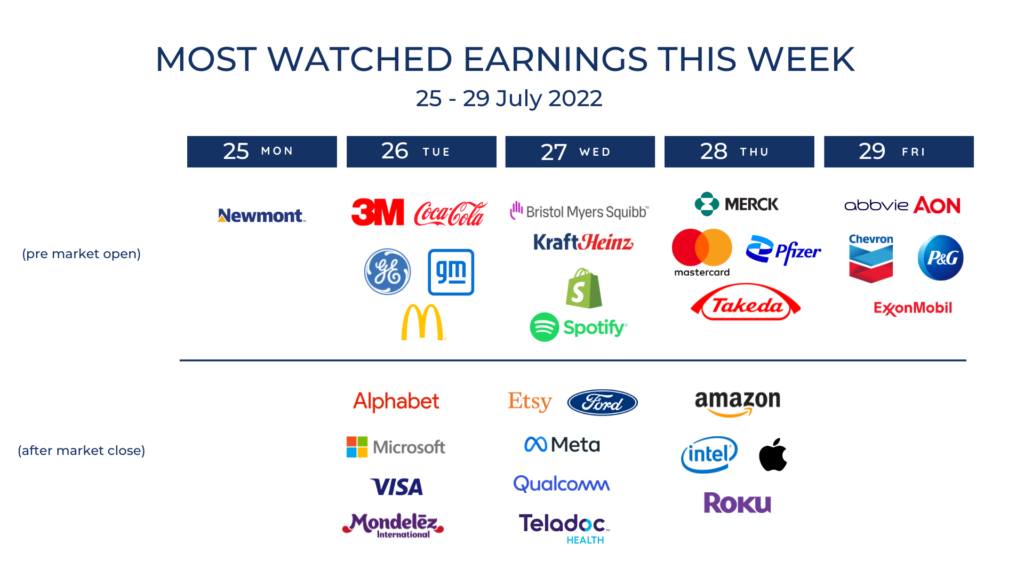 Alphabet earnings (Tuesday)
Google's parent company will release its second quarter results on Tuesday, 26 July. Analysts expect earnings per share of $1.31 (down 3% year-over-year), and revenue is estimated at $70 billion (up 14% year-over-year).

Alphabet's 20-for-1 stock split officially took effect on Monday. For Alphabet shareholders, you now get to own 20 shares for each share you previously owned. For potential investors, the stock split makes Alphabet more accessible since the share price has dropped to an affordable $114 compared to over $2,000 before the split. Be that as it may, Alphabet's market capitalisation remains unchanged at around $1.5 trillion, making it one of the most valuable firms in the world.
Microsoft earnings (Tuesday)
Microsoft has managed to grow earnings per share by 29% per year over the past three years. While that's impressive, it's also worth noting that Microsoft turned in the smallest revenue beat since 2018 in the previous quarter.
The company will be releasing its Q2 earnings on Tuesday, 26 July. Analysts estimate earnings per share of $2.30, a drop of 6% year-over-year, and revenue of $52 billion, a 14% increase from a year ago.
Recently, Microsoft signed a partnership with Netflix to support the streaming giant's upcoming ad-supported subscription plan by providing its technology and sales expertise. Despite having a relatively small presence in the ad-tech space, Microsoft is looking to ramp up its online ad business. The company acquired ad-tech firm Xandr for $1 billion last year to complement its existing data-driven ad solutions.
Meta earnings (Wednesday)
For the second quarter, analysts forecast Meta's earnings per share to come in at $2.61 (down 28% year-over-year) and revenue to reach $29 billion (growth of 4% year-over-year). The Facebook parent will release its quarterly results on Wednesday, 27 July.
Meta's earnings should provide insight into several areas:
How Meta's ad business is coping with Apple's operating system privacy changes. Meta dropped nearly 5% during after hours trading on Thursday after Snap reported disappointing results. Investors are concerned slowing online ad sales will similarly weigh on Meta's revenue.
Whether Meta executives are reining in metaverse-related spending. In June, Meta said they would spend $10 billion on their metaverse efforts this year.
Meta's progress in fending off competition from TikTok. The company recently changed its Facebook feeds to look more like TikTok.
One positive for Meta is that it remains the most prominent social networking company, with 3.6 billion monthly active users across its family of services.
Amazon earnings (Thursday)
E-commerce giant Amazon will release its quarterly report on Thursday, 28 July. Analysts estimate earnings per share of $0.14 (down 81% from a year ago) and revenue of $119 billion (up 3.4% from a year ago).
In the first quarter, Amazon reported a loss of $3.8 billion, its first quarterly loss since 2015. Their second quarter earnings and third quarter forecasts should shed light on how swiftly they can cut back on costs related to their aggressive pandemic expansion.
Investors will also be watching Amazon's e-commerce retail sales as a marker for consumer demand. Although the company did not disclose total sales for its recent Amazon Prime Day, they said consumers bought more than 300 million items, up from 250 million items last year.
Apple earnings (Thursday)
Apple is due to report their quarterly results on Thursday, 28 July. Analysts forecast earnings per share of $1.16 (down 11% year-over-year) and revenue of $83 billion (down 7% compared to last year).
Several headwinds that could weigh on Apple earnings include their operations in China following the country's COVID lockdowns, and signs of slowing consumer spending. iPhone sales remain Apple's largest source of revenue, accounting for 52% of its topline. A decline in iPhone sales could negatively affect their earnings.
That said, Apple's services revenue could pick up the slack. Services currently contribute about 20% of Apple's annual revenue, and that segment looks set to grow in the coming months as Apple diversifies into financial services.
Apple is also planning to slow hiring and spending next year to prepare for a potential recession. The news makes Apple the latest company to join Big Tech giants like Meta and Alphabet in easing hiring and spending growth in the year ahead.
Looking to trade during earnings season?
Keen to take advantage of price movements caused by earnings season? You can buy or sell stocks using Syfe Trade, a brokerage platform for US stocks and ETFs. Syfe Trade allows you to buy fractions of a share ie. you can invest as low as US$1 in Apple instead of buying one full share at its current share price of US$153 (SGD$213)!
If you want to make the most of your trading dollars, consider using Syfe Trade. Simply download the Syfe app and sign up for your account using Singpass. You'll get S$30 in cash credits when you add S$3,000 to your account and start trading before the end of July. Additionally, you get to enjoy free trades every month, on top of no platform fees and no minimum charges.
*Earnings estimates and revenue projections sourced from Yahoo Finance as of 22 July 2022. This article has not been prepared in accordance with legal requirements designed to promote the independence of investment research and as such is considered to be a marketing communication. This article is not financial advice. This advertisement has not been reviewed by the Monetary Authority of Singapore.