A longer runway for a soft-ish landing
August saw a gain of 315,000 jobs, a good showing and in line with consensus estimates of 293,000. The jobs demonstrated that the US labour market is still resilient but not as exuberant as before, a good sign for the Fed.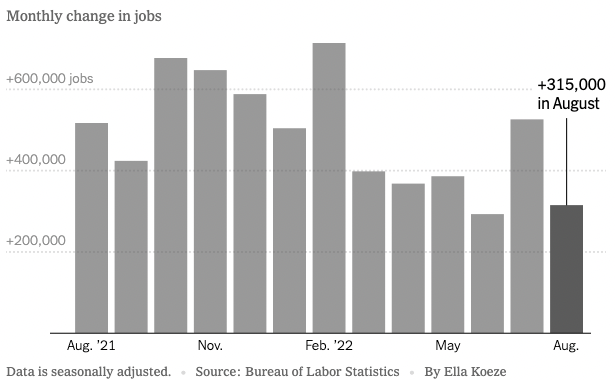 After the release, the Fed funds futures market priced in a reduced possibility (still more than 50%) of a 75bps rate hike for the September FOMC.
Tighter financial conditions are percolating through the economy and showing up in macroeconomic data such the latest jobs report, a promising sign that the economy may have a longer runway for a soft landing, without a "growth recession".
Singapore's GDP forecast
Economists have lowered their expectations of Singapore's 2022 GDP to 3.5%, from 3.8% in June. Inflation is expected to rise further, at the headline figure coming in at 5.7% for the year. Unemployment rate is expected to remain at 2% while 3m SIBOR is expected to rise to above 3%.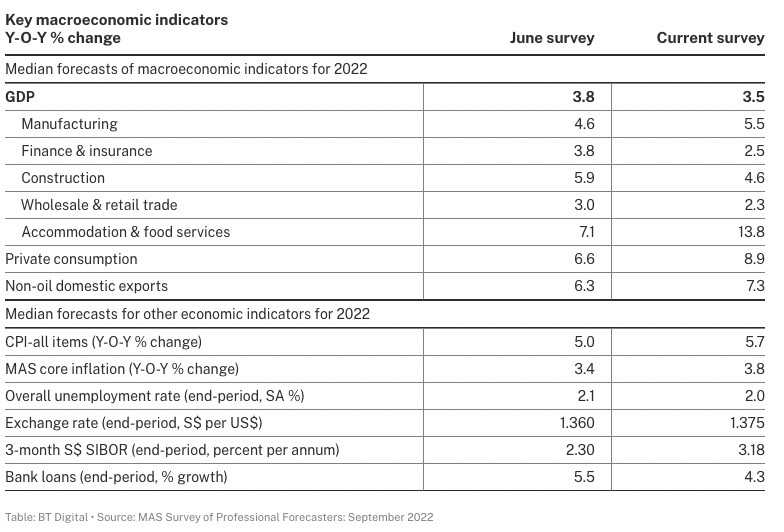 A breakthrough?
Last week we wrote about how Chinese internet and technology companies rallied. Somewhat surprisingly, this week, it is Chinese junk bonds' turn to shine. The sector, dominated by beleaguered real estate firms, returned 6.8% in August, the best monthly showing since February 2012. Many retail investors piled into the asset class last year when yields were high, but the bonds are still trading close to distressed levels (60-70 cents on the dollar).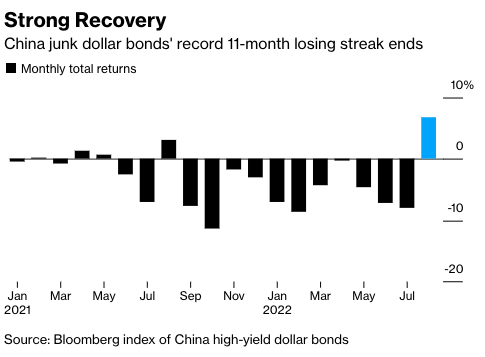 A sustained recovery across the sector would be highly unlikely at the moment, even with greater support (than what is already announced) for both developers and buyers.
We will be watching the Chinese Communist Party congress set to take place next month where we could see significant reshuffles of the top economic positions. Liu He (Vice Premier), Li Keqiang (Premier) and Yi Gang (PBoC Governor) are likely to step down based on retirement age and term limit norms for senior officials.
Market Stats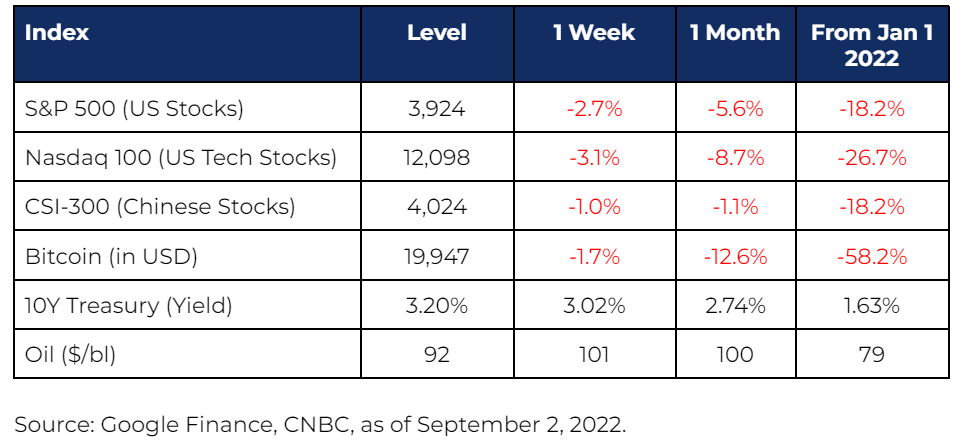 The information provided herein is intended for general circulation and/or discussion purposes only. It does not account for the specific investment objectives, financial situation or needs of any individual. The information in this document is not intended to constitute research analysis or recommendation and should not be treated as such.
This does not constitute an offer or solicitation to buy/sell any financial instrument or to participate any investment strategy. No representation or warranty whatsoever (without limiting to accuracy, usefulness, adequacy, timeliness or completeness) in respect of any information (without limiting to any statement, figures, opinion, view or estimate). Syfe does not undertake an obligation to update the information or to correct any inaccuracy that may become apparent at a later time. All information presented is subject to change without notice. Syfe shall not be responsible or liable for any loss or damage whatsoever arising directly or indirectly as a result of any person acting on any information provided herein.
The information provided herein may contain projections or other forward-looking statement regarding future events or future performance of countries, assets, markets or companies. Actual events or results may differ materially. Past performance figures are not necessarily indicative of future of likely performance. Any reference to any specific company, financial product or asset class in whatever way is used for illustrative purposes only and does not constitute a recommendation. Investors should note that there are necessarily limitations and difficulties in using any graph, chart, formula or other device to determine whether or not, or if so, when to, make an investment. The contents hereof are considered proprietary information and may not be produced or disseminated in whole or in part without Syfe's written consent.