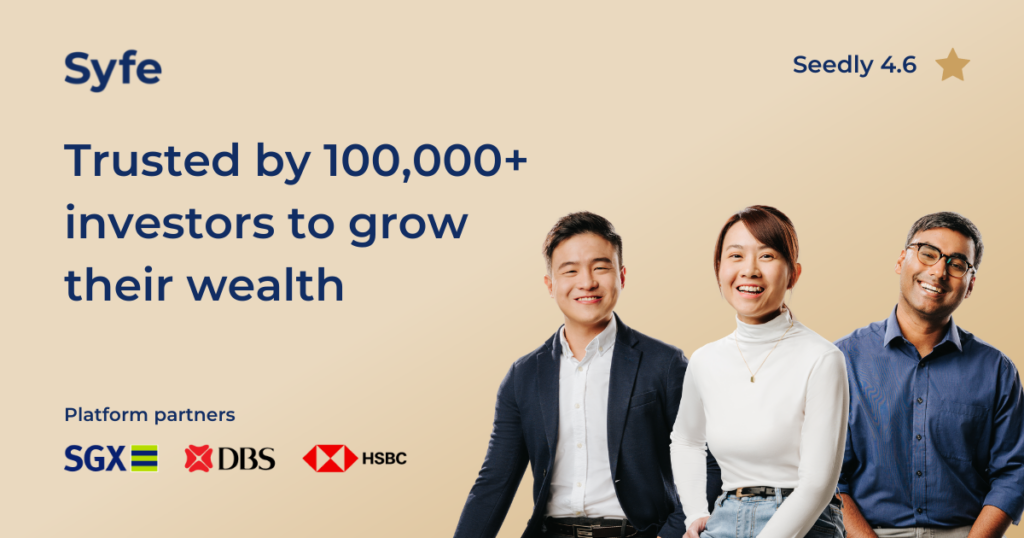 Between work, family, maintaining a social life, and making it to the gym, doing it all isn't easy. When you add finances to the mix, it can be even more demanding on your time and attention, especially if you are looking for the best trading platform to suit your needs.
No matter which stage of life you're at, Syfe is here to make your money work harder for you, so you can focus on building your future.
Here's why Syfe is now the investment app trusted by over 100,000 investors in Singapore.
The one app for all your investment needs
Diversity is key when it comes to building wealth. At Syfe, you can build a managed portfolio, trade stocks, and earn more on your cash savings – all in one place!
Managed portfolios that fit your goals
Investing for the long-term is easy with Syfe's expertly-designed portfolios. Just take a short quiz and we'll build you a personalised portfolio based on your goals, time horizon, and risk appetite.
Each portfolio is fully diversified to help you manage risk and maximise returns. For instance, Syfe Core portfolios are globally diversified across stocks, bonds, and commodities. With one portfolio, you gain exposure to the world's top companies like Apple, Tesla, Microsoft, Tencent and more.
Getting started is just a matter of adding funds. Our experienced investment team handles the rest – investing, rebalancing, dividend reinvestment, portfolio monitoring – so you have more time for the things that matter to you.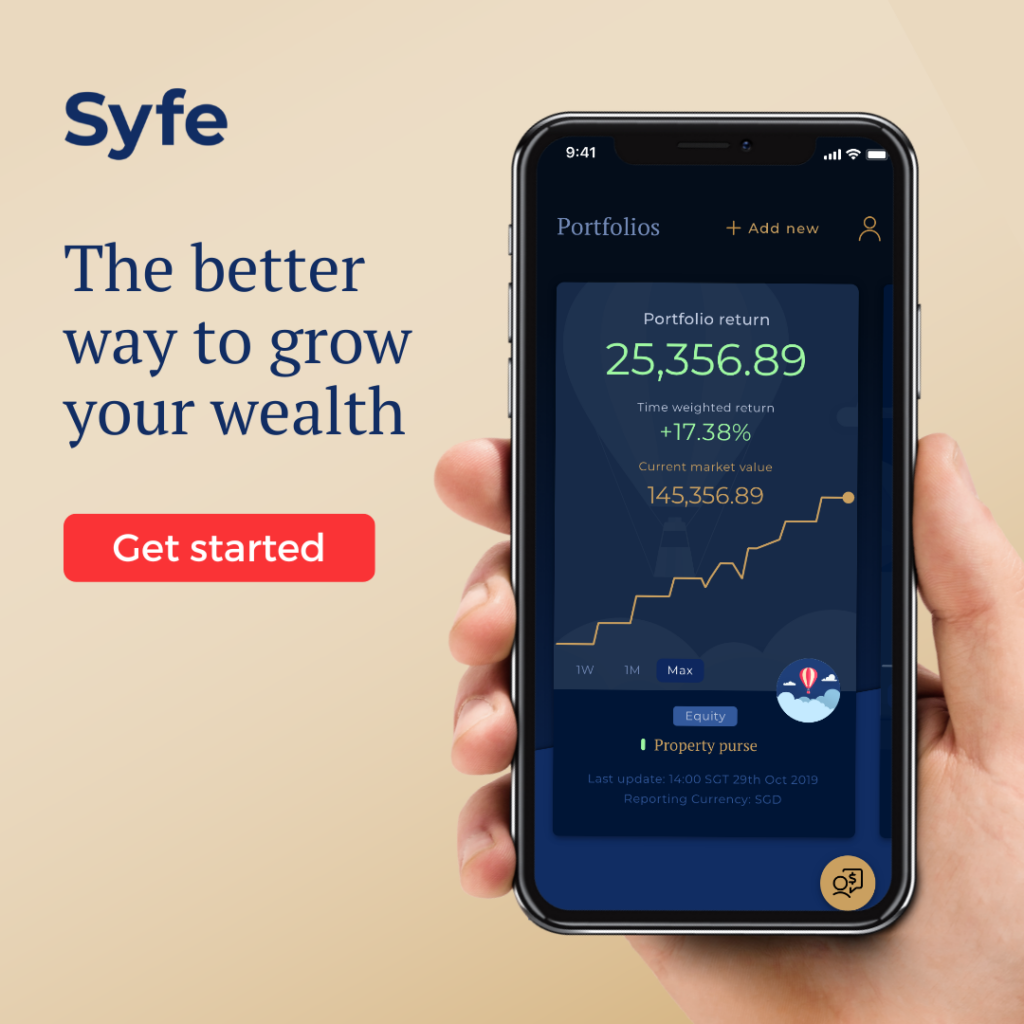 Trade US stocks and ETFs
Prefer to pick your own stocks? You can buy and sell US stocks and ETFs with Syfe Trade, a new brokerage offering from Syfe.
Trading is easy and secure – individual accounts are insured up to US$500,000 by SIPC.
Best of all, you can start investing in your favourite companies with just US$1. Syfe offers fractional trading so you can buy a fraction of a share instead of a full share. For example, one full share of Tesla is now priced at US$284. With most brokerages, you need to have at least this amount to own Tesla shares.
But with Syfe Trade, you can buy a slice of Tesla stock. Whether you have US$1 or US$100,000, you can invest in the companies you believe in regardless of the share price.
Another unique feature is Syfe Trade's recurring buy option! This enables you to automatically invest in a particular stock or ETF every week or month. Just buy the stock as usual and click on the "Recurring" button to enable the feature.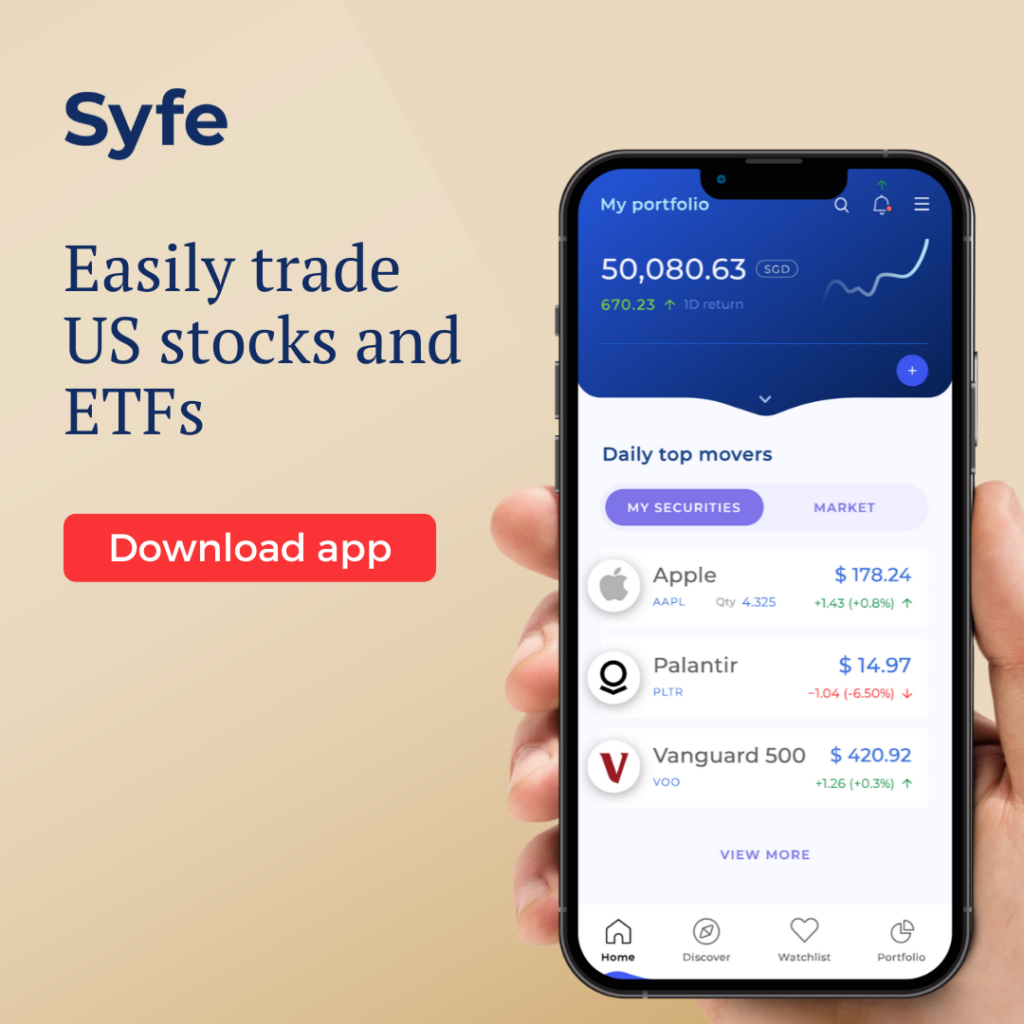 A cash management account for Singaporeans
Syfe Cash+ is our popular cash management account that offers 2.4% p.a. projected returns. This is more than 27 times higher than standard bank deposits in Singapore!
Cash+ has consistently delivered stable returns. Moreover, it has never experienced a single week of negative returns in the year to date.
Whether you're building up your emergency fund, saving for an upcoming big purchase, or setting aside funds for a dollar-cost averaging strategy into Syfe's investment portfolios, Cash+ is the smarter choice for your hard-earned money.
Your money is secure 24/7
Syfe is regulated by the Monetary Authority of Singapore (MAS). We are licensed under the Capital Markets Services License (CMS100837) for retail fund management after meeting all stringent standards set by MAS for financial and investment services companies.
Funds in your Syfe Wealth account are held in a Trust Account in DBS Bank while your investments are held in a Custodian Account through Saxo Capital Markets. For Syfe Trade, your funds are held in a Trust Account in HSBC.
Whether you invest through Syfe Wealth or Syfe Trade, your money and assets are held separately from Syfe's assets. This simply means that no matter what happens, you'll always have access and claim to your funds and assets.
Accessible and affordable for all
Many people think that they need to have a lot of money to start investing. That's simply not true.
With Syfe, you can begin with any amount you feel comfortable with. There's no minimum investment and no lock-ups. This lets you add to your portfolio over time as you earn and save more money.
What's more, Syfe helps you keep your fees as low as possible. High fees eat away at your investment returns. While all investments have costs, an investment with a higher fee does not mean better performance. Controlling how much you pay in fees is the best way to optimise your portfolio.
Syfe Wealth managed portfolio fees
Our simple, all-inclusive fees for our managed portfolios range from 0.35% to 0.65%. That's much lower than what traditional institutions are charging, even for their digital managed portfolio offerings!
For Cash+, there are zero management fees.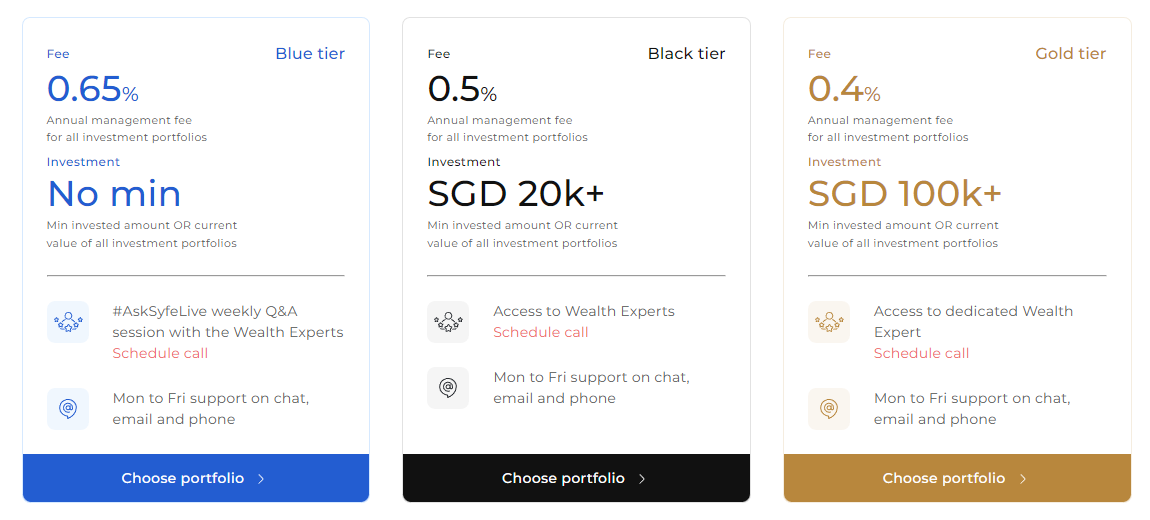 Syfe Trade pricing
With Syfe Trade, the fees are transparent and simple. You get free trades every month and low commissions on each trade thereafter.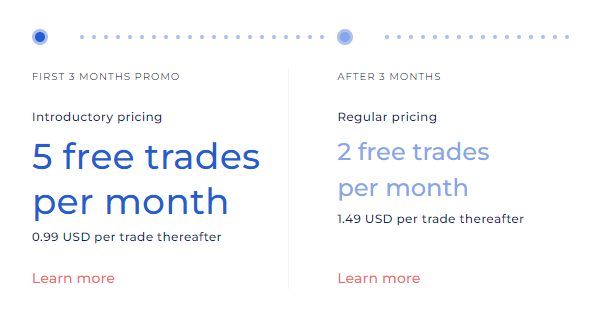 Our wealth experts are here to support you
You can do everything you need right on your Syfe app. But we know it can be helpful sometimes to talk to someone about your investments. That's why we have a team of experts standing by to answer any questions you may have.
They can provide additional guidance and confidence in your financial decisions and investment journey at Syfe.
Democratising investing across Asia
Syfe aims to build the next generation of financial solutions for investors not just in Singapore, but across Asia-Pacific, to transform the way people invest and manage their money.
In just three years, we've rapidly expanded our geographical footprint and are now serving investors in Hong Kong and Australia.
Join 100,000+ Singaporeans on Syfe now
Ready to build wealth for the long-term? Start investing with Syfe today! Download the Syfe app and get started in 5 minutes with Singpass.