Dividend investing is one of the easiest ways to earn passive income without doing anything. Over time, your dividends could even give you an extra $100 a day!
How to earn $100 per day with dividends
As the saying goes, "A goal without a plan is just a wish." To make $100 each day in passive income, your portfolio will need to produce $36,500 in dividend income each year.
Let's assume you invest 20% of your salary according to the 50/30/20 rule. Given that the median monthly salary in Singapore was $5070 in 2023, that works out to be $1014 set aside each month for savings and investments.
Here's how you can build your portfolio to generate at least $36,500 in annual dividend income.
| Dividend Yield | Years Needed (assuming monthly investments of $1014) | Portfolio Size After X Years | Annual Dividend Income |
| --- | --- | --- | --- |
| 5% | 29 | $779,742 | $36,814 |
| 6% | 25 | $690,108 | $38,686 |
| 7% | 21 | $567,419 | $36,685 |
| 8% | 19 | $526,929 | $38,538 |
| 9% | 17 | $472,554 | $38,467 |
The calculation assumes a constant annual yield, no capital appreciation, and full dividend reinvestment during the stated time period. Figures derived from an online investment calculator
here
.
Suppose you buy a stock with a 7% dividend yield. If you were to invest $1014 every month in that stock, your portfolio will grow to around $567,419 in 21 years, assuming all dividends were reinvested and the dividend yield remains constant.
Thereafter, that portfolio at a 7% yield will provide you with $36,685 in annual dividends – giving you slightly more than $100 a day in passive income!
Where to find dividend stocks in Singapore
You don't have to look far for dividend stocks. The Singapore stock market is known for its relatively high dividend yields. For instance, the FTSE ST All-Share index, which tracks the top 98% (by market capitalisation) of stocks listed on the Singapore Exchange (SGX), pays a dividend yield of 5.06% as of 31 August 2023. That's more than triple the dividend yield of 1.54% paid by the S&P 500 index.
A good starting point is Syfe Trade's handy compilation of 18 Singapore stocks with high dividend yields. This list, along with other stock ideas like "Singapore Stalwarts", can be found on the Syfe Trade app.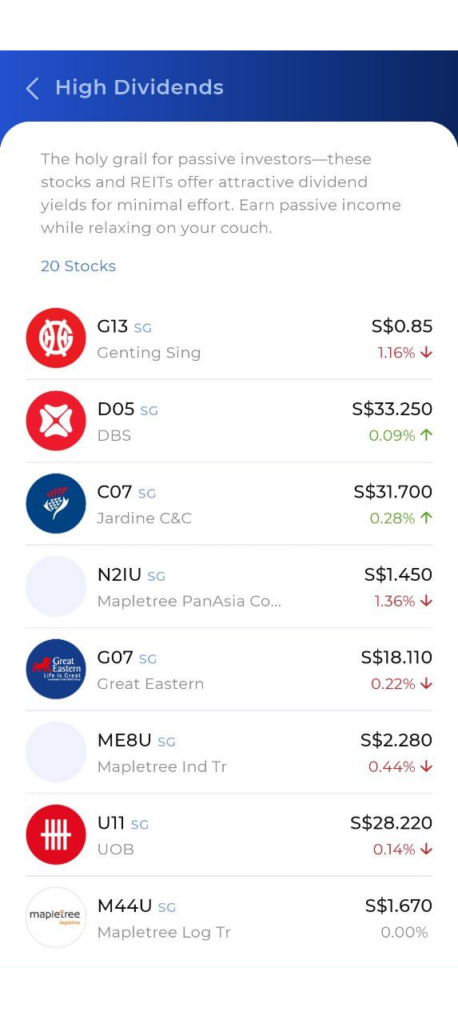 Here's a closer look at some of the "High Dividend" stocks on the app.
| Trading Name | Ticker | Dividend Yield | P/E Ratio |
| --- | --- | --- | --- |
| Genting Singapore Ltd | SGX:G13 | 4.12% | 19.30 |
| DBS Group Holdings Ltd | SGX:D05 | 5.05% | 8.84 |
| Jardine Cycle & Carriage Ltd | SGX:C07 | 4.77% | 10.19 |
| Mapletree Pan Asia Commercial Trust | SGX:N2IU | 5.96% | 13.88 |
| Great Eastern Holdings Ltd | SGX:G07 | 4.97% | 11.95 |
| Mapletree Industrial Trust | SGX:ME8U | 5.20% | 22.40 |
| United Overseas Bank Ltd | SGX:U11 | 5.67% | 8.77 |
| Mapletree Logistics Trust | SGX:M44U | 4.89% | 14.99 |
When it comes to stock investing, it's important to always do your own research. Syfe Trade makes it easy to start by providing key financial metrics like earnings per share (EPS) for stocks, along with analyst ratings and their estimated target price.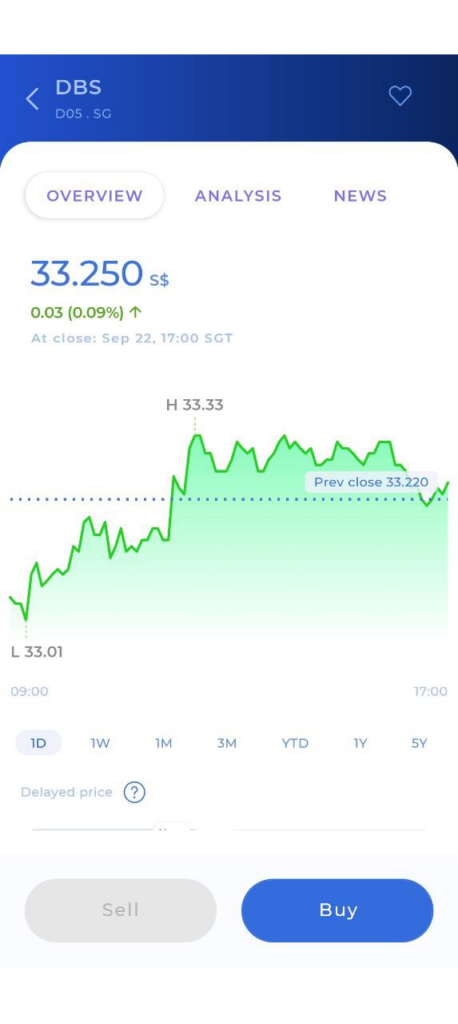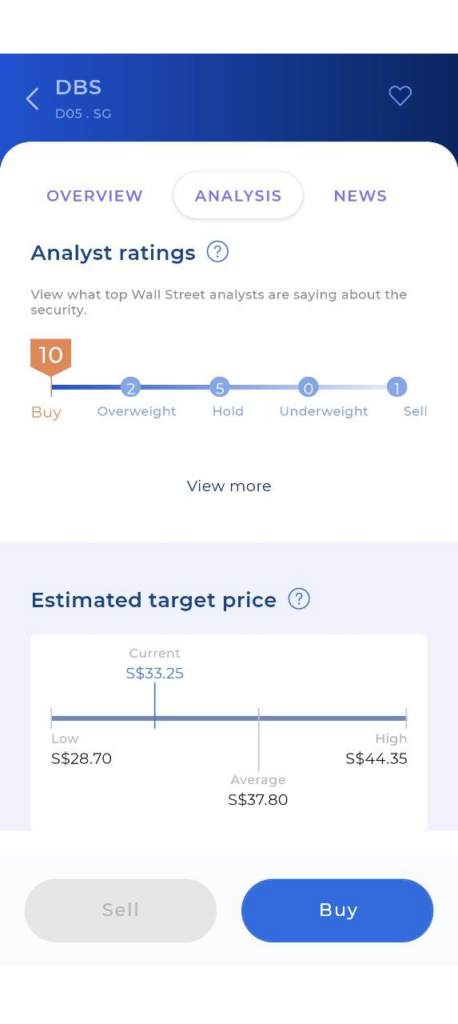 High dividend yields are just one aspect
As you do your research into dividend stocks, take note that you shouldn't invest solely based on yield alone. It's also important to analyse the stock's dividend track record and growth rate, along with company fundamentals.
A good rule of thumb is to look for companies that have been paying – or even raising – their dividends for many consecutive years. You also want to make sure that the dividend is sustainable i.e. the company doesn't cut or suspend dividends if it runs into cash flow problems.
Here's a quick guide on how to find quality dividend stocks.
Let compounding work its magic
With Syfe Trade, you can withdraw your dividends anytime since there are no withdrawal fees.
But if you want to reap the full benefits of compound interest, reinvesting your dividends i.e. using them to buy more stock, may be a better option.
Dividends Reinvested
Dividends Withdrawn
Portfolio Size
(Principal + dividends)
Annual Dividend
Portfolio Size
(Principal + dividends)
Annual Dividend
Year 0
$10,000
$500
$10,000
$500
Year 1
$10,500
$525
$10,000
$500
Year 2
$11,025
$551
$10,000
$500
Year 3
$11,576
$579
$10,000
$500
*This assumes a constant dividend yield of 5% p.a.
Notice how your annual dividends earned increase each year if you reinvest them? That's because your reinvested dividends are used to buy more stock, thus providing you with even more dividends.
This forms a virtuous cycle where you not only earn returns on your principal sum, but also earn additional returns on your returns to grow your portfolio more quickly.
How to buy SGX dividend stocks
You can use a brokerage platform like Syfe Trade to invest in stocks.
Syfe Trade is a homegrown, MAS-regulated broker that offers easy and affordable access to the US and Singapore markets. For SGX stocks, the pricing is just 0.06% of traded value (minimum S$1.98). There are no platform fees and no withdrawal fees.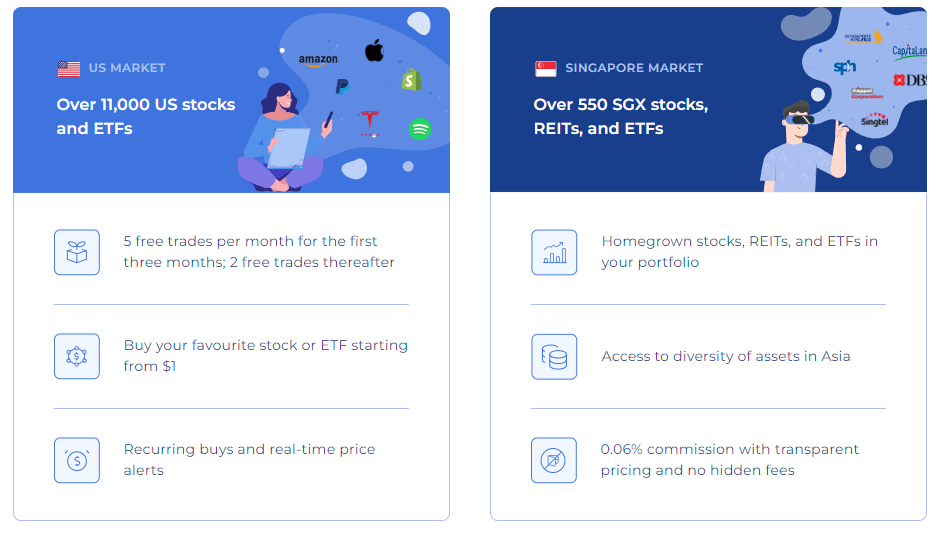 New to Syfe? Download the Syfe app to get started.
Disclaimer: This article is for informational purposes only and should not be viewed as financial advice. It is not meant to market any specific investment, or offer or recommend the purchase or sale of any specific security. All forms of investments carry risks, including the risk of losing all of the invested amount. Such activities may not be suitable for everyone. This advertisement has not been reviewed by the Monetary Authority of Singapore.