Syfe Custom portfolios lets you invest just the way you want to. Learn how
High inflation, rising rates, and recession risks have been weighing on the minds of many investors. Some investors are looking to recession-proof their portfolios.
Your portfolio, your way. That's what Syfe Custom portfolios are all about.
That's why we're excited to introduce a powerful new feature for Custom portfolios. You can now add or remove ETFs, adjust your portfolio allocation, and make unlimited edits!
This is a feature that many clients have been asking us for. We've heard your feedback and are pleased to offer you more flexibility and control over your Custom portfolios.
How to use Custom portfolios
New to Custom portfolios? Here's a quick guide to get started.
Explore our investment universe of over 150 curated exchange traded funds (ETFs).
Select the funds you like and build a portfolio aligned with your interests and goals.
Confirm your portfolio and transfer funds to your Syfe account to start investing.
Edit your portfolio anytime. Add or remove ETFs, adjust portfolio allocations, and make unlimited edits.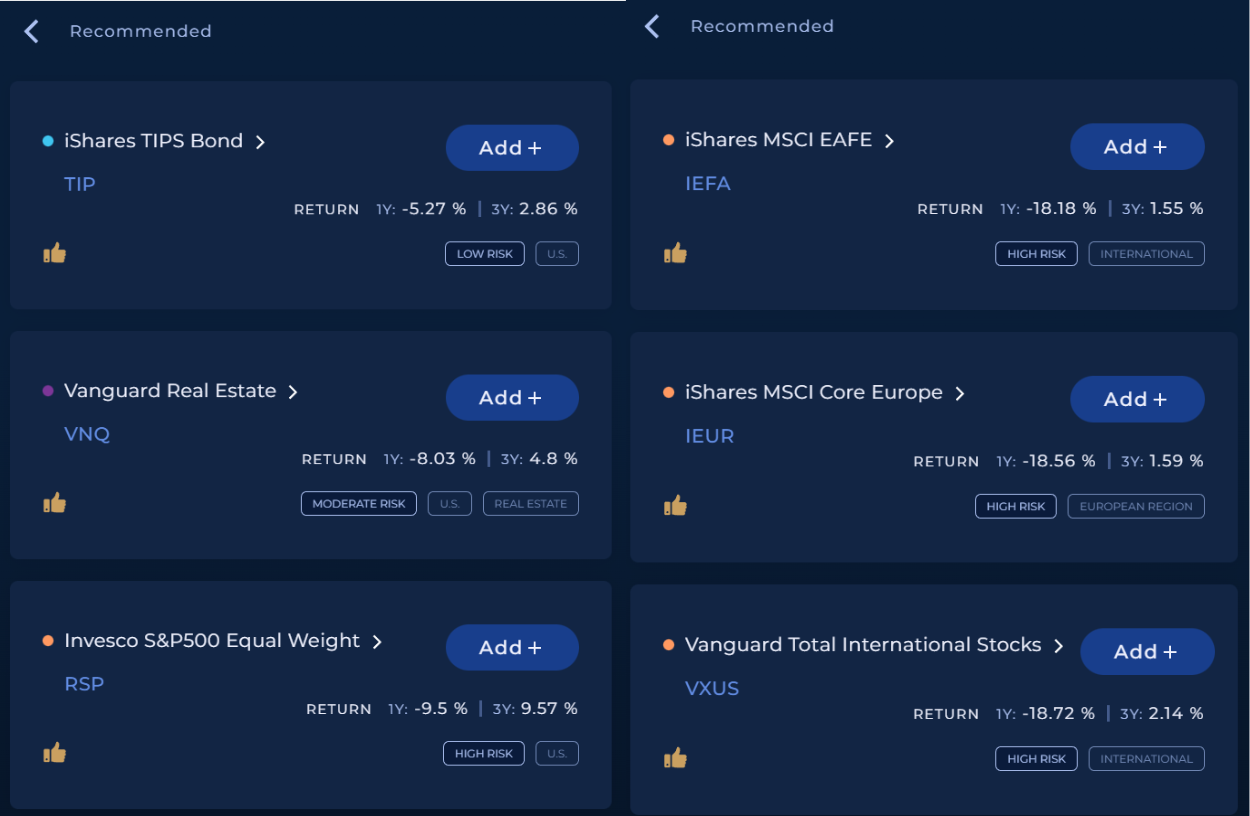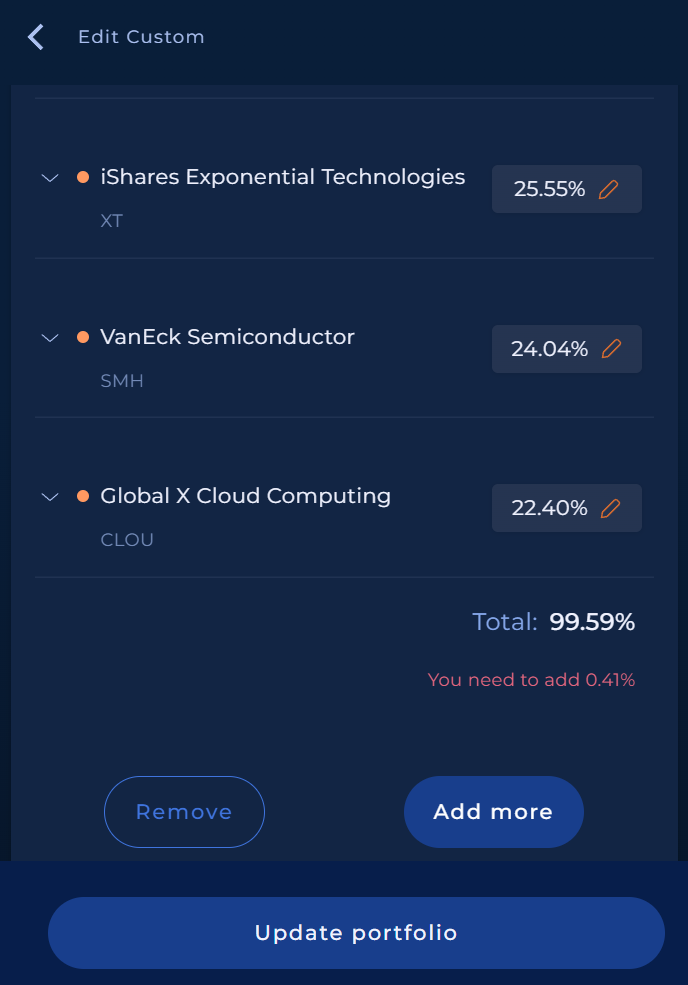 Build your Custom portfolio now.
Want some ideas on how you can create or edit your Custom portfolio? We've got you covered.
How to recession-proof your portfolio
A recession is technically two consecutive quarters of a decline in gross domestic product (GDP). In the US, many economists see a recession happening in the near future. While Singapore does not expect a recession this year or the next, policymakers "expect growth to moderate further" given significant headwinds in the global economy.
Against this backdrop, some sectors that have conventionally held up better in a downturn include:
Explore these ETFs on Syfe Custom.
Even if the economy slows, we still need electricity and gas to go about our lives. We'll still shop at supermarkets for staples like breakfast cereals and toothpaste. And if we fall sick, we'll still need to see a doctor. As such, these sectors are also known as defensive investments because their products and services are considered essential items.
Dividend investing is another popular strategy
Owning dividend stocks is another strategy to consider during a downturn. Dividend stocks tend to be more stable amid market declines. At the same time, their regular payouts help cushion losses from market volatility while providing investors with a source of passive income during trying times.
Notably, the defensive sectors we highlighted above are typically dividend payers as well.
A sample Custom portfolio based on recession-proof investments could look like this:
Recession-resilient sectors
Utilities Select Sector SPDR (XLU)
Consumer Staples Select Sector SPDR (XLP)
iShares U.S. Healthcare Providers ETF (IHF)
Dividend growers
SPDR S&P Dividend ETF (SDY) | 2.73% dividend yield
Global X MLP ETF (MLPA) | 7.17% dividend yield
Global X US Preferred ETF (PFFD) | 5.86% dividend yield
Vanguard Real Estate Index Fund ETF (VNQ) | 3.18% dividend yield
Vanguard Global ex-US Real Estate ETF (VNQI) | 4.22% dividend yield
SDY, MLPA, VNQ and VNQI pay dividends on a quarterly basis. For PFFD, dividends are distributed monthly. With Custom portfolios, you can withdraw your dividends at any time at no extra charge.
See these ETFs – and more – in greater detail on the Syfe Custom platform.
How to hedge against inflation
We're now in a period of high and rising inflation. US inflation hit a new four-decade high of 9.1% in June. Closer to home, Singapore's headline inflation rose 6.7% in June, up from 5.6% in May.
Costs are rising for consumers and businesses alike. Want to hedge against inflation? Some sectors that tend to perform better in periods of rising inflation include:
Materials
Industrials
Financials
Explore these ETFs on Syfe Custom.
For example, the S&P 500 energy sector is up 33% in the year to date, even as the broader S&P 500 index has fallen nearly 20%. Energy companies are benefiting from the rise in oil and gas prices, and this is reflected in their stock prices.
Similarly, companies in the materials and industrials space benefit from the prices of their products increasing with inflation, and their ability to pass on those increased costs to customers.
The materials sector includes firms that are involved in manufacturing paper and packaging, and extracting metals and minerals, amongst others. The industrials sector consists of companies engaged in activities like construction, engineering, and heavy machinery.
Such companies tend to own or control physical assets too, so their asset values are likely to rise when inflation moves higher.
Lastly, in this rising interest rate environment, companies in the financials sector stand to benefit. For example, most banks make money by charging customers higher interest rates on loans as compared to what they pay customers for deposits. When rates rise, so do their net interest margins.
An inflation TIP to consider
Treasury inflation-protected securities (TIPS) are also worth considering as an inflation hedge.
When inflation rises, the principal value of your bond increases by an equivalent amount. Your coupon payment will vary depending on your principal value and the rate of change in inflation levels.
Putting everything together, a sample Custom portfolio to hedge against inflation could look like this:
Inflation-resilient sectors
Industrial Select Sector SPDR (XLI)
Energy Select Sector SPDR (XLE)
Materials Select Sector SPDR (XLB)
VanEck Agribusiness ETF (MOO)
TIPs
TIPS are issued with different maturities. VTIP holds TIPS with relatively short maturities of less than five years. These come with lower volatility and less real interest-rate risk than longer-duration TIPS funds.
In the current environment of rising interest rates, shorter-duration bonds tend to be more appealing. When the underlying bonds mature, the proceeds can be reinvested into higher-yielding bonds.
Learn more about VTIP and the other ETFs mentioned above on the Syfe Custom portfolio platform.
Enjoy full flexibility with Custom portfolios
Here's an example of how to add an ETF using our new edit feature.
Step 1: Log in to your Syfe app and navigate to your Custom portfolio. Under the Composition tab, click on "Edit Composition"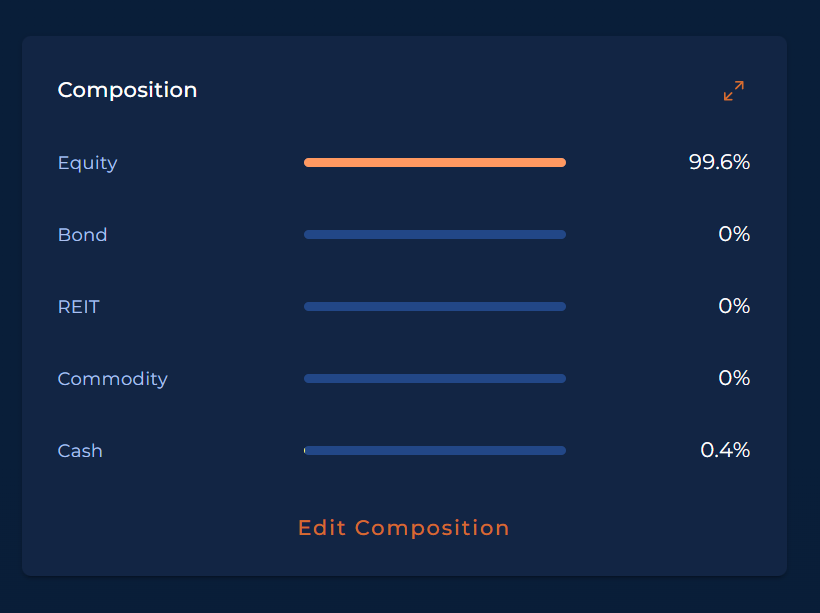 Step 2: You'll see your current holdings and their allocations. Scroll down to view the "Add more" option. Click it to explore more funds and make your additions in the next screens.
Thereafter, click on "View portfolio" to see all your portfolio holdings and edit your allocations.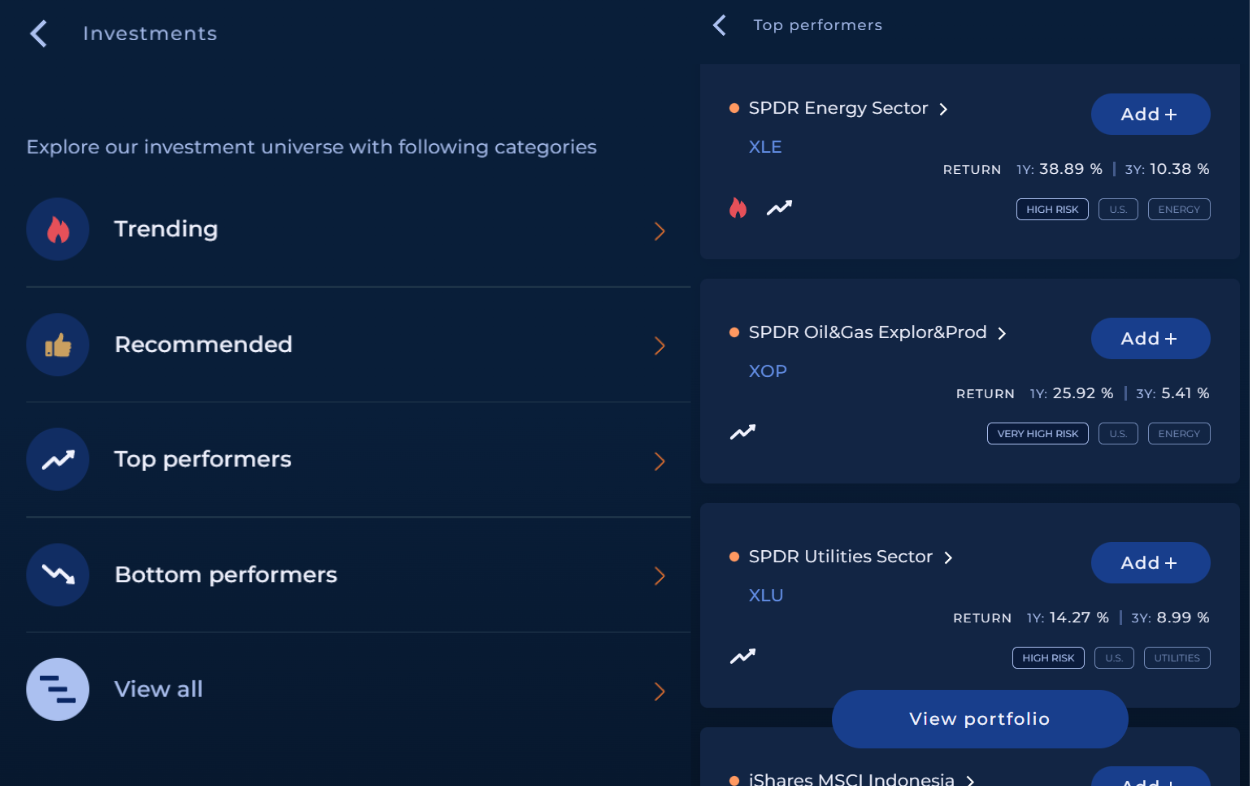 Step 3: In this example, the SPDR S&P Oil & Gas Exploration & Production ETF (XOP) has been added and all the portfolio weights have been changed to 20%. You can choose to have equal allocations for all your ETFs, or assign higher weights to certain exposures you're more optimistic about.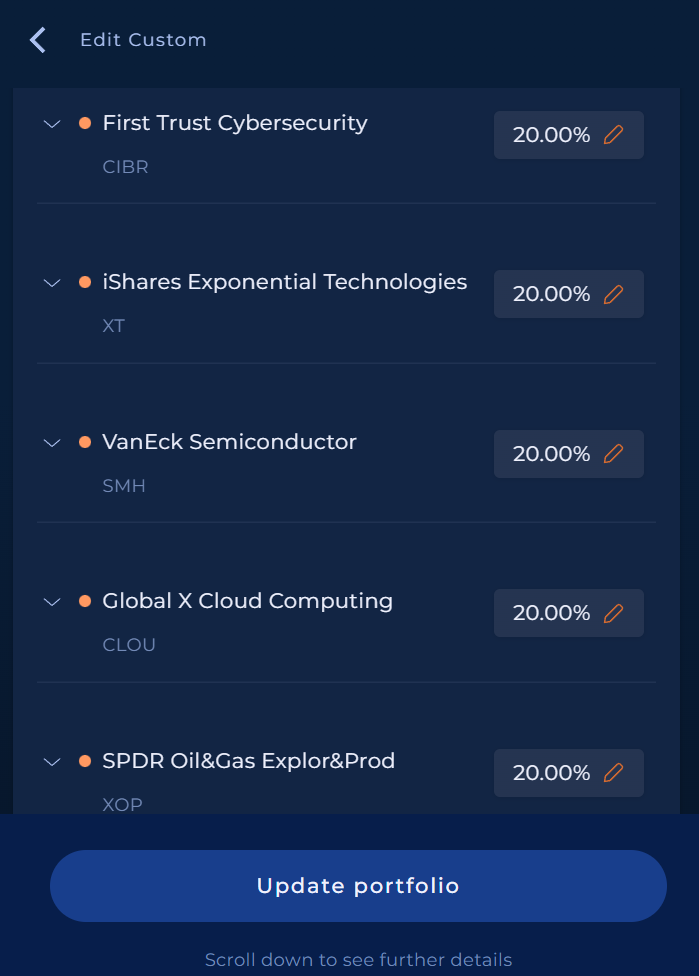 Step 4: Scroll down to view more details of the new portfolio. You can see how your overall portfolio diversification, past returns, and portfolio risk level has changed with your edit.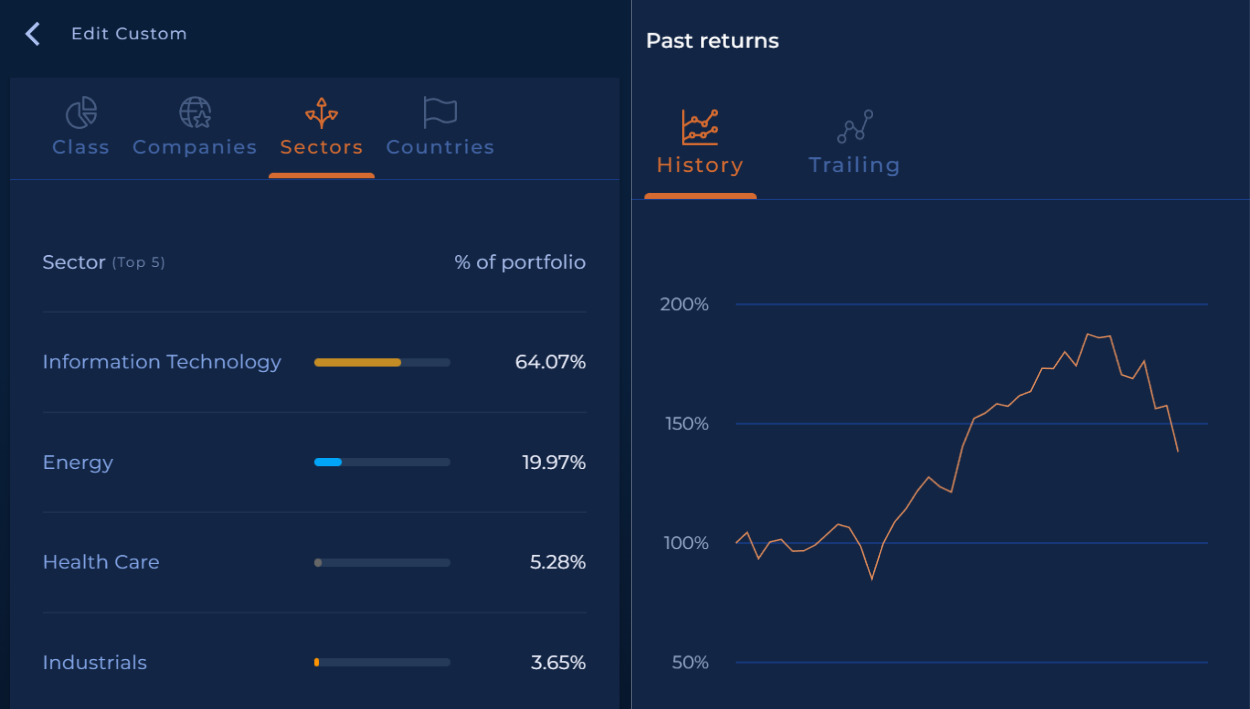 Step 5: Not fully satisfied? Go back to add or remove funds, or adjust your asset allocation. When you've customised your portfolio the way you want, click on "Update portfolio" to save your changes. Your new portfolio allocation will be reflected within 1 – 2 working days.
Get started with Custom portfolios
You can use Custom portfolios any way you prefer – all with no minimum investment and no lock-in. The fees you pay for Custom portfolios are the same as all other Syfe investment portfolios too. Our low fees start from 0.35% per year and you may withdraw your funds at any time with no extra charges.
Build your Custom portfolio with Syfe today.
The information provided herein is intended for general circulation and/or discussion purposes only. It does not account for the specific investment objectives, financial situation or needs of any individual. The information in this document is not intended to constitute research analysis or recommendation and should not be treated as such. This advertisement has not been reviewed by the Monetary Authority of Singapore.