Summary
Market overview: The Federal Reserve is widely expected to implement its fourth consecutive 0.75% interest rate hike on 2 November 2022 as US inflation continues to run hot. President Xi Jinping has secured a third term as China's leader. Investors will be watching the annual Central Economic Work Conference in December for clues on China's economic policy direction.
Syfe Core: Core portfolios remained resilient, with Core Equity100 outperforming its benchmark.
Syfe REIT+: Singapore REITs experienced a challenging third quarter as rising interest rates weighed on sentiment.
Syfe Cash+: In September, the projected returns for Cash+ was raised to 2.3% from 1.9% p.a. This week, it rose again to 2.4% p.a. The portfolio has never had a week of negative returns in 2022, and projected returns are expected to continue moving up as interest rates rise.
In this performance update, Syfe's Investment Research team takes clients through how our portfolios performed in the year to date ending 30 September 2022.
Inflation, rising interest rates, and geopolitical uncertainty continued to dominate headlines over the past quarter. Against this backdrop, sentiment turned negative, dragging down asset values in 3Q2022.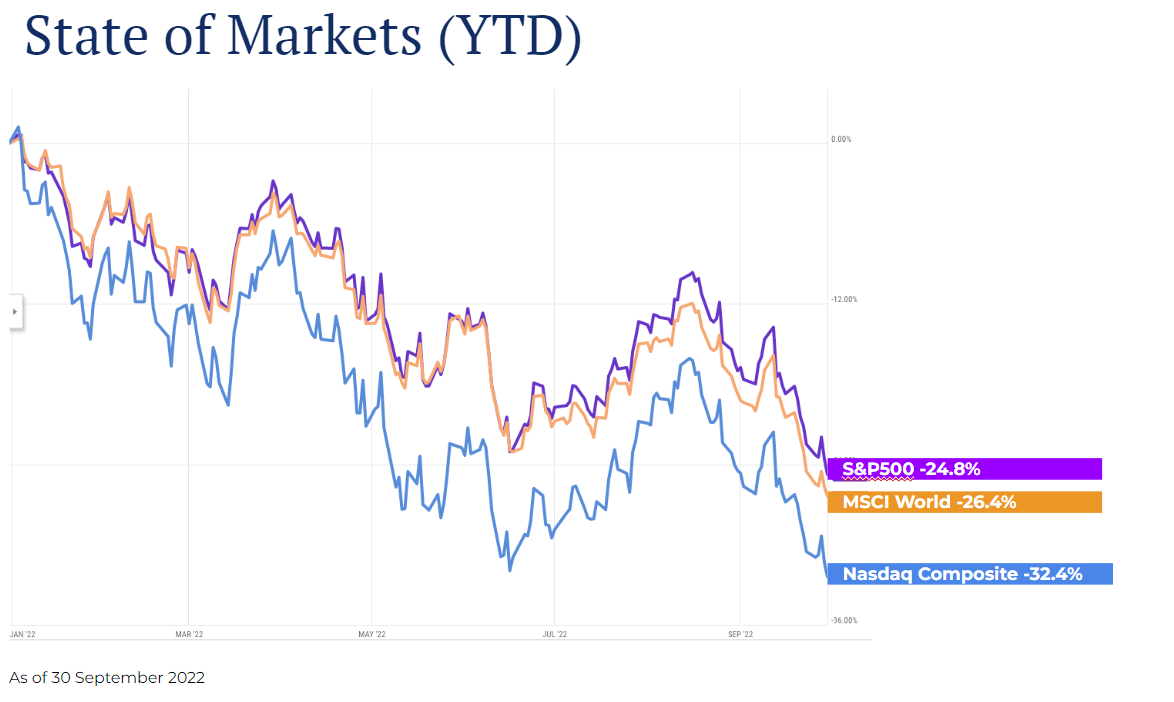 Syfe Core
Syfe Core portfolios are designed to help investors grow long-term wealth. They provide global diversification across different sectors and asset classes (equities, bonds, gold), making them the ideal core allocation in a core-satellite investing strategy.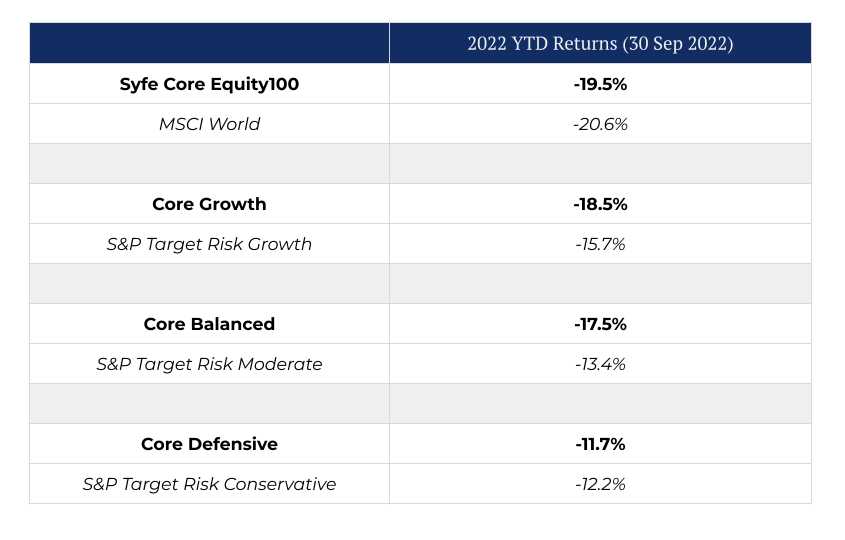 Core Equity100 outperformed its benchmark MSCI World Index. Our strategic asset allocation framework ensured that the portfolio remained diversified against specific risks in the market while factor tilts to defensive sectors such as healthcare, utilities and consumer staples provided ballast for the portfolio.
Core Growth and Core Balanced underperformed their benchmarks. Both portfolios held a higher allocation to longer dated US government bonds which came under pressure amid rising interest rates. When interest rates rise, bond prices tend to fall as yields go up.
Given that inflation is expected to remain higher for longer, we've added an allocation to inflation-protected US Treasury bonds (TIPs) during our recent rebalancing exercise. TIPs are indexed to inflation meaning that when inflation rises, so does the principal amount of the security and interest payments. By introducing TIPs into our investors' portfolios, we are able to safeguard the erosion of purchasing power due to inflation.
Core Defensive outperformed its benchmark S&P Target Risk Conservative portfolio. The portfolio's exposure to shorter duration bonds and Gold supported its performance.
Syfe REIT+
Syfe REIT+ holds 20 of Singapore's largest REITs in one portfolio. Top holdings include blue-chip REITs like CapitaLand Integrated Commercial Trust (CICT), Mapletree Pan Asia Commercial Trust (MPACT) and CapitaLand Ascendas REIT (CLAR).
The portfolio came under pressure in 3Q 2022 on the back of interest rate hikes in the US. Higher interest rates translate to higher interest expense for REITs. This eats into earnings and reduces the REIT's distributable income.
Given the bearish sentiment, Syfe REIT+ portfolio returned -9.8% as of 30 September 2022 while its benchmark iEdge S-REIT Leaders Index returned -10.7%.

At the same time, investors are increasingly turning to safe haven assets such as T-bills, Singapore Savings Bonds and Cash Management to seek stability amidst rising interest rates.
While the recent price action has dimmed the allure of REITs for income seeking investors, we believe the decline presents a good opportunity for long-term investors to add quality REITs to their portfolio, given Singapore's reopening and REITs' value as a hedge against inflation.
Furthermore, the price decline also translates into higher dividend yield for REITs. For instance, the estimated dividend yield for Syfe REIT+ has risen to 6.2% from 5.5% in June.
Investors who add to their holdings at this time could enjoy attractive yields while seeing potential appreciation from current undervalued prices.
Syfe Cash+
Cash+ is Syfe's cash management solution offering projected returns of 2.4% p.a. Unlike other solutions in the market, Syfe Cash+ has never had a week of negative returns in the 2022 year to date.
Given the rising interest rate environment, Cash+ projected returns have been revised upwards three times this year and currently stands at 2.4% p.a.
With annualised returns of 2.06% in the month of September, Cash+ is on track to deliver its updated projected return for the year ahead.

We believe that an ideal cash management solution should offer stability, flexibility, and ease of use. In the last few months where bond and equity markets have been volatile, Cash+ has been a safe haven for investors – delivering stable returns over time. Looking ahead, we expect the projected yield for Syfe Cash+ to continue moving higher as interest rates climb.