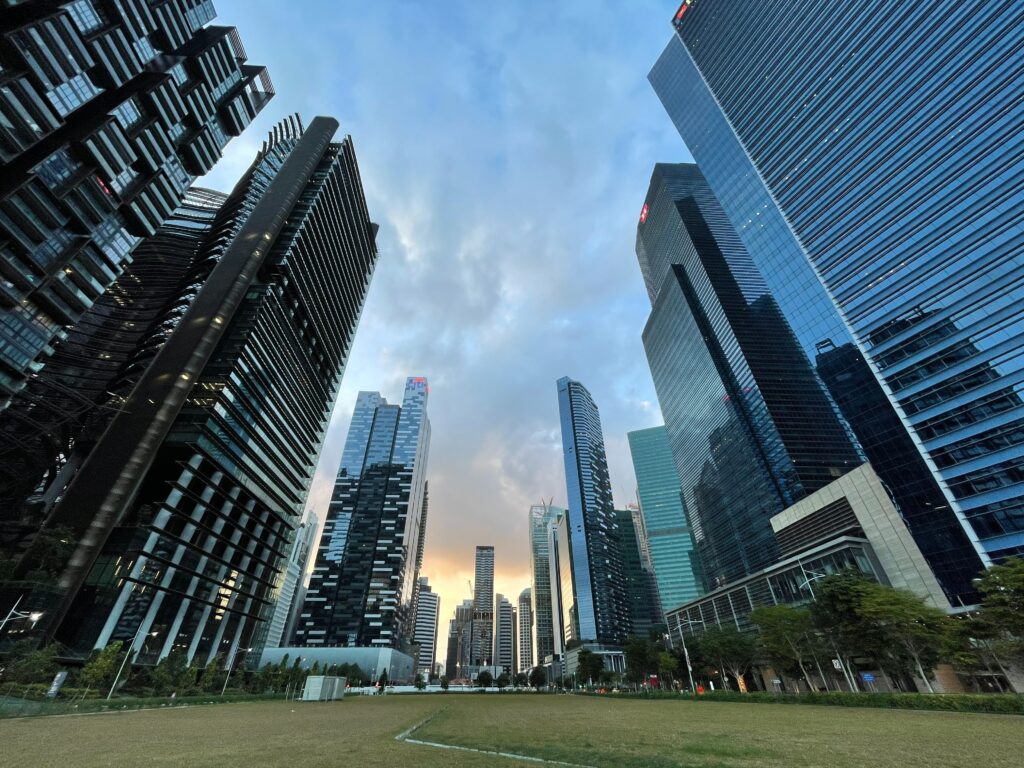 Investors who want to earn passive income often turn to Singapore REITs (real estate investment trusts), an asset class known for their ability to generate dividend income. As companies that own and manage income-producing properties such as shopping malls, offices, hotels and more, REITs also provide a way to invest in real estate without a huge capital outlay.
REITs in Singapore are listed on the Singapore Exchange (SGX). When you invest in a REIT, you get to own a small part of the properties it owns. Rental income collected from tenants are then disbursed to you in the form of dividends. As such, you can enjoy a steady stream of passive income without the hassles of being a landlord.
What is Syfe REIT+?
Launched in partnership with the SGX, Syfe REIT+ is the first portfolio of its kind that allows investors to easily invest in and track the SGX iEdge S-REIT Leaders Index, one of the most popular indices of the Singapore stock market.
Like the index, which tracks the largest and most liquid Singapore REITs, Syfe REIT+ provides access to REITs from all property sub-sectors: retail, industrial, data centre, office, hospitality, and healthcare. This diversified exposure means that you don't have to worry about particular shocks in any one sector. For instance, although retail REITs came under pressure during the COVID-19 pandemic, the portfolio was cushioned by its allocation to industrial REITs, which remained resilient as they were supported by secular growth trends in the data centre, business parks and logistic space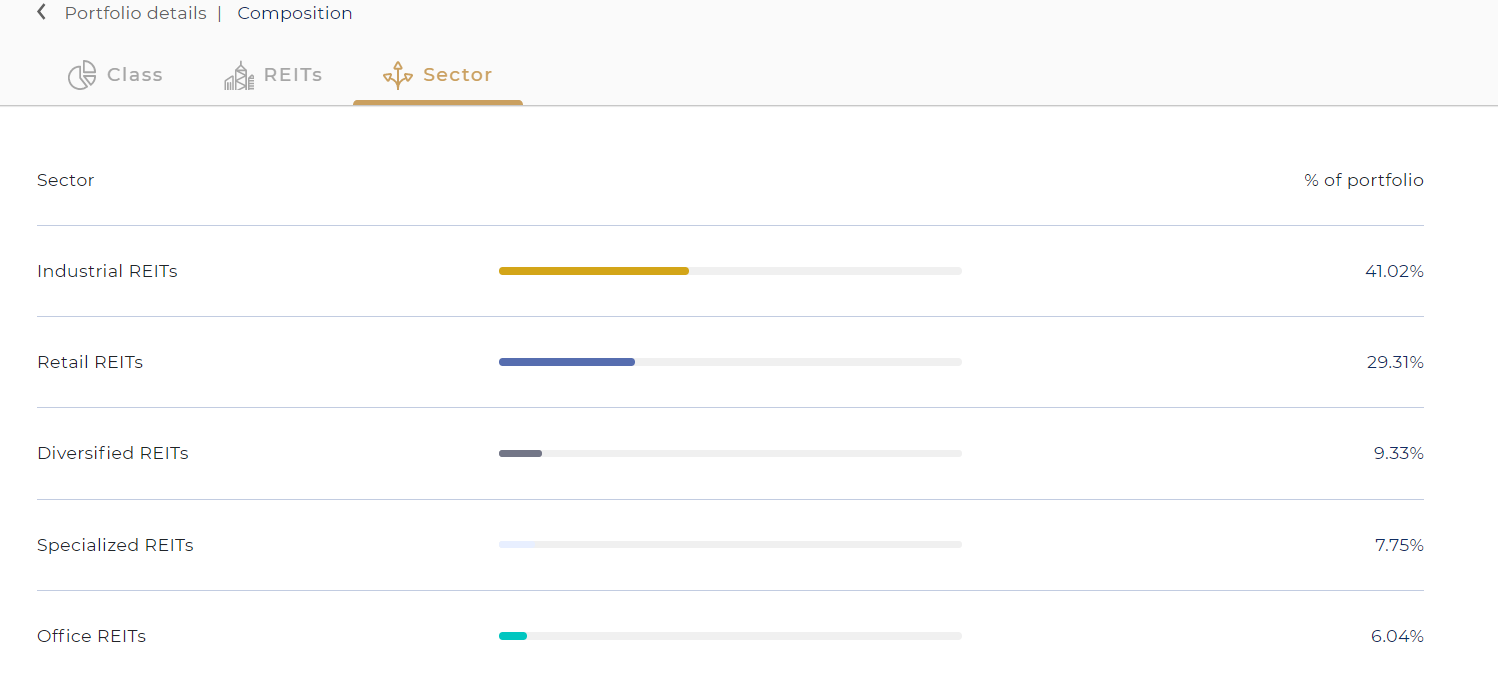 All in all, Syfe REIT+ holds 20 of the most well-known Singapore REITs such as Ascendas REIT, Mapletree Industrial Trust, CapitaLand Integrated Commercial Trust, Keppel DC REIT and Frasers Centrepoint Trust.

How does Syfe REIT+ track the index?
While the iEdge S-REIT Leaders index holds 27 REIT constituents, REIT+ is an optimized portfolio of 20 REITs. It has been designed to balance between market representation i.e. to achieve minimal tracking error, and trading liquidity, i.e. to minimise trading costs, which impact portfolio performance.
Instead of fully replicating the iEdge S-REIT Leaders index, Syfe uses an optimization tool to construct an index-tracking portfolio. The resulting REIT+ portfolio holds 20 REITs that are appropriately diversified across all sub-sectors and has a tracking error of just 0.5% to the index.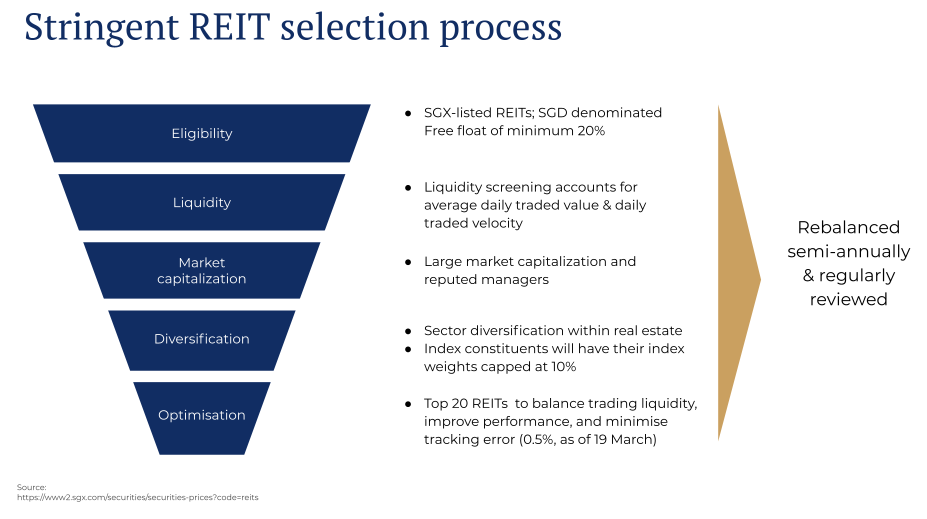 Similar to the index, Syfe REIT+ is rebalanced twice a year. During each semi-annual rebalancing, certain REITs may be included or removed from the index and index constituents will have their index weights capped at 10%. The REIT+ portfolio will track these index changes and adjust portfolio allocations accordingly.
Corporate actions and dividend reinvestment
Another benefit of investing in Syfe REIT+ is that Syfe helps you handle all corporate actions such as rights issues. A rights issue is an offer to investors where they are given the right to subscribe for more REIT units at a given subscription price that is typically lower than the prevailing market price.
Our investment team decides which rights issue to subscribe to based on whether the rights issue benefits your portfolio or not. If they do, Syfe applies to them on your behalf. As such, there is no need for you to keep track of individual corporate actions. Contrast this with a DIY portfolio of 20 REITs. Assuming an average of one corporate action per REIT in a year, you would be spending time and effort to answer to 20 different corporate actions.
Dividends are also automatically reinvested for you by default. According to our calculations, dividend reinvestment can add an additional 0.5% in returns each year. This covers a substantial part of our tiered fees ranging from 0.35% to 0.65% per year. Clients in Syfe Black or higher tiers can also opt to receive their dividends as quarterly payouts.
REITs with risk management
Investors considering Syfe REIT+ have two options: a 100% REITs portfolio or a risk-managed portfolio that combines REITs with Singapore government bonds (via the ABF Singapore Bond Index Fund). The bond fund invests in AAA-rated government bonds issued primarily by the Singapore government and quasi-Singapore government entities. This makes them an ideal low risk investment that holds up well during periods of difficult market conditions.
The risk managed portfolio is designed for investors who feel more comfortable with portfolios that don't fluctuate too wildly based on market conditions. During periods of increased volatility, the portfolio uses a proprietary algorithm to reduce the allocation to REITs and increase the allocation to government bonds. This helps to cushion the portfolio during market pullbacks. When volatility abates, the algorithm will again increase the REITs allocation to deliver better returns.
That said, in order to ensure your portfolio maintains a high dividend yield and exposure to the property market, the risk managed REIT+ portfolio will always have a minimum 50% allocation to REITs. Due to the ongoing market volatility, the portfolio currently has a 52% weighting to REITs and a 48% weighting to bonds, as at 30 June 2021.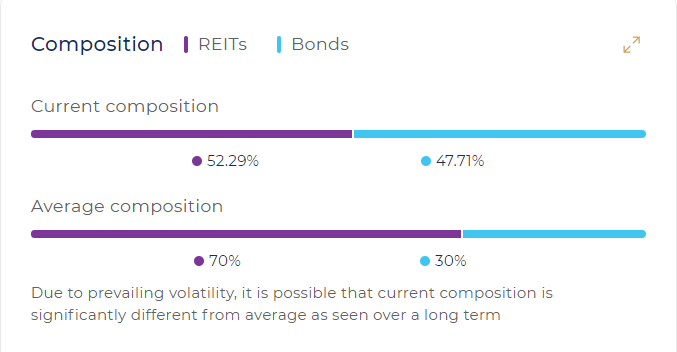 Portfolio performance
If you're an investor with a higher risk appetite and longer investment horizon, you may consider the 100% REITs portfolio for higher long-term potential returns. The average annual return over the past 10 years has been 9.58% for the 100% REITs portfolio.

If you have a more conservative risk appetite and don't wish to experience excessive portfolio fluctuations, the risk managed option might be a more suitable choice. While this portfolio may have slightly lower returns over the long-term as compared to the 100% REITs portfolio, you will also experience lower volatility in instances like the March 2020 pandemic-induced market crash.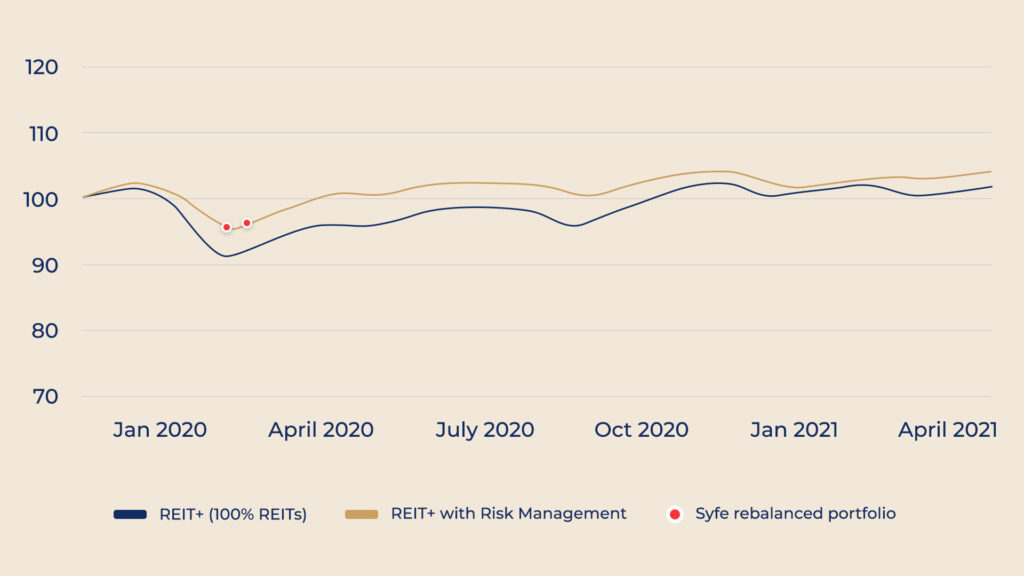 As vaccinations gather pace, the outlook for the REITs sector should improve too. As such, we have forecasted an estimated dividend yield of 5.1% for 2021.
How to invest in Singapore REITs with Syfe
Unlike buying individual REITs where you have to meet the minimum lot size, Syfe REIT+ has no minimum investment amount. Whether you invest $100 or $100,000, you get access to the same portfolio of Singapore's top 20 REITs.
There are no brokerage charges as well. Investors can dollar cost average into Syfe REIT+ to build up their REIT holdings month after month. Such a strategy may not make sense with a DIY portfolio as local brokerages typically charge between $10 – $25 in commissions per transaction.
Moreover, there are no lock-in periods with REIT+. Investors enjoy the flexibility of withdrawing their funds anytime with no extra charges.
Keen to kickstart your passive income journey with Syfe REIT+? Create your Syfe account now using the code SYFEWAIVER to enjoy 6 months free investing on your first $30,000 investment.